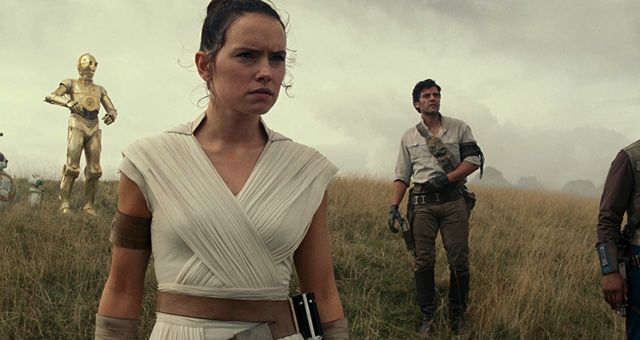 This content contains affiliate links. When you buy through these links, we may earn an affiliate commission.
I'm a sucker for a good reading challenge, and I love anything Star Wars. With Episode IX being released on December 20, what better way to prepare for it than a concentrated reading challenge? Not just to prepare for the new movie, but also to celebrate what the Skywalker saga has meant to you and how it's evolved over the last 42 years. Surely I'm not the only one that got choked up watching the trailer when those words THE SAGA WILL END came across the screen, right?
To make it even easier, given the time constraints, I'll add my favorites under the prompts—but by no means is this prescriptive. There are so many great books in the Star Wars universe from which to choose, especially in the new canon. All of these new voices really get the galaxy and the characters, and it's really been fun to read the books and get new perspectives on these individuals, both old and new. For a long time, the writers writing these books were white and male, and now there's a more diverse cast of authors, which is making these stories that much richer. We still have a long way to go on that front, but this is a good start. Unless you're a super-fast reader (which is great!), there will likely be more prompts than time to read before the movie drops—so feel free to extend your Star Wars Episode IX reading challenge to however long it takes you.
You can start anywhere and jump around—the most important thing is to have fun with it. May the Force be with you!
Read at least one of the books in the Journey to Star Wars: The Rise of Skywalker line. This program, similar to the one that came out for Episode VIII, is a series of books and comics connected to the movie.
I highly recommend Resistance Reborn by Rebecca Roanhorse, Spark of the Resistance by Justina Ireland, or Force Collector by Kevin Shinick.
Read at least one comic in the Journey to Star Wars: The Rise of Skywalker line.
This would be one of the Allegiance comics from the mini-series, or one of the Star Wars Adventures comics #27–29.
Read a young adult (YA) Star Wars book.
I would suggest Lost Stars or Leia: Princess of Alderaan by Claudia Gray, Queen's Shadow by E.K. Johnston, or A Crash of Fate by Zoraida Cordova. (Also see Justina Ireland's book above).
Read a comic about the Dark Side.
I personally would go with a trade paperback to get the most out of this, and suggest a volume of Thrawn, Darth Vader, or Doctor Aphra (my personal favorite).
Read a book from the Expanded Universe (EU).
Hands down, Heir to the Empire by Timothy Zahn would be my choice. For added fun, why not read the entire original Thrawn trilogy?
Read at least one movie novelization.
I happen to love movie novelizations because they provide lots of information that you don't necessarily see in the movie—and for the prequel trilogy especially, I thought the novelizations were really good. That being said, my recommendation would be either Rogue One by Alexander Freed or The Last Jedi: Expanded Edition by Jason Fry.
Read a companion book.
What do I mean by this one? Think Catalyst by James Luceno or Last Shot by Daniel Jose Older; not a novelization per se, but they relate to other SW movies or characters.
Read a comic about the Rebellion/Resistance.
There are lots to be had: the lone trade of Princess Leia, the Poe Dameron series, Han Solo by Marjorie Liu, Lando…take your pick!
Read a book from the new canon that doesn't fit into any of the other categories.
Check out Dark Disciple or Battlefront II: Inferno Squad, both by Christie Golden. If you're a Rebels fan, check out A New Dawn by John Jackson Miller.
Check out a Star Wars manual.
My favorite is the Rebel Files one, by Daniel Wallace—but there's something for everyone among the manuals, whether you're a Sith, Jedi, Imperial soldier, or Smuggler.
---
Happy reading! If you want even more Star Wars, check out this post about YA Star Wars books, and if you're new to the Star Wars books, this post may be helpful.