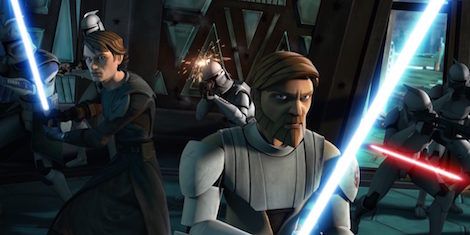 Comics Newsletter
Star Wars: The Clone Wars to Return for a Final Season (Plus New Star Wars Books!)
This content contains affiliate links. When you buy through these links, we may earn an affiliate commission.
One of the most exciting moments of San Diego Comic Con occurred during the Star Wars: The Clone Wars 10th anniversary panel, wherein even moderator Amy Ratcliffe, managing editor of The Nerdist and contributor to StarWars.com, was surprised by most welcome news: Dave Filoni's beloved, abruptly cancelled Star Wars: The Clone Wars will be returning for a twelve episode final season. In a two and a half minute trailer packed with incredible moments, the most emotional one is, without a doubt, the one in which Anakin sees his former Padawan, Ahsoka Tano, for the first time since she left the Jedi Order in 2013's season finale (their later confrontation in Rebels comes after The Clone Wars in continuity).
To accompany this announcement was news about a glorious landslide of new Star Wars books coming between now and the end of 2019:
For Adults
…dropped July 24th. Yes, I bought the Con exclusive version, yes it's beautiful, and no you can't have it. I've only had the opportunity to dip my toe in but thus far, Thrawn and Vader seem not to care for one another which, as any Star Wars fan knows, can't possibly go wrong…
Star Wars: Master & Apprentice by Claudia Gray (2-26-19)
We don't know much about this one yet, other than: it's set before The Phantom Menace and features Qui Gon and a young Obi-Wan. More to follow.
Comics
Star Wars: Tales from Vader's Castle by Cavan Scott, Derek Charm, Chris Fenoglio, Kelley Jones, Carin Howell, Robert Hack and Charles Paul Wilson III (starts 10-18)
Spooky stories set across the saga and told in the shadow of Vader's Castle. Just in time for Halloween!
Solo: A Star Wars Story Comic Mini-Series by Robbie Thompson, Will Sliney, Phil Noto, and Leonard Kirk (starts 10-18)
Five issues featuring backstory we didn't get to see in the film: What happened to Han when he was a cadet? Why does Beckett really trust him? "No one knows where this one is going to head to and connect to in the future."
Age of Republic, Age of Rebellion, and Age of Resistance by Jodi Houser, Greg Pak, and Tom Taylor (Starts 12-18)
A 30-issue maxi-series that will hit the highlights of the saga for those who need a refresher or to catch up. Per Houser: "Each month is going to have a hero story and a villain story."
For Kids
A picture book featuring adorable cartoon faces across the range of emotions that will help kids identify and engage actively with their feelings.
Star Wars: Millennium Falcon: A 3D Owners Guide by Ryder Windham, Cole Horton, Chris Trevas, and Chris Reiff (11-6)
This is is a detailed peek at every last bit of tech and cape closet on the fastest ship in the galaxy. As an additional feature, the die-cut pages can be assembled into a 3-D model of the Falcon.
Young Adult
This novel is a long-awaited literary solo outing for Padme Amidala. Johnston, who gave us glimpses of Ahsoka's transformation from former-Jedi-in-hiding to key Rebel asset and fighter, Fulcrum, will tell the story of how Padme went from queen to member of the Galactic Senate to one of the few willing to oppose Shreve Palpatine's machinations.
Middle Grade
Star Wars: Choose Your Destiny (Book 2) : A Luke and Leia Adventure by Cavan Scott and Elsa Charretier
Luke, Leia, and R2-D2 journey across the galaxy on a mission for the Rebellion after the destruction of the first Death Star.
Star Wars: Lando's Luck (10-2) by Justina Ireland and Annie Wu
This book follows Lando and L3 on a smuggling run that, as I'm sure you're shocked to hear, goes awry.
Worlds collide as Han and Chewie hook up with everyone's favorite pirate, a being who can get under Obi-Wan's skin unlike any other in the galaxy, Hondo Ohnaka.
For Everyone
Women built this rebellion and so many other parts of the galaxy far, far away. Heroes and villains, "Sith and Jedi, senators and scoundrels, mothers, mercenaries, artists, and pilots" all appear in this illustrated volume. With text by Ratcliff, the book showcases female and non-binary artists along with their interpretations of the women of Star Wars.
Plenty of adventure to explore while we wait for Episode IX. Enjoy them all and may the Force, and your books, be with you. Always.