News
Stamp by Me: The Rumpus Letters Project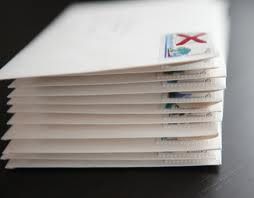 What's the next arena for literary foment? Try your mailbox. This month, The Rumpus launches their first print subscription with Letters in the Mail. Sign up and you'll receive three to four letters a month, each from a trenchant, hilarious, or otherwise fantasy-pen-pal author.
The starting lineup includes memoirists (Nick Flynn, Jonathan Ames), novelists (Janet Fitch, Cheryl Strayed), comedians (Margaret Cho, Marc Maron), and other lavishly creative minds (Wendy MacNaughton, Tao Lin, Rumpus editor Stephen Elliott). Plus, as you might have guessed, Dave Eggers – although after penning a shower curtain, this might feel relatively mundane.
Each author writes one letter, which is then copied and sent to all of the subscribers. (After a finger-licking envelope-stuffing party – beer and sketching!) What lands in your mailbox may not be narrative; poems, drawings, or other surprises lie ahead. Some writers might even include their return address, in which case you can reply and try not to pull a Thomas De Quincey.
Elliott started the Letters project to rekindle the pleasures of paper correspondence. While nostalgia spurred this undertaking, the epistolary tone will be far from wistful or fusty. To Book Riot, he reveals a few more upcoming participants: cartoonists Paul Madonna and Dean Haspiel, poet Matthew Zapruder, and novelist / YA author Katie Crouch.
While fielding suggestions from eager readers, Elliott cultivates his own wish list for future Letter writers. "Malcolm Gladwell would be pretty great… Ann Packer, Tobias Wolfe, Kaui Hart Hemmings." And in the beyond-the-grave category, Rilke.