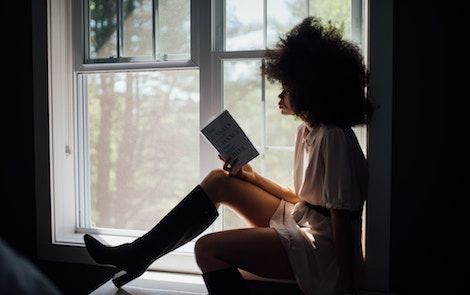 This content contains affiliate links. When you buy through these links, we may earn an affiliate commission.
It's been stated how much I enjoy a good paperback. They're lightweight, easy-to-hold (important for people with tiny hands like me!), and they're much cheaper than their hardcover counterparts. Let's take a peek at some of the YA paperbacks for spring 2019 that you can get your hands—whatever size they are—onto soon.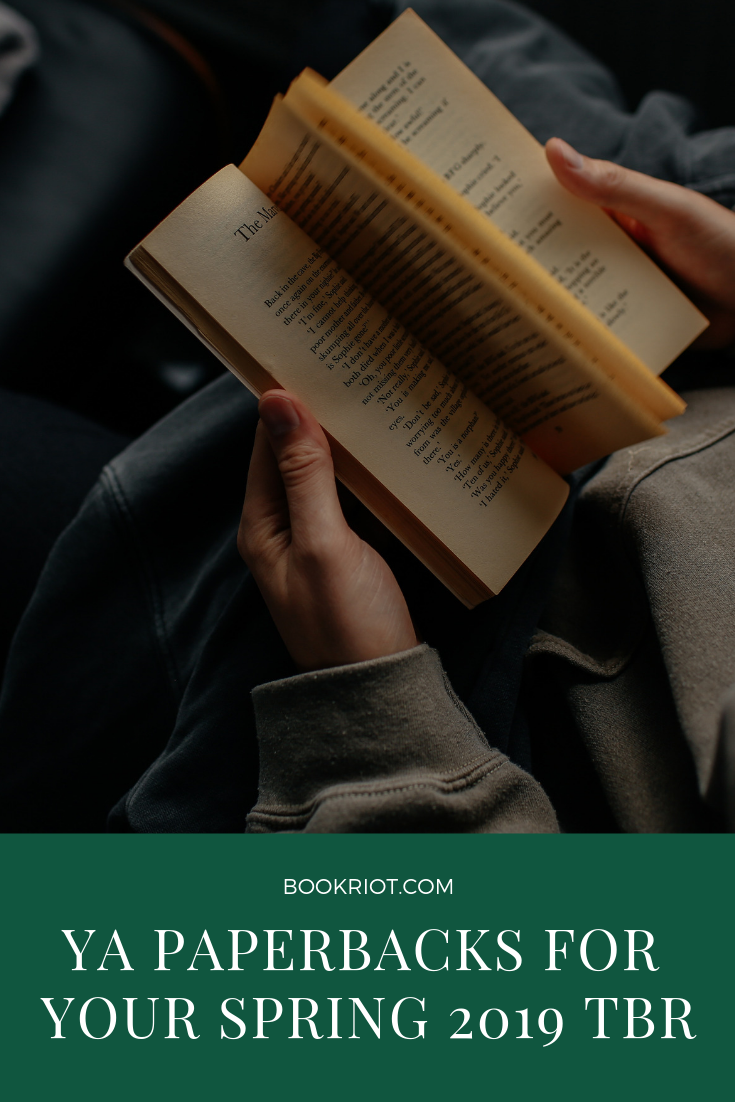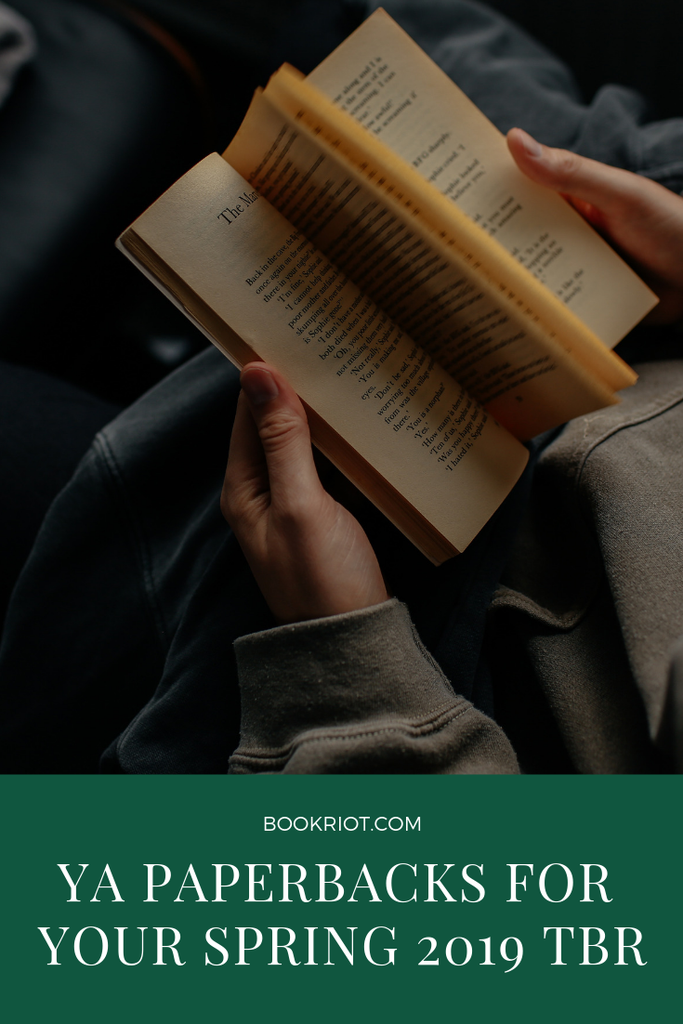 The YA paperbacks for spring 2019 in this list include books which are new, as well as some which are new in paperback or paperback originals. Also included are rereleased titles (one is a bind-up of older YA titles) and anniversary paperback editions of beloved YA classics. Titles are fiction and nonfiction, across a wide span of genres.
This isn't a comprehensive list, but one that aims to offer up popular, well-known titles, as well as some of the quieter titles that you may have missed upon initial publication. I've limited series books on this list to those which are first; there are more series books hitting paperback, but they're later installments.
Descriptions come from Goodreads. Dates of release are in parenthesis after the author's name.
Note: if the links don't drop immediately to the paperback edition of the title, toggle over.
YA Paperbacks for Spring 2019
March
Before he was Batman, he was Bruce Wayne. A reckless boy willing to break the rules for a girl who may be his worst enemy.
The Nightwalkers are terrorizing Gotham City, and Bruce Wayne is next on their list.
One by one, the city's elites are being executed as their mansions' security systems turn against them, trapping them like prey. Meanwhile, Bruce is turning eighteen and about to inherit his family's fortune, not to mention the keys to Wayne Enterprises and all the tech gadgetry his heart could ever desire. But after a run-in with the police, he's forced to do community service at Arkham Asylum, the infamous prison that holds the city's most brutal criminals.
Madeleine Wallace is a brilliant killer . . . and Bruce's only hope.
In Arkham, Bruce meets Madeleine, a brilliant girl with ties to the Nightwalkers. What is she hiding? And why will she speak only to Bruce? Madeleine is the mystery Bruce must unravel. But is he getting her to divulge her secrets, or is he feeding her the information she needs to bring Gotham City to its knees? Bruce will walk the dark line between trust and betrayal as the Nightwalkers circle closer.
Daughter of immortals.
Princess Diana longs to prove herself to her legendary warrior sisters. But when the opportunity finally comes, she throws away her chance at glory and breaks Amazon law—risking exile—to save a mortal. Diana will soon learn that she has rescued no ordinary girl, and that with this single brave act, she may have doomed the world.
Daughter of death.
Alia Keralis just wanted to escape her overprotective brother with a semester at sea. She doesn't know she is being hunted by people who think her very existence could spark a world war. When a bomb detonates aboard her ship, Alia is rescued by a mysterious girl of extraordinary strength and forced to confront a horrible truth: Alia is a Warbringer—a direct descendant of the infamous Helen of Troy, fated to bring about an age of bloodshed and misery.
Together.
Two girls will face an army of enemies—mortal and divine—determined to either destroy or possess the Warbringer. Tested beyond the bounds of their abilities, Diana and Alia must find a way to unleash hidden strengths and forge an unlikely alliance. Because if they have any hope of saving both their worlds, they will have to stand side by side against the tide of war.
Her mother died when she was twelve, and suddenly Artemisia Gentileschi had a stark choice: a life as a nun in a convent or a life grinding pigment for her father's paint.
She chose paint.
By the time she was seventeen, Artemisia did more than grind pigment. She was one of Rome's most talented painters, even if no one knew her name. But Rome in 1610 was a city where men took what they wanted from women, and in the aftermath of rape Artemisia faced another terrible choice: a life of silence or a life of truth, no matter the cost.
He will not consume
my every thought.
I am a painter.
I will paint.
I will show you
what a woman can do.
Perfect Mexican daughters do not go away to college. And they do not move out of their parents' house after high school graduation. Perfect Mexican daughters never abandon their family.
But Julia is not your perfect Mexican daughter. That was Olga's role.
Then a tragic accident on the busiest street in Chicago leaves Olga dead and Julia left behind to reassemble the shattered pieces of her family. And no one seems to acknowledge that Julia is broken, too. Instead, her mother seems to channel her grief into pointing out every possible way Julia has failed.
But it's not long before Julia discovers that Olga might not have been as perfect as everyone thought. With the help of her best friend Lorena, and her first kiss, first love, first everything boyfriend Connor, Julia is determined to find out. Was Olga really what she seemed? Or was there more to her sister's story? And either way, how can Julia even attempt to live up to a seemingly impossible ideal?
The numbers are staggering: nearly one in five girls ages fourteen to seventeen have been the victim of a sexual assault or attempted sexual assault. This is the true story of one of those girls.
In 2014, Chessy Prout was a freshman at St. Paul's School, a prestigious boarding school in New Hampshire, when a senior boy sexually assaulted her as part of a ritualized game of conquest. Chessy bravely reported her assault to the police and testified against her attacker in court. Then, in the face of unexpected backlash from her once-trusted school community, she shed her anonymity to help other survivors find their voice.
This memoir is more than an account of a horrific event. It takes a magnifying glass to the institutions that turn a blind eye to such behavior and a society that blames victims rather than perpetrators. Chessy's story offers real, powerful solutions to upend rape culture as we know it today. Prepare to be inspired by this remarkable young woman and her story of survival, advocacy, and hope in the face of unspeakable trauma.
Trudchen grew up hearing Odette's stories of their monster-slaying mother and a magician's curse. But now that Tru's older, she's starting to wonder if her older sister's tales were just comforting lies, especially because there's nothing fantastic about her own life—permanently disabled and in constant pain from childhood polio.
In 1909, after a two-year absence, Od reappears with a suitcase supposedly full of weapons and a promise to rescue Tru from the monsters on their way to attack her. But it's Od who seems haunted by something. And when the sisters' search for their mother leads them to a face-off with the Leeds Devil, a nightmarish beast that's wreaking havoc in the Mid-Atlantic states, Tru discovers the peculiar possibility that she and her sister—despite their dark pasts and ordinary appearances—might, indeed, have magic after all.
Seventeen-year-old Skye Thorn will do anything to get out of her small Michigan town, even if that means pretending to be a psychic for fast cash. When Paige, the local golden girl goes missing, Skye uses her psychic visions to help the police with the case. Her readings have always been faked, but this time Skye has insider knowledge—straight from the kidnappers themselves who promise Skye a portion of the ransom money.
But when their seemingly harmless prank goes terribly wrong, Skye realizes that the group she's involved with are willing to kill to get what they want. Now, she'll have to discover their identities before it's too late.
Natasha: I'm a girl who believes in science and facts. Not fate. Not destiny. Or dreams that will never come true. I'm definitely not the kind of girl who meets a cute boy on a crowded New York City street and falls in love with him. Not when my family is twelve hours away from being deported to Jamaica. Falling in love with him won't be my story.
Daniel: I've always been the good son, the good student, living up to my parents' high expectations. Never the poet. Or the dreamer. But when I see her, I forget about all that. Something about Natasha makes me think that fate has something much more extraordinary in store—for both of us.
The Universe: Every moment in our lives has brought us to this single moment. A million futures lie before us. Which one will come true?
Told from three diverse points of view, this story of life and love after loss is one Angie Thomas, author of The Hate U Give, believes "will stay with you long after you put it down."
We've lost everything…and found ourselves.
Loss pulled Autumn, Shay, and Logan apart. Will music bring them back together?
Autumn always knew exactly who she was: a talented artist and a loyal friend. Shay was defined by two things: her bond with her twin sister, Sasha, and her love of music. And Logan has always turned to writing love songs when his real love life was a little less than perfect.
But when tragedy strikes each of them, somehow music is no longer enough. Now Logan is a guy who can't stop watching vlogs of his dead ex-boyfriend. Shay is a music blogger who's struggling to keep it together. And Autumn sends messages that she knows can never be answered.
Despite the odds, one band's music will reunite them and prove that after grief, beauty thrives in the people left behind.
Octavia has only ever had one goal: to follow in the footsteps of her parents and become a prestigious whitecoat, one of the scientists who study the natural wonders of Faloiv. The secrets of the jungle's exotic plants and animals are protected fiercely in the labs by the Council of N'Terra, so when the rules suddenly change, allowing students inside, Octavia should be overjoyed.
But something isn't right. The newly elected leader of the Council has some extremist views about the way he believes N'Terra should be run, and he's influencing others to follow him. When Octavia witnesses one of the Faloii—the indigenous people of Faloiv—attacked in front of her in the dark of night, she knows the Council is hiding something. They are living in separate worlds on a shared planet, and their fragile peace may soon turn into an all-out war.
With the help of Rondo, a quiet boy in class with a skill for hacking, and her inquisitive best friend, Alma, Octavia is set on a collision course to discover the secrets behind the history she's been taught, the science she's lived by, and the truth about her family.
Want by Cindy Pon (12)
Jason Zhou survives in a divided society where the elite use their wealth to buy longer lives. The rich wear special suits that protect them from the pollution and viruses that plague the city, while those without suffer illness and early deaths. Frustrated by his city's corruption and still grieving the loss of his mother, who died as a result of it, Zhou is determined to change things, no matter the cost.
With the help of his friends, Zhou infiltrates the lives of the wealthy in hopes of destroying the international Jin Corporation from within. Jin Corp not only manufactures the special suits the rich rely on, but they may also be manufacturing the pollution that makes them necessary.
Yet the deeper Zhou delves into this new world of excess and wealth, the more muddled his plans become. And against his better judgment, Zhou finds himself falling for Daiyu, the daughter of Jin Corp's CEO. Can Zhou save his city without compromising who he is or destroying his own heart?
Leigh Chen Sanders is absolutely certain about one thing: When her mother died by suicide, she turned into a bird.
Leigh, who is half Asian and half white, travels to Taiwan to meet her maternal grandparents for the first time. There, she is determined to find her mother, the bird. In her search, she winds up chasing after ghosts, uncovering family secrets, and forging a new relationship with her grandparents. And as she grieves, she must try to reconcile the fact that on the same day she kissed her best friend and longtime secret crush, Axel, her mother was taking her own life.
Darrian dreams of writing for the New York Times. To hone his skills and learn more about the power of words, he enrolls in Mr. Ward's class, known for its open-mic poetry readings and boys vs. girls poetry slam. Everyone in class has something important to say, and in sharing their poetry, they learn that they all face challenges and have a story to tell–whether it's about health problems, aging out of foster care, being bullied for religious beliefs, or having to take on too much responsibility because of an addicted parent. As Darrian and his classmates get to know one another through poetry, they bond over the shared experiences and truth that emerge from their writing, despite their private struggles and outward differences.
Caroline Sands has never been particularly good at making friends. And her parents' divorce and the move to Arizona three years ago didn't help. Being the new girl is hard enough without being socially awkward too. So out of desperation and a desire to please her worried mother, Caroline invented a whole life for herself—using characters from Felicity, an old show she discovered online and fell in love with.
But now it's time for Caroline to go off to college and she wants nothing more than to leave her old "life" behind and build something real. However, when her mother discovers the truth about her manufactured friends, she gives Caroline an ultimatum: Prove in this first semester that she can make friends of the nonfictional variety and thrive in a new environment. Otherwise, it's back to living at home—and a lot of therapy.
Armed with nothing more than her resolve and a Felicity-inspired plan, Caroline accepts the challenge. But she soon realizes that the real world is rarely as simple as television makes it out to be. And to find a place where she truly belongs, Caroline may have to abandon her script and take the risk of being herself.
When Marvin Johnson's twin, Tyler, goes to a party, Marvin decides to tag along to keep an eye on his brother. But what starts as harmless fun turns into a shooting, followed by a police raid.
The next day, Tyler has gone missing, and it's up to Marvin to find him. But when Tyler is found dead, a video leaked online tells an even more chilling story: Tyler has been shot and killed by a police officer. Terrified as his mother unravels and mourning a brother who is now a hashtag, Marvin must learn what justice and freedom really mean.
In the mid-21st century, dogs are all but extinct. An experiment gone awry caused every canine on Earth to become hyperintelligent. When as a species they stopped wagging their tails, hysteria ensued—followed by a program of mass euthanasia. Now the only surviving dogs are relegated to a sanctuary off the coast of Florida: Dog Island. There, they are studied in a wild, feral, and protected state. And there, too, their robot replacements are tested before being sold for mass consumption.
Seventeen-year-old Nano Miller was born and bred on Dog Island, as were her two best friends, Jack and Wolf. Life has been mostly wonderful except for annual heartbreak, when another robot dog is torn from her arms and replaced with the latest model. And more recently, there is the heartbreak of her brother, Billy, who vanished without a trace a year earlier. Wolf, there to console Nano, has suddenly become more than a friend. (Bad news for Jack.) With the excitement of a surprise first romance, Nano is happier than ever, in spite of her loss. But then she makes a discovery that upends everything she took for granted: a living puppy who wags its tail. And there is no way she is letting this dog go.
At thirteen, bright-eyed, straight-A student Sara Saedi uncovered a terrible family secret: she was breaking the law simply by living in the United States. Only two years old when her parents fled Iran, she didn't learn of her undocumented status until her older sister wanted to apply for an after-school job, but couldn't because she didn't have a Social Security number.
Fear of deportation kept Sara up at night, but it didn't keep her from being a teenager. She desperately wanted a green card, along with clear skin, her own car, and a boyfriend.

Americanized follows Sara's progress toward getting her green card, but that's only a portion of her experiences as an Iranian-"American" teenager. From discovering that her parents secretly divorced to facilitate her mother's green card application to learning how to tame her unibrow, Sara pivots gracefully from the terrifying prospect that she might be kicked out of the country at any time to the almost-as-terrifying possibility that she might be the only one of her friends without a date to the prom. This moving, often hilarious story is for anyone who has ever shared either fear.
This is a true story of growing up, breaking down, and coming to grips with a psychological disorder. When Samantha Schutz first left home for college, she was excited by the possibilities — freedom from parents, freedom from a boyfriend who was reckless with her affections, freedom from the person she was supposed to be. At first, she reveled in the independence . . . but as pressures increased, she began to suffer anxiety attacks that would leave her mentally shaken and physically incapacitated. Thus began a hard road of discovery and coping, powerfully rendered in this poetry memoir.
Nikki Tate is infamous, even by Las Vegas standards. Her dad is sitting on death row, convicted of killing his best friend in a gambling dispute turned ugly. And for five years, he's maintained his innocence. But Nikki wants no part of that. She's been working on Operation Escape Vegas: playing in illegal card games so she can save up enough money to get out come graduation day.
Then her dad's murder conviction is overturned. The new evidence seems to come out of nowhere and Nikki's life becomes a mess when he's released from prison. Because the dad who comes home is not the dad she remembers. And he's desperately obsessed with finding out who framed him—and why.
As her dad digs into the seedy underbelly of Vegas, the past threatens everything and Nikki is drawn into his deadly hunt for the truth. But in the city of sin, some sinners will do anything to keep their secrets, and Nikki soon finds herself playing for the biggest gamble ever—her life.
Sixteen-year-old Grace is in a race against time—and in a race for her life—even if she doesn't realize it yet…
She is smart, responsible, and contending with more than what most teens ever should. Her mother struggled with schizophrenia for years until, one day, she simply disappeared—fleeing in fear that she was going to hurt those she cared about most. Ever since, Grace's father has worked as a recruiter at one of the leading labs dedicated to studying the disease, trying to lure the world's top scientists to the faculty to find a cure, hoping against hope it can happen in time to help his wife if she is ever found. But this makes him distant. Consumed.
Grace, in turn, does her part, interning at the lab in the gene sequencing department daring to believe that one day they might make a breakthrough…and one day they do. Grace stumbles upon a string of code that could be the key. But something inside of Grace has started to unravel. Could her discovery just be a cruel side effect of the disease that might be taking hold of her? And can she even tell the difference?
Unflinchingly brave, An Na has created a mesmerizing story with twists and turns that reveal jaw-dropping insights into the mind of someone struggling with schizophrenia.
April
1 hour, 43 minutes
An ode to Put the Damn Guns Down, this is New York Times bestseller Jason Reynolds's fiercely stunning novel that takes place in sixty potent seconds—the time it takes a kid to decide whether or not he's going to murder the guy who killed his brother.
A cannon. A strap.
A piece. A biscuit.
A burner. A heater.
A chopper. A gat.
A hammer
A tool
for RULE
Or, you can call it a gun. That's what fifteen-year-old Will has shoved in the back waistband of his jeans. See, his brother Shawn was just murdered. And Will knows the rules. No crying. No snitching. Revenge. That's where Will's now heading, with that gun shoved in the back waistband of his jeans, the gun that was his brother's gun. He gets on the elevator, seventh floor, stoked. He knows who he's after. Or does he? As the elevator stops on the sixth floor, on comes Buck. Buck, Will finds out, is who gave Shawn the gun before Will took the gun. Buck tells Will to check that the gun is even loaded. And that's when Will sees that one bullet is missing. And the only one who could have fired Shawn's gun was Shawn. Huh. Will didn't know that Shawn had ever actually USED his gun. Bigger huh. BUCK IS DEAD. But Buck's in the elevator? Just as Will's trying to think this through, the door to the next floor opens. A teenage girl gets on, waves away the smoke from Dead Buck's cigarette. Will doesn't know her, but she knew him. Knew. When they were eight. And stray bullets had cut through the playground, and Will had tried to cover her, but she was hit anyway, and so what she wants to know, on that fifth floor elevator stop, is, what if Will, Will with the gun shoved in the back waistband of his jeans, MISSES.
And so it goes, the whole long way down, as the elevator stops on each floor, and at each stop someone connected to his brother gets on to give Will a piece to a bigger story than the one he thinks he knows. A story that might never know an END…if WILL gets off that elevator.
When it comes to family, Annie is in the losers bracket. Don't get her wrong, her foster parents are great, even if Pop is a little too concerned about Annie getting an athletic scholarship. But Nancy, her birth mom, and her sister, Sheila, are . . . less than ideal. And no matter how hard Annie tries to stay away from them, she always gets sucked back in to their lives and their messes. She tells herself she's doing it for Sheila's son, Frankie, but she knows her issues with her birth family are more deeply rooted. Then a family argument at one of Annie's swim meets escalates and Frankie goes missing. Annie can't help but think that Frankie's disappearance is her fault. With help from her friends Leah, Walter, and Tim, and her social service worker, Annie searches desperately for her missing nephew, determined to find him and finally get him in a safe home.
Welcome to the cursed town of Sparrow…
Where, two centuries ago, three sisters were sentenced to death for witchery. Stones were tied to their ankles and they were drowned in the deep waters surrounding the town.
Now, for a brief time each summer, the sisters return, stealing the bodies of three weak-hearted girls so that they may seek their revenge, luring boys into the harbor and pulling them under.
Like many locals, seventeen-year-old Penny Talbot has accepted the fate of the town. But this year, on the eve of the sisters' return, a boy named Bo Carter arrives; unaware of the danger he has just stumbled into.
Mistrust and lies spread quickly through the salty, rain-soaked streets. The townspeople turn against one another. Penny and Bo suspect each other of hiding secrets. And death comes swiftly to those who cannot resist the call of the sisters.
But only Penny sees what others cannot. And she will be forced to choose: save Bo, or save herself.
This elegant young adult novel captures the immigrant experience for one Indian-American family with humor and heart. Told in alternating teen voices across three generations, You Bring the Distant Near explores sisterhood, first loves, friendship, and the inheritance of culture–for better or worse.
From a grandmother worried that her children are losing their Indian identity to a daughter wrapped up in a forbidden biracial love affair to a granddaughter social-activist fighting to preserve Bengali tigers, award-winning author Mitali Perkins weaves together the threads of a family growing into an American identity.
Here is a sweeping story of five women at once intimately relatable and yet entirely new.
Shy and scrawny Dan Weekes spends his time creating graphic novels inspired by his dream girl and looking out for his mom as she dates every man in the state of California. Then his mom drops a bomb: she and her latest beau, Hank, are engaged, and she's sending her "two favorite men" on a survivalist camping trip to "bond." Determined to trick Hank into showing his true — flawed — colors on the trip, Dan and his nerdy germaphobe best friend, Charlie, prepare a series of increasingly gross and embarrassing pranks. But the boys hadn't counted on a hot girl joining their trip or on getting separated from their wilderness guide–not to mention the humiliating injuries Dan suffers in the course of terrorizing his stepdad-to-be. With a man-hungry bear on their trail, no supplies, and a lot of unpleasant itching going on, can Dan see his plan through now that his very survival depends on Hank?
For Penny Lee high school was a total nonevent. Her friends were okay, her grades were fine, and while she somehow managed to land a boyfriend, he doesn't actually know anything about her. When Penny heads to college in Austin, Texas, to learn how to become a writer, it's seventy-nine miles and a zillion light years away from everything she can't wait to leave behind.
Sam's stuck. Literally, figuratively, emotionally, financially. He works at a café and sleeps there too, on a mattress on the floor of an empty storage room upstairs. He knows that this is the god-awful chapter of his life that will serve as inspiration for when he's a famous movie director but right this second the seventeen bucks in his checking account and his dying laptop are really testing him.
When Sam and Penny cross paths it's less meet-cute and more a collision of unbearable awkwardness. Still, they swap numbers and stay in touch—via text—and soon become digitally inseparable, sharing their deepest anxieties and secret dreams without the humiliating weirdness of having to see each other.
When the vuvv first landed, it came as a surprise to aspiring artist Adam and the rest of planet Earth, though not an unwelcome one. But with his parents' jobs replaced by alien tech and no money for food, clean water, or the vuvv's miraculous medicine, Adam has to get creative to survive. And soon enough, Adam must decide how far he's willing to go — and what he's willing to sacrifice — to give the vuvv what they want. National Book Award winner M. T. Anderson returns to future Earth in a sharply wrought satire of art and truth in the midst of colonization.
Your favorite YA authors including Kami Garcia, Ellen Hopkins, Maureen Johnson, and more recount their own experiences with mental illness in this raw, real, and powerful collection of essays that explores everything from ADD to PTSD.
Stay Sweet by Siobhan Vivian (9)
Summer in Sand Lake isn't complete without a trip to Meade Creamery—the local ice cream stand founded in 1944 by Molly Meade who started making ice cream to cheer up her lovesick girlfriends while all the boys were away at war. Since then, the stand has been owned and managed exclusively by local girls, who inevitably become the best of friends. Seventeen-year-old Amelia and her best friend Cate have worked at the stand every summer for the past three years, and Amelia is "Head Girl" at the stand this summer. When Molly passes away before Amelia even has her first day in charge, Amelia isn't sure that the stand can go on. That is, until Molly's grandnephew Grady arrives and asks Amelia to stay on to help continue the business…but Grady's got some changes in mind.
Seventeen-year-old Tess Fowler has just dropped out of high school. She can barely function after learning of Jonah's death. Jonah, the boy she'd traded banter with over texts and heartfelt e-mails.
Jonah, the first boy she'd told she loved and the first boy to say it back.
Jonah, the boy whose suicide she never saw coming.
Tess continues to write to Jonah, as a way of processing her grief and confusion. But for now she finds solace in perhaps the unlikeliest of ways: by helping her father with his new alternative funeral business, where his biggest client is . . . a prized racehorse?
As Tess's involvement in her father's business grows, both find comfort in the clients they serve and in each other. But love, loss, and life are so much more complicated than Tess ever thought. Especially after she receives a message that turns her life upside down.
The Window by Amelia Brunskill (9)
Anna is everything her identical twin is not. Outgoing and athletic, she is the opposite of quiet introvert Jess. The same on the outside, yet so completely different inside–it's hard to believe the girls are sisters, let alone twins. But they are. And they tell each other everything.
Or so Jess thought.
After Anna falls to her death while sneaking out her bedroom window, Jess's life begins to unravel. Everyone says it was an accident, but to Jess, that doesn't add up. Where was Anna going? Who was she meeting? And how long had Anna been lying to her?
Jess is compelled to learn everything she can about the sister she thought she knew. At first it's a way to stay busy and find closure . . . but Jess soon discovers that her twin kept a lot of secrets. And as she digs deeper, she learns that the answers she's looking for may be truths that no one wants her to uncover.
Because Anna wasn't the only one with secrets.
Laila Piedra doesn't drink, doesn't smoke, and definitely doesn't sneak into the 21-and-over clubs on the Lower East Side. The only sort of risk Laila enjoys is the peril she writes for the characters in her stories. But just before her graduation, Laila's creative writing teacher and number one fan is replaced by Nadiya Nazarenko, a Pulitzer Prize–winning novelist who sees nothing at all special about Laila's writing. A growing obsession with gaining Nazarenko's approval leads to a series of unexpected adventures. With her sanity and happiness on the line, Laila must figure out if enduring the unendurable really is the only way to greatness.
A powerful display of empathy and friendship from the #1 New York Times Bestselling author of If I Stay. Around the time that Freya loses her voice while recording her debut album, Harun is making plans to run away from home to find the boy that he loves, and Nathaniel is arriving in New York City after a family tragedy leaves him isolated on the outskirts of Washington state. After the three of them collide in Central Park, they slowly reveal the parts of their past that they haven't been able to confront, and together, they find their way back to who they're supposed to be. Told over the course of a single day from three different perspectives, Gayle Forman's newest novel about the power of friendship and being true to who you are is filled with the elegant prose that her fans have come to know and love.
Freshman year at Harvard was the most anticlimactic year of Danny's life. She's failing pre-med and drifting apart from her best friend. One by one, Danny is losing all the underpinnings of her identity. When she finds herself attracted to an older, edgy girl who she met in rehab for an eating disorder, she finally feels like she might be finding a new sense of self. But when tragedy strikes, her self-destructive tendencies come back to haunt her as she struggles to discover who that self really is.
Cliff Hubbard is a huge loser. Literally. His nickname at Happy Valley High School is Neanderthal because he's so enormous — 6'6″ and 250 pounds to be exact. He has no one at school and life in his trailer park home has gone from bad to worse ever since his older brother's suicide.
There's no one Cliff hates more than the nauseatingly cool quarterback, Aaron Zimmerman. Then Aaron returns to school after a near-death experience with a bizarre claim: while he was unconscious he saw God, who gave him a list of things to do to make Happy Valley High suck less. And God said there's only one person who can help: Neanderthal.
To his own surprise, Cliff says he's in. As he and Aaron make their way through the List, which involves a vindictive English teacher, a mysterious computer hacker, a decidedly unchristian cult of Jesus Teens, the local drug dealers, and the meanest bully at HVHS — Cliff feels like he's part of something for the first time since losing his brother. But fixing a broken school isn't as simple as it seems, and just when Cliff thinks they've completed the List, he realizes their mission hits closer to home than he ever imagined.
Monday Charles is missing, and only Claudia seems to notice. Claudia and Monday have always been inseparable—more sisters than friends. So when Monday doesn't turn up for the first day of school, Claudia's worried. When she doesn't show for the second day, or second week, Claudia knows that something is wrong. Monday wouldn't just leave her to endure tests and bullies alone. Not after last year's rumors and not with her grades on the line. Now Claudia needs her best—and only—friend more than ever. But Monday's mother refuses to give Claudia a straight answer, and Monday's sister April is even less help.
As Claudia digs deeper into her friend's disappearance, she discovers that no one seems to remember the last time they saw Monday. How can a teenage girl just vanish without anyone noticing that she's gone?
17-year old Lark knows how to survive high school dating: date boys briefly, let them down gently, remain friends, and move on. Her best friends, Copper and Katie, think that Lark is denying herself the opportunity for true love because she does not want to be hurt. They challenge her to break her pattern by staying in a relationship long enough for Lark — or the boy — to fall in love. Intrigued by the challenge, Lark sets her sights on the mysterious new boy, Ardy, who has been labeled "undateable" by the other girls in school. Lark is curious about, and then completely intrigued by, the enigmatic Ardy — so much so that she finds herself falling for him, only to risk having her own heart completely broken.
I've got seven days to come clean to my new dad. Seven days to tell the truth…
For sixteen-year-old Tiffany Sly, life hasn't been safe or normal for a while. Losing her mom to cancer has her a little bit traumatized and now she has to leave her hometown of Chicago to live with the biological dad she's never known.
Anthony Stone is a rich man with four other daughters—and rules for every second of the day. Tiffany tries to make the best of things, but she doesn't fit into her new luxurious, but super-strict, home—or get along with her standoffish sister London. The only thing that makes her new life even remotely bearable is the strange boy across the street. Marcus McKinney has had his own experiences with death, and the unexpected friendship that blossoms between them is the only thing that makes her feel grounded.
But Tiffany has a secret. Another man claims he's Tiffany's real dad—and she only has seven days before he shows up to demand a paternity test and the truth comes out. With her life about to fall apart all over again, Tiffany finds herself discovering unexpected truths about her father, her mother and herself, and realizing that maybe family is in the bonds you make—and that life means sometimes taking risks.
May
Moss Jeffries is many things—considerate student, devoted son, loyal friend and affectionate boyfriend, enthusiastic nerd.
But sometimes Moss still wishes he could be someone else—someone without panic attacks, someone whose father was still alive, someone who hadn't become a rallying point for a community because of one horrible night.
And most of all, he wishes he didn't feel so stuck.
Moss can't even escape at school—he and his friends are subject to the lack of funds and crumbling infrastructure at West Oakland High, as well as constant intimidation by the resource officer stationed in their halls. That was even before the new regulations—it seems sometimes that the students are treated more like criminals.
Something will have to change—but who will listen to a group of teens?
When tensions hit a fever pitch and tragedy strikes again, Moss must face a difficult choice: give in to fear and hate or realize that anger can actually be a gift.
"Someone has killed Father!"
August 4, 1892: Lizzie Borden calls out frantically for help. When the maid and the neighbors come running, they find Lizzie's father, Andrew Borden, lying murdered in the sitting room of the Borden home at 92 Second Street in Fall River, Massachusetts. Soon after, the body of Lizzie's stepmother, Abby, is discovered upstairs.
As the minutes give way to hours, one person rises to the top of the list of suspects: Lizzie herself. But how could a mild-mannered young woman from a prominent family be an axe murderer?
In a compelling narrative, Sarah Miller investigates the chilling crime – from the gruesome details of that fateful August day to Lizzie's dramatic court battles to the role sensational newspaper headlines played in swaying public opinion. Enhanced by period photos, newspaper clippings, and, yes, even an image of the crime scene, this is middle-grade nonfiction that races like a true-crime novel. Prepare to devour it and to grapple with the same questions a nation asked itself over a century ago: Did Lizzie do it? And if not, who did?
Her story is a phenomenon. Her life is a disaster.
In the real world, Eliza Mirk is shy, weird, and friendless. Online, she's LadyConstellation, the anonymous creator of the wildly popular webcomic Monstrous Sea. Eliza can't imagine enjoying the real world as much as she loves the online one, and she has no desire to try.
Then Wallace Warland, Monstrous Sea's biggest fanfiction writer, transfers to her school. Wallace thinks Eliza is just another fan, and as he draws her out of her shell, she begins to wonder if a life offline might be worthwhile.
But when Eliza's secret is accidentally shared with the world, everything she's built—her story, her relationship with Wallace, and even her sanity—begins to fall apart.
Caroline can't wait for summer to end so that she and her older boyfriend, Jake, can run away together. She decides to spend her last summer at home saving money working at the local aquarium gift shop–and spending all the rest of her time hanging with Jake.
Then she meets Georgia, a counselor at the aquarium camp. Georgia weaves her way into Caroline's life and suddenly the summer feels a lot less lonely.
The stronger Georgia and Caroline's bond grows, the more uneasy Caroline becomes about her plans to leave. When summer comes to a close, she will have to say goodbye to someone… but who is she willing to lose?
Leah Burke—girl-band drummer, master of deadpan, and Simon Spier's best friend from the award-winning Simon vs. the Homo Sapiens Agenda—takes center stage in this novel of first love and senior-year angst.
When it comes to drumming, Leah Burke is usually on beat—but real life isn't always so rhythmic. An anomaly in her friend group, she's the only child of a young, single mom, and her life is decidedly less privileged. She loves to draw but is too self-conscious to show it. And even though her mom knows she's bisexual, she hasn't mustered the courage to tell her friends—not even her openly gay BFF, Simon.
So Leah really doesn't know what to do when her rock-solid friend group starts to fracture in unexpected ways. With prom and college on the horizon, tensions are running high. It's hard for Leah to strike the right note while the people she loves are fighting—especially when she realizes she might love one of them more than she ever intended.
Ship It by Britta Lundin (7)
CLAIRE is a sixteen-year-old fangirl obsessed with the show Demon Heart. FOREST is an actor on Demon Heart who dreams of bigger roles. When the two meet at a local Comic-Con panel, it's a dream come true for Claire. Until the Q&A, that is, when Forest laughs off Claire's assertion that his character is gay.
Claire is devastated. After all, every last word of her super-popular fanfic revolves around the romance between Forest's character and his male frenemy. She can't believe her hero turned out to be a closed-minded jerk. Forest is mostly confused that anyone would think his character is gay. Because he's not. Definitely not.
Unfortunately for Demon Heart, when the video of the disastrous Q&A goes viral, the producers have a PR nightmare on their hands. In order to help bolster their image within the LGBTQ+ community-as well as with their fans-they hire Claire to join the cast for the rest of their publicity tour. What ensues is a series of colorful Comic-Con clashes between the fans and the show that lead Forest to question his assumptions about sexuality and help Claire come out of her shell. But how far will Claire go to make her ship canon? To what lengths will Forest go to stop her and protect his career? And will Claire ever get the guts to make a move on Tess, the very cute, extremely cool fanartist she keeps running into? Ship It is a funny, tender, and honest look at all the feels that come with being a fan.
Clara Shin lives for pranks and disruption. When she takes one joke too far, her dad sentences her to a summer working on his food truck, the KoBra, alongside her uptight classmate Rose Carver. Not the carefree summer Clara had imagined. But maybe Rose isn't so bad. Maybe the boy named Hamlet (yes, Hamlet) crushing on her is pretty cute. Maybe Clara actually feels invested in her dad's business. What if taking this summer seriously means that Clara has to leave her old self behind?
With Maurene Goo's signature warmth and humor, The Way You Make Me Feel is a relatable story of falling in love and finding yourself in the places you'd never thought to look.
Uniquely told through letters from death row and third-person narrative, Bryan Bliss's hard-hitting third novel expertly unravels the string of events that landed a teenager in jail. Luke feels like he's been looking after Toby his entire life. He patches Toby up when Toby's father, a drunk and a petty criminal, beats on him, he gives him a place to stay, and he diffuses the situation at school when wise-cracking Toby inevitably gets into fights. Someday, Luke and Toby will leave this small town, riding the tails of Luke's wrestling scholarship, and never look back.
But during their senior year, they begin to drift apart. Luke is dealing with his unreliable mother and her new boyfriend. And Toby unwittingly begins to get drawn into his father's world, and falls for an older woman. All their long-held dreams seem to be unraveling. Tense and emotional, this heartbreaking novel explores family, abuse, sex, love, friendship, and the lengths a person will go to protect the people they love. For fans of NPR's Serial podcast, Jason Reynolds, and Matt de la Peña.
Ash by Malinda Lo (14)
In the wake of her father's death, Ash is left at the mercy of her cruel stepmother. Consumed with grief, her only joy comes by the light of the dying hearth fire, rereading the fairy tales her mother once told her. In her dreams, someday the fairies will steal her away. When she meets the dark and dangerous fairy Sidhean, she believes that her wish may be granted.
The day that Ash meets Kaisa, the King's Huntress, her heart begins to change. Instead of chasing fairies, Ash learns to hunt with Kaisa. Their friendship, as delicate as a new bloom, reawakens Ash's capacity for love–and her desire to live. But Sidhean has already claimed Ash for his own, and she must make a choice between fairy tale dreams and true love.
Entrancing and empowering, Ash beautifully unfolds the connections between life and love, and solitude and death, where transformation can come from even the deepest grief.
Bayou Perdu, a tiny fishing town way, way down in Louisiana, is home to sixteen-year-old Evangeline Riley. She has her best friends, Kendra and Danielle; her wise, beloved Mamere; and back-to-back titles in the under-sixteen fishing rodeo. But, dearest to her heart, she has the peace that only comes when she takes her skiff out to where there is nothing but sky and air and water and wings. It's a small life, but it is Evangeline's. And then the storm comes, and everything changes. Amid the chaos and pain and destruction comes Tru — a fellow refugee, a budding bluesman, a balm for Evangeline's aching heart. Told in a strong, steady voice, with a keen sense of place and a vivid cast of characters, here is a novel that asks compelling questions about class and politics, exile and belonging, and the pain of being cast out of your home. But above all, this remarkable debut tells a gently woven love story, difficult to put down, impossible to forget.
The daughter of two astronauts, Romy Silvers is no stranger to life in space. But she never knew how isolating the universe could be until her parents' tragic deaths left her alone on theInfinity, a spaceship speeding away from Earth.
Romy tries to make the best of her lonely situation, but with only brief messages from her therapist on Earth to keep her company, she can't help but feel like something is missing. It seems like a dream come true when NASA alerts her that another ship, the Eternity, will be joining the Infinity.
Romy begins exchanging messages with J, the captain of theEternity, and their friendship breathes new life into her world. But as the Eternity gets closer, Romy learns there's more to J's mission than she could have imagined. And suddenly, there are worse things than being alone….
This is the second title in a paperback original series about a girl whose classic literary crushes manifest in real life, this time told from Rory Campbell's point of view and inspired by the timeless classic Little Women. Rory likes Toby, but Toby likes Rory's sister Merrilee, even though Merrilee is already dating Toby's friend Fielding—and it's all about to get even more complicated at Reginald R. Hero High . . . where our leading ladies' romantic fantasies come true, often with surprising consequences. Perfect for younger readers of YA or older readers of middle grade, this squeaky-clean series is sure to charm any reader who's ever had a book boyfriend of her own.
As a rock star drummer in the hit band The Brightsiders, Emmy King's life should be perfect. But there's nothing the paparazzi love more than watching a celebrity crash and burn. When a night of partying lands Emmy in hospital and her girlfriend in jail, she's branded the latest tabloid train wreck.
Luckily, Emmy has her friends and bandmates, including the super-swoonworthy Alfie, to help her pick up the pieces of her life. She knows hooking up with a band member is exactly the kind of trouble she should be avoiding, and yet Emmy and Alfie Just. Keep. Kissing.
Will the inevitable fallout turn her into a clickbait scandal (again)? Or will she find the strength to stand on her own?
Sixteen-year-olds Leena and Mishie are best friends. They delight in small rebellions against the Saudi cultural police—secret Western clothing, forbidden music, flirtations. But Leena wants college, independence—she wants a different life. Though her story is specific to her world (a world where it's illegal for women to drive, where a ten-year-old boy is the natural choice as guardian of a fatherless woman), ultimately it's a story about friendship, family, and freedom that transcends cultural differences.
Whether or not you believe in fate, or luck, or love at first sight, every romance has to start somewhere. MEET CUTE is an anthology of original short stories featuring tales of "how they first met" from some of today's most popular YA authors.
Readers will experience Nina LaCour's beautifully written piece about two Bay Area girls meeting via a cranky customer service Tweet, Sara Shepard's glossy tale about a magazine intern and a young rock star, Nicola Yoon's imaginative take on break-ups and make-ups, Katie Cotugno's story of two teens hiding out from the police at a house party, and Huntley Fitzpatrick's charming love story that begins over iced teas at a diner. There's futuristic flirting from Kass Morgan and Katharine McGee, a riveting transgender heroine from Meredith Russo, a subway missed connection moment from Jocelyn Davies, and a girl determined to get out of her small town from Ibi Zoboi. Jennifer Armentrout writes a sweet story about finding love from a missing library book, Emery Lord has a heartwarming and funny tale of two girls stuck in an airport, Dhonielle Clayton takes a thoughtful, speculate approach to pre-destined love, and Julie Murphy dreams up a fun twist on reality dating show contestants.
This incredibly talented group of authors brings us a collection of stories that are at turns romantic and witty, epic and everyday, heartbreaking and real.
Rule by Ellen Goodlett (21)
Three girls with three deadly secrets. Only one can wear the crown.
The king is dying, his heir has just been murdered, and rebellion brews in the east. But the kingdom of Kolonya and the outer Reaches has one last option before it descends into leaderless chaos.
Or rather, three unexpected options.
Zofi has spent her entire life trekking through the outer Reaches with her band of Travelers. She would do anything to protect the band, her family. But no one can ever find out how far she's already gone.
Akeylah was raised in the Eastern Reach, surrounded by whispers of rebellion and abused by her father. Desperate to escape, she makes a decision that threatens the whole kingdom.
Ren grew up in Kolonya, serving as a lady's maid and scheming her way out of the servants' chambers. But one such plot could get her hung for treason if anyone ever discovers what she's done.
When the king summons the girls, they arrive expecting arrest or even execution. Instead they learn the truth: they are his illegitimate daughters, and one must become his new heir. But someone in Kolonya knows their secrets, and that someone will stop at nothing to keep the sisters from their destiny… to rule.
____________________
Some of the YA paperbacks for spring 2019 above have been included on our booklists including what to read after The Hate U Give, YA books about social anxiety, and great YA romances.