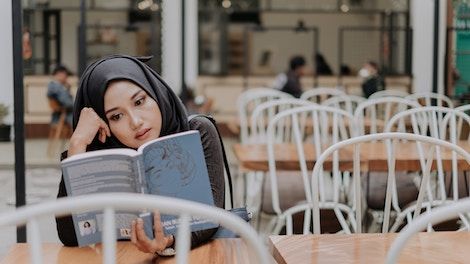 Lists
150 YA Books Hitting Shelves in April, May, and June 2019: Spring 2019 YA Book Preview
This content contains affiliate links. When you buy through these links, we may earn an affiliate commission.
Your Spring 2019 YA book preview is here, jam-packed with amazing young adult books hitting shelves between April and the end of June.
The titles here include stand alone titles, series books (marked in a *), books from well-known YA authors, debut authors, and books that'll be blockbuster books, as well as quieter titles. Both fiction and nonfiction are represented.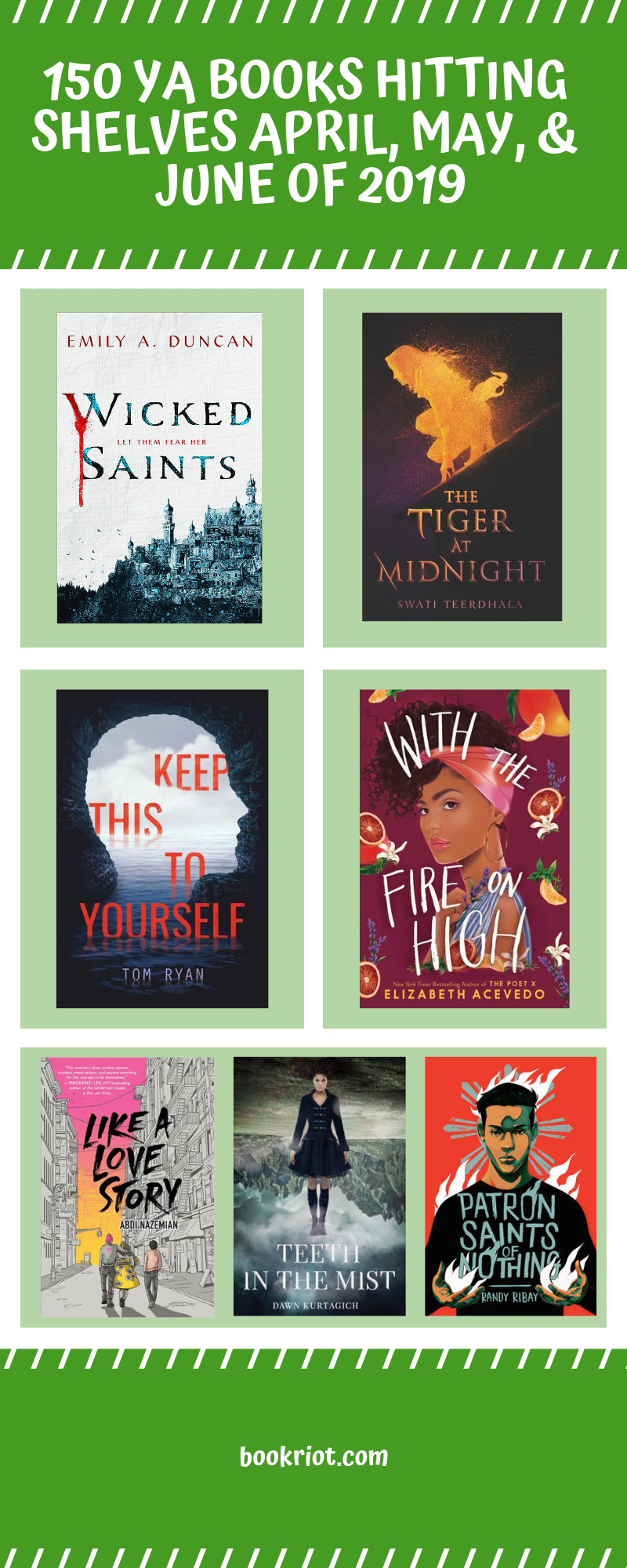 This spring 2019 YA book preview isn't comprehensive, but it's pretty darn close. Like always, these titles were pulled from a variety of publisher catalogs, and publication dates could shift slightly from what's been listed.
Grab your TBR and be prepared to spend this spring with your nose in an outstanding book. Descriptions come from Amazon.
Spring 2019 YA Book Preview
April
2
Hunted and desperate.
Abel only has one mission left that matters: save the life of Noemi Vidal. To do that, he not only has to escape the Genesis authorities, he also must face the one person in the galaxy who still has the means to destroy him. Burton Mansfield's consciousness lives on, desperate for a home, and Abel's own body is his last bargaining chip.
Alone in the universe.
Brought back from the brink of death, Noemi Vidal finds Abel has not only saved her life, but he's made her into something else, something more. Not quite mech, yet not quite human any longer, Noemi must find her place in a universe where she is utterly unique, all while trying to create a world where anyone–even a mech–can be free.
The final battle between Earth and the colony planets is here, and there's no lengths to which Earth won't go to preserve its domination over all humanity. But together, the universe's most advanced mech and its first human-mech hybrid might have the power to change the galaxy for good.
*Defy Me by Tahereh Mafi
Juliette Ferrars isn't who she thinks she is.
Nothing in her world is what it seemed. She thought she'd finally defeated the Reestablishment. She thought she'd finally taken control of her life, her power, and her pain. But Juliette has only just begun to unravel a lifetime of lies, and she finds herself faced with a familiar choice:
Be a weapon. Or be a warrior.
This time, she's not alone. Stronger, braver, and more resilient than ever, Juliette will fight for life and love with her friends by her side—but first, she has to survive the war being waged against her mind:
She has to remember who she was.
Narrated by Juliette, Warner, and Kenji Kishimoto, this gripping novel perfectly sets the stage for the highly anticipated forthcoming conclusion to the Shatter Me series.
Tyrants cut out hearts. Rulers sacrifice their own. Princess Hesina of Yan has always been eager to shirk the responsibilities of the crown, but when her beloved father is murdered, she's thrust into power, suddenly the queen of an unstable kingdom. Determined to find her father's killer, Hesina does something desperate: she enlists the aid of a soothsayer—a treasonous act, punishable by death… because in Yan, magic was outlawed centuries ago.
Using the information illicitly provided by the sooth, and uncertain if she can trust even her family, Hesina turns to Akira—a brilliant investigator who's also a convicted criminal with secrets of his own. With the future of her kingdom at stake, can Hesina find justice for her father? Or will the cost be too high?
In this shimmering Chinese-inspired fantasy, debut author Joan He introduces a determined and vulnerable young heroine struggling to do right in a world brimming with deception.
Branches and stones, daggers and bones, They locked the Beast away.
After the death of her sister, seventeen-year-old Violet Saunders finds herself dragged to Four Paths, New York. Violet may be a newcomer, but she soon learns her mother isn't: They belong to one of the revered founding families of the town, where stone bells hang above every doorway and danger lurks in the depths of the woods. Justin Hawthorne's bloodline has protected Four Paths for generations from the Gray—a lifeless dimension that imprisons a brutal monster. After Justin fails to inherit his family's powers, his mother is determined to keep this humiliation a secret. But Justin can't let go of the future he was promised and the town he swore to protect. Ever since Harper Carlisle lost her hand to an accident that left her stranded in the Gray for days, she has vowed revenge on the person who abandoned her: Justin Hawthorne. There are ripples of dissent in Four Paths, and Harper seizes an opportunity to take down the Hawthornes and change her destiny—to what extent, even she doesn't yet know. The Gray is growing stronger every day, and its victims are piling up. When Violet accidentally unleashes the monster, all three must band together with the other Founders to unearth the dark truths behind their families' abilities… before the Gray devours them all.
Sixteen-year-old cupid-in-training Kali is in an Olympus-sized mountain of trouble. Rule number one in arrow-toting matchmaking: don't stick yourself. But accidents happen, and Kali instantly falls hard for her indie rock, bass-playing target, Benicio.
The God of Love is going to kill her. Even if he is her dad.
Being the daughter of Eros isn't all it's cracked up to be. For one thing, a girl can get jaded when her parents have the most beautiful and fatalistic love story in history. For another, immortality royally sucks when the Oracle condemns you to eternity in the wrong profession. Do the Gods care that Kali wants to ditch the love stuff and be a muse?
Nope.
To reclaim her heart and her destiny, Kali is left with no choice but to defy the Gods, tempt the Fates, date the mortal love of her life, and hope she doesn't lose her best friend, Hector, in the process.
Following her beloved mother's death, the kingdom falls into the hands of Snow White's stepmother, commonly referred to as "the Evil Queen" by those she rules. Snow keeps her head down at the castle, hoping to make the best of her situation.
But when new information about her parents resurfaces and a plot to kill her goes haywire, everything changes for Snow. With the help of a group of wary dwarfs, a kind prince she thought she'd never see again, and a mysterious stranger from her past, Snow embarks on a quest to stop the Evil Queen and take back her kingdom. But can she stop an enemy who knows her every move and will stop at nothing to retain her power… including going after the ones Snow loves?
Perfect for fans of Jennifer Niven and Nicola Yoon, this heartbreaking and uplifting novel captures the ups and downs of teen love in the face of unimaginable grief and the rocky journey to healing, peace, and forgiveness. From breakout author Brenda Rufener (Where I Live).
When Aggi Frank and Max Granger finally admitted their feelings for each other last December, it felt like love was beautiful and endless . . . until it wasn't.
A fatal car accident involving their older siblings throws their lives into sudden chaos. And with a restraining order now in place between the two bitter households, Aggi and Max's love runs cold. Being together again seems like a distant fantasy, even though they share the same driveway.
Still, Plum Lake is a small town, and staying apart can't last forever. Aggi and Max eventually reunite at a lake-house party and break the ice after a year of silence.
But just as they begin to rebuild their relationship, the unthinkable happens, leading them to confront each other and their families in the hope of mending the broken pieces.
Seventeen-year-old Revna is a factory worker, manufacturing war machines for the Union of the North. When she's caught using illegal magic, she fears being branded a traitor and imprisoned. Meanwhile, on the front lines, Linné defied her father, a Union general, and disguised herself as a boy to join the army. They're both offered a reprieve from punishment if they use their magic in a special women's military flight unit and undertake terrifying, deadly missions under cover of darkness. Revna and Linné can hardly stand to be in the same cockpit, but if they can't fly together, and if they can't find a way to fly well, the enemy's superior firepower will destroy them–if they don't destroy each other first.
We Rule the Night is a powerful story about sacrifice, complicated friendships, and survival despite impossible odds.
A gorgeous and timely novel based on the incredible story of Sophie Scholl, a young German college student who challenged the Nazi regime during World War II as part of The White Rose, a non-violent resistance group.
Disillusioned by the propaganda of Nazi Germany, Sophie Scholl, her brother, and his fellow soldiers formed the White Rose, a group that wrote and distributed anonymous letters criticizing the Nazi regime and calling for action from their fellow German citizens. The following year, Sophie and her brother were arrested for treason and interrogated for information about their collaborators. This debut novel recounts the lives of Sophie and her friends and highlights their brave stand against fascism in Nazi Germany.
4
Katina King is the reigning teen jiu-jitsu champion of Northern California, but she's having trouble fighting off the secrets in her past.
Robin Thornton was adopted from an orphanage in Kolkata, India and is reluctant to take on his future. Since he knows nothing about his past, how is he supposed to figure out what comes next?
Robin and Kat meet in the most unlikely of places ― a summer service trip to India to work with survivors of human trafficking. As bonds blossom between the travel-mates, Robin and Kat discover the healing superpowers of friendship.
At turns heart-wrenching, beautiful, and buoyant, Mitali Perkins's new novel explores the ripple effects of violence ― across borders and generations ― and how small acts of heroism can break the cycle.
A girl who can speak to gods must save her people without destroying herself.
A prince in danger must decide who to trust.
A boy with a monstrous secret waits in the wings.
Together, they must assassinate the king and stop the war.
In a centuries-long war where beauty and brutality meet, their three paths entwine in a shadowy world of spilled blood and mysterious saints, where a forbidden romance threatens to tip the scales between dark and light. Wicked Saints is the thrilling start to Emily A. Duncan's devastatingly Gothic Something Dark and Holy trilogy.
9
*All For One by Melissa de la Cruz
1785. New York, New York.
As a young nation begins to take shape, Alexander Hamilton and Elizabeth Schuyler are on top of the world. They're the toast of the town, keeping New York City buzzing with tales of their lavish parties, of Eliza's legendary wit, and of Alex's brilliant legal mind.
But new additions to Alex & Eliza's little family mean change is afoot in the Hamilton household. When they agree to take in an orphaned teenage girl along with Eliza's oldest brother, John Schuyler, Eliza can't help but attempt a match. It's not long before sparks start to fly . . . if only Eliza can keep herself from interfering too much in the course of true love. After all, she and Alex have an arrival of their own to plan for, though Alex's latest case brings a perilous threat that may destroy everything.
The sweeping love story of Alexander Hamilton and Elizabeth Schuyler comes to a close in All for One, the riveting final installment of the New York Times bestselling Alex & Eliza trilogy.
Ivy Bloodgood's mother is dead, and she should probably be sad about it. But she isn't. Myra Bloodgood was a manipulative personality who never told the truth—about where she came from, who Ivy's father was, or why they were living their lives on the run.
Now that Ivy has been sent to the family estate on Darkhaven, an island off the New England coast, she is forced to reckon with her mother's past. Ivy can tell right away there are long-held family secrets buried within these walls, but when she wakes up from one of her nightmares covered in someone else's blood, Ivy fears that whatever demons her mother battled while she was alive have come to roost in her own mind.
Scared that she can no longer trust what she sees, Ivy seeks the help of a boy who thinks her episodes are connected to the sordid history of Darkhaven—but what they don't know might kill them both.
Surviving was just the beginning.
Eleven years after a shooting rocked the small town of East Ridge, New Jersey and left eighteen first graders in their classroom dead, survivors and recent high school graduates Matt Simpson and Cole Hewitt are still navigating their guilt and trying to move beyond the shadow of their town's grief. Will Cole and Matt ever be able to truly leave the ghosts of East Ridge behind? Do they even want to?
As they grapple with changing relationships, falling in love, and growing apart, these two friends must face the question of how to move on—and truly begin living.
Here is what happens when your mother dies.
It's the brightest day of summer and it's dark outside. It's dark in your house, dark in your room, and dark in your heart. You feel like the darkness is going to split you apart.
That's how it feels for Tiger. It's always been Tiger and her mother against the world. Then, on a day like any other, Tiger's mother dies. And now it's Tiger, alone.
Here is how you learn to make friends with the dark.
After her father's death, Ruth Robb and her family transplant themselves in the summer of 1958 from New York City to Atlanta—the land of debutantes, sweet tea, and the Ku Klux Klan. In her new hometown, Ruth quickly figures out she can be Jewish or she can be popular, but she can't be both. Eager to fit in with the blond girls in the "pastel posse," Ruth decides to hide her religion. Before she knows it, she is falling for the handsome and charming Davis and sipping Cokes with him and his friends at the all-white, all-Christian Club.
Does it matter that Ruth's mother makes her attend services at the local synagogue every week? Not as long as nobody outside her family knows the truth. At temple Ruth meets Max, who is serious and intense about the fight for social justice, and now she is caught between two worlds, two religions, and two boys. But when a violent hate crime brings the different parts of Ruth's life into sharp conflict, she will have to choose between all she's come to love about her new life and standing up for what she believes.
Trevor Noah, the funny guy who hosts The Daily Show, shares his remarkable story of growing up in South Africa, with a black South African mother and a white European father at a time when it was against the law for a mixed-race child like him to exist. But he did exist–and from the beginning, the often-misbehaved Trevor used his keen smarts and humor to navigate a harsh life under a racist government.
This compelling memoir blends drama, comedy, and tragedy to depict the day-to-day trials that turned a boy into a young man. In a country where racism barred blacks from social, educational, and economic opportunity, Trevor surmounted staggering obstacles and created a promising future for himself, thanks to his mom's unwavering love and indomitable will.
It's Trevor Noah: Born a Crime not only provides a fascinating and honest perspective on South Africa's racial history, but it will also astound and inspire young readers looking to improve their own lives.
Life Sucks by Michael Bennett, Sarah Bennett, and Bridget Gibson
Being a teenager can suck. Your friends can become enemies, and your enemies can become friends. Your family can drive you crazy. School and teachers can be a drag. Your body is constantly changing. And everyone seems to tell you to "just be you." But just who is that?
With their open and honest approach, father-daughter team Michael I. Bennett and Sarah Bennett's book is sure to appeal to teenagers and show them they aren't alone in dealing with fake friends, with parents who think they're "hip," and even how high school isn't everyone's glory days. Young readers–and their parents–are sure to find this no-nonsense, real-life advice helpful, and it will help them realize that it's okay to talk to their parents and other advisors around them about big issues that might be uncomfortable to discuss.
The Weyward family has been haunted by a curse for generations—if a Weyward falls in love before their seventeenth birthday, the person they love dies.
Sam doesn't plan to fall for anyone in the weeks before his birthday. He'll spend his time working at the Eezy-Freeze with his dad; cooking up some midsummer magic with his grandmother, great-grandmother, and great-great-grandmother (the Grands); and experimenting with drag with the help of the queens at the Shangri-La, the local gay club.
But when a new guy comes to town, Sam finds himself in trouble when they strike up a friendship that might be way more than that.
As Sam's birthday approaches and he still hasn't quite fallen in love, the curse seems to get more powerful and less specific about who it targets.
A mysterious girl Sam talks to on the phone late at night and a woman he's only seen in a dream might have the answers he's been looking for—but time is running out to save the people he cares about.
All Magnus Bane wanted was a vacation—a lavish trip across Europe with Alec Lightwood, the Shadowhunter who against all odds is finally his boyfriend. But as soon as the pair settles in Paris, an old friend arrives with news about a demon-worshipping cult called the Crimson Hand that is bent on causing chaos around the world. A cult that was apparently founded by Magnus himself. Years ago. As a joke.
Now Magnus and Alec must race across Europe to track down the Crimson Hand and its elusive new leader before the cult can cause any more damage. As if it wasn't bad enough that their romantic getaway has been sidetracked, demons are now dogging their every step, and it is becoming harder to tell friend from foe. As their quest for answers becomes increasingly dire, Magnus and Alec will have to trust each other more than ever—even if it means revealing the secrets they've both been keeping.
With his girlfriend, Robin, away in Canada, eighteen-year-old Lucas Baker's only plans for the summer are to mellow out with his friends, smoke weed, drop a tab or two, and head out in his microbus for a three-day happening called the Woodstock Music and Art Fair. But life veers dramatically off track when he suddenly finds himself in danger of being drafted and sent to fight in Vietnam. If that isn't heavy enough, there's also the free-loving (and undeniably alluring) Tinsley, who seems determined to test Lucas's resolve to stay faithful to Robin; a frighteningly bad trip at a Led Zeppelin concert; a run-in with an angry motorcycle gang; parents who appear headed for a divorce; and a friend on the front lines in 'Nam who's in mortal danger of not making it back. As the pressures grow, it's not long before Lucas finds himself knocked so far down, it's starting to look like up to him. When tuning in, turning on, and dropping out is no longer enough, what else is there?
Movies have always helped Ethan Ashby make sense of the world. So when developers swoop in and say the classic Green Street Cinema is going to be destroyed to make room for luxury condos, Ethan is ready for battle. And so a motley crew of cinema employees comes together to save the place they love:
There's Sweet Lou, the elderly organist with a penchant for not-so-sweet language; Anjo, the too-cool projectionist; Griffin and Lucas who work concessions, if they work at all; and Ethan, their manager (who can barely manage his own life). Still, it's going to take a movie miracle for the Green Street to have a happy ending. And when Raina Allen, Ethan's oldest friend (and possible soul mate?), comes back to town after working in Hollywood–cue lights and music–it seems that miracle may have been delivered. But life and love aren't always like in the movies.
This Book is Not Yet Rated is about growing up, letting go, and realizing love hides in plain view–in the places that shape us, the people who raise us, the first loves who leave us, and the lives that fade in and fade out all around us.
When Katya loses control of her power to freeze, her villagers banish her to the palace of the terrifying Prince Sasha in Kiev. Expecting punishment, she is surprised to find instead that Sasha is just like her—with the ability to summon fire. Sasha offers Katya friendship and the chance to embrace her power rather than fear it.
But outside the walls of Kiev, Sasha's enemies are organizing an army of people bent on taking over the entire world.
Together, Katya's and Sasha's powers are a fearsome weapon. But as their enemies draw nearer, will fire and frost be enough to save the world? Or will Katya and Sasha lose everything they hold dear?
16
In the forty years since the Vagantur landed on Faloiv, the planet has existed in a tenuous peace between the humans who live in the enclosed community of N'Terra and the Faloii, the indigenous population. But after uncovering the shadowy secrets of the Council's newly elected leader and helping a kidnapped Faloii man escape, sixteen-year-old Octavia knows that conflict is looming.
Then the Faloii discover the N'Terran's latest experiment: an artificially weaponized creature, and Octavia realizes that it's up to her to prevent her people from causing any further destruction.
As she and her friends set out to understand the scope of humanity's history, nothing can prepare them for what they discover about both their home on Faloiv and the Origin planet. With war on the brink, Octavia must act to change her people's future before the natural balance on the planet shifts forever.
Convinced his mother has been abducted by aliens, Charlie Dickens spends his nights with an eye out for UFOs, hoping to join her. After all, she said the aliens would come back for him. Charlie will admit that he doesn't have many reasons to stick around; he doesn't get along well with his father, he's constantly bullied at school and at work, and the only friend he has is his 600-pound neighbor Geoffrey, and Geoffrey's three-legged dog, Tickles.
Then Charlie meets popular, easy-going Seth, who shows him what real friendship is all about. For once, he finds himself looking around at the life he's built, rather than looking up. But sooner than he expected, Charlie has to make a decision: should he stay or should he go?
Before: Jess has always struggled with the fire inside her. But when she meets Vivi, everything changes. As they fall for each other, Vivi helps Jess deal with her anger and pain and encourages her to embrace her artistic talent. And suddenly Jess's future is a blank canvas, filled with possibilities.
After: When Vivi unexpectedly dies, Jess's perfect world is erased. As she spirals out of control, Jess pushes away everyone around her and throws out her plans for art school. Because art is Vivi and Vivi is gone forever. Right when Jess feels at her lowest, she makes a surprising friend who just might be able to show her a new way to channel her rage, passion, and creativity. But will Jess ever be able to forge a new path for herself without Vivi?
A beautiful exploration of first love and first loss, this novel effortlessly weaves together past and present to tell a profound story about how you can become whole again when it seems like you've lost the most important part of yourself.
Desperate to return home to Earth and claim the reward Babel promised, Emmett and the Genesis team join forces with the Imago. Babel's initial attack left their home city in ruins, but that was just part of the Imago's plan. They knew one thing Babel didn't. This world is coming to an end.
Eden's two moons are on a collision course no one can prevent. After building eight secret launch stations, the Imago hoped to lure Babel down to their doomed planet as they left it behind. A perfect plan until the Genesis team's escape route was destroyed.
Now the group must split up to survive the hostile terrain and reach another launch station. As both sides struggle for the upper hand, the fight leads inevitably back into space, where Emmett, his crewmates, and their new allies will fight one final battle for control of the Genesis ships. Win this time, and they'll survive Babel's twisted game once and for all. As the Imago world falls, this is the last chance to rise.
Mystery-book aficionado Birdie Lindberg has an overactive imagination. Raised in isolation and homeschooled by strict grandparents, she's cultivated a whimsical fantasy life in which she plays the heroic detective and every stranger is a suspect. But her solitary world expands when she takes a job the summer before college, working the graveyard shift at a historic Seattle hotel.
In her new job, Birdie hopes to blossom from introverted dreamer to brave pioneer, and gregarious Daniel Aoki volunteers to be her guide. The hotel's charismatic young van driver shares the same nocturnal shift and patronizes the waterfront Moonlight Diner where she waits for the early morning ferry after work. Daniel also shares her appetite for intrigue, and he's stumbled upon a real-life mystery: a famous reclusive writer—never before seen in public—might be secretly meeting someone at the hotel.
To uncover the writer's puzzling identity, Birdie must come out of her shell…discovering that most confounding mystery of all may be her growing feelings for the elusive riddle that is Daniel.
Starworld by Audrey Coulthurst and Paula Garner
Sam Jones and Zoe Miller have one thing in common: they both want an escape from reality. Loner Sam flies under the radar at school and walks on eggshells at home to manage her mom's obsessive-compulsive disorder, wondering how she can ever leave to pursue her dream of studying aerospace engineering. Popular, people-pleasing Zoe puts up walls so no one can see her true self: the girl who was abandoned as an infant, whose adoptive mother has cancer, and whose disabled brother is being sent away to live in a facility. When an unexpected encounter results in the girls' exchanging phone numbers, they forge a connection through text messages that expands into a private universe they call Starworld. In Starworld, they find hilarious adventures, kindness and understanding, and the magic of being seen for who they really are. But when Sam's feelings for Zoe turn into something more, will the universe they've built survive the inevitable explosion?
23
Claire Needell's evocative novel, perfect for fans of The Girl on the Train, explores the risks of substance abuse as well as what it means to take control of your life when it seems like the only path forward is the one that will take all of your courage.
Marcelle is clean and sober, attending a tough-love version of after-school rehab, and barely hanging out with her user friends. But one night she gets a text from her best friend, Hannah, asking Marcelle to cover for her.
The next morning, Hannah is missing. Marcelle was the last one to hear from her…and now she's lying to everyone—about the text, and more.
How long can Marcelle go on before she admits to herself what she has to do? If she comes clean, can she save Hannah?
If I'm Being Honest by Emily Wibberley and Austin Siegemund-Broka
Cameron Bright's reputation can be summed up in one word: b*tch. It's no surprise she's queen bee at her private L.A. high school–she's beautiful, talented, and notorious for her brutal honesty. But when she slips up in front of her crush, Andrew, any affection he may have had for her quickly fades. To win him over, Cameron resolves to "tame" herself, much like Shakespeare's infamous shrew, Katherine. If she makes amends with everyone she's ever wronged, Andrew will have to take notice. Thus, Cameron begins her apology tour with Brendan, the guy whose social life she single-handedly destroyed. At first, Brendan isn't so quick to forgive, but slowly he warms to her when they connect over a computer game he's developing. To Cameron's amazement, she actually enjoys hanging out with Brendan; he appreciates her honesty in a way Andrew never did, and she's left wondering: maybe you shouldn't have to compromise who you are for the kind of love you deserve.
In his third book about deception during war, Paul B. Janeczko focuses his lens on World War II and the operations carried out by the Twenty-Third Headquarters Special Troops, aka the Ghost Army. This remarkable unit included actors, camouflage experts, sound engineers, painters, and set designers who used their skills to secretly and systematically replace fighting units — fooling the Nazi army into believing what their eyes and ears told them, even though the sights and sounds of tanks and war machines and troops were entirely fabricated. Follow the Twenty-Third into Europe as they play a dangerous game of enticing the German army into making battlefield mistakes by using sonic deceptions, inflatable tanks, pyrotechnics, and camouflage in more than twenty operations. From the Normandy invasion to the crossing of the Rhine River, the men of the Ghost Army — several of whom went on to become famous artists and designers after the war — played an improbable role in the Allied victory.
Esha lost everything in the royal coup—and as the legendary rebel known as the Viper, she's made the guilty pay. Now she's been tasked with her most important mission to date: taking down the ruthless General Hotha.
Kunal has been a soldier since childhood. His uncle, the general, has ensured that Kunal never strays from the path—even as a part of Kunal longs to join the outside world, which has only been growing more volatile.
When Esha and Kunal's paths cross one fated night, an impossible chain of events unfolds. Both the Viper and the soldier think they're calling the shots, but they're not the only players moving the pieces.
As the bonds that hold their land in order break down and the sins of the past meet the promise of a new future, both the soldier and the rebel must decide where their loyalties lie: with the lives they've killed to hold on to or with the love that's made them dream of something more.
Magpie Lewis started writing in her yellow notebook the day her family self-destructed. That was the night Eryn, Magpie's sister, skipped town and left her to fend for herself. That was the night of Brandon Phipp's party.
Now, Magpie is called a slut whenever she walks down the hallways of her high school, her former best friend won't speak to her, and she spends her lunch period with a group of misfits who've all been socially exiled like she has. And so, feeling trapped and forgotten, Magpie retreats to her notebook, dreaming up a place called Near.
Near is perfect–somewhere where her father never cheated, her mother never drank, and Magpie's own life never derailed so suddenly. She imagines Near so completely, so fully, that she writes it into existence, right in her own backyard. It's a place where she can have anything she wants…even revenge.
You Must Not Miss is a twisted and suspenseful tale of magic, menace, and the monsters that live inside us all.
30
There's a first time for everything.
First time playing quarters.
First time spinning the bottle.
First totally hot consensual truck hookup with a superhot boy whose digits I forgot to get.
First time getting pregnant.
Surprised you with that one, didn't I?
Surprised me, too. I'd planned to spend senior year with my bestie-slash-wifey, Devi Abrams, graduating at the top of my class and getting into an Ivy League college. Instead, Mom and I are moving in with my battle-ax of a grandmother and I'm about to start a new school and a whole new life.
Know what's more fun than being the new girl for your senior year? Being the pregnant new girl. It isn't awesome. There is one upside, though—a boy named Leaf Leon. He's cute, an amazing cook and he's flirting me up, hard-core. Too bad I'm knocked up with a stranger's baby. I should probably mention that to him at some point.
But how?
It seems I've got a lot more firsts to go.
Dumped by her boyfriend the summer after senior year, teen love and relationship columnist Lu Charles has hit a wall with her writing. The words just won't come to her like they used to and if she doesn't find a topic for her column, she'll lose her gig at hip online magazine Misnomer, and the college scholarship that goes along with it.
Her best friend, Pete, thinks she should write through her own pain, but when Lu overhears another couple planning a precollege breakup just like hers, she becomes convinced that they're the answer to cracking her writer's block. And when she meets them—super-practical Iris and cute, sweet Cal—and discovers they're postponing their breakup until the end of the summer, she has to know more.
Have Cal and Iris prolonged their own misery by staying together, knowing the end is in sight? Or does the secret to figuring out all this love business—and getting over it—lie with them? One thing is certain—if Lu can't make a breakthrough before summer is over, she can kiss her future goodbye.
One by one, things that he and his Japanese American family took for granted are taken away. In a matter of months they, along with everyone else of Japanese ancestry living on the West Coast, are forced by the government to move to internment camps, leaving everything they have known behind.
At the Heart Mountain internment camp in Wyoming, Norm and his family live in one room in a tar paper barracks with no running water. There are lines for the communal bathroom, lines for the mess hall, and they live behind barbed wire and under the scrutiny of armed guards in watchtowers.
Meticulously researched and informed by extensive interviews with Mineta himself, Enemy Child sheds light on a little-known subject of American history. Andrea Warren covers the history of early Asian immigration to the United States and provides historical context on the U.S. government's decision to imprison Japanese Americans alongside a deeply personal account of the sobering effects of that policy.
Warren takes readers from sunny California to an isolated wartime prison camp and finally to the halls of Congress to tell the true story of a boy who rose from "enemy child" to a distinguished American statesman. Mineta was the first Asian mayor of a major city (San Jose) and was elected ten times to serve in the U.S. House of Representatives, where he worked tirelessly to pass legislation, including the Civil Liberties Act of 1988. He also served as Secretary of Commerce and Secretary of Transportation. He has had requests by other authors to write his biography, but this is the first time he has said yes because he wanted young readers to know the story of America's internment camps.
Enemy Child includes more than ninety photos, many provided by Norm himself, chronicling his family history and his life. Extensive backmatter includes an Afterword, bibliography, research notes, and multimedia recommendations for further information on this important topic.
Lark is the queen of breakups. When she ends things with a boy, there are never any hard feelings. Sometimes he doesn't even realize that she broke up with him. And that's exactly how Lark likes it. What's the point in hurting people? Or getting hurt?
Her best friends, Cooper and Katie, think Lark's dating pattern is tragic. How can she know what love is if she refuses to take risks? They dare her to finally have a bad breakup, one that matters. To appease her friends, Lark selects "Undateable" Ardy Tate as her target. He's a mysterious challenge and completely different from any guy she's ever dated. Can she win him over? Will she break his heart? Or will the Queen of Breakups have her heart broken?
Elouise (Lou) Parker is determined to have the absolute best, most impossibly epic summer of her life. There are just a few things standing in her way:
* She's landed a job at Magic Castle Playland . . . as a giant dancing hot dog.
* Her crush, the dreamy Diving Pirate Nick, already has a girlfriend, who is literally the Princess of the park. But Lou's never liked anyone, guy or otherwise, this much before, and now she wants a chance at her own happily ever after.
* Her best friend, Seeley, the carousel operator, who's always been up for anything, suddenly isn't when it comes to Lou's quest to set her up with the perfect girl or Lou's scheme to get close to Nick.
* And it turns out that this will be their last summer at Magic Castle Playland–ever–unless she can find a way to stop it from closing.
Minnie Sloe and her sisters have weathered it all together―growing up without fathers, living an eccentric lifestyle with a pet rabbit named Salvador Dali, and riding out their famous artist mother's mental highs and lows.
But then their mother disappears, and Minnie, who was supposed to follow in her footsteps, starts seeing the world in monochrome. Literally. How can she create when all she sees is black-and-white?
As grief threatens to tear the three sisters apart, Minnie fears she could lose everything: her family, her future, her first love . . . and maybe even her mind.
On the quest to find her missing mother, prim and proper Enne Salta became reluctant allies with Levi Glaisyer, the city's most famous con man. Saving his life in the Shadow Game forced Enne to assume the identity of Séance, a mysterious underworld figure. Now, with the Chancellor of the Republic dead and bounties on both their heads, she and Levi must play a dangerous game of crime and politics…with the very fate of New Reynes at stake.
Thirsting for his freedom and the chance to build an empire, Levi enters an unlikely partnership with the estranged son of mafia donna Vianca Augustine. Meanwhile, Enne remains trapped by Vianca's binding oath, playing the roles of both darling lady and cunning street lord, unsure which side of herself reflects the truth.
As Enne and Levi walk a path of unimaginable wealth and opportunity, new relationships and deadly secrets could quickly lead them into ruin. And when unforeseen players enter the game, they must each make an impossible choice: sacrifice everything they've earned in order to survive…
Or die as legends.
The field of basketball analytics has leaped to overdrive thanks to Kirk Goldsberry, whose visual maps of players, teams, and positions have helped teams understand who really is the most valuable player at any position. SprawlBall combines stunning visuals, in-depth analysis, fun, behind-the-scenes stories and gee-whiz facts to chart a modern revolution. From the introduction of the 3-point line to today, the game has changed drastically . . .
Now, players like Steph Curry and Draymond Green are leading the charge. In chapters like "The Geography of the NBA," "The Interior Minister (Lebron James)," "The Evolution of Steph Curry," and "The Investor (James Harden)," Goldsberry explains why today's on-court product—with its emphasis on shooting, passing, and spacing—has never been prettier or more democratic. And it's never been more popular. For fans of Bill Simmons and FreeDarko,SprawlBall is a bold new vision of the game, presenting an innovative, cutting-edge look at the sport based on the latest research, as well as a visual and infographic feast for fans.
Sixteen-year-old Nora Wakelin has always felt like an outsider in her own family. Her parents and older sister love her, but they don't understand anything about her: not her passion for music, not her all-encompassing crush on her bandmate Daniel (who is very much unavailable), not her recklessness and impulsiveness. Nora has always imagined that her biological mother might somehow provide the answer as to why she feels like such an outsider.
Through internet stalking and leaps of logic, Nora identifies three women living elsewhere in California who seem like they could be her biological mother. So she sets out to track them each down, one by one, under the pretense of a statewide tour with her rock band, Blue Miles. Three cities, three gigs, three possible birth mothers–it sounds so easy.
But once they're on the road, of course, it's anything but easy. Nora wants to be with Daniel, she wants to find her birth mother, she wants to keep her parents happy, she wants the band to stay together, and she wants to know why she is the way she is. But she won't be the first musician to find out that, while you can't always get what you want, sometimes you get what you need.
May
7
Shane has been doing college all wrong. Pre-med, stellar grades, and happy parents…sounds ideal — but Shane's made zero friends, goes home every weekend, and romance…what's that?
Her life has been dorm, dining hall, class, repeat. Time's a ticking, and she needs a change — there's nothing like moving to a new country to really mix things up. Shane signs up for a semester abroad in London. She's going to right all her college mistakes: make friends, pursue boys, and find adventure!
Easier said than done. She is soon faced with the complicated realities of living outside her bubble, and when self-doubt sneaks in, her new life starts to fall apart.
Shane comes to find that, with the right amount of courage and determination one can conquer anything. Throw in some fate and a touch of magic – the possibilities are endless.
Lennon Davis doesn't believe in much, but she does believe in the security of the number five. If she flicks the bedroom light switch five times, maybe her new LA school won't suck. But that doesn't feel right, so she flicks the switch again. And again. Ten more flicks of the switch and maybe her new stepfamily will accept her. Twenty-five more flicks and maybe she won't cause any more of her loved ones to die. Fifty more and then she can finally go to sleep.
Kyler Benton witnesses this pattern of lights from the safety of his tree house in the yard next door. It is only there, hidden from the unwanted stares of his peers, that Kyler can fill his notebooks with lyrics that reveal the true scars of the boy behind the oversize hoodies and caustic humor. But Kyler finds that descriptions of blond hair, sad eyes, and tapping fingers are beginning to fill the pages of his notebooks. Lennon, the lonely girl next door his father has warned him about, infiltrates his mind. Even though he has enough to deal with without Lennon's rumored tragic past in his life, Kyler can't help but want to know the truth about his new muse.
*Aurora Rising by Amie Kaufman, Jay Kristoff
The year is 2380, and the graduating cadets of Aurora Academy are being assigned their first missions. Star pupil Tyler Jones is ready to recruit the squad of his dreams, but his own boneheaded heroism sees him stuck with the dregs nobody else in the academy would touch . . .
A cocky diplomat with a black belt in sarcasm
A sociopath scientist with a fondness for shooting her bunkmates
A smart-ass tech whiz with the galaxy's biggest chip on his shoulder
An alien warrior with anger-management issues
A tomboy pilot who's totally not into him, in case you were wondering
And Ty's squad isn't even his biggest problem–that'd be Aurora Jie-Lin O'Malley, the girl he's just rescued from interdimensional space. Trapped in cryo-sleep for two centuries, Auri is a girl out of time and out of her depth. But she could be the catalyst that starts a war millions of years in the making, and Tyler's squad of losers, discipline cases, and misfits might just be the last hope for the entire galaxy.
NOBODY PANIC.
Thelia isn't in line to inherit the crown, but she's been raised to take power however she can. She's been friends with Princess Corene her whole life, and she's scheming to marry Bayled, the heir to the throne. But her plans must change when an army of elves invades the kingdom. Thelia, her cousin Parsifal, and Corene become trapped in the castle. An elf warrior, Sapphire, may be Thelia's only hope of escape, but Sapphire has plans of their own. Meanwhile, an ancient magic is awakening within the castle, with the power to destroy the whole kingdom. Can Thelia find a way to protect her future—and her life?
Throughout history, people have vanished with no explanation. A group of teenagers are about to discover why.
Cade is settling into a new boarding school, contemplating his future, when he finds himself transported to another realm. He soon discovers their new world is populated with lost remnants from the past: prehistoric creatures, ancient relics, and stranger still ― people. Overwhelmed by his new surroundings, Cade has little time to adjust, for soon he and his fellow classmates are forced to become contenders in a brutal game, controlled by mysterious overlords.
But who are these beings and why did they choose these teens? Cade must prepare for battle . . . because hiding is not an option.
A PIRATE WITH A WILL OF IRON
Teriana is the second mate of the Quincense, a ship beholden to the Goddess of the Seas. Her people are born of the waves, and they alone know how to cross the impassable oceans between East and West.
A SOLDIER WITH A SECRET
Marcus is the commander of the Thirty-Seventh, the notorious legion that has led the Celendor Empire to conquer the entire East. The legion is his only family, and even they don't know the secret he's been hiding since childhood.
A DANGEROUS QUEST
When a power-hungry ruler captures Teriana's crew and threatens to reveal Marcus's secret unless they help him conquer the unknown West, the two are forced into an unlikely–and unwilling–alliance. They unite for the sake of their families, but both must decide how far they are willing to go, and how much they are willing to sacrifice.
Nate never imagined that he would be attacked by his best friend.
For sixteen years, Nate was the perfect son―the product of a no-nonsense upbringing and deep spiritual faith. Then he met Cam, who pushed him to break rules, dream, and accept himself. Conflicted, Nate began to push back. With each push, the boys became more entangled in each others' worlds…but they also spiraled closer to their breaking points. And now all of it has fallen apart after a fistfight-turned-near-fatal-incident―one that's left Nate with a stab wound and Cam in jail.
Now Nate is being ordered to give a statement, under oath, that will send his best friend to prison. The problem is, the real story of what happened between them isn't as simple as anyone thinks. With all eyes on him, Nate must make his confessions about what led up to that night with Cam…and in doing so, risk tearing both of their lives apart.
*Finale by Stephanie Garber
A love worth fighting for. A dream worth dying for. An ending worth waiting for.
It's been two months since the Fates were freed from a deck of cards, two months since Legend claimed the throne for his own, and two months since Tella discovered the boy she fell in love with doesn't really exist.
With lives, empires, and hearts hanging in the balance, Tella must decide if she's going to trust Legend or a former enemy. After uncovering a secret that upends her life, Scarlett will need to do the impossible. And Legend has a choice to make that will forever change and define him.
Caraval is over, but perhaps the greatest game of all has begun. There are no spectators this time: only those who will win, and those who will lose everything.
Welcome, welcome to Finale. All games must come to an end.
Millie Quint is devastated when she discovers that her sort-of-best friend/sort-of-girlfriend has been kissing someone else. Heartbroken and ready for a change of pace, Millie decides to apply for scholarships to boarding schools . . . the farther from Houston the better.
Soon, Millie is accepted into one of the world's most exclusive schools, located in the rolling highlands of Scotland. Here, the country is dreamy and green; the school is covered in ivy, and the students think her American-ness is adorable.
The only problem: Mille's roommate Flora is a total princess.
She's also an actual princess. Of Scotland.
At first, the girls can't stand each other, but before Millie knows it, she has another sort-of-best-friend/sort-of-girlfriend. Princess Flora could be a new chapter in her love life, but Millie knows the chances of happily-ever-afters are slim . . . after all, real life isn't a fairy tale . . . or is it?
Sometimes looking to the past helps you find your future.
Abbi Hope Goldstein is like every other teenager, with a few smallish exceptions: her famous alter ego, Baby Hope, is the subject of internet memes, she has asthma, and sometimes people spontaneously burst into tears when they recognize her. Abbi has lived almost her entire life in the shadow of the terrorist attacks of September 11. On that fateful day, she was captured in what became an iconic photograph: in the picture, Abbi (aka "Baby Hope") wears a birthday crown and grasps a red balloon; just behind her, the South Tower of the World Trade Center is collapsing.
Now, fifteen years later, Abbi is desperate for anonymity and decides to spend the summer before her seventeenth birthday incognito as a counselor at Knights Day Camp two towns away. She's psyched for eight weeks in the company of four-year-olds, none of whom have ever heard of Baby Hope.
Too bad Noah Stern, whose own world was irrevocably shattered on that terrible day, has a similar summer plan. Noah believes his meeting Baby Hope is fate. Abbi is sure it's a disaster. Soon, though, the two team up to ask difficult questions about the history behind the Baby Hope photo. But is either of them ready to hear the answers?
Biz knows how to float. She has her people, her posse, her mom and the twins. She has Grace. And she has her dad, who tells her about the little kid she was, and who shouldn't be here but is. So Biz doesn't tell anyone anything. Not about her dark, runaway thoughts, not about kissing Grace or noticing Jasper, the new boy. And she doesn't tell anyone about her dad. Because her dad died when she was seven. And Biz knows how to float, right there on the surface–normal okay regular fine.
But after what happens on the beach–first in the ocean, and then in the sand–the tethers that hold Biz steady come undone. Dad disappears and, with him, all comfort. It might be easier, better, sweeter to float all the way away? Or maybe stay a little longer, find her father, bring him back to her. Or maybe–maybe maybe maybe–there's a third way Biz just can't see yet.
Debut author Helena Fox tells a story about love and grief, about inter-generational mental illness, and how living with it is both a bridge to someone loved and lost and, also, a chasm. She explores the hard and beautiful places loss can take us, and honors those who hold us tightly when the current wants to tug us out to sea.
On one rainy afternoon, on a crowded New York City street corner, eleven-year-old Maurice met Laura. Maurice asked Laura for spare change because he was hungry, and something made Laura stop and ask Maurice if she could take him to lunch.
Maurice and Laura went to lunch together, and also bought ice cream cones and played video games. It was the beginning of an unlikely and magical friendship that changed both of their lives forever.
An Invisible Thread is the true story of the bond between an eleven-year-old boy and a busy sales executive; a heartwarming journey of hope, kindness, adventure, and love—and the power of fate to help us find our way.
It's been a year since the Catalog Killer terrorized the sleepy seaside town of Camera Cove, killing four people before disappearing without a trace. Like everyone else in town, eighteen-year-old Mac Bell is trying to put that horrible summer behind him—easier said than done since Mac's best friend Connor was the murderer's final victim. But when he finds a cryptic message from Connor, he's drawn back into the search for the killer—who might not have been a random drifter after all. Now nobody—friends, neighbors, or even the sexy stranger with his own connection to the case—is beyond suspicion. Sensing that someone is following his every move, Mac struggles to come to terms with his true feelings towards Connor while scrambling to uncover the truth.
Perpetually awkward Nima Kumara-Clark is bored with her insular community of Bridgeton, in love with her straight girlfriend, and trying to move past her mother's unexpected departure. After a bewildering encounter at a local festival, Nima finds herself suddenly immersed in the drag scene on the other side of town.
Macho drag kings, magical queens, new love interests, and surprising allies propel Nima both painfully and hilariously closer to a self she never knew she could be—one that can confidently express and accept love. But she'll have to learn to accept lost love to get there.
High school senior Anders Thorson is unusually gifted. His band, Last Things, is legendary in their northern Minnesota hometown. With guitar skills that would amaze even if he weren't only eighteen, Anders is the focus of head-turning admiration. And Thea Malcom, a newcomer to the insular town, is one of his admirers. Thea seems to turn up everywhere Anders goes: gigs at the local coffeehouse, guitar lessons, even in the woods near Anders's home.
When strange things start happening to Anders, blame immediately falls on Thea. But is she trying to hurt him? Or save him? Can he trust a girl who doesn't seem to know the difference between dreams and reality? And how much are they both willing to sacrifice to get what they want?
A marvel: something you find amazing. Even ordinary-amazing. Like potatoes—because they make French fries happen. Like the perfect fries Adam and his mom used to make together.
An oddity: whatever gives you pause. Like the fact that there are hateful people in the world. Like Zayneb's teacher, who won't stop reminding the class how "bad" Muslims are.
But Zayneb, the only Muslim in class, isn't bad. She's angry.
When she gets suspended for confronting her teacher, and he begins investigating her activist friends, Zayneb heads to her aunt's house in Doha, Qatar, for an early start to spring break.
Fueled by the guilt of getting her friends in trouble, she resolves to try out a newer, "nicer" version of herself in a place where no one knows her.
Then her path crosses with Adam's.
Since he got diagnosed with multiple sclerosis in November, Adam's stopped going to classes, intent, instead, on perfecting the making of things. Intent on keeping the memory of his mom alive for his little sister.
Adam's also intent on keeping his diagnosis a secret from his grieving father.
Alone, Adam and Zayneb are playing roles for others, keeping their real thoughts locked away in their journals.
Until a marvel and an oddity occurs…
Marvel: Adam and Zayneb meeting.
Oddity: Adam and Zayneb meeting.
Kira Bennett's earliest memories are of living alone and wild in the woods. She has no idea how long she was on her own or what she had to do to survive, but she remembers the moment that Cady Bennett and one of her search-and-rescue dogs found her. Adopted into the Bennett family, Kira still struggles with human interaction years later, but she excels at the family business: search-and-rescue. Along with Cady's son, Jude, and their neighbor, Free, Kira works alongside Cady to train the world's most elite search-and-rescue dogs. Someday, all three teenagers hope to put their skills to use, finding the lost and bringing them home. But when Cady's estranged father, the enigmatic Bales Bennett, tracks his daughter down and asks for her help in locating a missing child—one of several visitors who has disappeared in the Sierra Glades National Park in the past twelve months—the teens find themselves on the frontlines sooner than they could have ever expected. As the search through 750,000 acres of unbridled wilderness intensifies, Kira becomes obsessed with finding the missing child. She knows all too well what it's like to be lost in the wilderness, fighting for survival, alone. But this case isn't simple. There is more afoot than a single, missing girl, and Kira's memories threaten to overwhelm her at every turn. As the danger mounts and long-held family secrets come to light, Kira is forced to question everything she thought she knew about her adopted family, her true nature, and her past.
*Nexus by Sasha Alsberg, Lindsay Cummings
With her crew captured and her ship a smoldering ruin, notorious mercenary Androma Racella is no longer the powerful Bloody Baroness, but a fugitive on the run. And with most of the galaxy now trapped under the mind control of the bloodthirsty Queen Nor, not even the farthest reaches of Mirabel can offer safety for the queen's most-hated adversary.
But Andi will risk anything, even her precious freedom, to save her crew. So when she finds herself stranded with bounty hunter Dextro Arez on the unforgiving ice planet of Solera, Andi seeks out the mysterious Arachnid, the one person who seems to be fighting back against the vicious queen…and uncovers the true, devastating reason for Nor's takeover.
Back on Andi's home planet of Arcardius, Nor's actions have made Mirabel vulnerable to invasion from an outside force. Now allying with her mortal enemy may be the only way for the Bloody Baroness to save the galaxy—even if that alliance demands the most wrenching sacrifice of all.
*Nocturna by Maya Motayne
To Finn Voy, magic is two things: a knife to hold under the chin of anyone who crosses her…and a disguise she shrugs on as easily as others pull on cloaks.
As a talented faceshifter, it's been years since Finn has seen her own face, and that's exactly how she likes it. But when Finn gets caught by a powerful mobster, she's forced into an impossible mission: steal a legendary treasure from Castallan's royal palace or be stripped of her magic forever.
After the murder of his older brother, Prince Alfehr is first in line for the Castallan throne. But Alfie can't help but feel that he will never live up to his brother's legacy. Riddled with grief, Alfie is obsessed with finding a way to bring his brother back, even if it means dabbling in forbidden magic.
But when Finn and Alfie's fates collide, they accidentally unlock a terrible, ancient power—which, if not contained, will devour the world. And with Castallan's fate in their hands, Alfie and Finn must race to vanquish what they have unleashed, even if it means facing the deepest darkness in their pasts.
10:00 p.m.: Lucky is the biggest K-pop star on the scene, and she's just performed her hit song "Heartbeat" in Hong Kong to thousands of adoring fans. She's about to debut on The Tonight Show in America, hopefully a breakout performance for her career. But right now? She's in her fancy hotel, trying to fall asleep but dying for a hamburger.
11:00 p.m.: Jack is sneaking into a fancy hotel, on assignment for his tabloid job that he keeps secret from his parents. On his way out of the hotel, he runs into a girl wearing slippers, a girl who is single-mindedly determined to find a hamburger. She looks kind of familiar. She's very cute. He's maybe curious.
12:00 a.m.: Nothing will ever be the same.
Lights, camera―all Maeve needs is action. But at eighteen, a rare form of muscular dystrophy usually stands in the way of romance. She's got her friends, her humor, and a passion for filmmaking to keep her focus off consistent rejection…and the hot older guy starring in her senior film project.
Tall, bearded, and always swaying, Cole Stone is everything Maeve can't be. And she likes it. Between takes, their chemistry is shockingly electric.
Suddenly, Maeve gets a taste of typical teenage dating life, but girls in wheelchairs don't get the hot guy―right? Cole's attention challenges everything she once believed about her self-image and hopes for love. But figuring this out, both emotionally and physically, won't be easy for either of them. Maeve must choose between what she needs and what she wants, while Cole has a tendency to avoid decisions altogether. And the future might not wait for either.
Seventeen-year-old internet video star Fit is on a mission to become famous at all costs. She shares her life with her fans through countless videos (always sporting some elaborate tinfoil accessory), and they love her for it. If she goes viral, maybe she can get out of her small casino town and the cramped apartment she shares with her brother and grandpa. But there's one thing Fit's fans don't know about her: when Fit was three years old, her mother, suffering from postpartum psychosis, tried to kill her.
Now Fit's mother, River, has been released from prison. Fit is outraged that River is moving in with the family, and it's not long before Fit's video followers realize something's up and uncover her tragic past. But Fit soon learns that the only thing her audience loves more than tragedy is a heartwarming tale of a family reunion. Is faking a relationship with River the key to all Fit's dreams coming true?
Ever since she got pregnant freshman year, Emoni Santiago's life has been about making the tough decisions—doing what has to be done for her daughter and her abuela. The one place she can let all that go is in the kitchen, where she adds a little something magical to everything she cooks, turning her food into straight-up goodness.
Even though she dreams of working as a chef after she graduates, Emoni knows that it's not worth her time to pursue the impossible. Yet despite the rules she thinks she has to play by, once Emoni starts cooking, her only choice is to let her talent break free.
14
The Things She's Seen by Ambelin Kwaymullina, Ezekiel Kwaymullina
Nothing's been the same for Beth Teller since the day she died.
Her dad is drowning in grief. He's also the only one who has been able to see and hear her since the accident. But now she's got a mystery to solve, a mystery that will hopefully remind her detective father that he needs to reconnect with the living.
The case takes them to a remote Australian town, where there's been a suspicious fire. All that remains are an unidentifiable body and an unreliable witness found wandering nearby. This witness speaks in riddles. Isobel Catching has a story to tell, and it's a tale to haunt your dreams–but does it even connect to the case at hand?
As Beth and her father unravel the mystery, they find a shocking and heartbreaking story lurking beneath the surface of a small town.
Fatima lives in the city of Noor, a thriving stop along the Silk Road. There the music of myriad languages fills the air, and people of all faiths weave their lives together. However, the city bears scars of its recent past, when the chaotic tribe of Shayateen djinn slaughtered its entire population — except for Fatima and two other humans. Now ruled by a new maharajah, Noor is protected from the Shayateen by the Ifrit, djinn of order and reason, and by their commander, Zulfikar.
But when one of the most potent of the Ifrit dies, Fatima is changed in ways she cannot fathom, ways that scare even those who love her. Oud in hand, Fatima is drawn into the intrigues of the maharajah and his sister, the affairs of Zulfikar and the djinn, and the dangers of a magical battlefield.
Rosa Santos is cursed by the sea—at least, that's what they say. Dating her is bad news, especially if you're a boy with a boat. But Rosa feels more caught than cursed. Caught between cultures and choices. Between her abuela, a beloved healer and pillar of their community, and her mother, an artist who crashes in and out of her life like a hurricane. Between Port Coral, the quirky South Florida town they call home, and Cuba, the island her abuela refuses to talk about. As her college decision looms, Rosa collides—literally—with Alex Aquino, the mysterious boy with tattoos of the ocean whose family owns the marina. With her heart, her family, and her future on the line, can Rosa break a curse and find her place beyond the horizon?
As everyone at her Brooklyn high school announces their summer adventures, Olivia harbors a dirty secret: Her plan is to binge-watch horror movies and chat with her online friend, Elm. Olivia and Elm have never shared personal details, apart from their ages and the fact that Elm's aunt is a low-budget horror filmmaker. Then Elm pushes Olivia to share her identity and sends her a selfie of his own. Olivia is shocked by how cute he is! In a moment of panic, assuming she and Elm will never meet in real life, she sends a photo of her gorgeous friend Katie. But things are about to get even more complicated when Olivia's parents send her to the Catskills, and she runs into the one person she never thought she would see. This sweet and funny summertime romance is perfect for fans of Love and Gelato and The Unexpected Everything.
When Ben De Backer comes out to their parents as nonbinary, they're thrown out of their house and forced to move in with their estranged older sister, Hannah, and her husband, Thomas, whom Ben has never even met. Struggling with an anxiety disorder compounded by their parents' rejection, they come out only to Hannah, Thomas, and their therapist and try to keep a low profile in a new school.
But Ben's attempts to survive the last half of senior year unnoticed are thwarted when Nathan Allan, a funny and charismatic student, decides to take Ben under his wing. As Ben and Nathan's friendship grows, their feelings for each other begin to change, and what started as a disastrous turn of events looks like it might just be a chance to start a happier new life.
Danny didn't know what she was looking for when she and her mother spread out a map of the United States and Danny put her finger down on Tempest, California. What she finds are the Grays: a group of friends who throw around terms like queer and witch like they're ordinary and everyday, though they feel like an earthquake to Danny. But Danny didn't just find the Grays. They cast a spell that calls her halfway across the country, because she has something they need: she can bring back Imogen, the most powerful of the Grays, missing since the summer night she wandered into the woods alone. But before Danny can find Imogen, she finds a dead boy with a redwood branch through his heart. Something is very wrong amid the trees and fog of the Lost Coast, and whatever it is, it can kill. Lush, eerie, and imaginative, Amy Rose Capetta's tale overflows with the perils and power of discovery — and what it means to find your home, yourself, and your way forward.
Tamar is admitted to Lime Grove, a psychiatric hospital for teenagers.
Lime Grove is home to a number of teenagers with a variety of problems: anorexia, bipolar disorder, behavior issues. Tamar will come to know them all very well. But there's one question she can't… won't answer: What happened to her friend Iris? As Tamar's emotional angst becomes more and more clear to her, she'll have to figure out a path to forgiveness. A shocking, moving, and darkly funny depiction of life in a psychiatric world.
A stunning journey of one girl's mental illness and the redemptive power of truth and healing.
Steven Gerald Gabel—a.k.a. Stiggy—needs to get out of Minnesota. His father recently look his own life, his mother is a shell of the person she used to be, and his sort-of-girlfriend ghosted him and skipped town. What does he have left to stick around for? Armed with his mom's credit card and a tourist map of Great River Road, Stiggy sets off in his dad's car.
The only problem is, life on his own isn't exactly what he expected and, soon enough, he finds himself at a crossroads: keep running from his demons, or let them hitch a ride back home with him.
Stepsister by Jennifer Donnelly
Isabelle should be blissfully happy – she's about to win the handsome prince. Except Isabelle isn't the beautiful girl who lost the glass slipper and captured the prince's heart. She's the ugly stepsister who's cut off her toes to fit into Cinderella's shoe . . . which is now filling with her blood.
When the prince discovers Isabelle's deception, she's turned away in shame. It's no more than she deserves: she's a plain girl in a world that values beauty; a bold girl in a world that wants her to be pliant.
Isabelle has tried to fit in. She cut away pieces of herself in order to become pretty. Sweet. More like Cinderella. But that only made her mean, jealous, and hollow. Now she has a chance to alter her destiny and prove what ugly stepsisters have always known: it takes more than heartache to break a girl.
Evoking the original version of the Cinderella story, bestselling author Jennifer Donnelly uses her trademark wit and wisdom to send an overlooked character on a journey toward empowerment, redemption . . . and a new definition of beauty.
This book is about the Stonewall Riots, a series of spontaneous, often violent demonstrations by members of the gay (LGBTQ+) community in reaction to a police raid that took place in the early morning hours of June 28, 1969, at the Stonewall Inn in the Greenwich Village neighborhood of Manhattan, New York City. The Riots are attributed as the spark that ignited the LGBTQ+ movement. The author describes American gay history leading up to the Riots, the Riots themselves, and the aftermath, and includes her interviews of people involved or witnesses, including a woman who was ten at the time. Profusely illustrated, the book includes contemporary photos, newspaper clippings, and other period objects. A timely and necessary read, The Stonewall Riots helps readers to understand the history and legacy of the LGBTQ+ movement.
Annie Tripp has everything she needs–Italian sweaters, vintage chandelier earrings, and elite ice skating lessons–but all that changes when her father is accused of scamming hundreds of people out of their investments. Annie knows her dad wasn't at fault, but she and her brother are exiled to their estranged aunt and uncle's house in a run-down part of Breckenridge–until the trial blows over.
Life with her new family isn't quite up to Annie's usual standard of living, but surprisingly, pretending to be someone else offers a freedom she's never known. As Annie starts to make real friends for the first time, she realizes she has more in common with her aunt and uncle than she ever wanted to know. As the family's lies begin to crumble and truths demand consequences, Annie must decide which secrets need to see the light of day . . . and which are worth keeping.
Ashish Patel didn't know love could be so…sucky. After being dumped by his ex-girlfriend, his mojo goes AWOL. Even worse, his parents are annoyingly, smugly confident they could find him a better match. So, in a moment of weakness, Ash challenges them to set him up.
The Patels insist that Ashish date an Indian-American girl—under contract. Per subclause 1(a), he'll be taking his date on "fun" excursions like visiting the Hindu temple and his eccentric Gita Auntie. Kill him now. How is this ever going to work?
Sweetie Nair is many things: a formidable track athlete who can outrun most people in California, a loyal friend, a shower-singing champion. Oh, and she's also fat. To Sweetie's traditional parents, this last detail is the kiss of death.
Sweetie loves her parents, but she's so tired of being told she's lacking because she's fat. She decides it's time to kick off the Sassy Sweetie Project, where she'll show the world (and herself) what she's really made of.
Ashish and Sweetie both have something to prove. But with each date they realize there's an unexpected magic growing between them. Can they find their true selves without losing each other?
I guess we should start at the beginning. I was born on 2 November 1995. The doctors in the hospital took one look at my genitals and slapped an F on my birth certificate. 'F' for female, not fail – though that would actually have been kind of appropriate given present circumstances. When I was 15, I realised I was a transgender man. That makes it sound like I suddenly had some kind of lightbulb moment. In reality, coming to grips with my identity has taken a long time. Over the last six years, I've come out to my family and friends, changed my name, battled the healthcare system, started taking male hormones and have had surgery on my chest. My quest to a beard is almost complete. This is my story.
Jonathan Hopkirk and Adam "Kurl" Kurlansky are partnered in English class, writing letters to one another in a weekly pen pal assignment. With each letter, the two begin to develop a friendship that eventually grows into love. But with homophobia, bullying, and devastating family secrets, Jonathan and Kurl struggle to overcome their conflicts and hold onto their relationship…and each other.
Zafira is the Hunter, disguising herself as a man when she braves the cursed forest of the Arz to feed her people. Nasir is the Prince of Death, assassinating those foolish enough to defy his autocratic father, the sultan. If Zafira was exposed as a girl, all of her achievements would be rejected; if Nasir displayed his compassion, his father would punish him in the most brutal of ways. Both Zafira and Nasir are legends in the kingdom of Arawiya―but neither wants to be.
War is brewing, and the Arz sweeps closer with each passing day, engulfing the land in shadow. When Zafira embarks on a quest to uncover a lost artifact that can restore magic to her suffering world and stop the Arz, Nasir is sent by the sultan on a similar mission: retrieve the artifact and kill the Hunter. But an ancient evil stirs as their journey unfolds―and the prize they seek may pose a threat greater than either can imagine. Set in a richly detailed world inspired by ancient Arabia, We Hunt the Flame is a gripping debut of discovery, conquering fear, and taking identity into your own hands.
21
Harriet Price is the perfect student: smart, dutiful, over-achieving. Will Everhart is a troublemaker who's never met an injustice she didn't fight. When their swim coach's inappropriate behavior is swept under the rug, the unlikely duo reluctantly team up to expose his misdeeds, pulling provocative pranks and creating the instantly legendary Amelia Westlake–an imaginary student who helps right the many wrongs of their privileged institution. But as tensions burn throughout their school–who is Amelia Westlake?–and between Harriet and Will, how long can they keep their secret? How far will they go to make a difference? And when will they realize they're falling for each other?
Birthday by Meredith Russo
Two best friends. A shared birthday. Six years…
ERIC: There was the day we were born. There was the minute Morgan and I decided we were best friends for life. The years where we stuck by each other's side―as Morgan's mom died, as he moved across town, as I joined the football team, as my parents started fighting. But sometimes I worry that Morgan and I won't be best friends forever. That there'll be a day, a minute, a second, where it all falls apart and there's no turning back the clock.
MORGAN: I know that every birthday should feel like a new beginning, but I'm trapped in this mixed-up body, in this wrong life, in Nowheresville, Tennessee, on repeat. With a dad who cares about his football team more than me, a mom I miss more than anything, and a best friend who can never know my biggest secret. Maybe one day I'll be ready to become the person I am inside. To become her. To tell the world. To tell Eric. But when?
Six years of birthdays reveal Eric and Morgan's destiny as they come together, drift apart, fall in love, and discover who they're meant to be―and if they're meant to be together. From the award-winning author of If I Was Your Girl, Meredith Russo, comes a heart-wrenching and universal story of identity, first love, and fate.
On the day of Saskia's kenning―a special bone reading that determines the apprenticeships of all seventeen-year-olds―her worst fear comes true. She receives an assignment to train as a Bone Charmer, a seer, like her mother.
Saskia knows her mother saw multiple paths for her, yet chose the one she knew Saskia wouldn't want. Their argument leads to a fracture in one of the bones, with the devastating result of splitting Saskia's future.
Now she will live her two potential paths simultaneously: one where she's forced to confront her magic, and one where she tries to run from it. But when both paths become entangled in the plot of a rogue Charmer, Saskia learns that no future is safe, and some choices have unimaginable consequences. Only one future can survive. And Saskia's life is in danger in both.
This is the second title in a paperback original series about a girl whose classic literary crushes manifest in real life, this time told from Rory Campbell's point of view and inspired by the timeless classic Little Women. Rory likes Toby, but Toby likes Rory's sister Merrilee, even though Merrilee is already dating Toby's friend Fielding—and it's all about to get even more complicated at Reginald R. Hero High . . . where our leading ladies' romantic fantasies come true, often with surprising consequences. Perfect for younger readers of YA or older readers of middle grade, this squeaky-clean series is sure to charm any reader who's ever had a book boyfriend of her own.
Brave Face by Shaun David Hutchinson
"I wasn't depressed because I was gay. I was depressed and gay."
Shaun David Hutchinson was nineteen. Confused. Struggling to find the vocabulary to understand and accept who he was and how he fit into a community in which he couldn't see himself. The voice of depression told him that he would never be loved or wanted, while powerful and hurtful messages from society told him that being gay meant love and happiness weren't for him.
A million moments large and small over the years all came together to convince Shaun that he couldn't keep going, that he had no future. And so he followed through on trying to make that a reality.
Thankfully Shaun survived, and over time, came to embrace how grateful he is and how to find self-acceptance. In this courageous and deeply honest memoir, Shaun takes readers through the journey of what brought him to the edge, and what has helped him truly believe that it does get better.
Best friends Marine Duval and Kate Sanders have trained at the Paris Opera Ballet School since childhood, where they've formed an inseparable bond forged by respective family tragedies and a fierce love for dance. When the body of a student is found in the dorms just before the start of their final year, Marine and Kate begin to ask themselves what they would do to win the ultimate prize: to be the one girl selected to join the Opera's prestigious corps de ballet. Would they die? Cheat? Seduce the most talented boy in the school, dubbed the Demigod, hoping his magic would make them shine, too? Neither girl is sure.
But then Kate gets closer to the Demigod, even as Marine has begun to capture his heart. And as selection day draws near, the competition—for the prize, for the Demigod—becomes fiercer, and Marine and Kate realize they have everything to lose, including each other.
For seventeen-year-old Opal Hopper, code is magic. She builds entire worlds from scratch: Mars craters, shimmering lakes, any virtual experience her heart desires.
But she can't code her dad back into her life. When he disappeared after her tenth birthday, leaving only a cryptic note, Opal tried desperately to find him. And when he never turned up, she enrolled at a boarding school for technical prodigies and tried to forget.
Until now. Because WAVE, the world's biggest virtual reality platform, has announced a contest where the winner gets to meet its billionaire founder. The same billionaire who worked closely with Opal's dad. The one she always believed might know where he went. The one who maybe even murdered him.
What begins as a small data hack to win the contest spirals out of control when Opal goes viral, digging her deeper into a hole of lies, hacks, and manipulation. How far will Opal go for the answers–or is it the attention–she's wanted for years?
Seventeen-year-old Bex is thrilled when she gets an internship on her favorite tv show, Silver Falls. Unfortunately, the internship isn't quite what she expected… instead of sitting in a crowded writer's room volleying ideas back and forth, Production Interns are stuck picking up the coffee.
Determined to prove her worth as a writer, Bex drafts her own script and shares it with the head writer―who promptly reworks it and passes it off as his own! Bex is understandably furious, yet…maybe this is just how the industry works? But when they rewrite her proudly lesbian character as straight, that's the last straw! It's time for Bex and her crush to fight back.
Maris Brown has been told two things about her destiny:
1. She will fall happily and madly in love.
2. She could be dead before she turns eighteen.
The summer before that fateful birthday, Maris is in the wealthy beach town of Cross Cove with her estranged father and his new family–and the infamous Duvals. Since the youngest member of the Duval family, Edison, is back from college and back in the arms of Maris's new stepsister, her summer looks to be a long string of lazy days on the Duval's lush beach.
But Edison is hiding something. And the more Maris learns about him, the more she's given signs that she should stay as far away from him as possible. As wrong as it is, Maris is drawn to him. Around Edison, she feels truly alive and she's not willing to give that up. Even if it means a collision course with destiny.
Alek Khederian thinks about his life B.E. and A.E.: Before Ethan and After Ethan. Before Ethan, Alek was just an average Armenian-American kid with a mess of curly dark hair, grades not nearly good enough for his parents, and no idea of who he was or what he wanted. After he got together with Ethan, Alek was a new man. Stylish. Confident. (And even if he wasn't quite marching in LGBTQ parades), Gay and Out and Proud.
With their six-month anniversary coming up, Alek and Ethan want to do something special to celebrate. Like, really special. Like, the most special thing two people in love can do with one another. But Alek's not sure he's ready for that. And then he learns something about Ethan that may not just change their relationship, but end it.
Alek can't bear the thought of finding out who he'd be P.E.: Post-Ethan. But he also can't forgive or forget what Ethan did. Luckily, his best friend Becky and madcap Armenain family are there to help him figure out whether it's time to just let Ethan go, or reach out and hold his hand.
Brooklyn, 1998. Biggie Smalls was right: Things done changed. But that doesn't mean that Quadir and Jarrell are cool letting their best friend Steph's music lie forgotten under his bed after he's murdered—not when his rhymes could turn any Bed Stuy corner into a party.
With the help of Steph's younger sister Jasmine, they come up with a plan to promote Steph's music under a new rap name: the Architect. Soon, everyone wants a piece of him. When his demo catches the attention of a hotheaded music label rep, the trio must prove Steph's talent from beyond the grave.
As the pressure of keeping their secret grows, Quadir, Jarrell, and Jasmine are forced to confront the truth about what happened to Steph. Only, each has something to hide. And with everything riding on Steph's fame, they need to decide what they stand for or lose all that they've worked so hard to hold on to—including each other.
But then the girl's ghost appears, seeking vengeance, and Lexi is swept into a dangerous search that could put her directly in the path of a serial killer. From the author of Devils Unto Dust, this fast-paced and literary thriller will haunt fans of Maureen Johnson's Truly Devious and Karen M. McManus's One of Us Is Lying.
With a touch, Lexi can sense how and when someone will die. Some say it's a gift. But to Lexi it's a curse—one that keeps her friendless and alone. All that changes when Lexi foresees the violent death of a young woman, Jane, outside a club.
Jane doesn't go to the afterlife quietly. Her ghost remains behind, determined to hunt down her murderer, and she needs Lexi's help. In life, Jane was everything Lexi is not—outgoing, happy, popular. But in death, all Jane wants is revenge.
Lexi will do anything to help Jane, to make up for the fact that she didn't—couldn't—save Jane's life, and to keep this beautiful ghost of a girl by her side for as long as possible.
Whenever another kid goes missing in October, the kids in the old factory town of Pender know what is really behind it: a monster out in the marshes that they call the Mumbler.
That's what Clara's new crew tells her when she moves to town. Bree and Sage, who take her under their wing. Spirited Trace, who has taken the lead on this year's Halloween prank war. And magnetic Kincaid, whose devil-may-care attitude and air of mystery are impossible for Clara to resist.
Clara doesn't actually believe in the Mumbler—not like Kinkaid does. But as Halloween gets closer and tensions build in the town, it's hard to shake the feeling that there really is something dark and dangerous in Pender. Lurking in the shadows. Waiting to bring the stories to life.
Ours is an age-old tale of two betties, apple-Jacks forever, when suddenly one goes ace gorgeous and then, naturally, massive popular. Said popular betty ditches other unsaid, unpopular betty for superhit cool crowd. Girls don't speak again for four years, until a chance meeting reunites them . . .

What do you do when Ms. Ancient History comes waltzing back into your life? If you're Lu Butler, dodging sweet but clueless boys while secretly crushing hard on girls, you fall.
Intimate and raw, The Pursuit of Miss Heartbreak Hotel is a story about friends, family, old habits you can't quite shake, and first love you never see coming. Bursting with undeniable swagger and neo-beat slang, Moe Bonneau's stunning debut novel has a language and rhythm all its own.
Aphra Brown is bold and outgoing. Her best friend, Bethany, is achingly beautiful. Individually, they could both do a little better in the self-esteem department, but together? Together, they have what it takes to win over Greg D'Agostino, a proverbial "ten," who happens to be fluent in six languages–seven if you count the language of smoldering gazes . . .
What begins as an honest mistake turns into an elaborate deception, wherein Bethany goes on dates with Greg while Aphra coaches her on what to say, and texts him in the guise of Bethany, trying and failing, all the while, to tamp down her own hopeless crush. It's only a matter of time before things come crashing down. The question is: What will happen when Greg finds out? And can Aphra and Bethany's friendship survive the fallout?
28
*Deviate by Jay Kristoff
In the wake of a climactic battle in the ruined city of Babel, two former best friends suddenly find themselves on opposite sides of the same quest. Eve is torn between the memories of the girl she was, and the synthetic she's discovered herself to be. Together with her lifelike "siblings," Eve sets out to find the real Ana Monrova, whose DNA is the key to building an army of lifelikes. Meanwhile, Eve's best friend, Lemon, is coming to terms with a power that she has long denied–and that others want to harness as a weapon. When she meets a strange boy named Grimm, he offers to lead her out of the horror-ridden landscape and to an enclave of other abnorms like herself. There, Lemon quickly finds a sense of belonging–and perhaps even love–among the other genetic deviates. But all is not what it seems, and with enemies and friends, heroes and villains wearing interchangeable faces, Lemon, too, will join the race to locate Ana Monrova before her former best friend can get to her.
Mia and Jake have known each other their whole lives. They've endured summer vacations, Sunday brunches, even dentist visits together. Their mothers, who are best friends, are convinced that Mia and Jake would be the perfect couple, even though they can't stand to be in the same room together.
After Mia's mom turns away yet another cute boy, Mia and Jake decide they've had enough. Together, they hatch a plan to get their moms off their backs. Permanently. All they have to do is pretend to date and then stage the worst breakup of all time―and then they'll be free.
It's the perfect plan – except that it turns out maybe Mia and Jake don't hate each other as much as they once thought…
Archie's on trial for murder, and the evidence is stacked against him. Betty, Veronica, and Jughead all know that Archie is being framed by Hiram Lodge, but how can they prove it?
The gang comes up with a last-ditch plan to prove Archie's innocence: They have to go back to the scene of the crime. They have to go back to Shadow Lake.
Threats are around every corner deep in the woods at the Lodge family cabin. Will the teens find the evidence they need to clear Archie's name? And more importantly, will they make it back to Riverdale alive?
Kimi Nakamura loves a good fashion statement.
She's obsessed with transforming everyday ephemera into Kimi Originals: bold outfits that make her and her friends feel like the Ultimate versions of themselves. But her mother disapproves, and when they get into an explosive fight, Kimi's entire future seems on the verge of falling apart. So when a surprise letter comes in the mail from Kimi's estranged grandparents, inviting her to Kyoto for spring break, she seizes the opportunity to get away from the disaster of her life.
When she arrives in Japan, she's met with a culture both familiar and completely foreign to her. She loses herself in the city's outdoor markets, art installations, and cherry blossom festival – and meets Akira, a cute aspiring med student who moonlights as a costumed mochi mascot. And what begins as a trip to escape her problems quickly becomes a way for Kimi to learn more about the mother she left behind, and to figure out where her own heart lies.
Glimmering like a jewel behind its gateway, The Kingdom™ is an immersive fantasy theme park where guests soar on virtual dragons, castles loom like giants, and bioengineered species—formerly extinct—roam free.
Ana is one of seven Fantasists, beautiful "princesses" engineered to make dreams come true. When she meets park employee Owen, Ana begins to experience emotions beyond her programming including, for the first time… love.
But the fairytale becomes a nightmare when Ana is accused of murdering Owen, igniting the trial of the century. Through courtroom testimony, interviews, and Ana's memories of Owen, emerges a tale of love, lies, and cruelty—and what it truly means to be human.
Vale loves to hike, but kind of hates her classmates. Ash is okay with his classmates, but kind of hates the outdoors. So, needless to say they are both fairly certain that the overnight nature hike with their PE class is going to be a hellish experience. But when they get separated from the group during a storm, they have worse things to worry about than bullies and blisters.
Lost in the Canadian wilderness with limited supplies, caught in dangerous weather conditions, and surrounded by deadly wildlife, it's going to take every bit of strength, skill, and luck they can muster to survive.
Hannah's a witch, but not the kind you're thinking of. She's the real deal, an Elemental with the power to control fire, earth, water, and air. But even though she lives in Salem, Massachusetts, her magic is a secret she has to keep to herself. If she's ever caught using it in front of a Reg (read: non-witch), she could lose it. For good. So, Hannah spends most of her time avoiding her ex-girlfriend (and fellow Elemental Witch) Veronica, hanging out with her best friend, and working at the Fly by Night Cauldron selling candles and crystals to tourists, goths, and local Wiccans.
But dealing with her ex is the least of Hannah's concerns when a terrifying blood ritual interrupts the end-of-school-year bonfire. Evidence of dark magic begins to appear all over Salem, and Hannah's sure it's the work of a deadly Blood Witch. The issue is, her coven is less than convinced, forcing Hannah to team up with the last person she wants to see: Veronica.
While the pair attempt to smoke out the Blood Witch at a house party, Hannah meets Morgan, a cute new ballerina in town. But trying to date amid a supernatural crisis is easier said than done, and Hannah will have to test the limits of her power if she's going to save her coven and get the girl, especially when the attacks on Salem's witches become deadlier by the day.
For Indigo Phillips, life has always been about basking in the shadow of her identical twin, Violet—the perfectly dressed, gentle, popular sister. The only problem the girls had in their lives was the occasional chaos that came with being part of the Phillips family brood. But when Violet becomes terminally ill and plans to die on her own terms via medically assisted death, Indigo spirals into desperation in her efforts to cope. That's when she begins to hear a mysterious voice—a voice claiming to be God. The Voice insists that if she takes Violet to a remote rock formation in the Arizona desert, her sister will live.
Incredibly, Violet agrees to go—if their dysfunctional family tags along for the ride. With all nine members stuffed into a wonky old paratransit bus, including their controlling older sister and distant mother, Indigo must find a way to face insecurities she's spent a lifetime masking and step up to lead the trip. As she deals with outrageous mishaps, strange lodgings and even stranger folks along the way, Indigo will figure out how to come to terms with her sister, her family…and the voice in her head.
Ruby Chernyavsky has been told the stories since she was a child: The women in her family, once possessed of great magical abilities to remake lives and stave off death itself, were forced to flee their Russian home for America in order to escape the fearful men who sought to destroy them.
Such has it always been, Ruby's been told, for powerful women.
Today, these stories seem no more real to Ruby than folktales, except for the smallest bit of power left in their blood: when each of them comes of age, she will have a vision of who she will be when she dies—a destiny as inescapable as it is inevitable.
Ruby is no exception, and neither is her mother, although she ran from her fate years ago, abandoning Ruby and her sisters. It's a fool's errand, because they all know the truth: there is no escaping one's Time.
Until Ruby's great-aunt Polina passes away, and, for the first time, a Chernyavsky's death does not match her vision. Suddenly, things Ruby never thought she'd be allowed to hope for—life, love, time—seem possible.
But as she and her cousin Cece begin to dig into the family's history to find out whether they, too, can change their fates, they learn that nothing comes without a cost. Especially not hope.
June
4
PRIVATE NUMBER: Wouldn't you look better without a cheater on your arm?
AMANDA: Who is this?
The daughter of small town social climbers, Amanda Kelly is deeply invested in her boyfriend, real estate heir Carter Shaw. He's kind, ambitious, the town golden boy—but he's far from perfect. Because behind Amanda's back, Carter is also dating Rosalie.
PRIVATE NUMBER: I'm watching you, Sweetheart.
ROSALIE: Who IS this?
Rosalie Bell is fighting to remain true to herself and her girlfriend—while concealing her identity from her Christian fundamentalist parents. After years spent in and out of conversion "therapy," her own safety is her top priority. But maintaining a fake, straight relationship is killing her from the inside.
When an anonymous texter ropes Amanda and Rosalie into a bid to take Carter down, the girls become collateral damage—and unlikely allies in a fight to unmask their stalker before Private uproots their lives.
PRIVATE NUMBER: You shouldn't have ignored me. Now look what you made me do…
Selah has waited her whole life for a happily ever after. As the only daughter of the leader of Potomac, she knows her duty is to find the perfect match.
But after an excruciatingly public rejection, Selah's stepmother suggests an unthinkable solution: Selah must set sail across the Atlantic to visit a series of potential suitors—and if she doesn't come home engaged, she shouldn't come home at all.
From the gardens of England to the fjords of Norge, Selah's quest will be the journey of a lifetime. But her stepmother's schemes aren't the only secrets hiding belowdecks…and the stakes of her voyage may be higher than any happy ending.
Seventeen-year-old Laurel Graham has a singular, all-consuming ambition in this life: become the most renown nature photographer and birder in the world. The first step to birding domination is to win the junior nature photographer contest run by prominent Fauna magazine. Winning runs in her blood―her beloved activist and nature-loving grandmother placed when she was a girl.
One day Gran drags Laurel out on a birding expedition where the pair hear a mysterious call that even Gran can't identify. The pair vow to find out what it is together, but soon after, Gran is involved in a horrible car accident.
Now that Gran is in a coma, so much of Laurel's world is rocked. Her gran's house is being sold, developers are coming in to destroy the nature sanctuary she treasures, and she still can't seem to identify the mystery bird.
Laurel's confusion isn't just a group of warblers―it's about what means the most to her, and what she's willing to do to fight to save it. Maybe–just maybe-if she can find the mystery bird, it will save her gran, the conservatory land, and herself.
The life and career of the fiercely principled Supreme Court Justice, now a popular icon, with dramatic accounts of her landmark cases that moved the needle on legal protection of human rights, illustrated with b/w archival photographs.
Dramatically narrated case histories from Justice Ginsburg's stellar career are interwoven with an account of RBG's life—childhood, family, beliefs, education, marriage, legal and judicial career, children, and achievements—and her many-faceted personality is captured. The cases described, many involving young people, demonstrate her passionate concern for gender equality, fairness, and our constitutional rights. Notes, bibliography, index.
Five friends cursed. Five deadly fates. Five nights of retribución.
If Lupe Dávila and Javier Utierre can survive each other's company, together they can solve a series of grisly murders sweeping though Puerto Rico. But the clues lead them out of the real world and into the realm of myths and legends. And if they want to catch the killer, they'll have to step into the shadows to see what's lurking there―murderer, or monster?
Ghosts of the Shadow Market by Cassandra Clare, Sarah Rees Brennan, Maureen Johnson, Kelly Link, Robin Wasserman
The Shadow Market is a meeting point for faeries, werewolves, warlocks, and vampires. There, the Downworlders buy and sell magical objects, make dark bargains, and whisper secrets they do not want the Nephilim to know. Through two centuries, however, there has been a frequent visitor to the Shadow Market from the City of Bones, the very heart of the Shadowhunters' world. As a Silent Brother, Brother Zachariah is a sworn keeper of the laws and lore of the Nephilim. But once he was a Shadowhunter called Jem Carstairs, and his love, then and always, is the warlock Tessa Gray. And Jem is searching through the Shadow Markets, in many different cities over long years, for a relic from his past.
Follow Jem and see, against the backdrop of the Shadow Market's dark dealings and festival, Anna Lightwood's doomed romance, Matthew Fairchild's great sin, and Tessa Gray as she is plunged into a world war. Valentine Morgenstern buys a soul at the Market and a young Jace Wayland's soul finds safe harbor. In the Market is hidden a lost heir and a beloved ghost, and no one can save you once you have traded away your heart. Not even Brother Zachariah.
Four girls. One unforgettable July.
Britta is the bubbly drama queen. She needs to get away—and a peaceful cabin in the woods sounds like the perfect escape.
Meredith is the overachiever. She's spent her entire life preparing for college, but at what cost? Now she's wondering if that's all there is.
Kate is the reluctant socialite. She's searching for a reason to begin again after fleeing her small Georgia town—and a shameful family secret.
Spider is the quiet intellectual. She's struggling with pain that has isolated her from her peers for much of her life.
When these four very different young women stay together for a month in the mountains, they discover that sometimes getting away from it all can only bring you back to who you really are.
Clean slate. That's what Hendricks Becker-O'Malley's parents said when they moved their family to the tiny town of Drearfield, New York. Hendricks wants to lay low and forget her dark, traumatic past. Forget him. But things don't go as planned.
Hendricks learns from new friends at school that Steele House–the fixer upper her parents are so excited about–is notorious in town. Local legend says it's haunted. But Hendricks isn't sure if it's the demons of her past haunting her …or of the present. Voices whisper in her ear as she lays in bed. Doors lock on their own. And, then, one night, things take a violent turn.
With help from the mysterious boy next door, Hendricks makes it her mission to take down the ghosts . . . if they don't take her first.
Winnie is living her best fat girl life and is on her way to the best place on earth. No, not Disneyland–her Granny's diner, Goldeen's, in the small town of Misty Haven. While there, she works in her fabulous 50's inspired uniform, twirling around the diner floor and earning an obscene amount of tips. With her family and ungirlfriend at her side, she has everything she needs for one last perfect summer before starting college in the fall.
…until she becomes Misty Haven's Summer Queen in a highly anticipated matchmaking tradition that she wants absolutely nothing to do with.
Newly crowned, Winnie is forced to take center stage in photoshoots and a never-ending list of community royal engagements. Almost immediately, she discovers that she's deathly afraid of it all: the spotlight, the obligations, and the way her Merry Haven Summer King, wears his heart, humor, and honesty on his sleeve.
Stripped of Goldeen's protective bubble, to salvage her summer Winnie must conquer her fears, defy expectations, and be the best Winnie she knows she can be—regardless of what anyone else thinks of her.
When Chloe Pierce's mom forbids her to apply for a spot at the dance conservatory of her dreams, she devises a secret plan to drive two hundred miles to the nearest audition. But Chloe hits her first speed bump when her annoying neighbor Eli insists upon hitching a ride, threatening to tell Chloe's mom if she leaves him and his smelly dog, Geezer, behind. So now Chloe's chasing her ballet dreams down the east coast―two unwanted (but kinda cute) passengers in her car, butterflies in her stomach, and a really dope playlist on repeat.
Filled with roadside hijinks, heart-stirring romance, and a few broken rules, I Wanna Be Where You Areis a YA debut perfect for fans of Jenny Han and Sandhya Menon.
It's 1989 in New York City, and for three teens, the world is changing.
Reza is an Iranian boy who has just moved to the city with his mother to live with his stepfather and stepbrother. He's terrified that someone will guess the truth he can barely acknowledge about himself. Reza knows he's gay, but all he knows of gay life are the media's images of men dying of AIDS.
Judy is an aspiring fashion designer who worships her uncle Stephen, a gay man with AIDS who devotes his time to activism as a member of ACT UP. Judy has never imagined finding romance…until she falls for Reza and they start dating.
Art is Judy's best friend, their school's only out and proud teen. He'll never be who his conservative parents want him to be, so he rebels by documenting the AIDS crisis through his photographs.
As Reza and Art grow closer, Reza struggles to find a way out of his deception that won't break Judy's heart—and destroy the most meaningful friendship he's ever known.
For siblings as different as Plum and Ginny, getting on each other's nerves is par for the course. But when the family's finances hit a snag, sending chaos through the house in a way only characters from a Jane Austen novel could understand, a distance grows between them like never before.
Plum, a self-described social outcast, finally has something in her life that doesn't revolve around her dramatic older sister. But what if coming into her own means Plum isn't there for Ginny when she, struggling with a hard secret of her own, needs her most?
The massive labyrinth was built to protect Zadie Kalvers' isolated desert town. Unfortunately, living in the maze's shadow makes her feel anything but safe. Even without its enchanted deathtraps and illusions, a mysterious killer named Dex lurks in its corridors, terrorizing anyone in his path.
But when Zadie's best friend vanishes into the labyrinth-and everyone mysteriously forgets he exists- completing the maze becomes her only hope of saving him. In desperation, Zadie bribes the only person who knows the safe path through-Dex-into forming a tenuous alliance.
Navigating a deadly garden, a lethal blood-filled hourglass, and other traps-with an untrustworthy murderer for her guide-Zadie's one wrong step from certain death. But with time running out before her friend (and secret crush) is lost forever, Zadie must reach the exit and find him. If Dex and the labyrinth don't kill her first.
All sorcerers are evil. Elisabeth has known that as long as she has known anything. Raised as a foundling in one of Austermeer's Great Libraries, Elisabeth has grown up among the tools of sorcery—magical grimoires that whisper on shelves and rattle beneath iron chains. If provoked, they transform into grotesque monsters of ink and leather. She hopes to become a warden, charged with protecting the kingdom from their power.
Then an act of sabotage releases the library's most dangerous grimoire. Elisabeth's desperate intervention implicates her in the crime, and she is torn from her home to face justice in the capital. With no one to turn to but her sworn enemy, the sorcerer Nathaniel Thorn, and his mysterious demonic servant, she finds herself entangled in a centuries-old conspiracy. Not only could the Great Libraries go up in flames, but the world along with them.
As her alliance with Nathaniel grows stronger, Elisabeth starts to question everything she's been taught—about sorcerers, about the libraries she loves, even about herself. For Elisabeth has a power she has never guessed, and a future she could never have imagined.
As the youngest of eight, painfully average Pup Flanagan is used to flying under the radar. He's barely passing his classes. His lets his longtime crush walk all over him. And he's in no hurry to decide on a college path.
The only person who ever made him think he could be more was his older brother Patrick. But that was before Patrick died suddenly, leaving Pup with a family who won't talk about it and acquaintances who just keep saying, "sorry for your loss."
When Pup excels at a photography assignment he thought he'd bomb, things start to come into focus. His dream girl shows her true colors. An unexpected friend exposes Pup to a whole new world, right under his nose.
And the photograph that was supposed to show Pup a way out of his grief ultimately reveals someone else who is still stuck in their own. Someone with a secret regret Pup never could have imagined.
Kirby Burns is about to have the second worst day of his life.
Tomorrow is the one-year anniversary of the worst day of his life, and in the three hundred and sixty-four days since then he hasn't stopped running: from his family, his memories, and the horse-sized farm dogs that chase him to the bus stop every morning.
But he can't run forever, and as This Might Hurt a Bit begins, Kirby and his friends PJ and Jake sneak out of his house to play a prank whose consequences follow them to school the next day, causing a chain reaction of mayhem and disaster. It's a story that's touching and funny, an authentic meditation on the pain of loss, and the challenge of getting paint to stick to cows.
Katsuyamas never quit—but seventeen-year-old CJ doesn't even know where to start. She's never lived up to her mom's type A ambition, and she's perfectly happy just helping her aunt, Hannah, at their family's flower shop.
She doesn't buy into Hannah's romantic ideas about flowers and their hidden meanings, but when it comes to arranging the perfect bouquet, CJ discovers a knack she never knew she had. A skill she might even be proud of.
Then her mom decides to sell the shop—to the family who swindled CJ's grandparents when thousands of Japanese Americans were sent to internment camps during WWII. Soon a rift threatens to splinter CJ's family, friends, and their entire Northern California community; and for the first time, CJ has found something she wants to fight for.
VIRAL by Ann Bausum
Thirty-five years ago, it was a modern-day, mysterious plague. Its earliest victims were mostly gay men, some of the most marginalized people in the country; at its peak in America, it killed tens of thousands of people. The losses were staggering, the science frightening, and the government's inaction unforgivable. The AIDS Crisis fundamentally changed the fabric of the United States.
Viral presents the history of the AIDS crisis through the lens of the brave victims and activists who demanded action and literally fought for their lives. This compassionate but unflinching text explores everything from the disease's origins and how it spread to the activism it inspired and how the world confronts HIV and AIDS today.
How bad can one little virtual lie be?
NYU freshman Mariam Vakilian hasn't dated anyone in five months, not since her high school sweetheart Caleb broke up with her. So, when she decides to take advantage of an expiring coupon and try out a new virtual reality dating service, it's sort of a big deal.
It's an even bigger deal when it chooses as one of her three matches none other than Caleb himself. That has to be a sign, right?
Except that her other match, Jeremy, just happens to be her new best friend IRL.
Mariam's heart is telling her one thing, but the app is telling her another. So, which should she trust? Is all fair in modern love?
A year has passed since the fall of Lightspire. The Inquisitor Miles Hampstedt rules Noveris with a blood-soaked iron fist. Tilla and her friends have become hardened rebels in the Unbroken, a band of guerilla fighters hiding out on the fringes of the Kingdom protecting the true queen, Lyriana Volaris. Even as they fight, they know their cause is doomed–that with every passing day Miles's army of Bloodmages spreads across the continent. But at least they have each other?and some halfway-decent drinks.
After a daring rescue mission, the group frees two vital prisoners: the Raven, a mysterious informant with a deep personal connection to Tilla, and Syan Syee, a strange girl from the Red Wastes who demonstrates an incredible new kind of magic and speaks of a secret civilization hidden in her isolated homeland. With Miles's forces closing in, a ragtag team sets out on an eleventh-hour mission: form an alliance with Syan's people that could turn the tide of the war. But what they discover in the Red Wastes changes everything, including their very understanding of the magic that runs through Noveris-magic that has brought the Kingdom to the brink of ruin.
In the epic conclusion to the Royal Bastards trilogy, Tilla faces an impossible choice: unthinkable destruction in the name of peace?or an uncertain future that means confronting a terrible past.
Ezra Slevin is an anxious, neurotic insomniac who spends his nights questioning his place in the universe and his days obsessing over Imogen, a nerdy girl with gigantic eyebrows and a heart of gold. For weeks, Ezra has been working up the courage to invite Imogen to prom. The only problem is Imogen's protective best friend, Wynonna Jones. Wynonna has blue hair, jams to '80s rock, and has made a career out of tormenting Ezra for as long as he can remember. Then, on the night of a total solar eclipse, something strange happens to Ezra and Wynonna–and they wake up in each other's bodies. Not only that, they begin randomly swapping back and forth every day! Ezra soon discovers Wynonna's huge crush on his best friend, Holden, a five-foot-nothing girl magnet with anger management problems. With no end to their curse in sight, Ezra makes Wynonna a proposition: while swapping bodies, he will help her win Holden's heart…but only if she helps him woo Imogen. Forming an uneasy alliance, Ezra and Wynonna embark on a collision course of mistaken identity, hurt feelings, embarassing bodily functions, and a positively byzantine production of Twelfth Night. Ezra wishes he could be more like Wynonna's badass version of Ezra–but he also realizes he feels more like himself while being Wynonna than he has in a long time… Wildly entertaining and deeply heartfelt, Where I End and You Begin is a brilliant, unapologetic exploration of what it means to be your best self.
Adele Joubert loves being one of the popular girls at Keziah Christian Academy. She knows the upcoming semester at school is going to be great with her best friend Delia at her side. Then Delia dumps her for a new girl with more money, and Adele is forced to share a room with Lottie, the school pariah, who doesn't pray and defies teachers' orders.
But as they share a copy of Jane Eyre, Lottie's gruff exterior and honesty grow on Adele, and Lottie learns to be a little sweeter. Together, they take on bullies and protect each other from the vindictive and prejudiced teachers. Then a boy goes missing on campus and Adele and Lottie must rely on each other to solve the mystery and maybe learn the true meaning of friendship.
In Samsboro, Kentucky, Kalyn Spence's name is inseparable from the brutal murder her father committed when he was a teenager. Forced to return to town, Kalyn must attend school under a pseudonym . . . or face the lingering anger of Samsboro's citizens, who refuse to forget the crime.
Gus Peake has never had the luxury of redefining himself. A Samsboro native, he's either known as the "disabled kid" because of his cerebral palsy, or as the kid whose dad was murdered. Gus just wants to be known as himself.
When Gus meets Kalyn, her frankness is refreshing, and they form a deep friendship. Until their families' pasts emerge. And when the accepted version of the truth is questioned, Kalyn and Gus are caught in the center of a national uproar. Can they break free from a legacy of inherited lies and chart their own paths forward?
11
Richard Maurer's Destination Moon: The Remarkable and Improbable Voyage of Apollo 11 offers a new look at the events and people that made the Apollo program so remarkable…
Eighteen-year-old Izzy O'Neill knows exactly who she is—a loyal friend, an aspiring comedian, and a person who believes that milk shakes and Reese's peanut butter cups are major food groups. But after she's caught in a compromising position with the son of a politician, it seems like everyone around her is eager to give her a new label: slut.
Izzy is certain that the whole thing will blow over and she can get back to worrying about how she doesn't reciprocate her best friend Danny's feelings for her and wondering how she is ever going to find a way out of their small town. Only it doesn't.
And while she's used to laughing her way out of any situation, as she finds herself first the center of high school gossip and then in the middle of a national scandal, it's hard even for her to find humor in the situation.
Izzy may be determined not to let anyone else define who she is, but that proves easier said than done when it seems like everyone has something to say about her.
In time for the 50th anniversary of man's first landing on the moon, this re-release of Michael Collins's autobiography is a bold, sparkling testament to exploration and perseverance. In this captivating account, space traveler Collins recalls his early days as an Air Force test pilot, his training at NASA, and his unparalleled experiences in orbit, including the Apollo 11 mission, the first manned lunar landing. The final chapter to this autobiography is an exciting and convincing argument in favor of mankind's continued exploration of our universe. Originally published in 1976 and updated for this new edition, including an introduction from astronaut Scott Kelly, Collins's voice and message are sure to resonate with a new generation of readers.
Seventeen-year-old Marisol has always dreamed of being American, learning what Americans and the US are like from television and Mrs. Rosen, an elderly expat who had employed Marisol's mother as a maid. When she pictured an American life for herself, she dreamed of a life like Aimee and Amber's, the title characters of her favorite American TV show. She never pictured fleeing her home in El Salvador under threat of death and stealing across the US border as "an illegal", but after her brother is murdered and her younger sister, Gabi's, life is also placed in equal jeopardy, she has no choice, especially because she knows everything is her fault. If she had never fallen for the charms of a beautiful girl named Liliana, Pablo might still be alive, her mother wouldn't be in hiding and she and Gabi wouldn't have been caught crossing the border.
But they have been caught and their asylum request will most certainly be denied. With truly no options remaining, Marisol jumps at an unusual opportunity to stay in the United States. She's asked to become a grief keeper, taking the grief of another into her own body to save a life. It's a risky, experimental study, but if it means Marisol can keep her sister safe, she will risk anything. She just never imagined one of the risks would be falling in love, a love that may even be powerful enough to finally help her face her own crushing grief.
The Grief Keeper is a tender tale that explores the heartbreak and consequences of when both love and human beings are branded illegal.
This extraordinary verse novel from award-winning author Stephanie Hemphill dares to imagine how an ordinary girl became a great leader, and ultimately saved a nation.
Jehanne was an illiterate peasant, never quite at home among her siblings and peers. Until one day, she hears a voice call to her, telling her she is destined for important things. She begins to understand that she has been called by God, chosen for a higher purpose—to save France.
Through sheer determination and incredible courage, Jehanne becomes the unlikeliest of heroes. She runs away from home, dresses in men's clothes, and convinces an army that she will lead France to victory.
As a girl in a man's world, at a time when women truly had no power, Jehanne faced constant threats and violence from the men around her. Despite the impossible odds, Jehanne became a fearless warrior who has inspired generations.
*Rise by Ellen Goodlett
Sisters Akeylah, Ren, and Zofi are all a step closer to their dying father's throne, a step closer to the crown that will allow one of them to rule over Kolonya. But the sisters' pasts continue to haunt them. Each hides a secret marked with blood and betrayal, and now their blackmailer is holding nothing back. When King Andros discovers the sisters' traitorous pasts, the consequences will shake the entire kingdom to its core
As Kolonya's greatest threat stalks closer and closer, weaving a web of fear and deceit around Ren, Zofi, and Akeylah, even the people they love are under suspicion. If the sisters are going to survive, they'll have to learn to trust each other above all else and work together, not only to save themselves, but to protect everyone and everything they hold dear.
With shocking reveals and suspenseful storytelling, this breathtaking sequel to Rule will keep you guessing until the very last page.
Rule #1: Don't get attached.
Amber lives by strict rules to survive her mother's love life: Always keep your eyes on the horizon and never get close to anyone connected to Mom's boyfriends.
But after they move in with Kevin, the latest of her mom's "soul mates," the rules become increasingly difficult to follow. Kevin's daughter, Cammie, keeps acting like Amber's friend, even though she's definitely not. And Jordan―star basketball player, hottest boy in school, and Cammie's best friend―keeps showing up at the most inconvenient moments.
Amber has reasons for every one of her rules, and following them is the only way to protect her heart when her mom inevitably moves on. But as she spends more time with Kevin, his daughter, and especially Jordan, she starts to wonder if the rules might be worth breaking this time.
This summer Silicon Valley is a girls' club.
Three thousand applicants. An acceptance rate of two percent. A dream internship for the winning team. ValleyStart is the most prestigious high school tech incubator competition in the country. Lucy Katz, Maddie Li, and Delia Meyer have secured their spots. And they've come to win.
Meet the Screen Queens.
Lucy Katz was born and raised in Palo Alto, so tech, well, it runs in her blood. A social butterfly and CEO in-the-making, Lucy is ready to win and party.
East Coast designer, Maddie Li left her home and small business behind for a summer at ValleyStart. Maddie thinks she's only there to bolster her graphic design portfolio, not to make friends.
Delia Meyer taught herself how to code on a hand-me-down computer in her tiny Midwestern town. Now, it's time for the big leagues–ValleyStart–but super shy Delia isn't sure if she can hack it (pun intended).
When the competition kicks off, Lucy, Maddie, and Delia realize just how challenging the next five weeks will be. As if there wasn't enough pressure already, the girls learn that they would be the only all-female team to win ever. Add in one first love, a two-faced mentor, and an ex-boyfriend turned nemesis and things get…complicated.
As a warrior who protects her village from shadow spirits, Anlei has never been beyond the borders of her town. All of that changes the day the viceroy and his fleet of mechanical dragons arrives. It's the protection her village is desperate for, but it will only be given in exchange for Anlei's hand in marriage. Torn between wanting to protect her village and her own freedom, Anlei is forced to make a sacrifice.
The day before her wedding, she encounters Tai, a young thief who is also trying to save his people. Tempted by his quest and the thrill of glory it promises, the two embark on an epic journey to the Courts of Hell to discover where the shadow spirits come from. But the secret of their existence isn't so easily solved.
Amid dark experiments and battles on magic-fueled airships, Anlei must summon the courage to be the hero; to live the life she has always dreamed of.
Before the birth of time, a monk uncovers the Devil's Tongue and dares to speak it. The repercussions will be felt for generations…
Sixteen-year-old photography enthusiast Zoey has been fascinated by the haunted, burnt-out ruins of Medwyn Mill House for as long as she can remember–so she and her best friend, Poulton, run away from home to explore them. But are they really alone in the house? And who will know if something goes wrong?
In 1851, seventeen-year-old Roan arrives at the Mill House as a ward–one of three, all with something to hide from their new guardian. When Roan learns that she is connected to an ancient secret, she must escape the house before she is trapped forever.
1583. Hermione, a new young bride, accompanies her husband to the wilds of North Wales where he plans to build the largest water mill and mansion in the area. But rumors of unholy rituals lead to a tragic occurrence and she will need all her strength to defeat it.
Three women, centuries apart, drawn together by one Unholy Pact. A pact made by a man who, more than a thousand years later, may still be watching…
Sana Khan is a cheerleader and a straight A student. She's the classic (somewhat obnoxious) overachiever determined to win.
Rachel Recht is a wannabe director who's obsesssed with movies and ready to make her own masterpiece. As she's casting her senior film project, she knows she's found the perfect lead – Sana.
There's only one problem. Rachel hates Sana. Rachel was the first girl Sana ever asked out, but Rachel thought it was a cruel prank and has detested Sana ever since.
Told in alternative viewpoints and inspired by classic romantic comedies, this engaging and edgy YA novel follows two strongwilled young women falling for each other despite themselves.
Union Made by Norman H. Finkelstein
Born in England, Samuel Gompers grew up watching his father roll cigars, and at 10 years old, started rolling them himself. After immigrating to the United States, Gompers soon discovered his vocation to fight for the American laborer in his personal work experience. His charismatic, outspoken personality soon landed him the role of speaking on behalf of his fellow workers. His participation in various unsuccessful unions and other failed ventures to enact labor changes led to his creation of the American Federation of Labor. Faced with strikes that turned violent, opposition from the government, and lies perpetrated by anti-unionizers, Gompers persevered, and lived to see various measures enacted to ensure safe work environments, workers' compensation, and other basic laborer rights.
18
Seventeen-year-old Xochi is alone in San Francisco, running from her painful past: the mother who abandoned her, the man who betrayed her. Then one day, she meets Pallas, a precocious twelve-year-old who lives with her rockstar family in one of the city's storybook Victorians. Xochi accepts a position as Pallas's live-in governess and quickly finds her place in their household, which is relaxed and happy despite the band's larger-than-life fame.
But on the night of the Vernal Equinox, as a concert afterparty rages in the house below, Xochi and Pallas accidentally summon a pair of ancient creatures devoted to avenging the wrongs of Xochi's adolescence. She would do anything to preserve her new life, but with the creatures determined to exact vengeance on those who've hurt her, no one is safe—not the family she's chosen, nor the one she left behind.
Weekends are for partying with friends while trying to survive the mindnumbingness that is high school. The countdown to graduation is on, and Skye has her sights set on escaping to art school and not looking back.
But her party-first-ask-questions-later lifestyle starts to crumble when her mom rekindles her romance with the man who betrayed Skye's trust and boundaries when he was supposed to be protecting her. She was too young to understand what was happening at the time, but now she doesn't know whether to run as far away from him as possible or give up her dreams to save her little sister. The only problem is that no one knows what he did to her. How can she reveal the secret she's guarded for so long?
With the help of her best friend and the only boy she's ever trusted, Skye might just find the courage she needs to let her art speak for her when she's out of words. After years of hiding her past, she must become her own best ally.
*Eve of Man by Giovanna Fletcher, Tom Fletcher
On the first day, no one really noticed. All those babies wrapped in blue blankets–not a pink one in sight. On the third day, people were scared–a statistic-defying abundance of blue. Not just entire hospitals, not only entire countries, but the entire world. Boys. Only boys.
Until Eve. The only girl born in fifty years. The savior of mankind. Kept protected, towering above a ruined world under a glass dome of safety until she is ready to renew the human race.
But when the time comes to find a suitor, Eve and Bram–a young man whose job is to prepare Eve for this moment–begin to question the plan they've known all along. Eve doesn't only want safety, and she doesn't only want protection. She wants the truth. She wants freedom.
Hungry Hearts edited by Elsie Chapman and Caroline Tung Richmond
A shy teenager attempts to express how she really feels through the confections she makes at her family's pasteleria. A tourist from Montenegro desperately seeks a magic soup dumpling that could cure his fear of death. An aspiring chef realizes that butter and soul are the key ingredients to win a cooking competition that could win him the money to save his mother's life.
Welcome to Hungry Hearts Row, where the answers to most of life's hard questions are kneaded, rolled, baked. Where a typical greeting is, "Have you had anything to eat?" Where magic and food and love are sometimes one and the same.
Told in interconnected short stories, Hungry Hearts explores the many meanings food can take on beyond mere nourishment. It can symbolize love and despair, family and culture, belonging and home.
Brody Fair feels like nobody gets him: not his overworked parents, not his genius older brother, and definitely not the girls in the projects set on making his life miserable. Then he meets Nico, an art student who takes Brody to Everland, a "knock-off Narnia" that opens at 11:21pm each Thursday for Nico and his band of present-day misfits and miscreants.
Here Brody finds his tribe and a weekly respite from a world where he feels out of place. But when the doors to Everland begin to disappear, Brody is forced to make a decision: He can say goodbye to Everland and to Nico, or stay there and risk never seeing his family again.
Jay Reguero plans to spend the last semester of his senior year playing video games before heading to the University of Michigan in the fall. But when he discovers that his Filipino cousin Jun was murdered as part of President Duterte's war on drugs, and no one in the family wants to talk about what happened, Jay travels to the Philippines to find out the real story.
Hoping to uncover more about Jun and the events that led to his death, Jay is forced to reckon with the many sides of his cousin before he can face the whole horrible truth — and the part he played in it.
As gripping as it is lyrical, Patron Saints of Nothing is a page-turning portrayal of the struggle to reconcile faith, family, and immigrant identity.
Paige knows exactly what she wants―to graduate from Wallingford Academy and become a pilot in the US Air Force. She's inherited her father's no-nonsense attitude and whip-smart intelligence, all of which have made her the perfect Wallingford cadet.
Wallingford Academy is the last place in the world Logan wants to be. But after his girlfriend borrows his car and commits a crime, Logan takes the fall and ends up there with hopes of striking a decent plea bargain. For him, graduation can't come soon enough.
When Paige is asked to mentor Logan, it's the perfect opportunity to prove her leadership skills―but she doesn't account for the feelings that start to develop or the baggage from Logan's past which could threaten both of their futures.
Chris and Maia aren't off to a great start.
A near-fatal car accident first brings them together, and their next encounters don't fare much better. Chris's good intentions backfire. Maia's temper gets the best of her.
But they're neighbors, at least for the summer, and despite their best efforts, they just can't seem to stay away from each other.
The path forward isn't easy. Chris has come out as transgender, but he's still processing a frightening assault he survived the year before. Maia is grieving the loss of her older sister and trying to find her place in the world without her. Falling in love was the last thing on either of their minds.
But would it be so bad if it happened anyway?
25
Plans are made to be broken.
It's the last day of junior year, and seventeen-year-old Ritzy―short for Maritza―is pretty sure she has a great plan. Summer job―check. Hang with friends at the beach―check. Keep looking after herself as she's been doing since her mom bailed to follow her bliss―check. Or no check?
After someone reports that Ritzy is living alone, a social worker shows up and puts her into foster care. That's surprise enough. Even more surprising? Ritzy has been in foster care before, as an infant, and the woman who cared for her then takes her in again. But maybe the greatest surprise of all for Ritzy is that living with her foster mother, Kristin, in Kristin's gorgeous house, isn't all that bad. And neither is the cute, friendly boy next door. If Ritzy's mom hadn't gotten her back all those years ago, this is the life she could have had. But is it the life she should have had?
When Ritzy's old life catches up with her new one, she has some decisions to make. Can she plan for the worst, but still hope for the best?
When his dad is caught embezzling funds from half the town, Rob goes from popular lacrosse player to social pariah. Even worse, his father's failed suicide attempt leaves Rob and his mother responsible for his care.
Everyone thinks of Maegan as a typical overachiever, but she has a secret of her own after the pressure got to her last year. And when her sister comes home from college pregnant, keeping it from her parents might be more than she can handle.
When Rob and Maegan are paired together for a calculus project, they're both reluctant to let anyone through the walls they've built. But when Maegan learns of Rob's plan to fix the damage caused by his father, it could ruin more than their fragile new friendship . . .
In her compulsively readable storytelling, Brigid Kemmerer pens another captivating, heartfelt novel that asks the question: Is it okay to do something wrong for the right reasons?
Cursed by Karol Ruth Silverstein
As if her parents' divorce and sister's departure for college weren't bad enough, fourteen-year-old Ricky Bloom has just been diagnosed with a life-changing chronic illness. Her days consist of cursing everyone out, skipping school–which has become a nightmare–daydreaming about her crush, Julio, and trying to keep her parents from realizing just how bad things are. But she can't keep her ruse up forever.
Ricky's afraid, angry, alone, and one suspension away from repeating ninth grade when she realizes: she can't be held back. She'll do whatever it takes to move forward–even if it means changing the person she's become. Lured out of her funk by a quirky classmate, Oliver, who's been there too, Ricky's porcupine exterior begins to shed some spines. Maybe asking for help isn't the worst thing in the world. Maybe accepting circumstances doesn't mean giving up.
After the battle in Switzerland, the Fugitive Six find their allegiances torn, dividing them into two factions. Taylor, Kopano, and Nigel return to the Academy with Nine, but nothing is the same. As fear and resentment of the Human Garde continues to grow, the United Nations decrees that all humans with Legacies must be implanted with inhibitors. So our heroes will have no choice but to rebel.
And with the Foundation still at large, Isabela, Caleb, and Ran have decided to join forces with their former foes Einar and Five to hunt them down. But when a new threat is revealed, the group may find itself painfully outmatched. Facing capture or annihilation from all sides, the only hope the Human Garde have for survival is to stand together once and for all to fight back against their true enemies.
When a guy named Martin Nathaniel Munroe II texts you, it should be obvious who you're talking to. Except there's two of them (it's a long story), and Haley thinks she's talking to the one she doesn't hate.
A question about a class project rapidly evolves into an all-consuming conversation. Haley finds that Martin is actually willing to listen to her weird facts and unusual obsessions, and Martin feels like Haley is the first person to really see who he is. Haley and Martin might be too awkward to hang out in real life, but over text, they're becoming addicted to each other.
There's just one problem: Haley doesn't know who Martin is. And Martin doesn't know that Haley doesn't know. But they better figure it out fast before their meet-cute becomes an epic meet-disaster . . .
A compelling novel about speaking out, standing up, and breaking free — perfect for fans of The Handmaid's Tale and Tara Westover's Educated.
Miriam lives in New Jerusalem, a haven in the desert far away from the sins and depravity of the outside world. Within the gates of New Jerusalem, and under the eye of its founder and leader, Daniel, Miriam knows she is safe. Cared for. Even if she's forced, as a girl, to quiet her tongue when she has thoughts she wants to share, Miriam knows that New Jerusalem is a far better life than any alternative. So when God calls for a Matrimony, she's thrilled; she knows that Caleb, the boy she loves, will choose her to be his wife and they can finally start their life together.
But when the ceremony goes wrong and Miriam winds up with someone else, she can no longer keep quiet. For the first time, Miriam begins to question not only the rules that Daniel has set in place, but also what it is she believes in, and where she truly belongs.
Alongside unexpected allies, Miriam fights to learn–and challenge–the truth behind the only way of life she's ever known, even if it means straying from the path of Righteousness.
A compelling debut novel about speaking out, standing up, and breaking free.
An addictive fantasy-romance set in modern-day Seoul.
Eighteen-year-old Gu Miyoung has a secret–she's a gumiho, a nine-tailed fox who must devour the energy of men in order to survive. Because so few believe in the old tales anymore, and with so many evil men no one will miss, the modern city of Seoul is the perfect place to hide and hunt.
But after feeding one full moon, Miyoung crosses paths with Jihoon, a human boy, being attacked by a goblin deep in the forest. Against her better judgment, she violates the rules of survival to rescue the boy, losing her fox bead–her gumiho soul–in the process.
Jihoon knows Miyoung is more than just a beautiful girl–he saw her nine tails the night she saved his life. His grandmother used to tell him stories of the gumiho, of their power and the danger they pose to men. He's drawn to her anyway.
With murderous forces lurking in the background, Miyoung and Jihoon develop a tenuous friendship that blossoms into something more. But when a young shaman tries to reunite Miyoung with her bead, the consequences are disastrous and reignite a generations-old feud . . . forcing Miyoung to choose between her immortal life and Jihoon's.