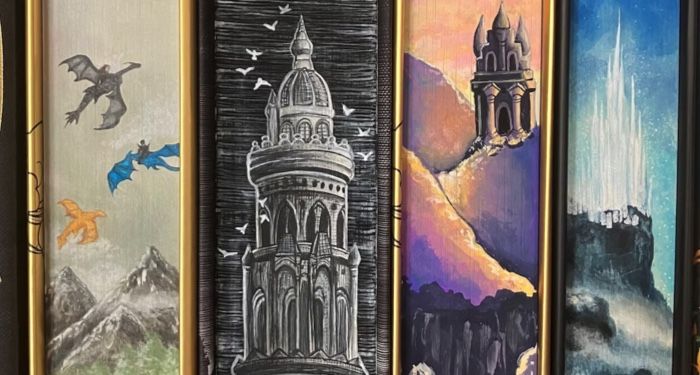 Book Fetish
Custom Sprayed Edges Books to Beautify Your Shelves
This content contains affiliate links. When you buy through these links, we may earn an affiliate commission.
Are you looking to upgrade your home library? Do you want a fancy version of a beloved book? Look no further! I've got just the thing you'd like. What is that? Books with custom sprayed edges! But wait…what are books with sprayed edges?
These are books that have an image or design painted on the edges of the pages. Some people choose to DIY it, while others like to order a custom masterpiece! I have seen a variety of approaches for creating the sprayed edges on these books. Some people will use spray paint and stencils or hand paint the designs. If you want to create your own, stay tuned for a guide to DIY sprayed edges later in the month. If you're looking to buy…I've got you covered. I have a list of vendors—all available on Etsy.
Some of the vendors provide a variety of books with sprayed edges. Others only create items on a case-by-case basis. With that said, all of them do custom orders. If you want something different from what is in their shop, you can send them a message and get a custom piece of work. The majority of the vendors purchase a new book and create their artwork on that piece. They also include the cost of the book in their price. Are you ready to find some great bookish and artsy delights? Let's go!
These are just a few of the many vendors that do custom-sprayed edges on your favorite books. I wonder which style you like best.
Like this, but want more? Check out these articles, too.
YA Books with Custom Sprayed and Stenciled Edges to Add to Your Collection