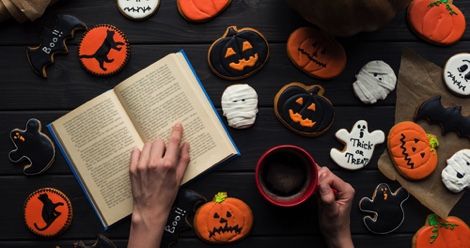 Lists
13 Books to Keep You in a Spooky Mood All Year Round
This content contains affiliate links. When you buy through these links, we may earn an affiliate commission.
Halloween is just around the corner, and if I'm being honest, I put my decorations up on September 1st; so I've been ready for a minute. Growing up, one of my favorite things to do during fall was reading anything and everything about Halloween. I wanted to share some of my personal favorites, in no particular order.
It's a classic ghost story, how could it not be on the list? I grew up in Mount Vernon, New York just 25 minutes from Tarrytown, so this story holds a special place in my heart. I would take yearly trips to Sleepy Hollow with my class and was immediately enamored of the Hessian soldier searching for his head.
Like every other book that has been made into a movie, don't expect them to be alike. Sisterhood, witches, and finding out what's most important? It'll fill you with the same fuzzy feeling the movie did.
Most people know Shirley Jackson from The Lottery (which is just as unsettling). This book freaks me out so much, that I refuse to read it at night. Besides ghosts and poltergeists, the house comes to life. When you're finished reading it, check out the new Netflix show based on the book.
This book reminds me of the Japanese version of Hill House (the TV show). A family moves into a seemingly amazing apartment…that's built next to a graveyard. As things start to get worse, other tenants begin to move out. Eventually, the young family has the whole building to themselves, or so they think.
Voodoo and Louisiana, those were literally the only things I needed to know when I bought this book. When the governor of Louisiana's daughter is kidnapped, everything around him starts unraveling: from family curses to loa spirits. This is a must-read for those who love stories about otherworldly spirits.
Dracula by Bram Stoker
Yes, we all know the story of Dracula, or at least the basic retelling. It's told as a series of diary entries. Though a common misconception, it's not based on Vlad Tepes Dracula, or Vlad the Impaler, ruler of Wallachia, Romania. Stoker just took the name Dracula while researching the history of Wallachia. Regardless, Vlad and Stoker's Dracula are tied together.
I didn't start reading Octavia Butler until I was in high school when I was on the hunt to Sci-Fi books that were written by black authors. But it wasn't until college that I picked up Fledgling. It's a vampire story, but it combines elements of race and sexuality. It's one of those books that needs to be read more than once as there are so many themes that need to be dissected.
It by Stephen King
I love horror stories that have a psychological twist to them. It shows how our deepest fears can affect us. Pennywise preys on certain fears and the only way to defeat him…well, It, is if the characters of the novel acknowledge that what is happening isn't real.
It took me forever to pick up this novel. I knew all the songs from the musical by the time I was 10, but didn't realize it was a book until high school. Phantom has been described as both a Gothic horror novel and a romance, though a man who is obsessed with you to the point of kidnapping isn't a romance. Leroux's masterpiece fills you with a terror that the musical adaptation could never emulate.
If you loved Grahame-Smith's hit Pride and Prejudice and Zombies, you're going to love Vampire Hunter. Vampires on the side of the Confederacy want to keep slavery in tact in order to keep control of their food supply. Who better to stop them than Honest Abe? It takes historical events that we learned in school in a whole different direction.
H.P. Lovecraft is a Sci-Fi legend…but he's also pretty racist. LaValle decided to revisit the Lovecraft story "The Horror of Red Hook" but through the eyes of a black man who works for Robert Suydam. Instead of Brooklyn, it takes place in Harlem in the 1920s. It won a plethora of awards and is already on the roster to be a show for the AMC network.
Zombies and The Civil War are not things that would typically go together, but oh my gosh does Justina make it work. Like Abraham Lincoln: Vampire Hunter, Ireland blends actual history with fantasy. Even though slavery has been abolished, black and Native American girls are forced to go to schools to protect affluent white society from the "shamblers." The main character, Jane, wants to complete her education and make it home to her mother. But of course, things don't go that smoothly.
I'm a Hocus Pocus stan (do the cool kids still use that word). So much so that I have a black-flame candle tattoo. When I found out there was going to be a book version of my favorite movie and a sequel attached to it, I had to get it. The first half of the book tells the story we all know and love, while the second half focuses on Max and Allison's daughter coming face to face with the Sanderson sisters.
What are some of your favorites to read during spooky season? Leave them in the comments, and click on the links if you're interested in any of the books mentioned above.