Poetry
Diverse Spoken Word  by Out-Spoken at London's Southbank
This content contains affiliate links. When you buy through these links, we may earn an affiliate commission.
Out-Spoken started as a spoken word event in The Way of Kings bar near Kings Cross station in central London, and has become one of the top events for poetry and live music in the city since its foundation in 2012. Founded by Anthony Anaxagorou and hosted by Joelle Taylor alongside Karim Kamar, Sam 'Junior' Bromfield and Tom McAndrew.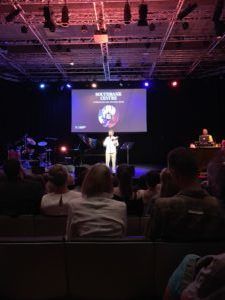 The group has teamed up with London's Southbank Centre for a year-long residency, with the centre hosting monthly poetry and music nights, along with poetry masterclasses. I was lucky enough to run across the Southbank events by accident and attended the July Out-Spoken event with a friend from university.
Taking place in the (truly beautiful) Purcell Room at the Southbank, the night started with a reading by Hannah Sullivan from her collection Three Poems, which won the T.S. Eliot Prize in 2018. Hannah's poetry sent shivers up my arms and I can't wait to sit down and read the entirety of her writing – there was so much emotional depth to her words and I understood completely how her (debut!) work was such a prizewinner.
Morgan Parker also read from her new collection, Magical Negro. Her poems were shorter than Sullivan's extract, but packed a punch across the room, demanding those attending sit up and listen to her testimony of everyday blackness. Her poetry pushes the reader to consider what they already know, and opens them up to the realisation that there is always more to learn, particularly about figures we consider familiar.
Music was provided first by Kaia, a singer-songwriter from South London with a deep, soulful voice and a lot of feelings to express with a hip-hop vibe. You can hear Nina Simone in this voice and the musical interlude gave the audience a chance to see a mix of creative media.
Brian Patten was a name I knew from school. Patten came up with Roger McGough on Merseyside in The Mersey Sound Anthology. His collections are numerous and his readings on this night were a mix of deeply felt eulogy for departed friends and hilarious ditties that made even him chuckle on the stage.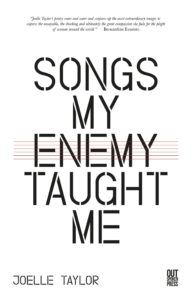 At each Out-Spoken event, the host reads some of their own work, which was how I learned about Songs My Enemy Taught Me by Joelle Taylor, who hosted the event. The lines she took from her longform poetry have stuck with me for weeks since I heard them, which is an incredible thing to say when the entire night was fused with great words.
Out-Spoken's July event ended with music by Angelo Disons and his accompanying band. I believe Out-Spoken mentioned that he is just 19 years old – and many of his band members appeared younger. Reader, I've never seen talent like it from a group that young. Their instruments burst to life on the stage, the lyrics were full of soul and every single person seemed to love every second of their performance. It was genuinely life-affirming and led me down the garden path of considering my own writing and reading, and building new music back into my routine.
Out-Spoken have recently released Stage Invasion, a history of spoken word which is currently sitting tempting me on my desk. I can't wait to read it.