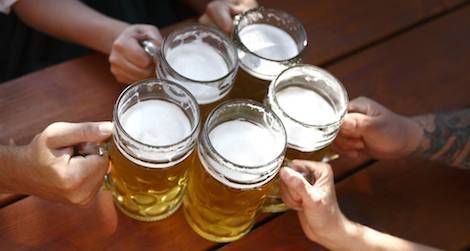 This content contains affiliate links. When you buy through these links, we may earn an affiliate commission.
Look, it's February, and it's been a rough 12 months, so I've been reading a lot of romance in addition to not getting to drink nearly as much beer as I'd like thanks to spending a significant amount of time on some heavy-duty painkillers. So we're going to mix it up, with good beer and good romance—mixed liberally with fantasy, but you get a couple of my straight-up recent romance favorites too. As always, the beers are microbrews.
An epic tale of gods and demons in an Asian-inspired fantasy world, this book is also not in the least bit shy about being a lesbian romance. This first book of the series is told through letters—and if you think that might stop things from getting as steamy as something marketed as fantasy rather than romance can, you'd be wrong.
Beer: Brown Rice and Honey Ale from Spice Trade Brewing Company. Something sweet and light, which you can drink all day while you read the hell out of this book. This little brewer started out as an amazing Indian and Nepalese restaurant I live near called Yak & Yeti.
A wealthy girl from New York (who also has a bunch of art history degrees under her belt, so do not mess with her) ends up in an internship with a grouchy Scottish swordmaster. It's…something at first macing. A fun romance about a complicated woman, and there's some secret noble blood involved.
Beer: Claymore Scotch Ale from Great Divide. Obvious beer is obvious, yes, but I wouldn't want to risk the ire of Tavish and suggest going with anything weaker, less malty, or less red.
Someone wants to murder the brand new Lord Crane…with magic. His only hope is to enlist the help of an extremely grouchy, complicated, and skilled magician named Stephen Day. While they untangle the mystery of who wants to murder a man who hasn't even been in the country for the last twenty years, Stephen also gets to find out just how many magpie tattoos Crane happens to have—and where.
Beer: Shake Chocolate Porter by Boulder Brewing. A dark chocolate beer that's basically sex in a can. Read this book and tell me I'm wrong.
Hold Me by Courtney Milan
A book that does one of my favorite tropes so well: Two people meet in real life and can't stand each other—but in the anonymous space of the internet, they've been chatting forever and they're already in way too deep. Add to that the fact Maria's a whip-smart trans woman and Jay is a physicist and I'm head over heels.
Beer: Cherry Sour from Bristol West Brewing. It's bright and flavorful and has a strong cherry taste without being cloying. It's hard to describe, but it reminds me a lot of Maria and Jay's romance.
Not your average "Peter Pan returns to Neverland" story, not by a long shot. Peter's made a last, desperate escape from the family that insists his name is "Wendy." But after ten years away, everything in Neverland has changed…and Peter soon realizes that he has as well, after crossing swords with Captain Hook and discovering there's something deeper than endless fighting in their rivalry. With that comes a terrifying choice, for both of them.
Beer: Magical Narwhal Candy Cane Unicorn Milk Stout from Woods Boss Brewing. If a beer ever came straight from Neverland, this is it. It's smoother and deeper than you'd think from the name, though.