Children's
Zoom Zoom Zoom, We're Going To The Moon: 9 Space Books For Preschoolers
This content contains affiliate links. When you buy through these links, we may earn an affiliate commission.
Zoom Zoom Zoom, We're going to the moon.
Zoom Zoom Zoom, We're leaving very soon.
If you want to take a trip, Climb aboard my rocket ship.
Zoom Zoom Zoom, We're going to the moon. Zoom Zoom Zoom, We're leaving very soon.
5,4,3,2,1—BLAST OFF!
My 1-year-old loves this song. And with uber nerdy, Star Trek loving parents, you better believe we're packing her library full of space books.
Science books for preschoolers must strike a balance between fun and informative, and honestly, fun must outweigh informative in the end. Otherwise, that toddler is going to test the laws of gravity by throwing that book. Literally. I have bruises. But these nine space books for preschoolers show that science can absolutely be fun, and space a blast.
So 5,4,3,2,1—READ!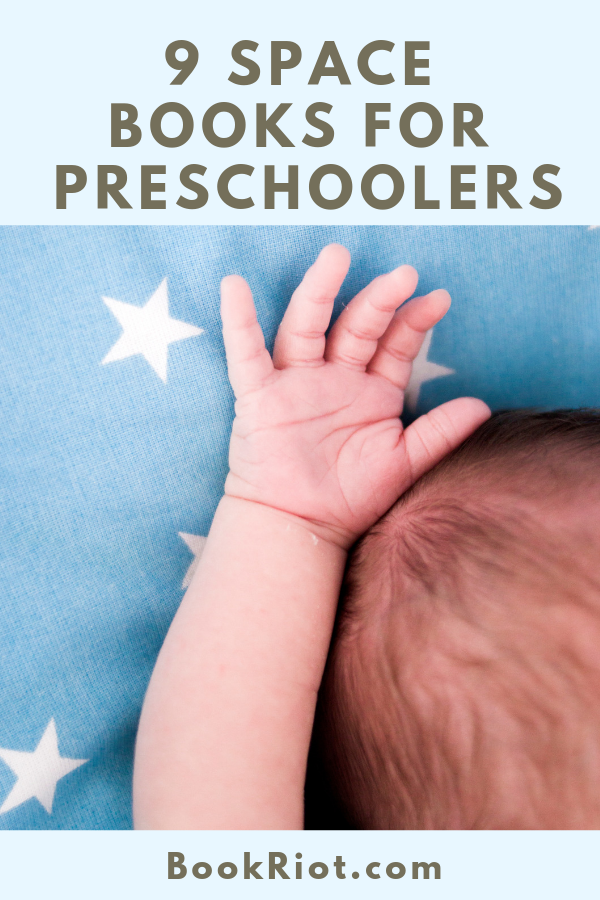 The Baby Loves board book series are my favorite science board books. I love how simply Spiro explains complex concepts—even I can understand them! She doesn't include so much that my daughter's attention wonders, but there's enough to define the basics. And the art is sweet and engaging. In Baby Loves Aerospace Engineering, a bird's wings are compared to a plane's, and then the bird gets to launch into space! My daughter loves this one.
The shortest of the books on this list, toddlers love these fluorescent illustrations. It's perfect for babies starting to flip through pages. It may be the least informative of the bunch, but it's the brightest, and babies love bright.
Christiane Engel's board books are charming, and this one is interactive! Your toddler can enjoy various activities on each page as they follow astronauts on their journey through space while learning a few things along the way.
What makes this board book stand out is that it rhymes. Toddlers love rhyming books, and the combination of the rhymes with cool flaps to lift make this a popular board book.
Goodnight Spaceman by Michelle Robinson, Illustrated By Nick East
Based on the mission of Tim Peake—the first British ESA astronaut—and his six months spent on the International Space Station, this gently rhyming board book pretends that Peake's two sons visit him on the Space Station. It's one of the best to read aloud, though not as informative as some of the others on this list.
With lift-the-flaps, spinning wheels, and sliding tabs, every page in this interactive board book features a way for tots to practice their fine motor skills. The illustrations are fun and include some photographs.
ABCs of Space by Chris Ferrie and Julie Kregenow, PhD
"A is for Aesteroid…B is for Binary star." This ABC board book gives layers of information: there's the term for each letter, the image, and then a more detailed definition. It's a must for future space cadets.
Another staple space board book, this one explores the galaxy and includes fun, interactive pages. It's a great one for all those little toddlers who love to point. The collage style art is beautiful and engaging.
Mae Among The Stars By Roda Ahmed, Illustrated By Stasia Burrington
The first African American to go into space, Mea Jemison is a hero, and this accessible picture book biography is perfect to introduce young readers to her and to space travel. It's hopeful and sweet, with beautiful, bright illustrations.
Also check out these nonfiction books for kids and these must-read books for preschoolers.