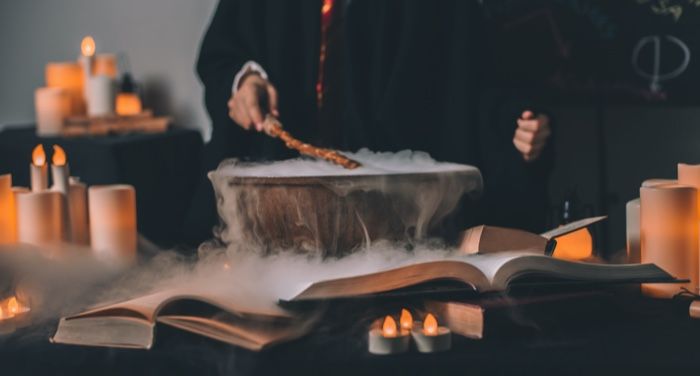 Pop Culture
Sorting 101 '90s TV Characters in Hogwarts Houses
Have you ever been in the middle of a Full House binge watch and said to yourself, "Self, I wonder what Hogwarts houses the Tanners would be sorted into?" No? Just me? Well, if you HAVE, lucky for you I took on the awesome responsibility of sorting all your favorite '90s television characters into Hogwarts houses (with some help. Shout out to all my friends who didn't even question it when I texted them things like, "Would you put Carlton Banks in Hufflepuff or Gryffindor?"). You're welcome.
For all of you muggles, here are descriptions of each of the houses:
Gryffindor: The house of the brave, loyal, courageous, adventurous, daring and chivalrous. Motto: Do what is right.
Ravenclaw: The house is known for their wisdom, intelligence, creativity, cleverness and knowledge. Motto: Do what is wise.
Hufflepuff: This house values hard work, dedication, fair play, patience, and loyalty. Motto: Do what is nice.
Slytherin: This is the house of the cunning, prideful, resourceful, ambitious, intelligent, and determined. Motto: Do what is necessary.
Bonus: Muggle is a person who lacks any sort of magical ability and was not born in a magical family. Squib is a person who is born to magical parents but develops no magical abilities.
Beverly Hills, 90210
Brandon Walsh—Gryffindor
Brenda Walsh—Gryffindor
Kelly Taylor—Slytherin
Steve Sanders—Slytherin
Andrea Zuckerman—Ravenclaw
Dylan McKay—Gryffindor
David Silver—Hufflepuff
Donna Martin—Hufflepuff
Boy Meets World
Cory Matthews—Hufflepuff
Topanga Lawrence—Ravenclaw
Eric Matthews—Muggle
Shawn Hunter—Gryffindor
Mr. Feeny—Hufflepuff
Buffy the Vampire Slayer
Buffy—Gryffindor
Xander—Gryffindor
Cordelia—Slytherin
Willow—Ravenclaw
Rupert—Ravenclaw
Oz—Gryffindor
Spike—Slytherin
Dawn—Hufflepuff
Anya—Slytherin
Tara—Gryffindor
Clarissa Explains It All
Clarissa Darling—Ravenclaw
Ferguson Darling—Slytherin
Sam Anders—Hufflepuff
Janet Darling—Gryffindor
Marshall Darling—Ravenclaw
Daria
Daria—Gryffindor
Quinn—Slytherin
Jane—Ravenclaw
Trent—Hufflepuff
Dawson's Creek
Dawson Leery—Hufflepuff
Jen Lindley—Ravenclaw
Pacey Witter—Gryffindor
Joey Potter—Gryffindor
Jack McPhee—Gryffindor
Andie McPhee—Ravenclaw
Doug
Doug—Hufflepuff
Patti—Gryffindor
Roger—Slytherin
Judy—Ravenclaw
Skeeter—Hufflepuff
ER
Mark Greene—Gryffindor
Doug Ross—Slytherin
Susan Lewis—Hufflepuff
John Carter—Gryffindor
Carol Hathaway—Hufflepuff
Peter Benton—Ravenclaw
Jeanie Boulet—Gryffindor
Kerry Weaver—Ravenclaw
Felicity
Felicity Porter—Gryffindor
Ben Covington—Slytherin
Noel Crane—Hufflepuff
Elena Tyler—Ravenclaw
Julie Emrick—Hufflepuff
Sean Blumberg—Gryffindor
Frasier
Frasier—Slytherin
Niles—Ravenclaw
Daphne—Hufflepuff
Martin—Gryffindor
Roz—Gryffindor
Fresh Prince
Will Smith—Slytherin
Philip Banks—Gryffindor
Vivian Banks—Ravenclaw
Carlton Banks—Hufflepuff
Hilary Banks—Slytherin
Ashley Banks—Gryffindor
Geoffrey—Ravenclaw
Friends
Monica—Ravenclaw
Rachel—Slytherin
Joey—Hufflepuff
Phoebe—Hufflepuff
Ross—Ravenclaw
Chandler—Gryffindor
Full House
Danny Tanner—Huggle (Like a muggle, but more affectionate)
Jesse Katsopolis—Gryffindor
Joey Gladstone—Squib
D.J. Tanner—Ravenclaw
Stephanie Tanner—Slytherin
Michelle Tanner—Slytherin
Rebecca Donaldson Katsopolis—Gryffindor
Kimmy Gibbler—Muggle
Saved By the Bell
Zack Morris—Slytherin
Kelly Kapowski—Hufflepuff
A.C. Slater—Hufflepuff
Lisa Turtle—Slytherin
Jessie Spano—Ravenclaw
Screech Powers—Squib
Principal Belding—Gryffindor
Seinfeld
Jerry Seinfeld—Ravenclaw
Cosmo Kramer—Gryffindor
George Costanza—Squib
Elaine Genes—Hufflepuff
Newman—Slytherin
Will and Grace
Will Truman—Ravenclaw
Grace Adler—Gryffindor
Karen Walker—Slytherin
Jack McFarland—Hufflepuff
The X-Files
Mulder—Gryffindor
Scully—Ravenclaw
Don't @ me.