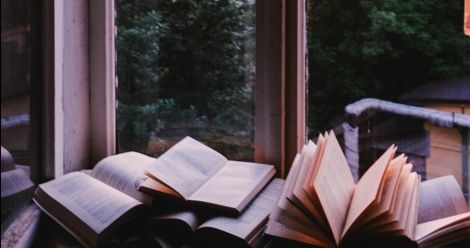 Lists
15 Sophomore Novels Being Published in 2019
This content contains affiliate links. When you buy through these links, we may earn an affiliate commission.
After getting so much buzz for a debut novel, there can be a lot of pressure on the second one. We've all heard of the "sophomore slump" and I have all the faith in the world that these books will not fall into that trap.
The City of Brass introduced us to Nahri, Dara, and Daevabad—the eponymous City of Brass. Nahri becomes entangled in a political web when she befriends Alizayd, the prince of Daevabad who is looking to overthrow his tyrannical father. The Kingdom of Copper returns us to Daevabad, with Prince Ali exiled for defying his father, Nahri reeling (and me, too) after THAT death, and the djinn searching for the aid of a warrior.
99 Percent Mine by Sally Thorne (January 29, 2019)
Thorne's 2016 debut, The Hating Game, was one of my favorite reads of that year and I have been waiting with bated breath for her sophomore novel. And I am happy to report that 99 Percent Mine does not disappoint. This time we follow Darcy Barrett, who has come to the realization that she met her dream guy as a young girl—her twin brother Jamie's best friend, Tom Valeska. But when they decide to renovate the cottage they inherited from their grandmother and Jamie's nowhere in sight, the sparks fly.
In The Poppy War we met, Rin, an outlier, peasant girl who defied the odds to enter Sinegard—the most elite military school in Nikan. When we return to the story, it's the end of the third Poppy War and Rin is forced to flee, all the while ignoring the commands from her Phoenix. Without any other options, Rin partners with the Dragon Warlord to conquer Nikan and remove the Empress from power. I cannot WAIT.
This sequel to The Queen's Rising brings us back into the world of Maevana and Valenia, as Brienna adjusts to her new role as the daughter of Davin MacQuinn. Always in the background is Master Cartier who was revealed as Aodhan Morgane, a key member of the fallen house. Brienna and Cartier stole my heart last year and I'm pumped to get more of their love story.
The Bride Test by Helen Hoang (May 7, 2019)
If you haven't read The Kiss Quotient yet, I'm going to need you to reassess your life. To say I'm excited for Hoang's second novel is the biggest understatement. This time our couple is Khai Diep, whose family takes matters into their own hands after he steadfastly avoids relationships (he's the character with autism this time!), and Esme Tran, a mixed race girl, who arrives in America with the hopes of finding a husband. I'm already smiling in anticipation.
Our Year of Maybe by Rachel Lynn Solomon (January 15, 2019)
You'll Miss Me When I'm Gone touched my heart and I have confidence Our Year of Maybe will do the same. Aspiring choreographer Sophie and master pianist Peter are best friends. So when the opportunity arises for Sophie to save Peter's life by donating a kidney, she takes this as her chance for him to finally see her in a different light. But things aren't always that easy, especially when Peter finds himself drawn to Chase but still feels indebted to Sophie.
On the Come Up by Angie Thomas (February 5, 2019)
Thomas hit gold with The Hate U Give, and her second book has been highly anticipated. This time our protagonist is Bri, who wants to be one of the greatest rappers of all time. Her plans to make it big are foiled when her mother loses her job, throwing the family into financial difficulty. Even as the odds continue to stack against her, Bri remains determined not to lose her dream.
Rise by Ellen Goodlett (June 11, 2019)
When we first met Akeylah, Ren and Zofi, they had just learned they were sisters. And not only sisters, but heirs to the dying king. As the three sisters get closer to taking the crown, their blackmailer becomes more and more ruthless—threatening their individual families and the people they love. When the King learns of the girls' treacherous pasts, he is furious and the kingdom takes the brunt of his anger.
Fiona Skinner is a renown poet and when she is asked about her inspiration for her latest work, she launches into a story about family and their life in a small, Connecticut town. The four siblings—Renee, Caroline, Joe, and Fiona—find themselves connected after an unexpected betrayal that will come back to haunt them for the years, testing their familial ties, and love for one another.
This Time Will Be Different by Misa Suguira (June 4, 2019)
Suguira's second novel will tell the "tale of a Japanese-American teen whose family identity and community begin to unravel when her mother decides to sell the family's flower shop." (GR synopsis)
On top of being a normal high schooler, Emoni is also caring for her daughter and supporting her abuela. Her escape is the kitchen, where her cooking takes a life of its own. Soon she has no choice but to explore her great talent and look to the future, no matter what. Acevedo's The Poet X, an accomplishment in poetry and contemporary, was a huge surprise me for me this year, and this looks amazing.
Sorcery of Thorns by Margaret Rogerson (June 4, 2019)
Elisabeth grew up as a foundling of one of the greatest libraries of Austermeer. She knows the secrets of the grimoires and how they can come to life. When Elisabeth intervenes during an act of sabotage, she is accused of attempting to release the library's most dangerous grimoire and is forced to team up with her greatest enemy: sorcerer Nathaniel Thorn.
Internment by Samira Ahmed (March 19, 2019)
"Set in a horrifying near-future United States, seventeen-year-old Layla Amin and her parents are forced into an internment camp for Muslim American citizens." (GR synopsis) Ahmed's second book feels frighteningly real and this time this subject is covered by an #ownvoices author. Love, Hate, and Other Filters packed an emotional punch and I have no doubt that Interment will do the same.
The Dreamers by Karen Thompson Walker (January 15, 2019)
"In an isolated college town in the hills of Southern California, a freshman girl stumbles into her dorm room, falls asleep—and doesn't wake up. Her roommate, Mei, cannot rouse her. Neither can the paramedics who carry her away, nor the perplexed doctors at the hospital. Then a second girl falls asleep, and then another, and panic takes hold of the college and spreads to the town. A psychiatrist attempts to make sense of the illness as it spreads through the town. Those infected are displaying unusual levels of brain activity, more than has ever been recorded. They are dreaming heightened dreams—but of what?" (GR synopsis)
Mahimata by Rati Mehrotra (March 5, 2019)
After the events of Markswoman, our friendly warrior, Kyra, returns to Kali to a completely different world. Her teacher is dead, her best friend is missing—and also missing in action is Rustan, the marksman who taught her. Rustan's quest for answers leads him to the descendent of an ancient sect, the Ones.