Audiobooks
13 Soothing Audiobooks To Fall Asleep To
This content contains affiliate links. When you buy through these links, we may earn an affiliate commission.
I used to have to fall asleep in absolute silence. The problem with that is two-fold: one, it's very hard to control every sound within earshot (and I never got the hang of sleeping with earplugs), and two, it left me alone with my own spinning thoughts. I tried ASMR as a joke, but now I'm dependent on those whispering videos to distract my brain just enough to fall asleep—without being interesting enough to demand my full attention. (Check out my article on Bookish ASMR if want an introduction.) Unfortunately, that means selecting a new video every night, and I'm running out of options.
Of course, my mind went first to my solution for everything: is there a book that could help with this? I've often fallen asleep to podcasts. What if I fell asleep to an audiobook instead? It feels a little bit sacrilegious, but I'm willing to push past that. My fellow Book Rioters had a long list of suggestions of soothing audiobooks, so I thought I'd share them with you! If you are stressed about missing anything in the book, you can stick to books you've already read. Alternatively, most audiobook players have a function where it will automatically pause after a certain amount of time, so you can listen to 10–30 minutes of the book to get in a sleepy mood, then drift off after it pauses.
Let me know in the comments if you have any more suggestions for soothing audiobooks!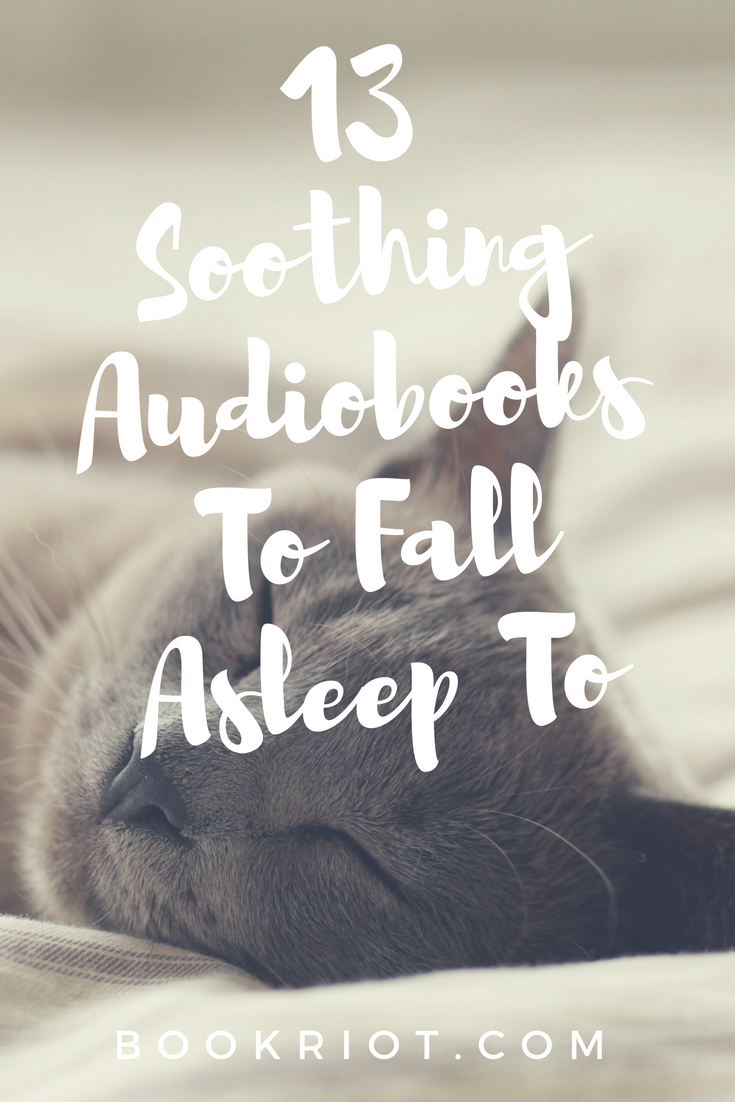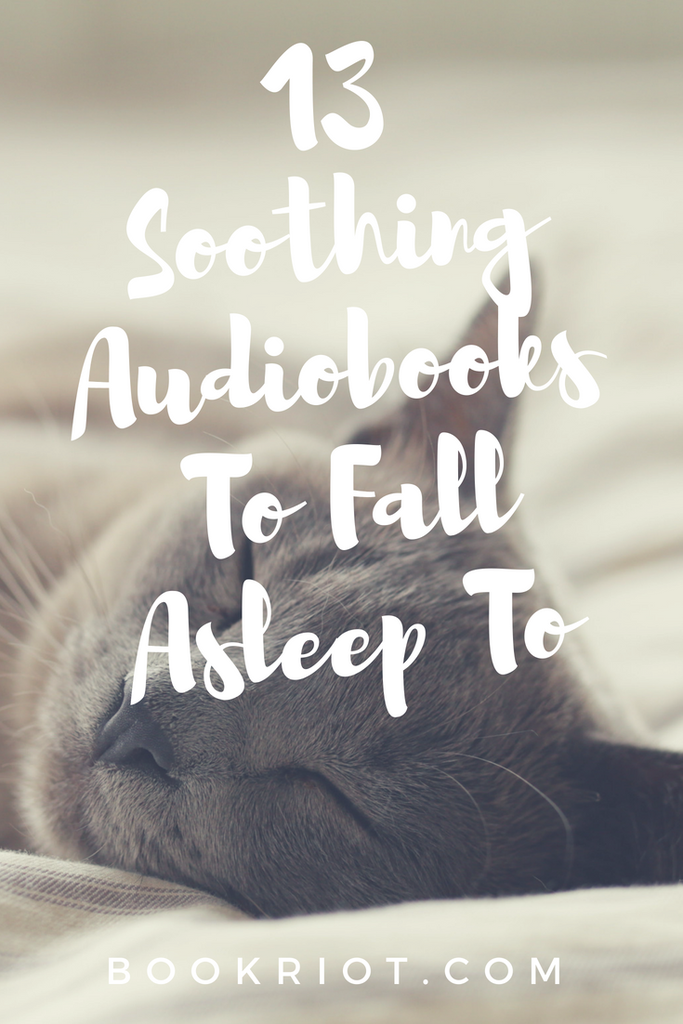 Soothing Audiobooks To Fall Asleep To
Bill Bryson is another favourite soothing audiobooks narrator with Book Rioters. He has plenty of titles to choose from, though some he's narrated only in an abridged version. I really enjoyed his A Short History of Nearly Everything, so I'm confident that his other books would also go over well.
Atonement by Ian McEwan, narrated by carole boyd
Atonement is a well-respected novel with a slowly unfolding plot. The positive reviews of this book describe it as a quiet, thoughtful, moving story. The negative reviews deride it as boring and difficult to get into. It sounds like either way, it would be a good falling-asleep book. I have also heard that the version narrated by Jill Tanner is soothing, so if anyone has a tip about which narrator has the most calming voice, please let me know!
The Bluest Eye, written and narrated by Toni Morrison
My only experience with Toni Morrison's work was reading Beloved, and I was destroyed by that book. I can't imagine the subject matter of any of her books would soothe my nerves at the end of the day, but she does have a soothing voice, and Jess Pryde swears she falls asleep to her audiobooks—if she's tired enough.
The English Patient by Michael Ondaatje, narrated by Ralph Fiennes
I don't usually associate Voldemort with "soothing voices," but Ralph Fiennes manages to bridge that gap. I was listening to a sample of the audiobook just before typing this, and I swear I almost started to drift off right here.
The Graveyard Book, Written and Narrated by Neil Gaiman
Specifically, I have been recommended anything narrated by Neil Gaiman, but especially The Graveyard Book. This one is also available as a full cast production, but I doubt that would be conducive to sleep.
Another Country by james baldwin, narrated by dion graham
This was a recommendation for a narrator, not a specific book: Dion Graham. He has narrated dozens of books, from Goodnight, Goodnight Construction Site to Evicted, but I've been meaning to read James Baldwin, so this one jumped out at me.
Maya Angelou is another name that kept coming up when I went looking for audiobooks to fall asleep to. Like the James Baldwin title, however, this one was been on my TBR in earnest. I'll have to either use the timer feature or save these until they are rereads.
H is For Hawk, Written and Narrated by Helen Macdonald
H is for Hawk was recommended by no fewer than four Book Rioters in response to my request. You can't argue with those numbers. This seems like a perfect choice, because although I've heard it spoken about highly by everyone who has read it, it's never risen to the top of my TBR.
Storm Front by Jim Butcher, Narrated by James Marsters
Another narrator recommendation was James Marsters. As a long time Buffy fan, I don't need a lot of convincing to listen to Marsters's voice. It looks like most of his audiobook work has been The Dresden Files series, and this is book one.
This was another recommendation that didn't come with a particular title, just Amy Tan as a narrator. I always enjoy memoirs read by the author, though. It's nice to hear someone's story from their own lips, and this seems unlikely to have any cliffhanger moments.
This is a title that I don't hear mentioned much online, but it is a bestseller in the store where I work, so it would be interesting to see why it's been so sought after. I also think that nonfiction would be a good choice for falling asleep to, since you don't have to worry so much about losing the narrative thread.
Milk and Honey, written and narrated by Rupi Kaur
I am skeptical about listening to poetry instead of reading it, but since this is read by the author, I can be confident that it has the intended cadence. This is another title that I'm interested in, but probably would never reach the top of my TBR on its own. This experiment might introduce me to books and authors I wouldn't have tried without it!
Editor's Note, 6/22/2020: The Harry Potter series was removed from this list as Book Riot no longer promotes J.K. Rowling in light of statements she has made against the trans community. Check out The House in the Cerulean Sea by T.J. Klune if you're looking for another soothing read!
Let me know if there are any soothing audiobooks or narrators that you find calming enough to fall asleep to! My fellow insomniacs and I would thank you.
You might also like:
5+ Audiobooks To Listen To When You Have a Migraine