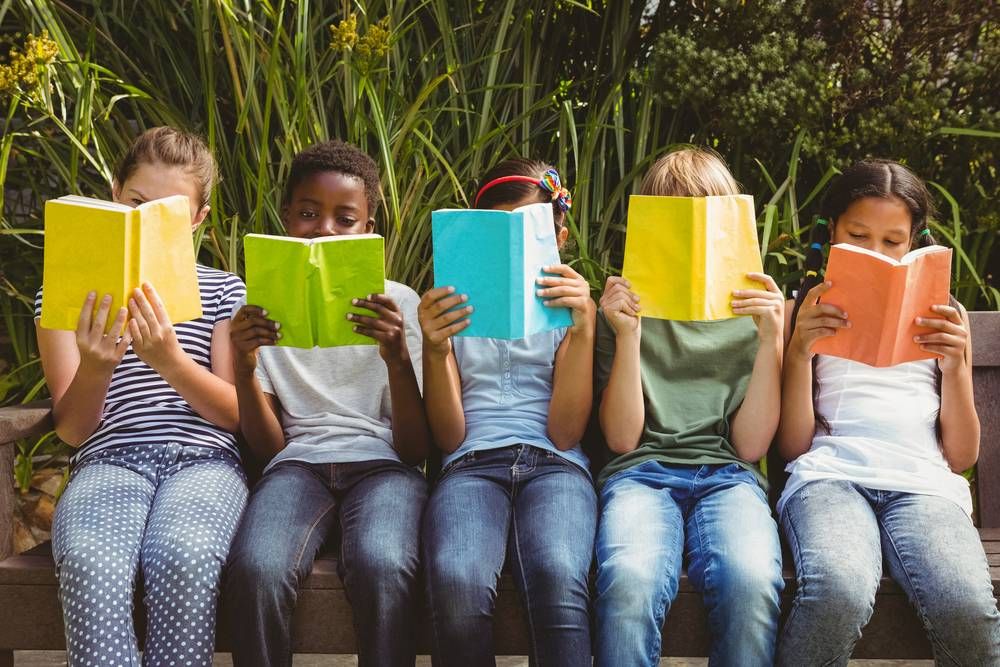 Children's
Reviewing Sonlight Books I Read 20 Years Ago
This content contains affiliate links. When you buy through these links, we may earn an affiliate commission.
When people meet me for the first time, it comes as no surprise that I was homeschooled from the age of seven through my high school graduation. I must have that air about me. The first few years of homeschooling, my mom, a teacher by trade, used the popular Sonlight curriculum for my brothers and me. It is Christian-based and heavily features novels, historical fiction, and other read-aloud books. Some of the books I read became beloved childhood favorites, while others were burned in my memory as hateful things.
Using my powers of recollection, I have compiled a list of some of the novels I read as a Sonlight student. There are obvious gaps in my memory, including entire units. Over the years, Sonlight's curriculum has changed to accommodate different authors and subjects. The books I've included are not all of the books in the curriculum, current or former, but merely a selection based on my childhood memory. My family personally stopped using Sonlight when I was 11, which is when more diverse authors are included in the fiction portion of the curriculum. I've attempted to include mostly the cover art I grew up with to stir the memories of fellow former Sonlight students. Read these "reviews" with a grain of salt.
Sonlight lists this as a kindergarten book, but I am certain that I did not touch this book until later because I was terrified of the flying monkeys from the movie. Then, being the stubborn little reader that I was, I attempted to read all of Baum's original Oz books until my local library ran dry.
This book ruined me. Never mind the cartoon I watched over and over again. The scratchy black and white illustrations in Charlotte's Web combined with the simple and sweet language brought me to tears more than once.
I don't remember this book very well. There were donuts.
This was a favorite of my youngest brother. I remember him laughing at the idea of penguins sliding around in a converted refrigerator basement.
We read the "thought-you-saiders" chapter multiple times from a vintage copy, but I don't think the lesson ever stuck.
I never read this for school, but once read it in a night when I was at my grandma's house and she was watching a Stephen King movie.
I was not a horse girl, but if you are one or are a parent to one, you will love Sonlight's obsession with Henry.
I've kept my mother's childhood copy of this delightful book. It's kooky and wish fulfilling. I wanted to go and live in a museum, but only if I could come home and sleep in my bed at night.
I read the Little House books annually from age 7 to age 15, as well as watching and re-watching the television show.
This is about a goose, or a duck, who doesn't get eaten. I'm not sure.
I couldn't relate to Beezus's annoyance with Ramona, because I just wanted a sister. If I'm recalling correctly, all of Cleary's Ramona books are in the Sonlight curriculum.
The first in a series of five, I loved the Indian in the Cupboard. It was my absolute favorite series. I wanted my own magical cupboard to put my plastic toys in. Don't even talk to me about the movie.
Oh, I felt so grown up reading this book. Sara's lonesomeness almost felt like too much to bear as an 8 year old.
I ate up these personal accounts of historical figures.
This book started a brief but fierce fascination with Colonial America and witch hunts.
Sort this book with "books about dogs that make you cry like a baby."
Sounder by William H. Armstrong
*See Above
*See Above
**The Sonlight curriculum has lots of books about dogs that will make you cry like a baby.
Cheaper by the Dozen by Frank B. Gilbreth Jr. and Ernestine Gilbreth Carey
Not the movie starring Steve Martin and a bunch of good looking child actors. The parents, the father especially, focus on time efficiency and have the children do things like recite their French lessons in the shower and everyone get their tonsils out at once. Bundle of laughs.
Little House wannabe. *see also Strawberry Girl
This book is clever. It has everything a good murder mystery should have, plus baseball puns.
The worst of the Narnia books. Fight me.
Christy By Catherine Marshall
My mom had me read this one before I was ready. I could read it, but there are a lot of heavy subjects in this book.
I cannot find any evidence that this was actually part of the Sonlight curriculum during the early 2000s, but I know I read it for school. I hated it. It's one of those "protagonist meets famous historical figure and their lives are changed forever" books, but the biblical version.
Can you remember any favorites or least favorites from your primary school days? Any that you would recommend to current middle grade readers? Here are 100 Must Read Middle Grade Books for the Summer and 50 Must-Read Historical Fiction Books for Kids to get your list started.