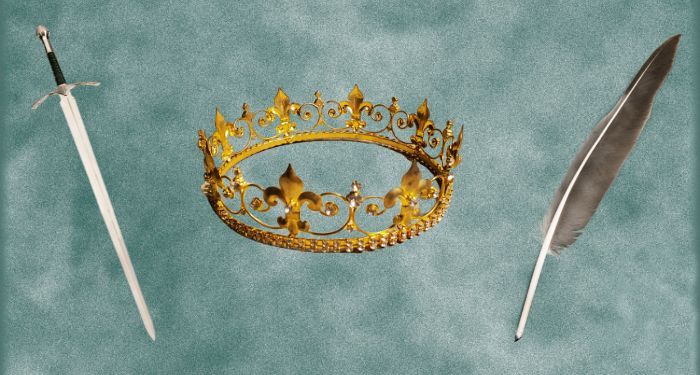 Lists
Book Recommendations for the Soldiers, Poets, and Kings Out There
This content contains affiliate links. When you buy through these links, we may earn an affiliate commission.
There's a new viral personality quiz on TikTok that asks are you a poet, a soldier, or a king? If you don't know what I'm talking about, a Uquiz based on The Oh Hellos "Soldier, Poet, King" song has been all the rage on TikTok lately. Over a series of 20 questions that ask what duty is to you, what the home waiting for you has, the obligatory pick-a-quote about love, and what anger feels like to you, the quiz then assigns you a role: the poet, the soldier, or the king. It's not about your hobbies, but the way you see the world and your role in it.
The king is about duty. About being steady even when the world around you isn't. Even when you don't want to be. It's about wanting to let go of your obligations but knowing you can't. The king wants to be something else, to feel something else, but never lets it show. A king can't let their people see their hands shake.
The poet is about creativity and the distinct hope and doubt of creating something in a burning world. The poet writes or sings or dances for others because they know what it feels like to be devoid of that. They put their heart on the line, though it's terrifying and fraught and futile, and they hope it does some good.
The soldier is caught in someone else's battle, and they swing their sword gallantly. Righteously. They are angry, but not at the enemy. They are angry that all they've ever had is a fight. They want peace, they want kindness, they want no more bloodshed. But they are asked, demanded, to keep marching on.
Truthfully, I think we all have elements of each in us, but maybe that's just the king in me wanting to be, at least a little bit, of a poet and a soldier too. Regardless of your result, here are a few book recommendations for the soldier, the poet, and the king in us all.
The Soldier
The Poet
The King
---
Curious about other recommendations based on personality quizzes? Check out these 16 genre recs based on your Myers-Briggs or these book recommendations based on your attachment style!