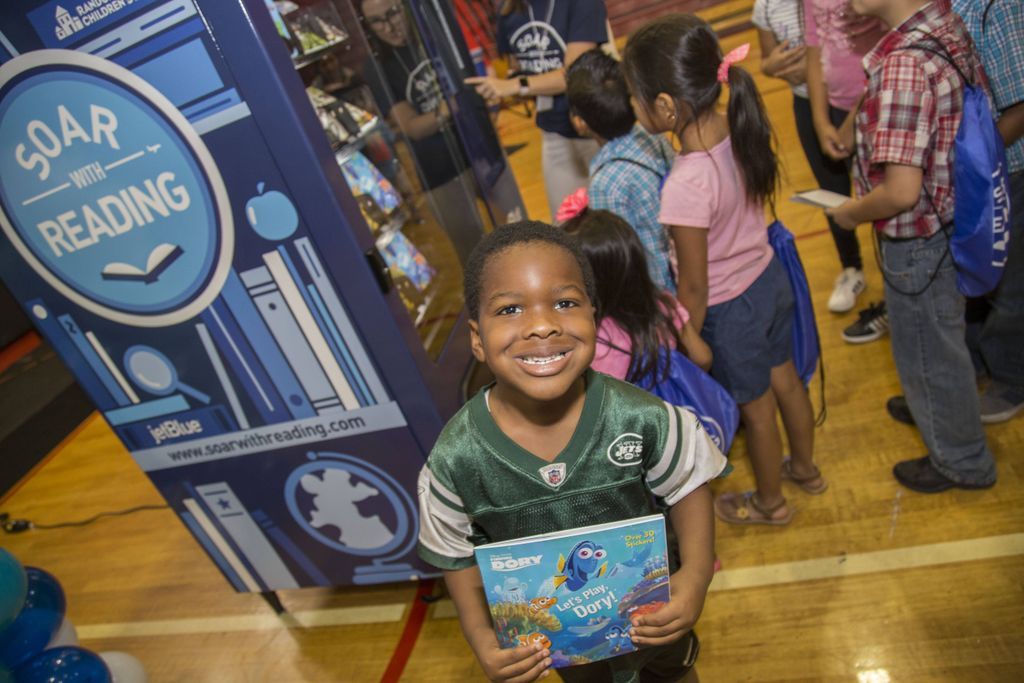 Literary Activism
Soar with Reading: JetBlue and Random House Children's Books Build Kid's Libraries
This content contains affiliate links. When you buy through these links, we may earn an affiliate commission.
As a child, I'm sure I had quite a few fights with my mother. But one stands out with astounding clarity. It was the morning of the beloved Scholastic Book Fair. As is true of most of the world, there wasn't a lot of extra money leftover in the household budget to hand over in exchange for glossy editions about the latest exploits of Kristy, Mary Anne, Claudia, Dawn, and Stacey. I was raised by a single mother who worked hard as a waitress for my entire childhood. I still regret the absolute fit I threw that morning, which resulted in my mom handing over the last six dollars she had (I'd like to say I came to my senses and gave it back to her… I did not).
But even in that situation, I had no lack of access to books. I grew up in an affluent town that spared no expense on its public and school libraries. We had a fantastic paperback exchange (that still exists today, now run by a woman I went to high school with) where you could get credit for your books to use toward the purchase of whatever your little The Baby-Sitters Club-loving heart desired. This is not the case for so many children in our country.
But then JetBlue came to the rescue. I recently had the pleasure of speaking with Kayla Carpenter, Project Manager of Corporate Social Responsibility at JetBlue, about their Soar with Reading program. Launched in 2011, it is "a summer reading program with the goal of bringing access to age appropriate books to kids and families who need them most- accomplished by introducing innovative solutions for communities investing in free book vending machines. The ultimate goal is to build up communities and support mechanisms for young people to have the support they need to be the readers they have the potential to become."
Here's the gist. In 2014, a study was done by child literary expert Dr. Susan Neuman and the results were appalling. In underserved communities, there is access to only one age-appropriate book for every 300 children. But not only was the Soar with Reading initiative interested in getting children access to more books, they wanted to "provide books to these children to keep forever. Having those books at home to build their own personal libraries." They also wanted to encourage the "power of choice." So in 2014, beginning with Anacostia (a neighborhood in downtown Washington, D.C.), JetBlue placed four vending machines supplied with 100,000 book donated from Random House Children's Books' catalog centrally located in high traffic areas to "meet the community where they are." Children are allowed to select a title from the vending machine and it dispenses to them a book that they can keep and add to their home library.
Since their first year, JetBlue and Soar with Reading have also installed book vending machines (available to the public for 8 weeks) in Detroit, Michigan and was introduced in Fort Lauderdale, Florida on June 26th, 2017. $2,750,000 worth of books have been donated to Soar with Reading since the program's inception. Although they'd like to balance out the gap in books available to children in book deserts, their ultimate goal is to "create a conversation that drives behaviors around the love of reading and that all-important community support of building an environment that encourages reading. JetBlue wants to see the community thriving. If (they) can plant a seed through (their) program to contribute to that in the long term, that's really what it's all about."
JetBlue focuses on diversity in their offerings. A simple trip to their website shows this. As Kayla Carpenter noted, they do this so that "they can see characters on the covers of that book that look like them, that might inspire them to pick up the book". In neighborhoods with a large Spanish-speaking community, their goal is to also include Spanish or bilingual titles.
The number of books donated to children in underserved communities (both via the book vending machine and through other local non-profit organizations after the completion of the 8 week period) is undeniably noble. But its clear that community is at the heart of the Soar with Reading program. They feel that community engagement is the biggest indicator of success. They've watched as a 4th grader in Detroit began a book club with her friends that encouraged reading amongst her peers. They've watched as tired parents and impatient kids happily waited in long lines to procure a book from a vending machine in a grocery store after a full day of work and an exhausting shopping trip. They've watched as the number of books distributed through the vending machine rose from 27,000 in year one to almost doubling the following year to 55,000.
Would JetBlue consider expanding their initiative to include young adults and adults? "This year, based on the the research we've conducted, it's been a very popular piece of feedback that parents and adults have visited the machine hoping to see titles that might be more appealing to them. We are starting to include books they might read too…. to model good reading behaviors for their children and to increase their own literacy. We're introducing it this year in Fort Lauderdale and we're excited to see how it performs."
How can you get involved? Currently, they have no plans to accept donations from private citizens. However, you can help select the next city that will receive a generous donation of 100,000 books. Now through August 31st, 2017, voting is available on their website to pick the 2018 Soar with Reading donation recipient. Vote on the Book Battle between New York, Boston, San Francisco, and Los Angeles (at the time of writing, Boston is in the lead) and help JetBlue pick which community will be gifted this incredible resource.
And if you're in Fort Lauderdale and would like to check out this year's vending machines, they can be found at the following locations:
Joseph C. Carter Park | 1450 W. Sunrise Boulevard, Fort Lauderdale, FL 33311
Osswald Park | 2220 NW 21st Avenue, Fort Lauderdale, FL 33311
Edgar P. Mills Multi-Purpose Center | 900 NW 31st Avenue, Fort Lauderdale, FL 33311
Riverland Branch Library | 2710 Davie Boulevard, Fort Lauderdale, FL 33312
[Listen here for Jeff O'Neal and Rebecca Schinksy's 2016 interview on Book Riot – The Podcast with Icema Gibbs from JetBlue about the Soar with Reading initiative]