Newsletter 1
Thinking About Adopting a Dog? There's a Book for That.
This content contains affiliate links. When you buy through these links, we may earn an affiliate commission.
I'm thinking about adopting a dog. Another dog. A a commitment, for sure, but from my experience, one that results in pure joy.
I adopted my Sweetie Pie from a local animal rescue and got to see first hand all the hard work, dedication and complete love that volunteers and shelter/rescue workers put into their work. I vowed to always adopt from there on out.
This time, when considering adopting a dog, I turned to books. For advice, tips, feel-good stories, for support. Just take a look at the heartiness of dog rescue adoption applications, or consider the idea of home visits before they'll turn over the goods, and you'll understand that you need to educate yourself and make sure you're really ready before bringing a new doggie family member home.
So here's my short list of some good reading for anyone considering adopting a dog.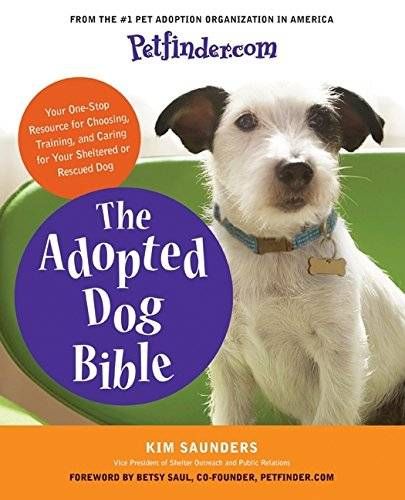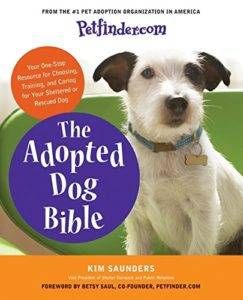 The Adopted Dog Bible: Your One-Stop Resource for Choosing, Training, and Caring for Your Sheltered or Rescued Dog, by Kim Saunders
This book is written by the adopting experts at Petfinder.com — celebrating 20 years of helping shelter/rescue dogs find their forever family — and it's a great resource to start with. Use the website's comprehensive guide to adopting a new pet, read (tear jerkey!) adoption stories, see adoptable pets – including cats, birds, fish, pigs – and get an idea of what you're getting into.
And then read the book.
It really is like a bible, or a what to expect when you're adopting resource, put together with help from veterinarians and dog training experts. There are pre-adoption checklists, breed specific traits so you can find the dog who doesn't shed and loves taking morning walks through the city, and advice on what to do once you bring your own perfect dog home. And much more – this is really a full-dog-lifecycle resource you'll be happy you have once your adopted dog eats some chocolate, or when it's time to say goodbye. Bonus, swoon, there's a Meet our Models page, where you can meet the pups featured throughout the book – all of whom were adopted.
I love this book because it makes you take a good hard look at that simple idea you have, "I'll adopt a dog!" and really decide if this is a good fit for you, your family, your lifestyle, your potential dog. And if it turns out that it's not the best time for you, The Adopted Dog Bible provides options you can take to still make a difference in a rescue dog's life. They just care, and it really shows.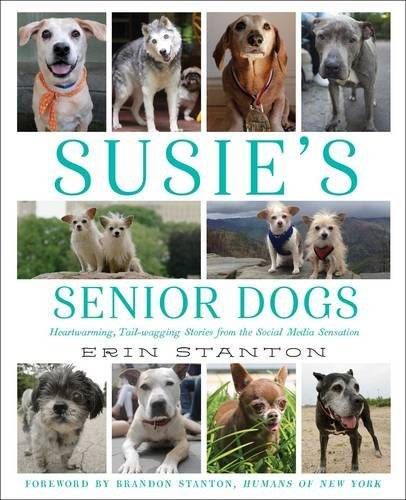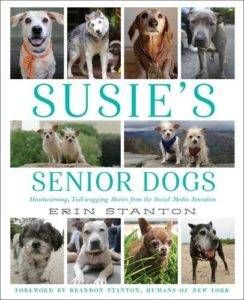 Susie's Senior Dogs, by Erin Stanton
Sweetie Pie wasn't a puppy when we adopted her. We made that decision mostly because we knew we weren't ready for the chaos of the puppy years, and once we brought our older dog into the home — already trained, totally chill, just waiting for the right people — we knew that was the best decision for us. I'm a huge advocate of adopting a dog who is older, and so is Erin Stanton, the human behind Susie's Senior Dogs (SSD), a nonprofit that brings awareness to " awareness to overlooked, homeless senior dogs and the benefits to adopting an older pet" – through a website, Facebook page, and a the book. Through the online presence, SSD highlights adoptable senior dogs, and helping find homes for over 500 senior dogs.
The book is an outstanding collection of the stories of the perfect matches SSD's makes. The humans tell the stories of taking the senior dogs into their homes, many overcoming their initial senior dog objections, and now everyone is living together, happy and well. Naturally, there are also tips included, gorgeous doggie pics, and all of the book's proceeds to to caring for, and placing, more senior dogs.
If you've never considered adopting a senior dog, check out Susie's Senior Dogs, and remember – puppies eat books.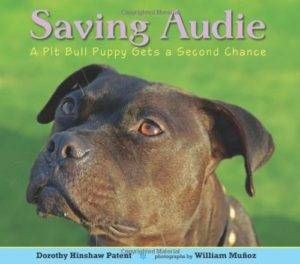 Saving Audie: A Pit Bull Puppy Gets a Second Chance, by Dorothy Hinshaw Patent
Saving Audie is the story of a pit bull pup rescued from the hell that was Michael Vick's fighting ring. In one of the best turnaround stories I know, most of the dogs were rehabilitated and went on to live peaceful, loving lives with their adopted families. Audie is one of them.
Audie's happy ending story is aimed at children, making it a great educational tool for families considering adopting. But it's a great story for anyone, with the perfect pictures to accompany each page telling the story of Audie's rehabilitation to life with his forever family. My dogs are pit bulls, so I have a soft spot for the misunderstood gentle giants. I thought for a long time that the story of these dogs would be too much for my dog-sensitive heart, but the story is uplifting and thoughtful, with a wonderful message about hope, survival, and second chances.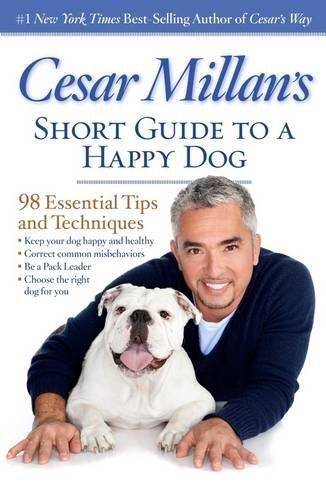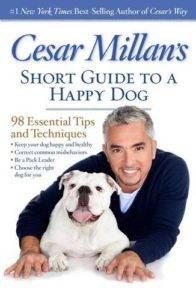 Cesar Millan's Short Guide to a Happy Dog, by Cesar Millan
Once you have your dog, you've got to read some Cesar Millan. Cesar is The Dog Whisperer, and he KNOWS DOGS. The man started as a dog groomer, recognized he had a way of communicating with canines, and eventually opened an dog rehab and training center. I got to know Cesar through his TV show, where each episode saw him in the home of a troubled pet and/or person: Cesar uses his dog whispering wiles to educate the human on how to be a pack leader and better dog parent, which in turn helps the dog get along better in this crazy world.
Cesar Millan's Short Guide to a Happy Dog: 98 Essential Tips and Techniques, is the natural companion to the Adopted Dog Bible. Millan goes into the heart of his work rehabilitating aggressive dogs and people, through stories of his encounters and personal experiences with dogs all over the world.
Millan, who illegally crossed the border from Mexico into California over 20 years ago, has a philosophy that's close to my own heart. He writes in the intro that he realizes he's not Mexican or American, he's just a dog person. "I don't belong to a country defined by borders, territory or language. I belong to a worldwide community of people who love dogs. This is my pack."
Amen.