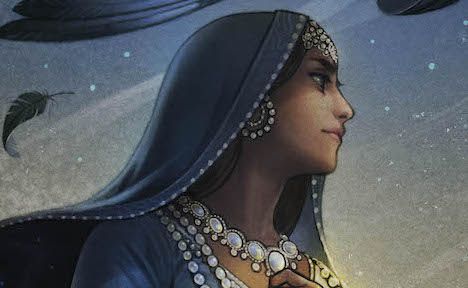 This content contains affiliate links. When you buy through these links, we may earn an affiliate commission.
Catherine Faris King is a Lebanese-Irish-American writer. She would like to thank her parents and friends for their endless support. This is her first book.
Twitter Handle: @catherinefking
---
So in 2016 I wrote this book, The Ninety-Ninth Bride, based on the story of Scheherazade in The Arabian Nights. For those who don't know, Scheherazade arranges her marriage to a king who executes every woman he weds. Scheherazade stalls out her own death by telling the king stories, and after one thousand and one nights, the king loves her as a husband should. So we open on a cruel king, but end with a happy marriage, at least in the original iteration.
When I wrote the majority of The Ninety-Ninth Bride, America was still safe under the aegis of President Obama, a Constitutional scholar, a thinking man. We didn't know how good we had it. Now we have 45, this horrible scrap of humanity whose name I don't even want to utter because that will give him more publicity.
My responsibility to the world, what I give to the world in this story, has changed because the world itself has changed. Or maybe not changed, but the festering boil of social pus that has been bubbling up in America for decades has been unmasked and now is at the helm.
Other authors around the world are tackling the questions of how to live in our difficult time, answering the question in their own way, in their own books. I have lots of ideas, but only one book in hand. How would this book answer the question: how to live under an unjust rule?
My book has three characters from the original Arabian Nights: there is Scheherazade, who gives all storytellers hope that their stories will affect the world. There is the Sultan, the pissed off guy who nominally rules a country. And then, in direct opposition to the Sultan, there is my main character Dunya, called Dunyazade in the original.
In the original Arabian Nights, Dunyazade is there as part of Scheherazade's ploy—instead of directly appealing to the Sultan, Scheherazade can tell stories to her sister and allow the Sultan to eavesdrop. Some versions leave her out altogether.
When I started writing The Ninety-Ninth Bride, I wanted to explore the perspective of a character that slips most people's notice, a character who doesn't have all the answers but is willing to suss things out. With this in mind, Dunya became a natural choice, and I built off of what was in the original. Namely, that she is a listener.
As I developed this character, I was inspired in a large part by a master from Japan—Hayao Miyazaki, specifically his 2004 adaptation of Diana Wynne Jones's Howl's Moving Castle. This film is set in the midst of an international war, spurred by a little magic and a lot of misunderstanding. Miyazaki emphasizes the evils of war, but he admires how his protagonist, the mild-mannered Sophie Hatter, manages to tap into her courage in the midst of chaos.
I followed Miyazaki's lead when it came to creating my protagonist. Dunya in The Ninety-Ninth Bride is quiet, self-effacing, and not inclined to fight—in other words, the opposite of an American. (I can make these jokes, I'm an American.)
When it comes to surviving, and holding on to her identity, Dunya's particular skill is listening and remembering. She doesn't just listen to the stories of Scheherazade, or Zahra in my version. She listens to the fears of the people she encounters. She listens to the city she lives in. And she remembers the women she knew who were killed under the Sultan's orders.
Survival is always a concern, but Dunya, thanks to a kindly author, is able to do more than just that. She builds new relationships, friendships with people that she can help, and who help her. (This was also a note inspired by Miyazaki's Sophie, who takes a collection of motley, magic-touched people and makes a family out of them.)
If I had written this book in 2018, now that I have a slightly better idea of what resistance looks like, I may have made different choices. Dunya, as I wrote her, lacks a complete framework for what a better, more just city would look like, but she knows this isn't it.
I don't pretend that I've written a guide. However, I do hope that readers take away from this book the notion that there is strength in gentleness, in listening, in reaching out to others. This isn't the only way to survive a bad situation. Plenty of other writers provide different ways—I look forward to exploring other strategies in upcoming books. But I must say, this strategy worked for this particular iteration of The Arabian Nights, and this phase of my life.
I hope that this novel feels authentic to its Arab-inspired setting, but I know, at its heart, this book is as American as I am. Dunya gives of herself freely, and generosity is an American trait. However, the kernel at the heart of The Arabian Nights is the power of storytelling, or the love of a good yarn. That is not a particularly American attribute. That's a quality that unites us as humans. And one of the most amazing thing about stories is that they help us to remember that we are all human, and see other people's points of view. And that's something we could definitely use more of these days.