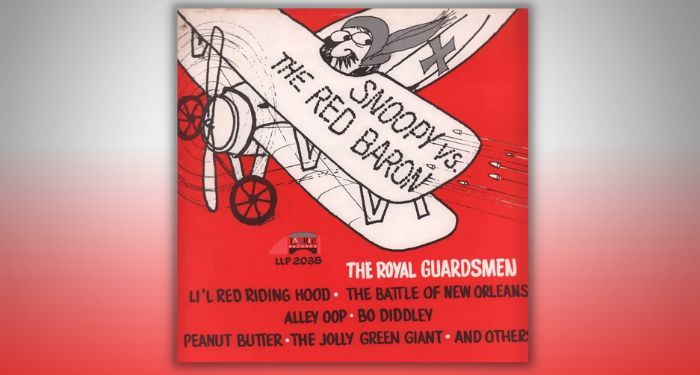 Bookish History
When Snoopy Ruled the Music Charts: The Story of "Snoopy Vs. the Red Baron"
Snoopy and the Peanuts gang have found a place in almost every creative medium out there, from the original comic strip to TV specials, movies, and Broadway musicals. So it's not too surprising that they've indirectly wormed their way onto the Top 100 as well.
In late 1966, "Snoopy vs. the Red Baron" was all the rage. The only reason it didn't reach number one on the charts was because the Monkees happened to release their monster hit "I'm a Believer" around the same time. It took four Monkees to defeat one beagle in a scarf.
So how did this all come about, anyway? The song was written by Dick Holler, better known for the more sober hit "Abraham, Martin, and John," and music producer Phil Gernhard. But it was brought directly to the world's eardrums courtesy of a band called the Royal Guardsmen. Despite the name, which they came up with to cash in on the British Invasion, they were six kids — five in high school, one in college — from central Florida.
The Guardsmen found success the old-fashioned way: according to a 2006 interview with vocalist and guitarist Barry Winslow, they "played proms and little dances and a little teen club," eventually working their up to opening for other acts. That's when Gerhard approached them.
Now, according to Winslow, Gerhard only showed them the lyrics to "Snoopy vs. the Red Baron" and told them to go to town with it. That makes it sound like the Guardsmen were the ones to come up with the melody and orchestration, yet the band itself has no writers' credits on the song. Another source states that the song was a reworked version of Dick Holler's "The Red Baron," which he wrote years earlier but had no success with.
Maybe somebody misspoke or misremembered. That can happen when relating events so many years after the fact.
In any case, the Guardsmen hated their initial take on the song but sent it to Gerhard anyway. Gerhard loved it, and a hit was born.
And how did Charles M. Schulz, Snoopy's creator, react to all this? Apparently, he was cool enough with it to draw the album cover for the Guardsmen's second album, Snoopy and His Friends. But nobody on the music side of things had bothered to ask permission to use his characters ahead of time, and while they were all working out the legal kinks, the Guardsmen recorded a copyright-friendly version of the song, "Squeaky vs. the Black Knight." This version was released in Canada but quickly forgotten once Schulz's team gave their blessing.
The rest of the Guardsmen's first album (also named Snoopy vs. the Red Baron) is mostly covers of profoundly '60s hits like "Alley Oop" and "The Man Who Shot Liberty Valance." Apparently, this is because no one was expecting "Snoopy" to be such a hit, so the label, Laurie Records, had to scramble to find enough material to fill out a whole album.
Like with many novelty hits, this one was followed by a label-enforced lack of creativity. The Royal Guardsmen's other albums were all suspiciously Snoopy-centric, featuring ditties like "The Return of the Red Baron," "It's Sopwith Camel Time," and even "Snoopy's Christmas," which I personally listen to many, many times every December.
Then came "Snoopy for President," which is cute, but honestly, they sound tired. You can kind of tell the joke had worn thin. Once the group missed out on the chance to record "Abraham, Martin, and John," which became a huge hit for Dion, they got fed up, and that was basically it for them, career-wise.
In 2006, 40 years after the original song's release, the Royal Guardsmen released one more Snoopy song, which I regret to inform you was called "Snoopy vs. Osama." It's about as oblivious as you're thinking and a lot more serious than the previous songs. It even drags hapless Charlie Brown into things (which seems a bit out of character since poor ol' Charlie was never invited to join in Snoopy's rich fantasy life, but I think complaining about continuity in a novelty song is getting a bit picky).
In the Winslow interview, both he and the interviewer refer to the album this song appears on as "strange," which is as good a way to put it as any.
From the same interview, as of 2006, five of the band's six original members were still alive and still occasionally reunited to perform. If nothing else, it's nice to know that, unlike so many other bands, they were able to maintain a cordial relationship during and after fame.
As a big fan of kitschy '60s pop AND a lifelong Peanuts fan, I genuinely enjoy the Royal Guardsmen's discography. Songs inspired by comics are uncommon enough that they're always fun to talk about, even when they're not so great. Fortunately, "Snoopy vs. the Red Baron" is two minutes and forty seconds of good old-fashioned fun!