Fiction
Sneak Preview and Giveaway: CARRY THE ONE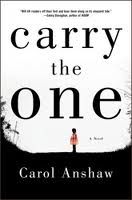 I am so excited because I get to play Book Santa Claus today and spread joy and cheer to all you boys and girls by giving you a sneak peek at what is so far my absolute favorite novel coming out in 2012, Carol Anshaw's Carry the One.
Carry the One begins in the hours following the reception of a shotgun wedding, when a car filled with the siblings and friends of the bride and groom accidentally hits and kills a young girl on a dark country road. We follow the driver and passengers of this car through the next twenty-five years of their lives in vignette-like chapters. We stand in the shadows and watch these characters lives play out in moments both monumental and microscopic. We see the many ways this tragedy permanently alters these characters' existence as well as realizing that for most of the characters, the big strokes of their lives would have been painted whether or not the accident had occurred. It's a laser-focused, compulsively readable tale of chance and fate with a big brain, sharp tongue, and huge heart.
I'm not alone in my cartoon-hearts-in-my-eyes love for this book. Emma Donoghue, of everybody-read-it-and-loved-it bestseller Room blurbed "Here's passion and addiction, guilt and damage, all the beautiful mess of family life. Carry the One will lift readers off their feet and bear them along on its eloquent tide." Alison Bechdel, author of basically-every-indie-bookseller's-favorite-graphic-novel Fun Home says " Reading this book, I felt like I was watching someone cross a tightrope with the same relaxed, assured stride they would use on solid ground. Anshaw doles out psychological acuity, antic humor, cultural critique, and profound wisdom as the merest casual asides. It can't be as effortless as she makes it look, but it's a pleasure to soar with her, for a while, on that high wire."
One of my favorite observations about this book comes from its editor Trish Todd, in a letter to the readers on the first page of the ARC. She describes the book's "immediately appealing" voice as "…wry, smart, and hip…" It's the "hip" that stuck with me, because I completely agreed with Todd, but couldn't quite put my finger on why right away. This book is undeniably hip, but it's not the hip of Urban Outfitters knit caps or fixed gear bicycles. Then I had my lightbulb moment. This book doesn't just have its finger on the pulse of the current zeitgeist, Cary the One has its finger on the pulse of the f—ing human condition. That's what makes it hip with superpowers. That's what makes it the Platonic ideal of cool.
The book is scheduled to release in March 2012.
That's too long to wait, I know, I know.
That's why, as Book Santa Claus, I got you guys a Book Sleigh full of Book Presents! Well, all right, really it's Simon & Schuster's playing Santa Claus and it's basically their sleigh. I'm honestly little more then a glorified elf. Whatever, whatever, a passel of you all are still getting ARCs and that's what counts.
Here's the deal. The first ten people to write into Simon and Schuster marketing (marketing@simonandschuster.com), with the subject line: Book Riot- Carry the One, get ARCs of this awesome-sauce novel.
Merry Early Christmas, Bibliophiles.