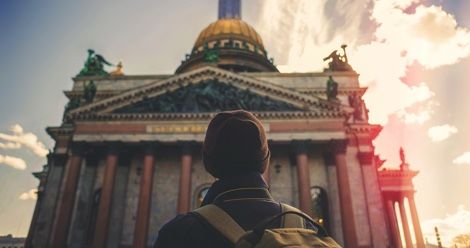 Lists
50 Must-Reads of Slavic Literature
This content contains affiliate links. When you buy through these links, we may earn an affiliate commission.
When people make lists about Slavic literature, very often (almost always) they're about the Russian classics. Obviously, the Russian classics are worth our attention as well, and Book Riot has made a couple such lists—including a recommendations list of 5 short Russian classics. But there's a whole wealth of Slavic literature out there—works from Belarus, Bosnia, Bulgaria, Croatia, Czech Republic, Macedonia, Montenegro, Poland, Russia, Serbia, Slovakia, Slovenia, Serbia, and Ukraine. This is a list of 50 recommendations, all musts of Slavic literature.
This was a learning experience for me as well—while I found I knew more of the iconic authors from these countries than some might, I still realized that I knew very little about the literature of some of these countries. For this reason, I focused as much as possible on authors that are more unknown—skipping Milan Kundera, Franz Kafka, and other commonly cited household names. If I knew few of these names, so did many readers, and I wanted to shine a spotlight on the books that readers might not know, rather than ones they will have seen on many other lists.
I did my best to research thoroughly, but I did have trouble finding literature from Slavic countries by authors of color. If you have recommendations of contemporary or classic Slavic literature by authors of color, please let me know in the comments.
This list also suffers from a lack of translation. Many great classic and contemporary works of Slavic literature outside of Russia have not been translated, possibly due to a perceived lack of interest in the UK and U.S. markets—as an example, the contemporary poetry of Vera Polozkova is not published in English translation, nor is the first Macedonian novel, The Village Beyond the Seven Ash Trees by Slavko Janevski. I hope this changes, but know that if you don't see a favorite or a clear favorite on one of these lists, it may not be translated or widely available in English, and that I found this as frustrating as you might.
Note: All descriptions are paraphrased or pulled directly from Goodreads, or other online sources if necessary.
The Bridge on the Drina by Ivo Andrić, translated by lovett F. Edwards
"A vivid depiction of the suffering history has imposed upon the people of Bosnia from the late sixteenth century to the beginning of World War I, The Bridge on the Drina earned Andrić the Nobel Prize for Literature in 1961."
Seeing People Off by Jana Beňová, translated by Janet Livingstone
"Seeing People Off follows Elza and Ian, a young couple living in a humongous apartment complex outside Bratislava where the walls play music and talk, and time is immaterial." Beňová is "one of the most acclaimed Slovakian writers, and winner of the European Union Prize for Literature."
"Among the last of her poetic career, The Babylonian Captivity is an allegory describing the conditions of the Ukrainians under Russian influence at the end of the 19th century." Lesya Ukrainka is a pseudonym, perhaps necessary at the time because Ukrainian language was not permitted in publications. The story is of Jews in exile in Babylon.
Milosz's 1953 book is a study of how intellectuals behave under a repressive regime. In 1980, Milosz received the Nobel Prize in Literature. Since his works had been banned in Poland by the communist government, this was the first time that many in the country became aware of his works.
Quo Vadis by Henryk Sienkiewicz
"Petronius, a generous and noble Roman, a man of the world much in favor at the court of Nero, is intrigued by a strange tale related by his nephew Marcus Vinitius of his encounter with a mysterious young woman called Ligia with whom Vinitius falls madly in love." This novel, meticulously researched and set in Rome during the reign of Nero, won Sienkiewicz the Nobel Prize for Literature in 1905.
"Petra Hulová became an overnight sensation when All This Belongs to Me was originally published in Czech in 2002, when the author was just twenty three years old. [The book] chronicles the lives of three generations of women in a Mongolian family…this story of secrets and betrayals takes us from the daily rhythms of nomadic life on the steppe to the harsh realities of urban alcoholism and prostitution in the capital, Ulaanbaatar."
Maidenhair by Mikhail Shishkin, translated by Marian Schwartz
"Day after day the Russian asylum-seekers sit across from the interpreter and Peter—the Swiss officers who guard the gates to paradise—and tell of the atrocities they've suffered, or that they've invented, or heard from someone else. These stories of escape, war, and violence intermingle with the interpreter's own reading."
"On March 2, 1908, nineteen-year-old Lazarus Averbuch, an Eastern European Jewish immigrant, was shot to death on the doorstep of the Chicago chief of police and cast as a would-be anarchist assassin. A century later, a young Eastern European writer in Chicago named Brik becomes obsessed with Lazarus's story."
"Everything eventually reaches its appointed place in time and space. Maria Matios's dramatic family saga, Hardly Ever Otherwise, narrates the story of several western Ukrainian families during the last decades of the Austro-Hungarian Empire…Her characters do not always act in accordance with logic and law books, as the laws of honor clash with the laws of the heart."
Roadside Picnic by Arkady and Boris Strugatsky, translated by olena bormashenko
"Red Schuhart is a stalker, one of those young rebels who are compelled, in spite of extreme danger, to venture illegally into the Zone to collect the mysterious artifacts that the alien visitors left scattered around. His life is dominated by the place and the thriving black market in the alien products. But when he and his friend Kirill go into the Zone together to pick up a 'full empty,' something goes wrong."
The Unwomanly Face of War by Svetlana Alexievich, translated by richard peavear and larissa volokhonsky
Alexievich's book languished unpublished for years for reasons of political suppression and censorship, but came out in 1985 and sold more than 2 million copies. The novel is made up of monologues of women in World War II talking about aspects of the war that had never been related before, from their roles as soldiers to protectors of their land. Alexievich is probably the best known name on this list, as the winner of the Nobel Prize for Literature in 2015.
"Stork Mountain tells the story of a young Bulgarian immigrant who, in an attempt to escape his mediocre life in America, returns to the country of his birth. Retracing the steps of his estranged grandfather, a man who suddenly and inexplicably cut all contact with the family three years prior, the boy finds himself on the border of Bulgaria and Turkey, a stone's throw away from Greece, high up in the Strandja Mountains."
Death and the Dervish by Meša Selimović, translated by Bogdan Rakic and Stephen M. Dickey
"Death and the Dervish is an acclaimed novel by Bosnian writer Mesa Selimovic. It recounts the story of Sheikh Nuruddin, a dervish residing in an Islamic monastery in Sarajevo in the eighteenth century during the Ottoman Turk hegemony over the Balkans. When his brother is arrested, he must descend into the Kafkaesque world of the Turkish authorities in his search to discover what happened to him."
Death and the Penguin by Andrey Kurkov, translated by george bird
"Viktor is an aspiring writer with only Misha, his pet penguin, for company. Although he would prefer to write short stories, he earns a living composing obituaries for a newspaper. He longs to see his work published, yet the subjects of his obituaries continue to cling to life. But when he opens the newspaper to see his work in print for the first time, his pride swiftly turns to terror."
"Raised in a small village surrounded by vast forests, Liba and Laya have lived a peaceful sheltered life—even if they've heard of troubling times for Jews elsewhere. When their parents travel to visit their dying grandfather, the sisters are left behind in their home in the woods…The sisters will need each other if they are to become the women they need to be—and save their people from the dark forces that draw closer." Rossner was inspired to write this novel by the folklore of the small towns that her grandparents left behind due to discrimination and violence against Jews.
Dry Season by Gabriela Babnik, translated by rawley Graw
Dry Season, a surrealist novel, "is a record of an unusual love affair. Anna is a 62-year-old designer from Slovenia and Ismael is a 27-year-old from Burkino Faso who was brought up on the street, where he was often the victim of abuse. What unites them is the loneliness of their bodies, a tragic childhood and the dry hamartan season, during which neither nature nor love is able to flourish."
Dictionary of the Khazars by Milorad Pavić, translated by christina pribicevic-zoric
"Eschewing conventional narrative and plot, this lexicon novel combines the dictionaries of the world's three major religions with entries that leap between past and future, featuring three unruly wise men, a book printed in poison ink, suicide by mirrors, a chimerical princess, a sect of priests who can infiltrate one's dreams, romances between the living and the dead, and much more."
Metro 2033 by Dmitry Glukhovsky
In 2033, everything has been destroyed by nuclear disaster, but survivors hold on in the Moscow Metro, the biggest air-raid shelter ever built. When a new threat appears, "Artyom, a young man living in VDNKh, is given the task of penetrating to the heart of the Metro, to the legendary Polis, to alert everyone to the awful danger and to get help. He holds the future of his native station in his hands, the whole Metro—and maybe the whole of humanity."
War with the Newts by Karel Čapek, translated by ewald osers
"When the curmudgeonly sailor Captain von Toch discovers a breed of large, intelligent newts in far-off Polynesia, he realizes that, with a little training, they could be used as a virtual army of complacent pearl-divers in shark-infested waters." This legendary sci-fi satire is acclaimed by many as the first dystopian novel, commenting on capitalism and the rise of fascism, and some believe Čapek invented the word 'robot.'
"Vanishings and apparitions, nightmares and twists of fate, mysterious ailments and supernatural interventions haunt these stories by the Russian master Ludmilla Petrushevskaya, heir to the spellbinding tradition of Gogol and Poe. Blending the miraculous with the macabre, and leavened by a mischievous gallows humor, these bewitching tales are like nothing being written in Russia—or anywhere else in the world—today."
In this book, the narrator of of Hrabal's rambling masterpiece tells a lifetime's worth of stories to a group of sunbathing women who remind him of lovers past. "Part drunken boast, part soul-rending confession, part metaphysical poem on the nature of love and time, this astonishing novel (which unfolds in a single monumental sentence) shows why he has earned the admiration of such writers as Milan Kundera, John Banville, and Louise Erdrich."
"Alphonse, a young Walloon officer, is travelling to join his regiment in Madrid in 1739. But he soon finds himself mysteriously detained at a highway inn in the strange and varied company of thieves, brigands, cabbalists, noblemen, coquettes and gypsies, whose stories he records over sixty-six days."
"Gita Lauschmanova, as a young girl in 1945, leaves a concentration camp as an orphan to face the stunning realization that there is in fact nowhere to return, and that the oppression and savagery of the Holocaust are far from over. For Gita, living is no longer a question of right or wrong. It is purely a question of survival." Denemarková is a celebrated Czech writer who has won the prestigious Magenesia Litera prize three times—for prose, non-fiction, and translation.
The Walnut Mansion by Miljenko Jergović, translated by stephen m. dickey and janja pavetic-dickey
Jergović tells the story of Regina Delavale in reverse chronology: "the author proceeds from her final days in 2002 to her birth in 1905, encountering along the way such traumas as atrocities committed by Nazi Ustashe Croats and the death of Tito. Lyrically written and unhesitatingly told, The Walnut Mansion may be read as an allegory of the tragedy of Yugoslavia's tormented twentieth century."
Aviaries by Zuzana Brabcová, translated by tereza novicka
This novel tells the story of a hypochondriac, middle-aged woman through diary entries, dreams, monologues, headlines, and more. "As it oscillates between the lyrical and the vulgar, the novella presents a brutal vision of present-day Prague where life has become a morass of the bizarre and the grotesque with no apparent way out." This was Brabcová's final book before her unexpected death. It will be published in English in February 18, 2019, by Twisted Soon Press.
The Slynx by Tatyana Tolstaya, translated by jamey gambrell
"Two hundred years after civilization ended in an event known as the Blast, Benedikt isn't one to complain. He's got a job—transcribing old books and presenting them as the words of the great new leader, Fyodor Kuzmich, Glorybe—and though he doesn't enjoy the privileged status of a Murza, at least he's not a serf or a half-human four-legged Degenerator harnessed to a troika."
Chlopi by Wladyslaw Reymont
In this four-part novel, each of which represents a season in the life of Polish peasants, Reymont "create[s] a more complete and suggestive picture of country life than any other Polish writer." He won the Nobel Prize for Literature for this work in 1924.
"Set in contemporary Moscow, where shape shifters, vampires, and street-sorcerers linger in the shadows, Night Watch is the first book of the hyper-imaginative fantasy pentalogy from best-selling Russian author Sergei Lukyanenko. This epic saga chronicles the eternal war of the "Others," an ancient race of humans with supernatural powers who must swear allegiance to either the Dark or the Light."
vita nostra by Marina and Sergey Dyachenko, translated by julia meitov hersey
"While vacationing at the beach with her mother, Sasha Samokhina meets the mysterious Farit Kozhennikov under the most peculiar circumstances. The teenage girl is powerless to refuse when this strange and unusual man with an air of the sinister directs her to perform a task with potentially scandalous consequences. He rewards her effort with a strange golden coin." This bestselling Ukrainian dark fantasy will be published in English translation for the first time on November 1, 2018.
"A constant thread woven throughout the history of Russian literature is that of an escape from the bounds of realism. Worlds Apart is the first single-volume anthology that explores this fascinating and dominant theme of Russian literature."
Hansen's Children by Ognjen Spahić, translated by will firth
"It is the end of the 1980s, and Europe is about to change forever; in a corner of Romania, two men await their fate as their reality literally begins to fall apart. Unafraid to speak the truth, Spahić takes us on a journey through the revolution, changing our way of seeing this chapter of history while simultaneously challenging our own sense of identity."
"What does it mean to live in Russia today? What is it like to grow up in a forgotten city, to be a migrant worker or to grow old and seek solace in the Orthodox church? For the past eight years, graphic artist and activist Victoria Lomasko has been travelling around Russia and talking to people as she draws their stories…Empathetic, honest, funny, and often devastating, Lomasko's portraits show us a side of Russia that is hardly ever seen."
"Borislav Pekic spent six years in jail as a political prisoner, his only reading material the Bible. In 1965, ten years after his pardon, his first novel, The Time of Miracles, was published and became an overnight sensation. A set of parables based on the miracles of the New Testament, the book rewrites the story of Jesus from the perspective of Judas, and from that of the individuals upon whom miracles were performed—without their consent and, in most cases, to their eventual dissatisfaction."
"Slovak writer Daniela Kapitáňová's first novel is narrated by an intellectually and physically stunted creature and arch-conformist who enthusiastically embraces every kind of prejudice both under Communism and in the newly independent Slovakia. This book was a sensation when it appeared in Bratislava in 2000."
In a 1984 small town in the east of the Czechoslovak Socialist Republic, Karolina discovers a riding school on the edge of town, where she learns to trick ride with rider and trainer Matilda, and the disabled Romana. The Equestrienne is "a novel about the desire to realize one's girlish dreams in spite of totalitarianism; it is a celebration of friendship between women and also a bitter acknowledgement that the desire for power can destroy any relationship."
The Last Wish (The Witcher #1) by Andrzej Sapkowski
"Geralt of Rivia is a witcher. A cunning sorcerer. A merciless assassin. And a cold-blooded killer. His sole purpose: to destroy the monsters that plague the world. But not everything monstrous-looking is evil and not everything fair is good…and in every fairy tale there is a grain of truth. The international hit that inspired the video game: The Witcher."
One of the best known books on my list, Foundation is a science fiction classic written by Russian-born Isaac Asimov. After 12,000 years of supremacy by the Galactic Empire, Hari Seldon, creator of psychohistory, can see ahead to a dark age of ignorance and warfare soon to come. In the hopes of preserving knowledge and saving mankind, he gathers the best minds of the Empire and brings them together in a sanctuary that he hopes will survive as a beacon of hope.
"Two twin sisters, natives of Dobratyche, a small Belarusian village on the Buh river close to the border with Poland, set out to examine the events that led to granny Makrynya's unexpected death."
"In this sweet and sour image of both intimate and objective European history at the end of the 20th century, the writer offers us an omnibus novel in three parts…We read about the main character leaving his bombed country, dabbling in a variety of odd jobs throughout Europe, composing and decomposing his own personality which becomes clearest in the gap between the things expected and the things done."
The Complete Kobzar: The Poetry of Taras Shevchenko, translated by peter fedynsky
Shevchenko's poetry has played a vital role in the formation of Ukrainian literature and its written language, even though its first editions in the mid–19th century were censored by the czar. Its poems center on Ukraine and its people, its landscape, and its suffering within the Russian Empire.
"The forty-seven stories in this collection, selected by Singer himself out of nearly one hundred and fifty, range from the publication of his now-classic first collection, Gimpel the Fool, in 1957, until 1981. They include supernatural tales, slices of life from Warsaw and the shtetls of Eastern Europe, and stories of the Jews displaced from that world to the New World." Singer was a Polish American writer who wrote his stories in Yiddish, and who was awarded the Nobel Prize for Literature in 1978.
"The Old Axolotl is an exhilarating post-apocalyptic tale about a world in which a cosmic catastrophe has sterilized the Earth of all living things. Only a small number of humans have managed to copy digitalized versions of their minds onto hardware in the nick of time."
The Doll by Boleslaw Prus, translated by david welsh
"Warsaw under Russian rule in the late 1870s is the setting for Prus's grand panorama of social conflict, political tension, and personal suffering. The middle-aged hero, Wokulski, successful in business, is being destroyed by his obsessive love for a frigid society doll, Izabela. Embattled aristocrats, the new men of finance, Dickensian tradesmen, and the urban poor all come vividly to life on the vast, superbly detailed canvas against which Wokulski's personal tragedy is played out."
Tanja Lucic is a professor of literature teaching a class filled with young Yugoslav exiles like herself. Lucic encourages them to write about their personal experiences during their homeland's disintegration. "But Tanja's act of academic rebellion incites the rage of one renegade member of her class—and pulls her dangerously close to another—which, in turn, exacerbates the tensions of a life in exile that has now begun to spiral seriously out of control."
"King Stakh's Wild Hunt tells the tale of Andrey Belaretsky, a young folklorist who finds himself stranded by a storm in the castle of Marsh Firs, the seat of the fading aristocratic Yanovsky family. Offered refuge by Nadzeya, the last in the Yanovskys' line, he learns of the family curse and terrible apparitions that portend her early death and trap her in permanent, maddening fear." This is a jewel of Belarusian classic literature and based in ancient legend.
"Described by Robert Hass as 'unquestionably one of the great living European poets' and by Charles Simic as 'one of the finest poets living today,' Szymborska mesmerizes her readers with poetry that captivates their minds and captures their hearts." This collection is definitive and complete, including 164 poems as well as the speech she gave while accepting the Nobel Prize for Literature in 1996.
The Cyclist Conspiracy by Svetislav Basara, translated by randall a. major
"The Cyclist Conspiracy tells the tale of a secret Brotherhood who meet in dreams, gain esoteric knowledge from contemplation of the bicycle, and seek to move in and out of history, manipulating events; the Brothers are part of a conspiracy so vast and so secret that, in many cases, the conspirators themselves are unaware of their participation in it."
Solaris by Stanislaw Lem, translated by joanna kilmartin and steve cox
"When Kris Kelvin arrives at the planet Solaris to study the ocean that covers its surface, he finds a painful, hitherto unconscious memory embodied in the living physical likeness of a long-dead lover. Others examining the planet, Kelvin learns, are plagued with their own repressed and newly corporeal memories." This is a classic work of science fiction by Lem, a Polish novelist and satirist.
Homo Zapiens by Victor Pelevin, translated by andrew bromfield
"The collapse of the Soviet Union has opened up a huge consumer market, but how do you sell things to a generation that grew up with just one type of cola? When Tatarsky, a frustrated poet, takes a job as an advertising copywriter, he finds he has a talent for putting distinctively Russian twists on Western-style ads. But his success leads him into a surreal world of spin doctors, gangsters, drug trips, and the spirit of Che Guevera, who, by way of a Ouija board, communicates theories of consumer theology."
"In this wide-ranging collection of stories about humanity, society, and relationships, Kiš plays with the distinction between fact and fiction, horror and comedy, drawing on key influences such as James Joyce and Franz Kafka." The stories are surrealist and strange—a woman finds an encyclopedia of the lives of ordinary people from 1789 on; the youngest girl of a Jewish family in 19th-century Hungary looks into a mirror and witnesses a tragic future.
Do you have more recommendations? Let me know in the comments.