This content contains affiliate links. When you buy through these links, we may earn an affiliate commission.
I discovered Boom Studios' Six-Gun Gorilla, an amazing sci-fi romp written by Simon Spurrier and illustrated by Jeff Stokely, the way I've stumbled on many comics lately.
Through the joys of Humble Book Bundles.
Boom had an amazing one last month, full of comics like Lumberjanes, Hackivist, and many more that I'll likely end up talking about on here. For those of you who haven't taken advantage of a Humble Bundle yet, go learn more about them on their official website.
But let's talk more about that book.
In Six-Gun Gorilla, we're introduced to a world where mankind is fighting a civil war over the natural resources located on The Blister, a strange, other-dimension. And as the battle rages on across the bizarre landscape, the world's entertainment starts to come from the war. Soldiers are sent into battle with implants in their brains, to broadcast the carnage into homes.
Basically, it's reality TV. Only people are dying and there's nothing else to watch. And the world can't get enough.
Thrown into the battle is Blue-3425, a former librarian who loves old stories in a world where books and original narratives are no longer a thing people care about. He goes into battle with plans to die, meets the Six-Gun Gorilla, and things suddenly change. He fights against the entertainment industry and the generals leading the battles. I can't say much else without ruining it for you, but wow, what a story. And what a seriously awesome librarian.
But he isn't the only one. Comics are full of kick ass librarians. Let's have a look.
SUZIE (Sex Criminals): So Matt Fraction and Chip Zdarsky's series with Image, Sex Criminals, is as hilarious as it is imaginative. The two main characters, Suzie and Jon, both have the ability to freeze time when they orgasm, but think they are alone in the world with their bizarre talent. When they end up together and discover their shared ability, they decide to use their powers to… rob a bank and save Suzie's library. Best use of power ever.
BARBARA GORDON (Batgirl): Oracle. Batgirl. Librarian.
While her character's story is complicated (as are most long running comic book superheroes / superheroines), the fact that she's a kick-ass librarian is undeniable.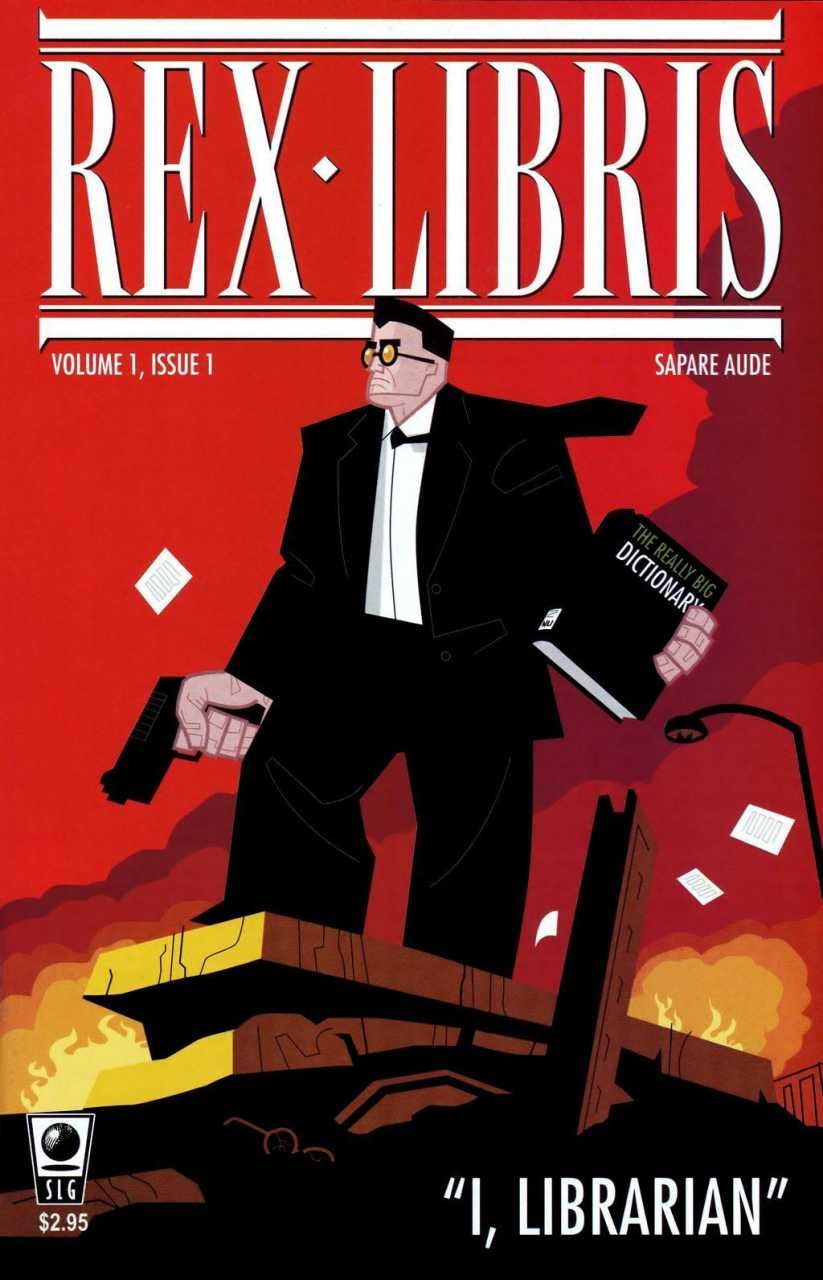 REX LIBRIS (Rex Libris): Rex is just your usual librarian, working away at the Middleton Public Library.
Except, well, he's a member of a secret society of librarians called the Ordo Biblioteca, and happened to be the original Library of Alexandria librarian.
So yes, he's like, a thousand years old. And he fights aliens that avoid late fees. Awesome.
You can pick up Rex Libris in two collected paperback volumes these days, and you absolutely should. Hilarious and beautifully illustrated, it is a lot of fun.
RUPERT GILES (Buffy the Vampire Slayer): Ah, Giles. It's hard not to love a librarian that knows everything about demons, vampires, and all things dark and dangerous… but is a kind, fatherly figure to the characters he mentors and guides.
KARMA (X-Men): This pick come from a friend, and now I'll be scouring New Mutants collections to read about her. The librarian (and French teacher!) at the Xaxier Institute, Karma is gifted with the abilities to take over the minds of other living creatures… animals and people. She helps found the New Mutants, and her character is one of the first lesbian characters to appear in mainstream comics. She falls in love with Kitty Pryde, in an issue back in 2003.
—
Now, there are plenty more awesome librarians to be found in comics, from Luna Moth (Michael Chabon's The Escapist) to Lucian (Neil Gaiman's Sandman). So let's hear about some of your favorites in the comments.
____________________
Coming this fall, we'll be launching a new site devoted to comics: Panels. You can sign up here to get notified about when Panels goes live, and it already has its own Twitter and Facebook up and running.