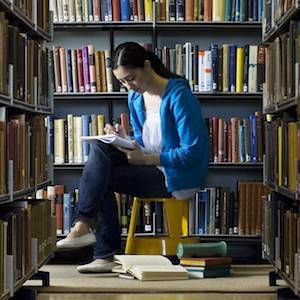 Lists
Six Books to Reach Your Reading Goal
So you set yourself a reading goal, which you still haven't reached, but now it's December and you're kind of freaking out?
Whether your goal was to read 5 books or 500 this year, we're in the last stretch, it's the final countdown. But not to worry. Below I've listed 6 wonderful books that can be read quickly. I've narrowed my reviews down to a single sentence & a gif—there is no time to waste.
We Should All Be Feminists by Chimamanda Ngozi Adiche
An essential feminist text that will take less than an hour to read.
Wicked + Divine vol. 1 by Kieron Gillen & Jamie McKelvie
In this comic, teens find out they're gods (gods = pop stars), but also they only have 2 more years to live; a fascinating exploration of celebrity culture, mythology, and teen angst.
Relish by Lucy Knisley
A graphic memoir composed of only food-related vignettes, plus it includes delicious and adorably illustrated recipes.
Cosmopolis by Don Delillo
An amusing and unnerving look at one day in the life of a philosophical, possibly sociopathic billionaire who just wants to get a haircut; also it was made into a movie starring Robert Pattinson.
Annihilation by Jeff VanderMeer
Many have travelled to Area X and no one has truly returned; what exactly is going on in this paranormal soaked, mold-covered remote terrain?
The Girl Who Circumnavigated Fairyland In a Ship of Her Own Making by Cat Valente
(because I can't not recommend this book at every opportunity)
A Wizard of Oz-like tale of a badass little girl going on adventures and meeting countless fantastical creatures—also she topples the government of a wicked ruler (like you do).
I read all these books in less than 2 days each (sometimes it only took an hour) and I loved each of them. I hope you enjoy them too. Now tell me, what reading goal are you racing to complete and what books do you recommend to reach that goal?
Save