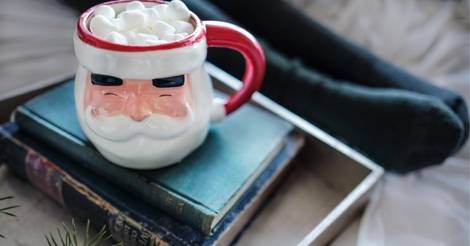 Lists
Start a Tradition with Short Stories for Christmas
This content contains affiliate links. When you buy through these links, we may earn an affiliate commission.
My family is big on traditions—elaborate birthdays, repeated vacation destinations, and more—so people are always surprised that we don't have a ton of major Christmas traditions. We always do a tree and presents, but beyond that, we tend to mix things up every year. One thing we have done, though, every year that I can remember, is listen to my dad read us all a short story.
We always read from the same book: a big white picture book, long out of print, called Merry Christmas. It's a collection of Christmas stories and songs, illustrated by Donna Green. We are not a particularly musical family, so we usually ignore the songs, but it's important to spend at least half an hour arguing over which story to read. I always want The Gift of the Magi by O. Henry, my sister always wants the Christmas excerpt from Wind in the Willows. I usually win by insisting that we read Wind in the Willows last year. Sometimes you have to play dirty at Christmas.
I've put together a list of some of my favorite short stories, both collections and stand-alone, in case you're looking to start a tradition of your own. Short stories are perfect for Christmas, if you celebrate. With all the parties and rushing to finish my work before the end of the year, and running out for last minute gifts, I do not have the brain power to stick with a whole novel. So, whether you're reading alone on your phone while in line at a customer service counter, or with your family and friends under the tree, here's a collection of short stories for your holiday.
This is my family's Christmas book. It's almost impossible to track down (I guess in 1992 they were less worried about SEO for their book titles), but you can sometimes find a copy used. In includes the aforementioned O. Henry and Kenneth Graham stories, as well as "The Night Before Christmas" and some Dickens short stories.
You could make the argument that every Rainbow Rowell book is a Christmas book, since I'm pretty sure the holiday plays a role in all her novels, but this short story is particularly about Christmas. See also: standing in line for a Star Wars movie.
This funny, heart-warming story takes place in the Sunlit Lands universe, and is a great introduction to the characters and magic. The author is giving it away free as a Christmas gift to his readers. Stories are gifts in the Sunlit Lands, and three characters share tales from past Christmases as they teach each other about their traditions. Like all Matt Mikalatos books, it made my laugh and cry, and so I can never forgive it. Also includes: puppy-sized unicorn.

(Full disclosure: I work for the publisher of The Sunlit Lands series, but this short story was self-published by the author.)
Let It Snow by John Green, Maureen Johnson, and Lauren Myracle
Read the book before the movie comes out! Three of the best-loved modern YA writers worked together to write this collection of three interwoven Christmas romances. It's like Love Actually, but happier.
Okay, this list is a little heavy on the YA, but that's my own bias and I won't apologize. This collection of holiday stories by some of the best-known YA authors out there, including Jenny Han, Rainbow Rowell, and David Levithan.
I guess you might be wanting something a little more grown up this holiday season, so fine, here is some David Sedaris. Enjoy some wry, NPR-worthy humor with Sedaris's newly updated holiday collection.
This is another collection that is a part of my personal Christmas traditions. I love Sarah Arthur's collections of poems and readings to follow the liturgical calendar, and this one for Advent and Epiphany might be my very favorite.
What's Christmas without some robots and time travel? Hardly a Christmas at all, I say. We're not getting a Doctor Who Christmas special this year, so instead you should spend some time with Connie Willis, the queen of all Christmas sci-fi. I've been making my way through these short stories for two years now, and I'm looking forward to reading more in the years to come.
And other stories, did you say? Why yes, Dickens did actually write several Christmas stories, and you may not have seen 75 billion versions of them pranced out every December! Read A Christmas Carol, yes, but then read "The Chimes," "The Cricket on the Hearth," "The Battle of Life," and "The Haunted Man."
This gorgeous hardcover is begging to be a a part of your Christmas traditions. With stories and poems from Dickens, Wodehouse, Donne, and more, this is the perfect collection to start fights with your siblings over.
And, if you just want to pull something up on your phone or tablet to read, The Paris Review did a round up of five forgotten Christmas ghost stories, which may be the very best kind. You can also check out Alice's Literary Advent Calendar, one of my favorite Book Riot pieces ever.