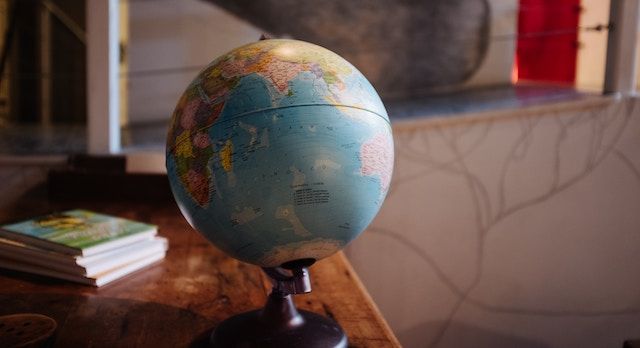 This content contains affiliate links. When you buy through these links, we may earn an affiliate commission.
The great Argentine writer César Aira said in an interview once, "The longer a book is, the less it is literature." I don't know if I entirely agree with Aira but I do know that I love a good short book! The tight and immaculate structures necessary to really pull something together in less than ~200 pages are nothing less than pure art, a real test for a writer, in my opinion. And I love reading a book in a single sitting, being entirely enmeshed in the novelist's world for a couple hours or an afternoon. I've collected some truly amazing short books in translation here for all to enjoy! Please comment with any favorites I've missed and let me know which of the books on the list you love or want to read next.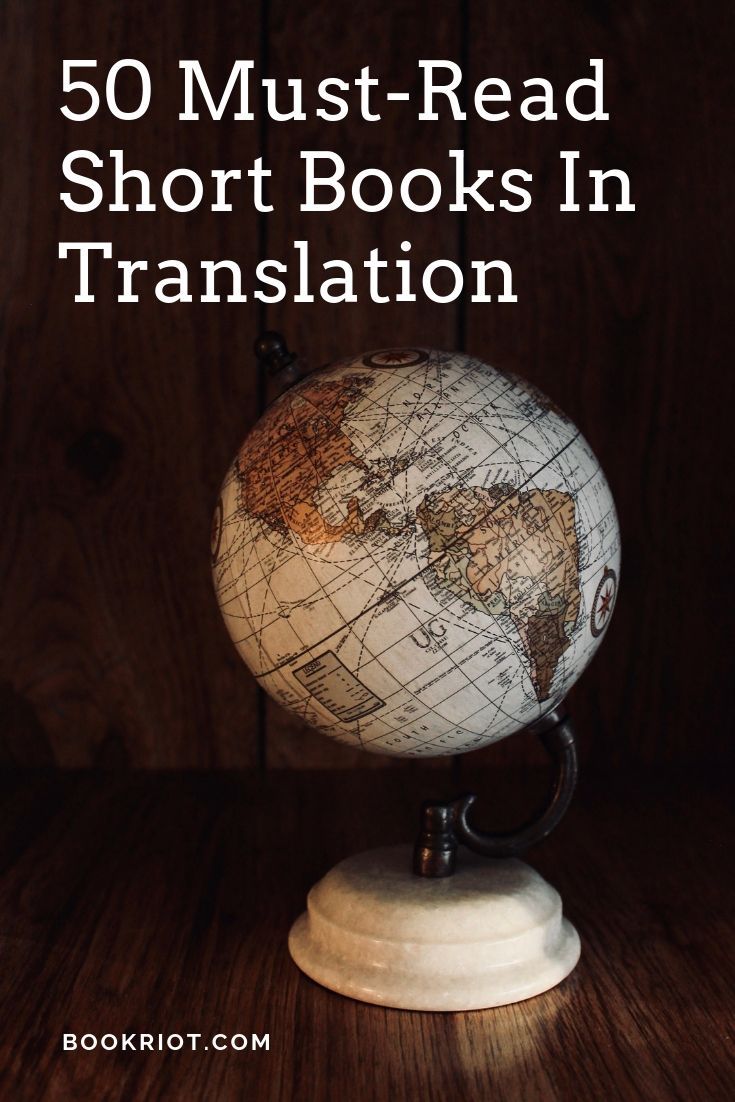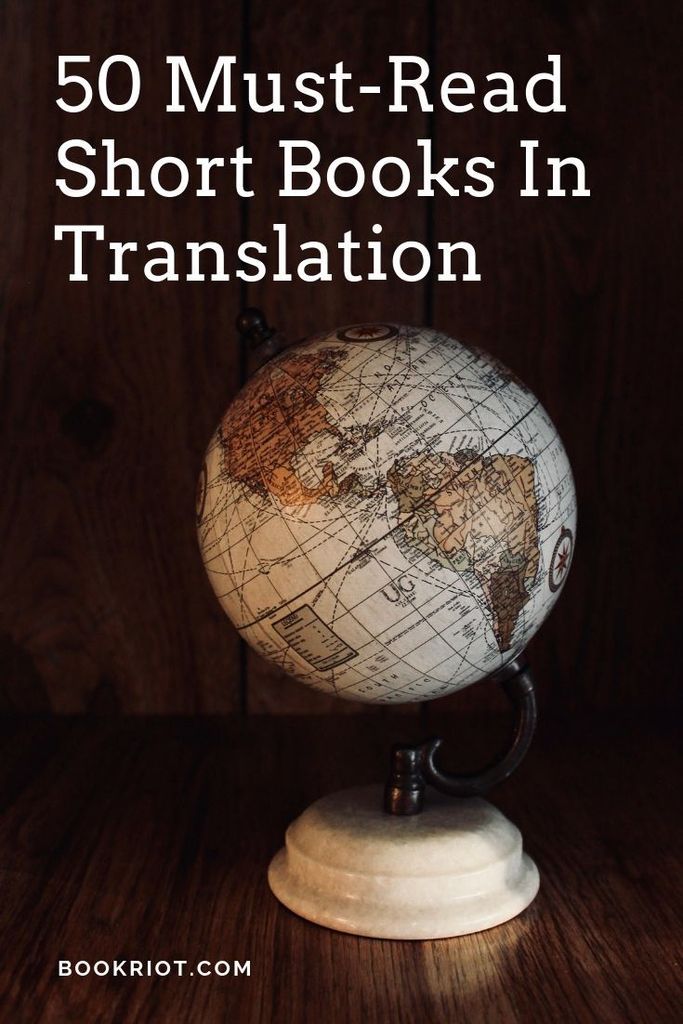 50 Must-Read Short Books in Translation
The Governesses by Anne Serre, translated by Mark Hutchinson
In this U.S. debut from major French writer Anne Serre, three governesses are shut off in a remote country home. They're supposed to be watching their pupils, but in this "intense, delicious meringue of a novel" they're off instead having frenzied erotic adventures. It's an absolute gem—sexy, funny, smart, and some spectacular writing. And all in like 100 pages—I just don't know how that's possible. Kirkus calls it "A sensualist, surrealist romp" writing that "each sentence evokes a dream logic both languid and circuitous as the governesses move through a fever of domesticity and sexual abandon."
An Elderly Lady Is Up to No Good is dark, funny, and oh so satisfying. Maud is an 88-year-old Swede who has no scruples about solving life's problems with some lowkey murder. I enjoyed this story collection and have since picked up Helene Tursten's mystery novels, including the Inspector Irene Huss series and the first installment in her brand new series featuring Detective Inspector Embla Nyström, Hunting Game. An Elderly Lady is also just such a great package—the title is fun and clever, the needlepoint cover is hilarious, and the small trim size finishes it off perfectly.
Slave Old Man by Patrick Chamoiseau, translated by Linda Coverdale
In turns biblical and mythical, Patrick Chamoiseau's Slave Old Man is a modern epic, a history of the Caribbean, and a tribute to Creole languages, all told—somewhat inexplicably to anyone who's ever put pen to paper—through the story of one slave old man. Linda Coverdale's translation sings as she beautifully renders language as lush and vividly alive as the wilderness the old man plunges into in his flight to freedom. A powerful and subversive work of genius by a master storyteller.
The Taiga Syndrome by Cristina Rivera Garza, translated by Suzanne Jill Levine and Aviva Kana
I'm a huge fan of The Iliac Crest by Cristina Rivera Garza and translated by Sarah Booker and I couldn't wait for her most recent book The Taiga Syndrome, Garza's take on a contemporary Latin American detective novel. The narrative follows an ex-detective as she searches for a missing couple. It's complicated and genre bending, with nods to fairy tales—Hansel and Gretel and Little Red Riding Hood specifically—and written in a striking style that's all her own. The dark, creepy tone really hit the spot for me in the midst of my reading last fall. In a starred review, Kirkus calls it "An eerie, slippery gem of a book" and I just love that description.
The Hour of the Star by Clarice Lispector, translated by Benjamin Moser
Clarice Lispector's last novel is a short, strange, tour de force—a masterpiece of a book. In The Hour of the Star, Lispector follows the narrator Rodrigo S.M., a pretentious, cosmopolitan writer describing the act of writing. He is writing about his creation, Macabéa, one of "life's unfortunates" a woman living in the slums of Rio. She is poor, sickly, and unloved, and yet she lives simply and happily. "Lispector employs her pathetic heroine against her urbane, empty narrator—edge of despair to edge of despair—and working them like a pair of scissors, she cuts away the reader's preconceived notions about poverty, identity, love, and the art of fiction."
Territory of Light by Yuko Tsushima, translated by Geraldine Harcourt
Territory of Light follows a woman starting her life over again with her young daughter after being left by her husband. Her new Tokyo apartment is awash in light but she finds herself falling further into darkness and depression. As time passes, she confronts her new reality and makes plans for the future. It is a painful and honest journey, one that will ring true to many who have had to remake their life in a new image after loss, but it's so beautifully told. The translation is particularly exquisite. "At once tender and lacerating, luminous and unsettling, Yuko Tsushima's Territory of Light is a novel of abandonment, desire, and transformation."
The Vegetarian by Han Kang, translated by Deborah Smith
I love Man Booker International Prize Winner The Vegetarian by Han Kang. It's a beautiful and provocative story about a woman, Yeong-hye, who begins to have horrible nightmares—of blood and carnage—and in order to clear her mind and rid herself of these dreams she becomes a vegetarian. The story becomes one of control and power as her husband and family try to break her into submission, back into the norms of Korean society. To further emphasize her lack of control, Yeong-hye's own story is told by others, in three parts, first by her husband, then her brother-in-law, and finally by her sister. It's a dark, fascinating book that you won't be able to stop thinking about it.
The Endless Summer by Madame Nielsen, translated by Gaye Kynoch
"A passionate love story about a Danish woman and a much younger Portuguese artist, The Endless Summer confronts ideas of time, sexuality, and tragedy in a style reminiscent of both Marcel Proust and Lars Von Trier. . . . Propelled by a captivating story, the real charm of the novel resides in its impeccable style and atmosphere, which gathers a sense of longing, a slight nostalgia for times that ache with possibility, while knowing that even the endless summer doesn't last forever."
I was blown away by this collection of dark, macabre short stories set in contemporary Argentina. They are stories of ghosts, disappearances, violence, inequality, and more and I promise that you will be haunted by them. My favorites were stories of obsession like "The Dirty Kid" in which a young professional woman discovers that a local child has been killed and mutilated, and "The Neighbor's Courtyard," a story of an ex-social worker who believes her neighbor has a child chained up in the backyard. The collection is reminiscent of Shirley Jackson and I would recommend it to anyone who enjoyed Her Body and Other Parties: Stories by Carmen Maria Machado.
Kitchen by Banana Yoshimoto, translated by Megan Backus
"With the publication of Kitchen, the dazzling English-language debut that is still her best-loved book, the literary world realized that Yoshimoto was a young writer of enduring talent whose work has quickly earned a place among the best of contemporary Japanese literature. Kitchen is an enchantingly original book that juxtaposes two tales about mothers, love, tragedy, and the power of the kitchen and home in the lives of a pair of free-spirited young women in contemporary Japan."
Eventide by Therese Bohman, translated by Marlaine Delargy
Karolina feels adrift after the breakup of a long relationship. Now living alone, she devotes herself to her fulfilling work as an art professor. When she starts advising a new postgraduate student, she is stuck by his easy charm and confidence and even more so by the remarkable discovery he's made, one that would have radical repercussions in the Swedish art world. Eventide is an insightful novel, at once cutting and beautiful. The prose, the character Karolina, the reflections on art and love—it's masterful and devastating.
The Hospital by Ahmed Bouanani, translated by Lara Vergnaud
"When I walked through the large iron gate of the hospital, I must have still been alive…" So begins Moroccan filmmaker and writer Ahmed Bouanani's arresting, hallucinatory 1989 novel The Hospital, appearing for the first time in English translation. I'm absolutely obsessed with this powerful and haunting novel and ran out to read his poetry collection The Shutters, the other book of his currently available in English. (Spoiler alert: it's also a work of genius.) What is real and what is imagined in The Hospital? Is it a hospital? A jail? Hell, heaven, purgatory, or some other "eerie metaphorical space"? The Hospital is an utterly singular modern Moroccan classic.
La Bastarda by Trifonia Melibea Obono, translated by Lawrence Schimel
La Bastarda is the first novel by an Equatorial Guinean woman to be translated into English! The story follows Okomo, an orphaned teen, as she grows up under the watchful eyes of her grandmother and the people of their village while dreaming of finding the father she's never known. Okomo also finds herself falling in love with a young woman who exists on the margins of the village. It's a beautiful and compelling coming-of-age novel.
All My Goodbyes by Mariana Dimópulos, translated by Alice Whitmore
In striking fragments that shift between time and place, All My Goodbyes follows a young Argentinian woman and her "repeated acts of departure." She leaves places. She leaves people. Ultimately, she thinks she's found a home in the southernmost region of Patagonia, a place to stay, but it's not to be. In the midst of archiving all of her goodbyes, her departures, we also have violent murders that haunt her story from the first page. A propulsive, restless force kept me glued to this novel and I read it in one sitting.
The Summer Book by Tove Jansson, translated by Thomas Teal
In The Summer Book, celebrated artist and author Tove Jansson "distills the essence of the summer—its sunlight and storms—into twenty-two crystalline vignettes." The vignettes follow 6-year-old Sophia and her grandmother and their adventures on a remote island in the gulf of Finland. This is my first time reading what many consider a modern classic and I couldn't agree more—The Summer Book is utterly perfect. It's quiet and subtle, warm and wise, but with one single striking and devastating sentence Jansson changes your reading and understanding of the whole book.
Tentacle by Rita Indiana, translated by Achy Obejas
Tentacle is the queer, punk, dystopian, climate change, science fiction novel from the Dominican Republic you didn't know you needed in your life. An unforgettable and wild book, Tentacle follows Acilde Figueroa who finds herself "at the heart of a Santería prophecy: only she can travel back in time and save the ocean–and humanity–from disaster. But first she must become the man she always was–with the help of a sacred anemone." Rita Indiana is a music composer, producer and key figure in contemporary Caribbean literature and the experimental Dominican popular music scene.
I am the Brother of XX by Fleur Jaeggy, translated by Gini Alhadeff
"Fleur Jaeggy's gothic imagination knows no limits. Whether telling of mystics, tormented families or famously private writers, Jaeggy's terse, telegraphic writing is always psychologically clear-eyed and deeply moving, always one step ahead, or to the side, of her readers' expectations." In these stories which are so emblematic of her style Jaeggy, "contrives to somehow stealthily possess your mind. Her champagne gothic worlds are seething with quiet violence—and unforgettable."
The Hole by José Revueltas, translated by Amanda Hopkinson and Sophie Hughes
A classic of Mexican literature, The Hole is pure fire. It's dark and disturbing and has been burned into my brain ever since my first reading of it. "Set in a Mexican prison in the late 1960s, The Hole follows three inmates as they plot to sneak in drugs under the noses of their guards. The inmates desperately need to secure their next fix, and hatch a plan that involves convincing one of their mothers to bring the drugs into the prison, inside her person. But everything about their plan is doomed from the beginning, doomed to end in violence. . . Unfolding in a single paragraph, The Hole is a verbal torrent, a prison inside a prison, and an ominous parable about how deformed and wretched institutions create even more deformed and wretched individuals."
The Barefoot Woman by Scholastique Mukasonga, translated by Jordan Stump
"A moving, unforgettable tribute to a Tutsi woman who did everything to protect her children from the Rwandan genocide, by the daughter who refuses to let her family's story be forgotten. The story of the author's mother, a fierce, loving woman who for years protected her family from the violence encroaching upon them in pre-genocide Rwanda. Recording her memories of their life together in spare, wrenching prose, Mukasonga preserves her mother's voice in a haunting work of art." Cockroaches is likewise an extraordinary novel.
People in the Room by Norah Lange, translated by Charlotte Whittle
Long viewed as Borges's muse, Norah Lange has been widely overlooked as a writer in her own right. Translated for the first time into English, People in the Room is an intense, haunting, and canon-breaking novel that completely overwhelmed me. A young woman is looking out her window in the midst of a thunderstorm when she catches sight of three women in the house across the street from her. She begins to watch, obsess over, and imagine the secrets and lies of the women in the window. "Lange's imaginative excesses and almost hallucinatory images make this uncanny exploration of desire, domestic space, voyeurism, and female isolation a twentieth century masterpiece."
Convenience Store Woman by Sayaka Murata, translated by Ginny Tapley Takemori
This book has gotten so much buzz and I have to add myself to its list of fans. Keiko Furukura has worked at a convenience store for 18 years, comfortable in the patterns and norms of the store and its customers but aware of her family and society's general disappointment in her. When a young man enters her life she has the chance to change everything—if she wants to. From one of Japan's most exciting contemporary writers, Convenience Store Woman is a dark, funny, and compelling novel with a heroine that defies convention and description.
"It seems there is no genre of writing Marie NDiaye will not make her own. Asked to write a memoir, she turned in this paranoid fantasia of rising floodwaters, walking corpses, eerie depictions of her very own parents, and the incessant reappearance of women in green. . . . A courageous, strikingly honest, and unabashedly innovative self-portrait, NDiaye's kaleidoscopic look at the women in green is a revelation to us all—about how we form our identities, how we discover those things we repress, and how our obsessions become us."
Fever Dream by Samanta Schweblin, translated by Megan McDowell
Fever Dream is an eerie, absorbing novel about the "power and desperation of family." A young woman is in a rural hospital clinic, delirious and dying. A boy named David, the son of a friend, waits by her bedside as Amanda tries to piece together how she came to be there and where her own daughter is. But there's something wrong with David, wrong with the place Amanda finds herself, and maybe something wrong with Amanda too. The writing is tight and sparse but absolutely absorbing and you'll find yourself racing to the end of this small but powerful book.
Lion Cross Point by Masatsugu Ono, translated by Angus Turvill
Some books are hard to capture in a review and Lion Cross Point is one of them. This beautiful and haunting story is so much more than the sum of its parts, which include coming-of-age tale, sensitive portrayal of trauma and healing, and elements of a ghost story. The writing is poignant and unsettling but never sentimental and thoughtful 10-year-old Takeru is a child narrator who will stay with you past the reading of this book. Lion Cross Point is masterfully done by Masatsugu Ono and translator Angus Turvill and I'm shocked that this is the first time Ono has been published in English.
The Laws of the Skies by Grégoire Courtois, translated by Rhonda Mullins
The Laws of the Skies was pitched as Winnie the Pooh meets The Blair Witch Project and I don't think I'll ever be able to forget that crazy combination. This book is not for the faint of heart (or anyone who might need a content warning for violence against children) but for the rest of us, it is an endlessly fascinating and brutally unflinching novel. Twelve 6-year-olds and their three adult chaperones head into the woods on a camping trip. None of them make it out alive. "Part fairy tale, part horror story, this macabre fable takes us through the minds of all the members of this doomed part, murderers and murdered alike."
The Weight of Things by Marianne Fritz, translated by Adrian Nathan West
The Weight of Things is the first book by Austrian writer Marianne Fritz before she went on to create The Fortress, a 10,000-page literary project so complex with diagrams and typescripts that it may never be translated. The Fortress earned her cult status as an artist but in her first novel, we discover "a brilliant and masterful satirist, philosophically minded yet raging with anger and wit, who under the guise of a domestic horror story manages to expose the hypocrisy and deep abiding cruelties running parallel, over time, through the society and the individual minds of a century." Brian Evenson calls it "A tiny, shattering masterpiece."
Seeing Red by Lina Meruane, translated by Megan McDowell
Lina Meruane is widely considered to be one of the best Chilean authors writing today and Seeing Red is a favorite among her readers. "This powerful, profound autobiographical novel describes a young Chilean writer recently relocated to New York for doctoral work who suffers a stroke, leaving her blind and increasingly dependent on those closest to her. Fiction and autobiography intertwine in an intense, visceral, and caustic novel about the relation between the body, illness, science, and human relationships."
Nowhere to Be Found by Bae Suah, translated by Sora Kim-Russell
Nowhere to Be Found follows a nameless narrator's search not for meaning, but for meaninglessness, in contemporary South Korea. Bae Suah's young narrator describes her empty existence as she travels through life, barely moved by the disintegrated state of her family and her own poverty and loneliness. Translator Sora Kim-Russell describes it as "a road novel turned inside out, a story of a woman's journey out of and into desire told as only Bae Suah could tell it." Blurred descriptions of a life full of trivial banalities are thrown against dark, sadomasochistic sex scenes. The abrupt shifts are disorienting and Suah breaks boundaries, constantly, between recollection and memory, facts, and fiction.
Nirliit by Juliana Léveillé-Trudel, translated by Anita Anand
"A young woman from Montreal follows the geese to the Inuit North in this deeply-felt witnessing of contemporary Indigenous life, as shaped by decades of colonial rule and government neglect. Having worked in the North for years, Juliana Léveillé-Trudel offers a portrait of a people undaunted by institutionalized racism, but in many cases broken by domestic violence, corporate mining, and the corrupting presence of summer workers up from the South in search of big paychecks. Delivered across two searing monologues, Nirliit is a testament to a people's perseverance as much as it is an apology by those who inflicted those circumstances upon them."
Ru by Kim Thúy, translated by Sheila Fischman
"Ru. In Vietnamese it means lullaby; in French it is a small stream, but also signifies a flow—of tears, blood, money. Kim Thúy's Ru is literature at its most crystalline: the flow of a life on the tides of unrest and on to more peaceful waters. In vignettes of exquisite clarity, sharp observation and sly wit, we are carried along on an unforgettable journey from a palatial residence in Saigon to a crowded and muddy Malaysian refugee camp, and onward to a new life in Quebec."
The Guest Cat by Takashi Hiraide, translated by Eric Selland
Winner of Japan's Kiyama Shohei Literary Award and an international bestseller, The Guest Cat, by acclaimed poet Takashi Hiraide, follows a young couple as they become accustomed to their neighborhood cat and the subtle ways that the cat affects their lives. It's a beautifully sweet and poignant book that seems so simple at first but is ultimately a smart and profound story of love and loss. "A subtly moving and exceptionally beautiful novel about the transient nature of life and idiosyncratic but deeply felt ways of living."
"A young woman sits by her father's deathbed, lamenting her failure to keep a promise to him. . . A struggling writer walks every inch of the city in search of inspiration, only to find it is much closer than she imagined. . . In this powerful, debut collection, Rania Mamoun expertly blends the real and imagined to create a rich, complex and moving portrait of contemporary Sudan. From painful encounters with loved ones to unexpected new friendships, Mamoun illuminates the breadth of human experience and explores, with humor and compassion, the alienation, isolation and estrangement that is urban life."
The White Book by Han Kang, translated by Deborah Smith
Han Kang has followed up her Booker Prize–winning novel The Vegetarian (earlier on this list) with some truly astonishing books, including Human Acts and the much-anticipated The White Book, her newest release. While on a writer's residency, a nameless narrator reckons with the death of her older sister, who died a few hours old and left an inedible mark on the narrator and her family. She writes about this tragedy in a series of unique and profound reflections "through the prism of the color white." The White Book is a gorgeous and startling meditation on death and grief.
Spring Garden by Tomoko Shibasaki, translated by Polly Barton
Winner of the Akutagawa Prize, Spring Garden follows Toro, a divorced man living in an older apartment complex that's about to be demolished in a rapidly urbanizing Japan. Toro is drawn into an unusual relationship with Nishi, an artist living upstairs who tells him about her interest in the sky-blue house next door to the complex. The house soon becomes symbolic to both Taro and Nishi "of what is lost, of what has been destroyed, and of what hope may yet lie in the future for both of them." This poignant novella of memory and loss left me stunned.
Dinner by César Aira, translated by Katherine Silver
I don't know how you pick one short book by celebrated author César Aira to include in a list like this—he's written so many gems and I recommend them all! But I'm fond of Dinner. One evening a bankrupt bachelor in his sixties and his mother dine with a wealthy friend. They talk and the host shows off his valuable antiques. Later that night at home, the bachelor turns on the TV. "The news quickly takes a turn for the worse as, horrified, the newscaster finds herself reporting about the dead rising from their graves, leaving the cemetery, and sucking the blood of the living―all somehow, disturbingly reminiscent of the dinner party."
Swallowing Mercury by Wiolette Greg, translated by Eliza Marciniak
In her debut, prize-winning poet Wioletta Greg looks back on her youth in a small agricultural community in 1980s Poland. "Her memories are precise, intense, distinctive, sensual: a playfulness and whimsy rise up in the gossip of the village women, rumored visits from the Pope, and the locked room in the dressmaker's house, while political unrest and predatory men cast shadows across this bright portrait." I try to not pick favorites, but Swallowing Mercury is, in my mind, a truly singular novel and one I'll return to over the course of my life. Greg's writing is this curious and heady mix of light airy charm, rich sensuality, and darkness—a modern folk or fairytale in the making.
Death in Spring by Mercé Rodoreda, translated by Martha Tennent
"Considered by many to be the grand achievement of her later period, Death in Spring is one of Mercè Rodoreda's most complex and beautifully constructed works. The novel tells the story of the bizarre and destructive customs of a nameless town—burying the dead in trees after filling their mouths with cement to prevent their soul from escaping, or sending a man to swim in the river that courses underneath the town to discover if they will be washed away by a flood—through the eyes of a fourteen-year-old boy who must come to terms with the rhyme and reason of this ritual violence."
So Long a Letter by Mariama Bâ, translated by Modupé Bodé-Thomas
"The brief narrative, written as an extended letter, is a sequence of reminiscences—some wistful, some bitter—recounted by recently widowed Senegalese schoolteacher Ramatoulaye Fall. Addressed to a lifelong friend, Aissatiou, it is a record of Ramatoulaye's emotional struggle for survival after her husband betrayed their marriage by taking a second wife . . . Considered a classic of contemporary African women's literature, So Long a Letter is a must-read for anyone interested in African literature and the passage from colonialism to modernism in a Muslim country."
Ghachar Ghochar by Vivek Shanbhag, translated by Srinath Perur
"A young man's close-knit family is nearly destitute when his uncle founds a successful spice company, changing their fortunes overnight. As they move from a cramped, ant-infested shack to a larger house on the other side of Bangalore, and try to adjust to a new way of life, the family dynamic begins to shift. . . . Things become "ghachar ghochar"—a nonsense phrase uttered by one meaning something tangled beyond repair, a knot that can't be untied. Elegantly written and punctuated by moments of unexpected warmth and humor, Ghachar Ghochar is a quietly enthralling, deeply unsettling novel about the shifting meanings—and consequences—of financial gain in contemporary India."
Old Rendering Plant by Wolfgang Hilbig, translated by Isabel Fargo Cole
"What falsehoods do we believe as children? And what happens when we realize they are lies―possibly heinous ones? In Old Rendering Plant Wolfgang Hilbig turns his febrile, hypnotic prose to the intersection of identity, language, and history's darkest chapters, immersing readers in the odors and oozings of a butchery that has for years dumped biological waste into a river. It starts when a young boy becomes obsessed with an empty and decayed coal plant, coming to believe that it is tied to mysterious disappearances throughout the countryside." Hilbig is another master of the short novel and I'd recommend looking at his other great books!
I love this short story collection and don't think it gets nearly the attention it deserves. It's one of the funniest books on this list, especially if you like dark humor. Very odd things happen in Teresa Solana's stories. Statues decompose and stink out galleries. Two old grandmothers are vengeful killers. The first prehistoric serial killer is afoot but so is the first detective. The collection also includes an interesting and fun web of stories that explore the darker side of Barcelona. Clever and effortlessly funny, this collection is a gem.
A Dead Rose by Aurora Cáceres, translated by Laura Kanost
Published in Paris in 1914, A Dead Rose by unfairly forgotten Peruvian feminist writer Aurora Cáceres stands today as the most influential modernista prose work penned by a woman. "In this audacious story of an ailing woman who initiates an affair with her gynecologist, Cáceres not only defies cultural conventions of feminine modesty to speak publicly about women's health and sexuality, but does so by appropriating the language of a literary movement that silenced women."
American Fictionary by Dubravka Ugresic, translated by Celia Hawkesworth and Ellen Elias-Bursać
In the midst of the Yugoslav wars of the early 1990s, Dubravka Ugresic—winner of the 2016 Neustadt International Prize for Literature—was invited to the United States as a guest lecturer. A world away from the brutal sieges and the nationalist rhetoric, she instead has to cope with everyday life in America. Organized as a fictional dictionary with essays on subjects ranging from bagels and jogging to the conflict of belonging to a country that no longer exists, American Fictionary allows us to see American culture through the eyes of a woman whose country is being destroyed by war. As in all of her writing, Ugresic is wickedly smart and funny but often heartbreaking too, leading readers through her reflections on exile, immigration, and American consumerism―reflections that speak directly to the state of the world today.
Such Small Hands by Andrés Barba, translated by Lisa Dillman
Andrés Barba is the one the most lauded contemporary Spanish writers and Such Small Hands is an absolute marvel of a novella―one that will haunt you long after you've finished it. "Life changes at the orphanage the day seven-year-old Marina shows up. She is different from the other girls: at once an outcast and object of fascination. As Marina struggles to find her place, she invents a game whose rules are dictated by a haunting violence. Written in hypnotic, lyrical prose, alternating between Marina's perspective and the choral we of the other girls, Such Small Hands evokes the pain of loss and the hunger for acceptance."
Strange Weather in Tokyo by Hiromi Kawakami, translated by Allison Markin Powell
Shortlisted for the Man Asian Literary Prize and the International Foreign Fiction Prize, Strange Weather in Tokyo is a sweet and poignant story of love and loneliness. Tsukiko is 38, lives alone, works in an office, and is not entirely satisfied with her life when she runs into a former high school teacher, her "sensei," at a bar one night. They talk and over time this "hesitant intimacy" grows into something more. It's a "moving, funny, and immersive tale of modern Japan and old-fashioned romance" while also managing to be this quiet, understated beauty of a book.
The first short story collection available in English by Samanta Schweblin, author of the literary sensation Fever Dream (earlier on this list). Like Fever Dream, I was struck by the elusive, almost unsatisfactory nature of the stories. Some are strikingly short. Others are carefully crafted to confound. All leave you wanting more and thinking about them long after. Strange and fantastic, dark and disturbing, the stories in Mouthful of Birds are sure to please fans of Schweblin's uniquely unsettling style.
Love by Hanne Orstavik, translated by Martin Aitken
Winner of the 2019 PEN Translation Prize, Love is the story of a mother and son who have just moved to a small village in northern Norway. Told over the course of one cold winter's night, Love follows mother and son on their very separate journeys, seamlessly blending their stories even as the distance between them grows. The tension grows steadily over the course of this short, seemingly quiet novel and you'll be devastated by its conclusion.
Comemadre by Roque Larraquy, translated by Heather Cleary
Are you looking for something entirely different from everything you've ever read? Comemadre will probably scratch that itch. "In the outskirts of Buenos Aires in 1907, a doctor becomes involved in a misguided experiment that investigates the threshold between life and death. One hundred years later, a celebrated artist goes to extremes in search of aesthetic transformation, turning himself into an art object. The world of Comemadre is full of vulgarity, excess, and discomfort: strange ants that form almost perfect circles, missing body parts, obsessive love affairs, and man-eating plants. Darkly funny, smart, and engrossing, here the monstrous is not alien, but the consequence of our relentless pursuit of collective and personal progress".
An Untouched House by Willem Frederik Hermans, translated by David Colmer
An Untouched House is a remarkable and brooding meditation on war and violence by the post-war Dutch writer Willem Frederik Hermans who has been compared to Joseph Heller and Kurt Vonnegut. It's a shocking and unflinching novel that takes no prisoners. "A mesmerizing, dark meditation on the legacy of war. An interloper and opportunist makes a grand house his own in the chaos of a war-torn countryside, only to find himself involved with occupying forces and enraged locals."
The Days of Abandonment by Elena Ferrante, translated by Ann Goldstein
You may know Elena Ferrante for her Neapolitan novels, starting with My Brilliant Friend, but I'm actually even more of a fan (if that's possible) of her shorter earlier fiction including Days of Abandonment and Troubling Love. The Days of Abandonment shocked and captivated when it was first published in Italy. "It is the gripping story of a woman's descent into devastating emptiness after being abandoned by her husband with two young children to care for. When she finds herself literally trapped within the four walls of their high-rise apartment, she is forced to confront her ghosts, the potential loss of her own identity, and the possibility that life may never return to normal." It's a fiercely intelligent and beautiful novel. I know few writers who write with the intensity of Ferrante and Days of Abandonment is utterly enthralling.