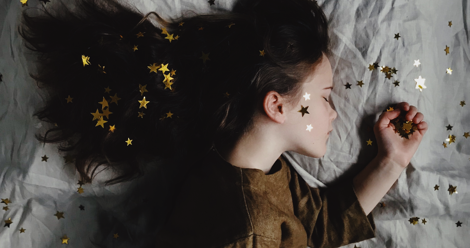 Children's
Now Quick, Sleep Tight!: Short Bedtime Stories for Kids and Kids at Heart
This content contains affiliate links. When you buy through these links, we may earn an affiliate commission.
One of the most time-honored traditions of bedtime is the bedtime story. No matter your age, a habit of reading before bed is celebrated for its soothing quality, and when done as a family, can be an incredibly special time for bonding. Another time-honored tradition of bedtime is the frustration of dealing with children who absolutely refuse to submit to lights out—parents everywhere can attest to being driven almost to the brink by requests for water, songs, and, of course, one more story. That's where this helpful list comes in. These short bedtime stories for kids will help you connect, unwind, and hopefully drift off, no matter how old you are.
This lovely anthology is broken into chapters representing the twelve months of the year, with a seasonally-appropriate short story for each week of the year. Different traditions and holidays from around the world are represented in the stories, collected and retold by the author. Use these short stories as an anchor in the week (every Sunday night before the school week starts back up?) or to supplement seasonal reading.
This collection of poems has earned its place on a list of short bedtime stories. What is more soothing than poetry directly before you sleep? Including poets from Shakespeare to Angelou and organized with respect for the calendar year, this poetry anthology is a quick and easy way to end the day on a high note.
To give your children (or your self) sweet dreams of empowered girls, try Good Night Stories for Rebel Girls, a collection of 100 stories about real women, written in fairy tale format. A single page provides a concise biography, making these the perfect short bedtime story option, but don't let the length fool you—each powerful story packs a punch, including dynamic illustrations from over sixty female artists. Sleep tight, don't let the patriarchy bite!
A powerhouse of a book, Nightlights is a collection of stories that encourage interactive meditative qualities to help children (and adults) relax and unwind at the end of the day. Additional materials include information for parents on tone and tips for reading aloud, ideas that help set a calming mood, and questions to ask children to affirm the message before sleep kicks in. Nightlights is a primer on mediation that will help people of any age relax before bed.
These short stories are retellings of ancient Buddhist tales, but the modern tone has made this book a popular choice of bedtime reading for children and adults alike. Twenty stories are included in this volume, all of which contribute engaging characters, positive moral messages, and a peaceful ending to a universally busy day.
If you're looking for more guidance on what to read before bed, try this post with great tips for choosing adult bedtime stories. Want to test to the bedtime story waters without the commitment of picking up a book at all? Storyberries is an online short story site with tons of full-text options. They have a section specifically for bedtime stories, and lots of other great material to check out, as well.
Any favorite short bedtime stories for kids or adults? Leave a comment and tell us what you like to read for sweet dreams!