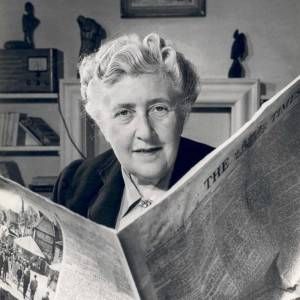 News
SHOPAHOLIC Author Buys Mystery Doyenne's Lost Diamonds
When Jennifer Grant bid on an old trunk at an auction of Agatha Christie's personal effects, she only intended to bring home a memento of an author she admired.
What she got was a mystery of her very own: bolted to the bottom of the trunk was a locked strongbox with no key.
"The strongbox made the trunk a great heavy thing, so it sat at the bottom of the stairs for years," Mrs Grant said.

"I almost didn't want to open it because then the mystery would be over. When friends came round we would tip the trunk from one side to the other and listen to hear if anything rattled.

"If you were very quiet you could just about hear something light sliding inside". (BBC News.)
When she finally did take a crowbar to her mystery strongbox, Grant found a purse of gold coins, a diamond buckle brooch, and a three stone diamond ring.
Being a true fan, Grant recognized the jewels from their description in Christie's biography.
The brooch and the ring were heirlooms belonging to Agatha Christie's mother. The author and her sister were to have inherited the diamonds, but the jewels had gone missing years earlier.
The entire situation already sounds like the beginning of a Poirot mystery, but it gets even better.
The ring and brooch were auctioned in early October at Bonhams and both sold for tens of thousands of dollars above their auction estimates. The new owner? Sophie Kinsella, author of the Shopaholic series.
It was actually Kinsella's husband who did the bidding – he knew his wife is an Agatha Christie fan and wanted to surprise her with the late author's jewels as a gift.*
I think the whole situation is fantastic (for everyone but Agatha Christie, who probably would have liked to know where her mom's jewelry was all those years).
If I ever become a world famous crime author, I'm definitely going to acquire a bunch of old trunks and hide mysterious jewels in them for people to discover after my death.
Also? Sophie Kinsella's husband is clearly a keeper.
* Some sources claim Kinsella bought both jewels, others say he only bought the ring.
Images and info via The Jewellery Editor, BBC news, Open Road Media, and National Jeweler.
Save