News
Sherman Alexie Issues Statement In Response to Allegations of Sexual Harrasment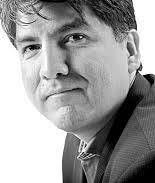 Sherman Alexie has broken his silence and issued a statement in response to allegations of sexual misconduct brought against him. These accusations were made in the comments section of the School Library Journal piece that named numerous well-known figures in the publishing industry as perpetrators of sexual abuse.
Alexie acknowledges that his behavior has been hurtful to others over the years and apologizes for the harm he has caused. The bulk of the statement however is concerned with discrediting the statements of writer Litsa Dremousis, who in a recent Twitter thread claimed to have known about the allegations for months. Dremousis has stated that at least 20 women, by her count, are levying allegations of abuse against Alexie.
Alexis admits in his statement to a consensual sexual relationship with Dremousis that ended in 2015 but rejects "the accusations, insinuations, and outright falsehoods" made by the author. He goes on to detail that she made Alexie's wife aware of the relationship in an email sent to her in October of 2017 and alleges that she went on to post a threatening message to his wife's Facebook page. He dismisses her "accusations based on rumors and hearsay."
In an interview with the Seattle Times, Dremousis insists that his denial will be nullified in the very near future. She claims to be working with NPR on a forthcoming piece and to have interviewed numerous women on record about the abuse. She also claims to have only reached out to Alexie's wife out of concern, to prepare her and allow her to speak to the couple's two children about the contents of the piece.
At the end of the statement, Alexie acknowledges that there are women telling the truth about his actions, but claims to have no memory of physical or verbal threats against any of them or their careers, calling that behavior "completely out of character." The statement ends with Alexie purporting to work hard to "become a healthier man who makes healthier decisions" and with a final, "I am genuinely sorry."