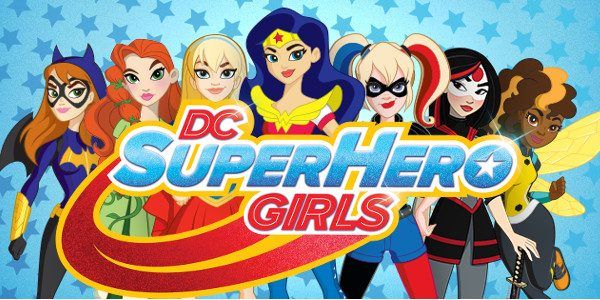 This content contains affiliate links. When you buy through these links, we may earn an affiliate commission.
Shea Fontana has done a lot of writing: television, comic books, graphic novels (yes, those last two are different), live theatre, and a forthcoming Batman book for DC's new middle grade imprint, Zoom.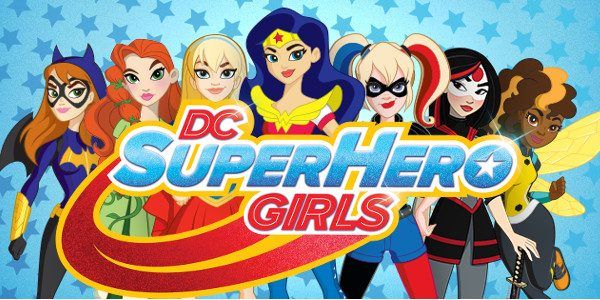 In my house, however, she's most well known for all things DC Super Hero Girls. Her latest graphic novel in the line, DC Super Hero Girls: Search for Atlantis, dropped at comic shops on 9/26 and will be available at other book retailers on 10/3. Shea was kind enough to answer some questions about Super Hero Girls and her other work for us here at Book Riot.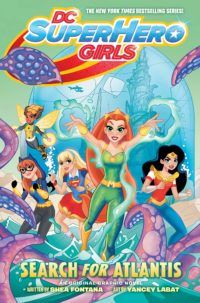 Book Riot: Many of these characters have been around for decades. Why do you think it took so long for them to come together in a story like this? Was there a pivotal event that suggested the time was right or was it more of a general feeling?
Shea Fontana: It certainly took too long—I wish we had shows like this when I was a kid! I think a confluence of events set the stage for DC Super Hero Girls. Female empowerment has been growing in the zeitgeist for decades and there were several female executives at DC who championed the project.
BR: What's been the most surprising thing about working on Super Hero Girls?
SF: It's always nice to see how well the graphic novels have done in the market. I wasn't surprised that they were successful, but the extent of the success was more than I imagined.
BR: The Super Hero Girls stories are different than traditional female-centric comics BECAUSE the focus is on friendship and teamwork rather than one upspersonship or conflict between female characters. Why was that important to you?
SF: In a lot of kid's properties, if there's an ensemble, it's largely male with the token female character. Then, a big plot point is when a new female character is introduced, and the girls dislike each other. It's like Highlander—there can be only one! Even in a lot of girl-focused content, girls who are supposedly best friends treat each other terribly! That never rang true to me and it wasn't how female friendships worked in my life. I wanted DC Super Hero Girls to demonstrate true, healthy relationships. There can be conflict, but the characters still care deeply about each other. I wanted these characters to be models not just of their outward, public-facing heroism, but of the way they treat each other in their day-to-day lives.
BR: What are some of the other overarching themes of the series you'd like people to know about?
SF: It's about embracing your inner powers and proudly sharing those powers with the world. We want to empower girls to be the bold heroes of their own stories.
BR: Some of the characters included, like Harley and Poison Ivy, have traditionally been villains but are cast in the series as heroes. Others, like Cheetah, attend Superhero High but are cast in more villainous roles. What about the "villains" screamed "maybe I could have been a hero?" How did you decide which traditional villains to include in each group.
SF: In the main comics, both Harley and Ivy have grown from strict villains to anti-heroes. Particularly with Harley, we wanted to take her away from her bad-influence boyfriend and see who she would be if she had this incredible group of friends around her. In Harley's character DNA, she is influenced by peer pressure—why not take that pressure and make it for good? With Ivy, her priorities are different than other heroes and maybe her tactics aren't always pure, but she does have good intentions. She truly cares about protecting the planet, which we could definitely use more of in the world!
BR: Search for Atlantis is the newest Super Hero Girls book. What did you enjoy most about writing this story?
SF: I loved adding in the new characters, Raven and Mera. Raven is such a blast to write. She's a total counterpoint to our other more peppy characters.
BR: How did you go about the process of introducing Mera into the group? Why do you think the little bit of tension between Bumblebee, Mera, and Wonder Woman was essential to the story?
SF: We first see Mera meet the other girls in the upcoming movie, Legends of Atlantis, where Mera has to make the decision to be a hero. As we know, Bumblebee and Wonder Woman have been best friends since Wondy's first day at school. But Mera and Wondy really hit it off, which makes Bumblebee feel insecure. The conflict between the three girls really comes out of my own high school experience. One day in my sophomore year, my "best friend" told me that she was best friends with someone else. It was a traumatic change for me that I didn't process well—if she wasn't my best friend, she might've well been dead to me. But dealing with those kind of changes in our friendships is a huge part of growing up. In this story, I'm doing a bit of rewriting of my past.
BR: Was it fun to write Aquaman as a bit of a damsel in distress? Is he going to attend Superhero High in the future?
SF: Poor Aquaman! He always needs saved in this world. Aquaman is very busy being the youngest ruler of a major metropolitan kingdom, so I don't think he has time for SHH right now.
BR: Are there any books/comics in particular you read to prep for Search for Atlantis?
SF: Since we are not in continuity, I don't have to do much research prep.
BR: The majority of your work has been for kids/middle grade. What do you enjoy about creating for that particular age bracket? What do you enjoy about the occasional foray into content aimed at the over 18 set?
SF: Working in kid's entertainment is just fun. You get to be silly, absurd and fantastical. I do like working my other writing muscles with the teen+ stuff. Last year, I did an arc on the main Wonder Woman book, which was a great experience of exploring the character as a more mature person, facing more complex situations. I also did a Deathstroke story for the summer anthology that was one of the darkest things I've written. It gave me a chance to do something totally different and unexpected.
BR: Your website bio says you've written content for Disney on Ice shows. What's that like?
SF: Disney on Ice gave me the chance to dive deep into some of the Disney and Pixar properties that I hadn't spent much time with since I was a kid, plus get into a lot of the newest stuff. The shows I wrote were compilation shows that included Inside Out, Toy Story, Frozen, Mickey and Minnie and lots of others. I got to write about 20 of the greatest, most renowned characters in the world all in one show!
BR: What's next?
SF: The DC Super Hero Girls: Legends of Atlantis movie is out next week, and our eighth graphic novel, Spaced Out, is out in 2019. Plus, I'm working on another middle grade graphic starring Batman called Batman: Overdrive which will be published under DC's upcoming DC Zoom imprint. I was head writer on a new Polly Pocket animated series, which will be premiering in the US soon. Plus, lots of secret things in the oven!
BR: What are you reading right now?
SF: I recently read The Prince and the Dressmaker, The Best We Could Do, and The Dam Keeper—all of which I highly recommend!
Both my son, I (8), and my daughter, Z (6), are huge Superhero Girls fans and were so excited when they heard I was interviewing Shea, they came up with some questions of their own.
I: How did you decide which characters to combine?
SF: We knew going in that we wanted to take some of the best known female characters like Wonder Woman, Batgirl and Supergirl and also bring in some lesser known characters who had great potential, like Katana and Bumblebee. From there, we wanted characters with different powers and not too many overlapping powers. Especially when writing ensembles, it's hard to find an important place for everyone if they have the same powers. It's fun to watch characters that are very different from each other hang out—like Harley and Raven.
Z: Why did you include BOYS when it's called Super Hero GIRLS(no joke, that was actually her question)
SF: The girls are always the heart of the stories, and the POV for our stories. But, all the girls I know interact with a lot of boys too! The world is full of boys and we wanted to demonstrate that girls can have healthy friendships with boys. Our male characters, like Beast Boy, Flash, and Cyborg, have incredible strengths and serve an important part of the team, just like our girls. Our girls are the main characters, but it's not girls versus boys—they're all on the side of heroism.