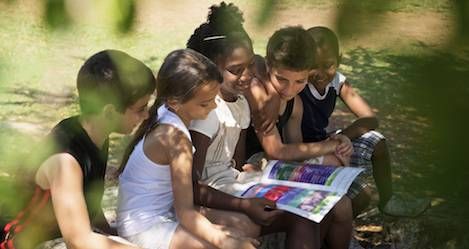 This content contains affiliate links. When you buy through these links, we may earn an affiliate commission.
When Mitch McConnell silenced Elizabeth Warren in the senate last week, he sparked an already blazing fire of rage and resentment against the new administration and the GOP senators ruthlessly backing the President. As I somewhat gleefully watched the outrage against McConnell spread, I couldn't help thinking about all of the other women to whom we could attach that #shepersisted hashtag.
As a children's librarian, I have the good fortune of reading and reviewing many great books for young readers about the accomplishments of women and girls. And, after reading fellow Rioter Alice Burton's piece highlighting great books about women who persisted, I was inspired to make a list especially geared at younger readers. Here are seven of my favorite books for young readers about women who were warned, who were given an explanation, but who, nevertheless persisted.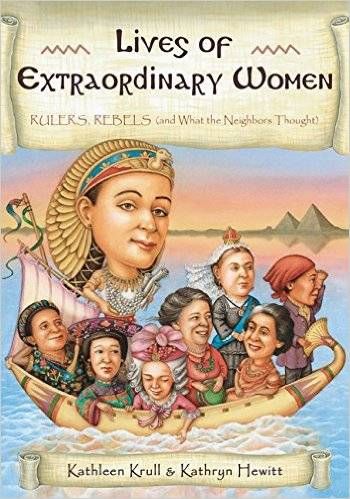 Lives of Extraordinary Women : Rulers, Rebels (and What the Neighbors Thought) by Kathleen Krull. Illustrated by Kathryn Hewitt.
This thoroughly entertaining book provides brief but information-packed overviews of a wide array of extraordinary women, from Eleanor of Aquitane to Aung San Suu Kyi, the Revolutionary leader in Burma (Myanmar). Whether or not you admire each of the women included, you can't help but agree that they are extraordinary. A great, succinct introduction with the perfect level of detail to engage even the most reluctant readers of history.
The Legendary Miss Lena Horne by Carole Boston Weatherford.
This sensitive, beautiful book covers the fascinating life of actress, singer and activist Lena Horne who, among other things, waged a one woman battle against the stereotypical portrayal of black women on film. She refused to play "mamies and maids," and, with the backing of the NAACP, hoped to change the way white people viewed African Americans. Horne's extraordinary life and career are chronicled here with an honesty that will appeal to a wide array of readers, regardless of their familiarity with Horne.
Almost Astronauts: 13 Women who Dared to Dream by Tanya Lee Stone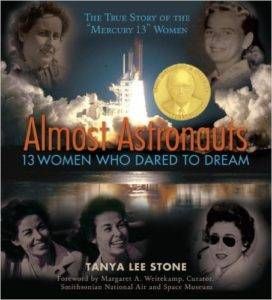 Most people are familiar with the well known story of the Mercury Astronauts, but very few know the fascinating and infuriating story of the amazing group of women who were almost astronauts. Author Stone describes the journeys of 13 super qualified women who met (and sometimes exceeded) the requirements necessary to become an astronaut but were consistently blocked by the government from doing so. Jealousy, sexism and a maddeningly powerful boys club kept this extraordinary group of women from going into space, but, as Stone points out, their hard work paved the way for women to eventually become pilots, commanders and mission specialists.
I dissent: Ruth Bader Ginsburg Makes her Mark by Debbie Levy. Illustrated by Elizabeth Baddeley.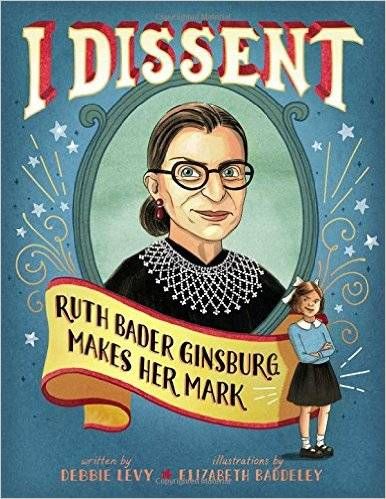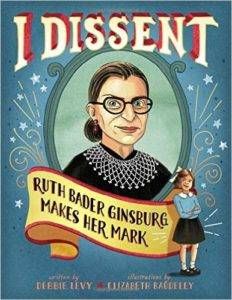 This thoroughly charming picture book biography of Supreme Court Justice Ruth Bader Ginsberg follows her from childhood to the present and emphasizes the very important fact that just because you disagree with people, it doesn't make you disagreeable! Baddeley's illustrations enlarge words like "protest," "object," "dissent," and "disagree," highlighting the power and importance of speaking out when you see fit.
Amelia to Zora: Twenty Six Women who Changed the World by Cynthia Chin-Lee. Illustrated by Megan Halsey and Sean Addy.
This A-Z guide covers twenty six amazing women, including lesser known figures such as Cecilia Gaposchkin, an astronomer and the first female professor at Harvard University and Vijaya Lakshmi Pandit, a freedom fighter, Indian diplomat and first woman president of the United Nations. Inventive, collage style illustrations add to the appeal of this fascinating collection.
Elizabeth Started All the Trouble by Doreen Rappaport. Illustrated by Matt Faulkner.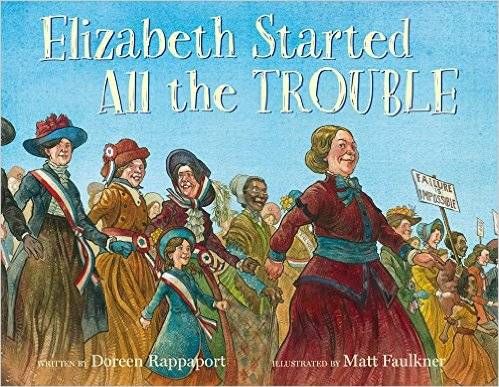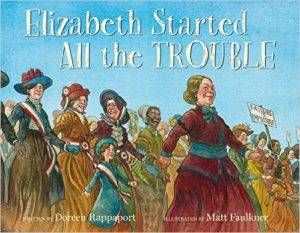 Accessible and engaging to young audiences, this picture book explores Elizabeth Cady Stanton's original, radical idea that women should have the same rights as men and be allowed to vote. Rappaport's clear storytelling, boosted by Faulkner's lively and inviting illustrations, chronicle the slow progression of women's rights and the many brave women along the way who dared to break new ground.
Voice of Freedom: Fannie Lou Hamer: Spirit of the Civil Rights Movement by Carole Boston Weatherford. Illustrated by Ekua Holmes.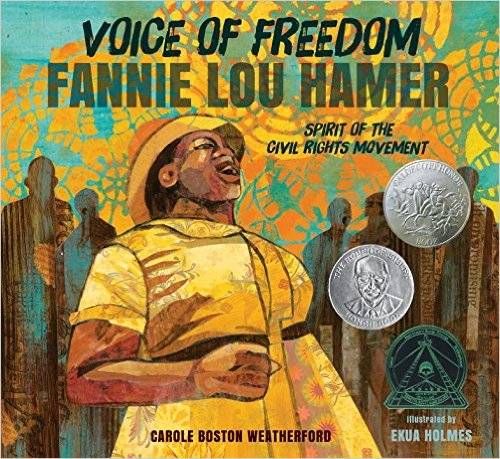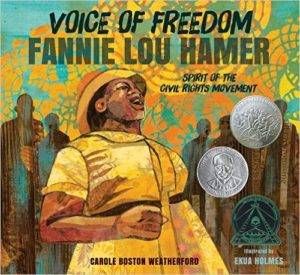 This gorgeously written and vibrantly illustrated picture book tells the story of Fannie Lou Hamer, a singer and activist in the Civil Rights Movement, known for singing spiritual songs such as "This Little Light of Mine" and "Go Tell it on the Mountain," to boost her fellow protester's morale. She participated in sit ins, protests and marches, and worked hard for black voting rights, actions that resulted in beatings by the police and gunshots fired into her home. Written in first person verse, this book is a pleasure and an inspiration to read.
This list is by no means complete. There are many more inspirational books about women who persisted. I merely chose a few favorites. Book Riot also offers some excellent lists including Social Justice Picture Books, The Best Feminist Picture Books and More Feminist Picture Books. What are your favorite books about women who persisted?