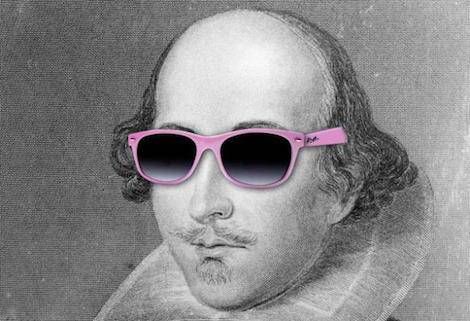 Classics
What Shakespeare in Bars Taught Me About the Bard
This content contains affiliate links. When you buy through these links, we may earn an affiliate commission.
It was noisy. Crowded. Staff hurriedly moved tables, brought out more chairs, arranged a rough semicircle around an open area of scuffed wooden floor. My friend and I nabbed two seats and ordered drinks at the bar. We were above a restaurant downtown, and soon all available seats filled as the actors took to their circular center stage.
It was King John, it was free, and it was our first Back Room Shakespeare show.
I had never read this Shakespeare play before, so I did over the weekend before the show. It gave me a sense of the characters and the narrative, certainly, but little else. Reading Shakespeare outside of a classroom, without the benefit of discussion, means that some things can get lost in translation. And before this show, I never fully appreciated how important it was to see Shakespeare performed. We spend so much time in school reading and analyzing the plays that experiencing them falls by the wayside.
Especially experiencing them in a "lowbrow" setting…the way Shakespeare intended.
The Globe Theatre, in its heyday, was open to all, with the regular folk standing in the pit for an English penny and the upper class obtaining seats in the gallery. Food and drink were carried around much like you'd see in a baseball stadium, and the audience was not quiet—talking, eating, and drinking was expected. Plays at that time used very little scenery or props, and the actors themselves only rehearsed a few times before putting on the show, since they generally performed roughly six plays a week.
Seeing Shakespeare in the backs of bars and in restaurants feels like a return to the basics, and that's exactly how Chicago's Back Room Shakespeare Project prefers it.
The actors rehearse once. They have very few stage props. They start each show with bear-baiting, only instead of using an actual bear and dogs, which would be horrifying and totally illegal, BRSP's bear-baiting involves one person on each side of the room representing a bear or a dog, tasked with winning a game of charades or finding each other blindfolded. The prize is a shot of whiskey. And then they give you the Bard, sliding modern-day slang and references into the lines for a laugh and a way to better understand the context of the scene. With BRSP, the Bard is almost always free, and open to everyone.
I had seen Shakespeare performed before, but never like this. Never in a way that was so accessible. Never with such glorious gender-bending of major roles.
For King John, Philip the Bastard was played by a woman with all the swagger and arrogance befitting to the character. This same actress, Elizabeth Laidlaw, played Titus Andronicus in a later show, transfixing the audience with her performance, her Gwendoline Christie–esque presence, and her dedication to the role.
On a snowy winter's night, we sat in the back room of a restaurant on the north side to see The Tempest. I like that play, but I never really had patience for the comical scenes with Trinculo, Stephano, and Caliban. They felt unnecessary and so tonally different that I couldn't understand their inclusion…until I saw it performed. It clicked for me, why audiences would enjoy these moments of levity. I found myself laughing. It worked on the stage.
When we saw Othello in a German pub on the west side, I fully understood what it means to witness these plays with a large group; to see how invested we all became in the narrative. When Iago's machinations played out and were revealed, we hissed and murmured angrily; when Othello killed Desdemona, we were shocked into silence, hearts in our throats, tears in our eyes. See for yourself. The below clip is Act 5, Scene 2, where Emilia (Alex Weisman) confronts Othello (James Vincent Meredith) and Iago (Samuel Taylor) after Desdemona's murder.
It's a lot more powerful to hear Emilia's cries of "My husband!" instead of just reading it on the page, isn't it?
Measure for Measure was performed at the height of the #metoo movement, and it weighed heavily on my mind when Isabella looked at us helplessly and asked, "To whom should I complain?…Who would believe me?" This play was first performed in 1604. The only things that change are the names.
There's a reason why Shakespeare's stories are retold in different mediums to this day. It's not just the language, although the language is beautiful. It's the stories. And he's speaking to everyone, from the gallery to the pit. Haven't seen a Shakespeare play since high school? Worried that you still won't get what they're saying?
Don't. Let the actors tell you the story. Let the rhythm of Shakespeare's verse (the rhythm of our heartbeat) set the tone. You don't hear that when you're just reading it. It must be said out loud before the language can truly work its magic on you. Seeing Shakespeare performed in bars has given me a new appreciation for the language and how it can be modified (yet preserved) for a modern audience, for its ability to give us women playing generals and bastard kings, and for how it brings people together. I don't know if I can see Shakespeare any other way now.
Has there ever been a moment where something clicked for you after watching Shakespeare instead of just reading it? Share in the comments!