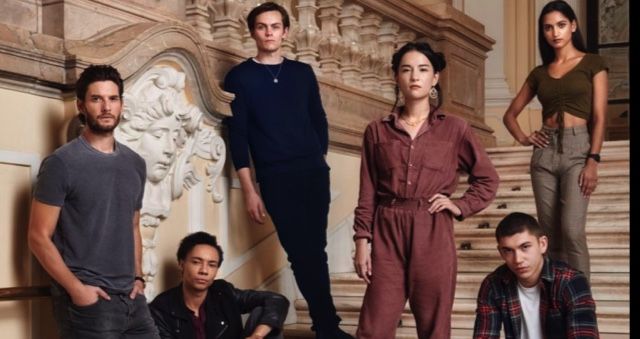 News
SHADOW AND BONE Cast Photo Revealed
This content contains affiliate links. When you buy through these links, we may earn an affiliate commission.
Dregs, this is not a drill! Our favorite Grishaverse characters have officially come to life and my eyes are literal hearteyes right now.
We got our first cast photo today and I cannot contain my excitement.
In case you miraculously forgot, season 1 will have eight episodes, split evenly between the plots of Shadow and Bone and Six of Crows.
Ready for this gloriousness?!
Clockwise, starting with the hunk in the gray shirt: Ben Barnes, aka General Kirigan; Kit Young, aka Jesper Fahey; Freddy Carter, aka Kaz Brekker; Jessie Mei Li, aka Alina Starko; Archie Renaux, aka Mal Oretsev; and Amita Suman, aka Inej Ghafa.
And if the name General Kirigan isn't ringing a bell…Bardugo herself has a helpful reminder:
The full character breakdown. A reminder to my readers, the Darkling has had many names. https://t.co/cOYqcyUsBG

— Leigh Bardugo (away for a while) (@LBardugo) October 2, 2019
(I can see it. And I LOVE it.)
Minus Barnes, who you may recognize as Prince Caspian from The Chronicles of Narnia feature films, Billy on The Punisher TV series, and baddie Logan on Westworld, the series will feature a fairly fresh-faced cast, some with only a few credits to their name.
Suman appeared in episodes of Doctor Who and Ackley Bridge and is currently appearing on the TV show The Outpost, airing on The CW. Renaux has several projects in post-production, including the miniseries Gold Digger, which he appears in with Barnes. Li is most known for her performance as Claudia Casswell in the National Theatre Live production of All About Eve. In addition to being an actor, Carter also has directing and writing credits for the short film No 89. He also appeared in Wonder Woman and has a recurring role on Pennyworth, which is the origin story of Alfred Pennyworth, aka Bruce Wayne's butler. Young previously appeared on the Endeavour TV series this past year.
There's an official Netflix show page *slams the MY LIST button* and in case you need a refresher, here is the season synopsis that Deadline broke back in January:
"In a world cleaved in two by a massive barrier of perpetual darkness, where unnatural creatures feast on human flesh, a young soldier uncovers a power that might finally unite her country. But as she struggles to hone her power, dangerous forces plot against her. Thugs, thieves, assassins and saints are at war now, and it will take more than magic to survive."
And the best part? The cast is just as excited as us. Shortly after Bardugo and Netflix broke the news, they took to social media:
Here it is. So excited and feel really lucky & proud to say I'm playing Jesper in #shadowandbone for @netflix with these amazing people. We've just started production so here we go! #shadowandbone #jesperfahey #sixofcrows #netflix #nomournersnofunerals pic.twitter.com/xVIMH58cVC

— Kit Young (@kittheyounger) October 2, 2019
https://twitter.com/JessieMeiLi/status/1179417386480476160
So happy 🗡❤🎉 https://t.co/jloVpOk7gO

— Amita Suman (@amitasuman_) October 2, 2019
Here we go guys ❤️ https://t.co/79jn8zIDIl

— archie (@archierenaux) October 2, 2019
And what does Queen Bardugo herself think?
So delighted to finally(!!) share the cast of Season 1 of the @netflix adaptation of Shadow and Bone with you: @JessieMeiLi @archierenaux @benbarnes @amitasuman_ @kittheyounger @freddycarter1 I am so thrilled to begin this adventure with this incredible cast. #NMNF #shadowandbone pic.twitter.com/X5Z9ivM0eq

— Leigh Bardugo (away for a while) (@LBardugo) October 2, 2019
No official premiere date has been announced, but production has started!
As previously revealed, Eric Heisserer (Bird Box, Arrival) will act as series creator, writer, showrunner and executive producer. Bardugo will be producing with Pouya Shahbazian (Divergent) and Shawn Levy (Stranger Things). And David Peterson, who helped develop the Dothraki language for Game of Thrones, will be developing the languages of the Grishaverse, aka Ravkan.
So what are we thinking, friends? Yea or nay to the casting? And what storylines from the Grishaverse do you have to see in season 1? Who else are you hoping to see on the show? I mean, if there's a Jesper there has to be a Wylan, right?!