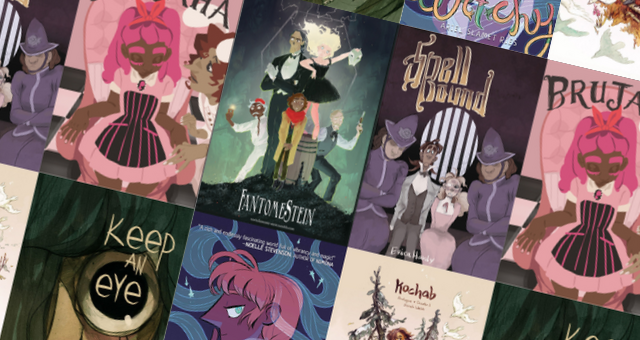 This content contains affiliate links. When you buy through these links, we may earn an affiliate commission.
Looking for something short, supernatural, and FREE to keep you entertained between all the tricks and treats this Halloween? Well, that's good, because there are a whole lot of great sci-fi and fantasy webcomics out that full of all things witchy, werewolfy, and zombified. That's right, these SFF webcomics for Halloween have all that and more. Witches? Check. Werewolves? A few. Mermaids, monsters, and ghosts? Now we're talking! So read on, because as we all know…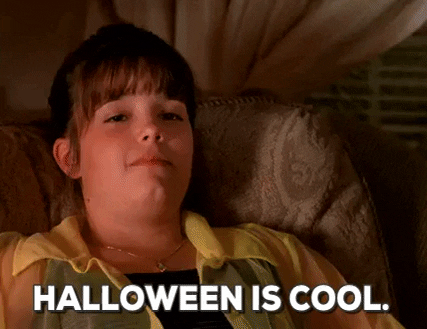 And these SFF webcomics are too.
Witches, Sorcerers, Magicians
MUTED by Miranda Mundt
Camille Severin is expected to summon a demon on the full moon of her 21st year like all the witches in her family before her. But the creature she brings forth threatens to expose all the secrets she and her family have kept so carefully hidden.
Witches and spirits collide in this urban fantasy comic set in modern-day Chicago where Akiva Stein is recruited to become a coven's Death Witch and help them create the Elixir of Life.
Balderdash by Victoria Grace Elliott
Two young witches journey far from home to learn the mysteries of magic in this enchantingly illustrated webcomic.
Witchy by Ariel Slamet Ries
In the kingdom of Hyalin a young witch named Nyneve tries to decide if safety from the Witch Guard is worth teaming up with the people who murdered her father.
It's also available in a print edition from Lion Forge now!
A short Tumblr comic about witches and wishes and what really matters (spoiler: it can't be bought).
The adventures of a young witch named Pepper and her cat, Carrot.
Cygnus and Gris run competing magic shops—the only two in town—but eventually the bickering between the two witches leads to some serious trouble.
Lucy Marlowe, magician's apprentice, competes against other apprentices for an important magical government position.
When a mischievous cat leads Katariina into her neighbor Jousia's apartment, they share some surface level truths: she's a nurse and he's clairvoyant. But the truth is he's a witch and Katariina is on leave because of burnout. As they learn more about each other, Jousia decides to help his neighbor by introducing her to all the miraculous, magical places behind his witch door.
Being accepted into magical university means Sunny is one step closer to her dream of becoming a witch. But when a vampire and a werewolf compete to become her familiar and then both wind up moving in with her, things get complicated fast.
A slice of life comic about an adventurous kid—Kim—who accidentally becomes a witch's apprentice.
Brujaha by Erica Hardy
Being a magical girl isn't nearly as fun as it sounds. Not for Melita, at least. Between dating, demons, and dating demons, life for a magic girl is pretty much just as rough as for anyone else. Plus, again, the whole demons thing.
Quinley spends most of her time creating enchanted objects, hanging out on the internet, and daydreaming about her crush, Phuong, who's done the one thing she's always dreamed of: making it in the witchcraft business.
Ari is a young witch who's recently moved to a new town, hoping to start a new chapter in her life.
Stop me if you've heard this one before: a witch accidentally summons a demon who just so happens to be a top athlete when a demon hunter bursts in and stabs them before the three of them all somehow end up dating each other. No? You'll just have to read Daimonikos, then.
Crumbs by Whitherling
If you could visit a special bakery with treats hand-baked to make your dreams come true, what would you choose? For Ray, every order is the same: hot tea with a dash of romance.
Thirteen-year-old Vera feels like a bit of an outsider after moving to a small town in Sweden. But strange things keep happening here and it's possible there's more to this town—and its residents—than it first seemed.
Magic may have become secretly integrated into society, but criminal magicians just use that to their advantage in the city's underground.
Hellebore by Melody Cunningham
What's the hardest part of being a young witch? Customer service, family drama, and making new friends, of course! But that doesn't mean there isn't magical trouble brewing on the horizon, too.
Werewolves
Werewolves at summer camp—moonlit fun and howling good times are sure to ensue. Just be sure not to miss the Howling Night!
As a lone werewolf, Malaya Walters has spent her lift trying to keep tight control over herself and the world around her. That is, until a strange guys walks into her family's coffee shops with answers.
Zombies, Ghosts, Undead
Just a comic about the average, everyday life of a girl who happens to be a zombie.
Everyone dies one day. For Hans Vogel, that day is today.
Being the granddaughter of a necromancing mafia boss isn't easy, especially when all you want out of life is to be an internet famous adventurer. But that's just life for Matilda.
Vampires
Patrik is a really nice guy—enjoys knitting, book club, and visiting his friends at the local coffee shop. Oh, and he just so happens to be a vampire.
Vampires. Magic. Science. That's Nathan's life after waking up on a gurney in a strange lab with no memory of what happened.
Mermaids, Sirens, Kelpies
Cornith never expected to meet a mermaid while cleaning up the beach, much less almost be drowned by one. It's the start of a strange and unexpected friendship.
Sirenita by Francis Quintero
A story about a girl and the mini-mermaid she loves.
Sink by Krayonela
A love story told without words about a surfer and a mermaid.
Modern day mermaids have a lot to contend with—like which plastic bags make the perfect outfit and how to make the perfect statue out of trash.
A short comic about a woman trying to find her mermaid lover on market day.
When Anna's sister goes missing at sea, she and her mother set out on a boat to find answers. What they find is far from what they expected.
A paladin meant to be out smiting monsters accidentally falls for a kelpie.
What happens when scientists trying to cure a supernatural illness wind up falling for the eldritch mermaids they're meant to be capturing? You'll just have to read to find out.
Ice Massacre by Tiana Warner, April Pierce, and Rachel Petrovicz
The warrior women of Eriana Kwai are trained to kill the mermaids who haunt their waters. But will Meela be able to choose between duty and her own heart when she falls for one of the dangerous creatures she's meant to destroy?
Eth's Skin by Sfé R. Monster and Kory Bing
In an alternate British Colombia made up primarily of floating raft cities, a fisher named Eth mistakes a selkie's skin for her own and has to travel to a distant cove to make things right.
Leah moves to a small coastal town to escape her past, but the town's myths about sirens helping those in need may be darker than they seem.
Faeries, Folklore, Magic
To escape a faery realm, a girl has to complete three quests in order to gain her freedom. But first, she has to decide if she even wants to go back to her normal life.
Maple thinks she has her whole life mapped out, but when Star literally crashes into it, they have to traverse a countryside full of magic and monsters to get her home.
When Atlas and Jo find a young witch with no memories washed up on the shore, their lives—and the weather—get a whole lot weirder.
When an evil queen gets a hold of an ancient force of destruction, a pair of bunny siblings (a nerdy magician and his much more heroic sister) have to set out to find the only artifact powerful enough to stop the evil queen and save the world. No big deal. Cucumber Quest is available as a webcomic or in print editions.
Namesake by Megan Lavey-Heaton and Isabelle Melançon
Emma Crewe doesn't particularly like books, but she does hold the incredible power to become lost in them—literally.
A webcomic about a deaf boy with magical abilities. Lucas's magic is something extraordinary, but a group called the Lunatics are turn everyone against him.
Bad Mouth by J. Kiakas and Tasha Mukanik
Life is pretty weird for Pippin, but then that's probably because she's on a mission to become a god.
Emelind is a changeling lost in a strange world. As much as she wishes to go home, it soon becomes apparent that everyone has a wish for something and wishes always have a cost.
Kochab by Sarah Webb
When two girls, a lost skier and a fire spirit, become trapped in ruins under the woods, they have to work together to survive and find their way home.
When a land of magic meets a land of machines, magic and science collide in the ancient art of alchemy. The discovery could lead to incredible progress…but it also seems to have awakened something just as old and dangerous.
Sylvics by Julian Payne
In this story full of English folklore, you'll discover tough gals and an ancient tree that's wanted to kill you since the stone age.
Hollow by Lilly Higgs
A webcomic inspired by Scandinavian folklore.
Monsters
Best friends Franny and George are just your average witch and cyclops duo—not that out of the norm in a world where monsters live among humans. And this is their life, normie parties, blogs, and all.
Monsters have to come of age too, you know.
What if Frankenstein's Monster decided to take up the vacant position of Opera Ghost? Well, things get interesting, let's put it that way.
The fateful meeting of a cursed being and a blind priestess from a nearby temple.
The toddler who fell into a pit in the middle of New Boston was presumed dead. But he wasn't. In fact, he was adopted by a couple of the soul devouring beasts who roam the Bottomless Pits of Hell.
A Jersey Devil detective living in Victorian England works with his friends—including a vampire and a banshee—to bring peace to the recently deceased.
Crass by Zoe Simmons
Two best friends attempt to join an elite academy in a world where humans and monsters live alongside each other. Just one problem, though, they're lacking a little thing called tact and it keeps getting in the way.
A lost little nightmare named Ink is set to become the next Boogeyman, but he doesn't want to be that scary. Instead, he goes to the only one he can think of to help: the Sandman!
Supernatural
Oscar didn't expect anything weird to come from renting a house, but then the ghost of a 1950s mathematician appears upstairs and a teenage werewolf shows up in his bathtub. Just what he gets for renting off Craigslist, right? In addition to this supernatural horror webcomic, Lepas is also the creator behind the viral (and infamously uncredited—thanks Tumblr) Princess King comic.
A creepy little comic about two girls who find an incomplete diorama of a wedding.
Sebastian is a wizard who recently moved to Paris. There, he meets other supernatural beings while studying magic.
Twenty years after making an ill-advised deal with a demon, three friends reunite when their past finally catches up with them.
In a world where body parts can be stolen, a girl with only one eye tries to get her other one back. But along the way she realizes she's not as incomplete as she thought and that others are missing even more.
Silently by Marcel Hugenschuett
Body horror in a strange, dystopian, supernatural landscape.
Soo-jin, Hemant, and their yeti friend Marco are on the search for cryptids—but one in particular may have it out for them.
---
And since you're here, I'm guessing you like webcomics, so you might like to check out these posts too: 10 Best Webcomics For Newcomers, 50 Must Read Webcomics, 9 Science Fiction and Fantasy Comics To Read Now, and 12 Queer Webcomics You Can Read For Free Right Now.