Book Riot has brought you 15 Movies Starring Bookstores, 16 Great Library Scenes in Film, and 17 Movies Starring Books. Now it's time for 7 TV series that take place in bookstores.
Ellen (ABC, 1994–1998)
Ellen was a sitcom that ran on ABC between 1994 and 1998. The show took place in the fictional bookstore Buy the Book and followed the ups and downs of owner Ellen Morgan (Ellen DeGeneres) and her friends and employees. Ellen made TV history with "The Puppy Episode," dedicated in its entirety to Ellen Morgan coming out as gay. The lesbian-themed storyline in "The Puppy Episode" caused such controversy that each subsequent episode was given a parental advisory warning before the opening credits.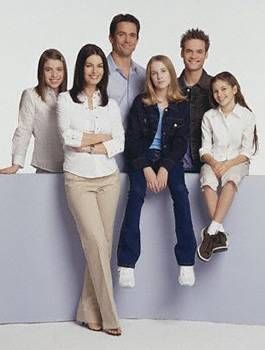 Once and Again (ABC, 1999–2002)
The drama series Once and Again ran on ABC for three seasons. The series followed the budding romance between recently divorced mother of two Lily Manning (Sela Ward), and single father Rick Sammler (Bill Campbell). Lily ran the bookstore My Sister's Bookstore (renamed Booklovers later in the series) together with her sister, Judy.
Black Books (Channel 4, 2000–2004)
Black Books was a British sitcom that took place in the fictional bookstore of the same name. Owner Bernard Black (Dylan Moran) had three interests in life: drinking, smoking, and reading. He hated people, including his customers, and his shop assistant Manny Bianco (Bill Bailey). The only person Black tolerated was Fran Katzenjammer (Tamsin Greig), who ran the gift shop next door. Supposedly, the idea for Black Books came from an actual sign in a bookstore that read, "Please put the books anywhere you like because we've got nothing better to do than to put them back."
Stacked (FOX, 2005–2006)
The American sitcom Stacked centered on the fictional bookstore Stacked Books, run by brothers Gavin (Elon Gold) and Stuart (Brian Scolaro). Fed up with her current life of nonstop partying and bad relationships, Skylar Dayton (Pamela Anderson) walks into the store, looking for information on how to start a better life. Dazzled by her beauty, Stuart hires Skylar to work at Stacked Books, a decision that neither Gavin nor the store's only other employee Katrina (Marissa Jaret Minokur) agree with. A recurring character on Stacked was bookstore regular and retired rocket scientist, Harold March (Christopher Lloyd).
Almost Heroes (Showcase, 2011)
Almost Heroes was a Canadian sitcom that ran for one season on Showcase. Harvard business school dropout Terry (Paul Campbell) returns home to help his brother Pete (Ryan Belleville) save the family comic book store The Silver Salmon from bankruptcy after their father passes away.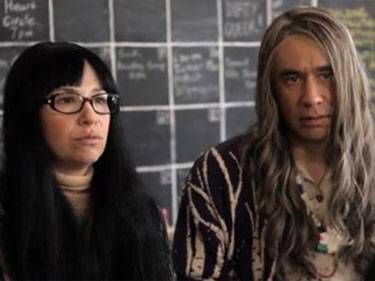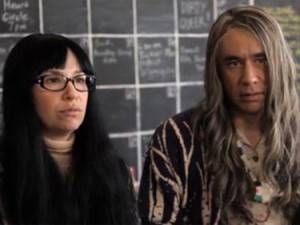 Portlandia (IFC, 2011–)
Portlandia is a comedy sketch show that satirizes life in Portland, OR. One of the recurring sketches is about the feminist bookstore Women and Women First, run by Candace (Fred Armisen) and Toni (Carrie Brownstein). Although Women and Women First is a fictional bookstore, the sketches are filmed on location at the real Portland feminist bookstore In Other Words.
Comic Book Men (AMC, 2012–)
Comic Book Men is a reality TV show on AMC that is filmed at Jay and Silent Bob's Secret Stash, a comic book store in Red Bank, NJ, owned and run by filmmaker Kevin Smith. Now in its fourth season, Kevin and his associates Walt, Michael, Bryan, and Ming continue to discuss all things related (and unrelated) to comic books, occasionally selling something to an actual customer.
Are there any TV series you think should be added to this list?
____________________
Did you know that Book Riot has a YouTube channel? We do. It's new and we are having fun with it. Check it out here.