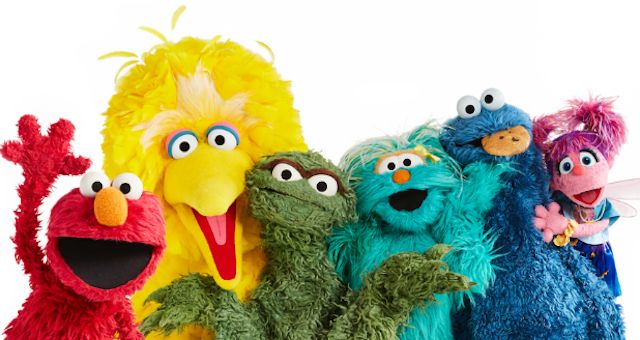 Lists
SESAME STREET is 50! 7 Books About the People in the Neighborhood
This content contains affiliate links. When you buy through these links, we may earn an affiliate commission.
It's no exaggeration to say I was raised by Sesame Street. When I was a tot in the target audience, the long-running, felt-forward educational series was on twice a day on our local PBS affiliate. I would watch it both times.
And then I would direct whichever adults were around to tape the episode so I could watch it again. I was a fun kid.
Obsession undersells it. The show was my preschool, teaching me letters, numbers, and how to be a basically decent person. My parents attended more performances of Sesame Street Live! than they probably would have cared for.
Big Bird was my boi. He always will be. Though, he's now the world's oldest 6-year-old.
November 10 marked the 50th anniversary of the revolutionary children's show from the Sesame Workshop (nee the Children's Television Workshop). It feels right and just that we would roll out of the 50th anniversary year of Mister Rogers' Neighborhood and into the celebration of another pinnacle of American childhood.
The world could use more sunny days sweepin' the clouds away, and maybe we can all use this landmark anniversary to reflect on the real lessons of Sesame Street:
People are different, and that's something to celebrate.
Your feelings are valid, and it's okay to feel them.
"C" is absolutely 100% for cookie.
To celebrate, here are a few important reads about the history of Sesame Street from the people of the neighborhood.
Note: This list includes several books written by women on the subject, but it reflects the reality that most of the books written about Sesame Street and its evolution have been written by cis male authors. If you know of additional recommendations, please share them with us!
Required Reading
The closest to an authorized biography as you can get, Street Gang tells the story of Sesame Street from its inception in 1969. Anecdotes and behind-the-scenes factoids abound, all relayed with the cooperation of Joan Ganz Cooney, the influential co-founder of the show whose 90th birthday also happens to fall later this month.
Besides Cooney, the other major figure in the birth of Sesame Street is, of course, the man behind the Muppets. There were moments in this impressively thorough biography that caused me to sob at the gentle genius of Henson, including his many, many contributions to life on the Street.
As I hope I have made clear, I would die for Big Bird, and thus Carroll Spinney, who walked miles in those giant orange legs from 1969 to 2018. Here, he shares the lessons he's learned from inside those yellow feathers (and inside Oscar the Grouch's trash can). I also cannot recommend enough the recent documentary about Spinney, I Am Big Bird, which, of course, also made me cry.
While the Muppets may steal the show, the humans of Sesame Street were just as important in creating its magic and ensuring goobers like Telly Monster actually taught you something. Maria was one such critical human, joining the show in its third season. Manzano, who played her for 44 years, recounts her own somewhat turbulent path from her childhood in the Bronx to Emmy-winning success.
Gordon Robinson was one of the four original humans of Sesame Street, along with his wife Susan, Mr. Hooper, and Bob. Orman, meanwhile, is the third actor to portray him. In this short book, he looks back on 30 years as Gordon, as well as the rest of his varied acting career.
You know when you look through your parents' old yearbooks or childhood photos of your significant other? You see this rough sketch of the person you know—a vague impersonation of their features—but the likeness is not quite right. That's what it's like to look at early sketches and concept art of some of your Sesame Street faves, including a purple Oscar the Grouch and a particularly conical Bert.
The show's 40th anniversary brought us this gift. Ten years later, it keeps giving with behind-the-scenes photos and insider knowledge like how the Muppets were built and performed. A coffee table book for those of us who never stopped learning.
---
Want more Sesame Street in your life? Check out T-shirts, pins, and more in the Book Riot Store.