News
Sequel to CRAZY RICH ASIANS Moves Forward at Warner Bros.
This content contains affiliate links. When you buy through these links, we may earn an affiliate commission.
After a whopping $35.3 million five day opening, Warner Bros. would have to be dense not to option Kevin Kwan's entire series, right?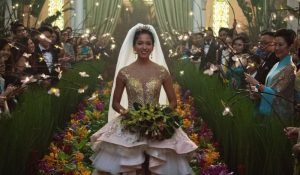 Luckily for the world, they're moving in the right direction.
Development for China Rich Girlfriend and Rich People Problems have been given the green light to move forward, but haven't been officially picked up for production.
While things are still in the planning stage, the film would would reunite director Jon M. Chu with producers Nina Jacobson, Brad Simpson, and John Penotti, as well as screenwriters Peter Chiarelli and Adele Lim. And with the way the audiences are flocking to theaters, the sequels are almost assuredly a go.
The main cast of the first film, Crazy Rich Asians–Constance Wu, Henry Golding, and Michelle Yeoh–also all have options for the remaining two films. Other factors up in the air include the potential filming location, as the Chinese government may not be cooperative with such a depiction of their upper-upper-upper class.
China Rich Girlfriend shares narrative focus between Rachel (Wu) and Nick (Golding), who travel to China in search of her father, and Nick's cousin, Astrid (Gemma Chan), and the return of her first love, Charlie. Glee and Shadowhunters star, Harry Shum Jr., made a cameo as Charlie at the end of CRA.
Looking for more? Check out all of our Crazy Rich Asians discussions.