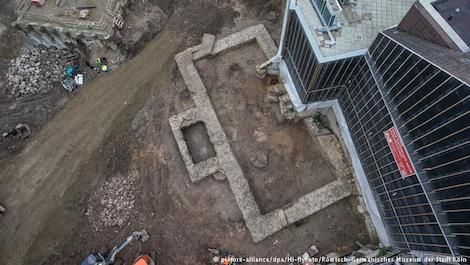 Sensational Archaeological Find Is Likely Germany's Oldest Library: Critical Linking, July 27, 2018
We're giving away $500 of the year's best YA! Click here, or on the image below to enter:
---
The massive remains of an ancient wall in the city of Cologne were first unearthed a year ago during construction work for a new Protestant church community center.
While it was clear from the start that the wall was of Roman origin, it was initially believed to be the ruins of a public assembly room. But what stumped experts were "unusual, niche-like divisions" in the wall, says Cologne historic preservation official Marcus Trier.
After comparing the structure with other ancient buildings, including the Roman city of Ephesus in present-day Turkey that had a monumental library, it turned out that the remains in Cologne belonged to a library built in the 2nd century in the then-Roman city.
____________________
Libraries are for the people, and are governed by the people. Unlike companies like Amazon, a library's "bottom line" is equitable service for all—regardless of income, age or race. Library staff are committed to sustaining the role of libraries as pillars of democracy that empower users to contribute to their communities and society.
____________________
The heat of July is currently upon us, which means that more and more of us are either taking to the beaches and pools or hiding inside to avoid the high temperatures. Regardless of how you're dealing with the height of summer, it's a great time to sit down with a captivating book and an icy beverage.
These science books releasing in July, August, and September promise to be both fascinating and readable, taking on different subjects about the world and universe around us.
Load up your TBR with some science!