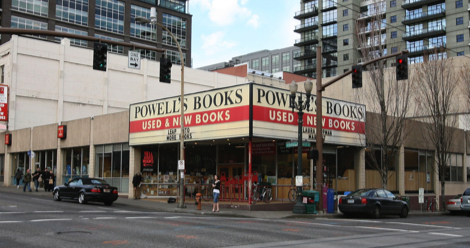 How To
Where To Sell Used Books: 6 Of The Best Places Online (And In Person)
There comes a time in every reader's life where they have to accept some hard truths: that not every book they've read is one they should treasure forever; that they don't need three different copies of their favorite classic, even if it keeps being re-released with cooler covers; that decorating in towering stacks of books might not be the healthiest choice unless they want to start wearing helmets around the house. When you've come to this point, you will want to clean out your collection. And, that may mean it's time to sell books (*gasp!*).
Of course, there are plenty of other ways to go about this: you may want to do the KonMari method, you may just go for a good ol' spring cleaning. You may need to recite some of Alice's helpful mantras to yourself. However you do it, you will hopefully be left with large stacks of books to dispose of. You could give them away or donate them, which is quite noble, but it is always nice to be able to get a little money back from everything you've paid out to your bookshelves.
Here's where to sell used books, whether online or in-person. We've got options for selling textbooks, as well as hardcovers and paperbacks.
1. BookScouter
I like to start with BookScouter.com. BookScouter says they're just for textbook buyback, but I've had some good luck checking prices of regular trade books. Book Scouter will tell you what websites will currently pay for each book you're trying to sell. This will give you a good idea of whether or not it's even worth selling your books. Remember, all of these websites pay based on what they think they can sell books for, so books with higher demand will sell for more.
I check the selling price of Go Set a Watchman, a hardcover book I paid full price for, but one that I honestly never want to see on my shelves again. BookScouter says that one (just one) of the websites they scan will buy my copy for $0.12. Harsh. I didn't like it either, guys, but that's like $0.25 less than what it probably cost to print the dang book. My paperback of To Kill a Mockingbird, on the other hand, will go to three different sites for as much as $0.75.
That's supply and demand, my friends.
One thing before we go on: you're probably not going to make a lot of money off your books unless you're a collector or plan on doing this in major volume. You'll be quite lucky to make $1 a book. If you're planning to sell books, wait until you have at least a stack of them ready to go. If you only have two or three books you need to re-home, you're better off putting them in a Little Free Library.
2. Half Price Books
On my last trip to Half Price Books, I had a banker's box full of hardcovers in great condition, and I made about $20, which was enough to cover the cost of some bookends and magazine boxes that I used to finish organizing my bookshelves.
If you live near a HPB, this is a great solution for selling your books. You pack up your books, bring them in, and then wait at the store while a bookseller appraises your books. You can browse the stacks and they'll call you when your offer is ready.
---
Related: What To Do With Used Books
---
3. Amazon
There are a few different options for selling books online through Amazon.
The first is through their trade-in program. For the trade-in program, you search your book edition, find the ISBN (the 13 digit code typically on the back or on the copyright page), and check if Amazon will offer you money for your book. Fill out a brief questionnaire about the condition of your book, and then Amazon will give you a shipping label. Once they've received the book, they'll give you an Amazon credit.
You might end up getting more money from this system overall since Amazon really just wants you to spend your money at Amazon, even if it's money they give you. Just, like, try to buy a book from a local indie to even out your book-buying karma later. You can also sell books the traditional way on Amazon, by setting up a seller account and listing your books. If you do this, you'll have to set up a product page for each book you plan to sell and wait for a buyer. This is totally doable, but it does take some commitment.
Powell's will, like Half Price, let you bring books into their stores for appraisal, but if you're not close to a physical location, you can sell to them online.
They prefer to only take books in excellent condition. Just enter your ISBNs to the form on their site and they'll send you a price quote and a shipping label. You can get money via PayPal or you can get store credit.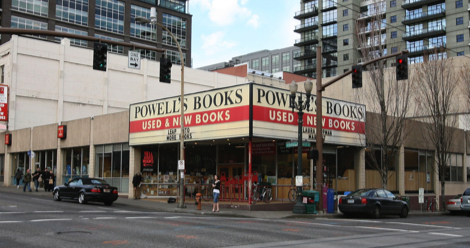 5. Online Buy Back Programs
There are dozens, maybe hundreds of sites that will let you enter your book ISBNs, answer a few questions about quality, and then they will give you a price quote for your book and a shipping label.
Some of them have minimums, so you won't be able to cash out until you've sold X dollars worth of books with them. Use BookScouter to try to determine which of these sites will offer you the most money back.
6. Your local indie
Finally, also check out your nearby indies for local places where to sell used books. Many of them offer cashback for your books or store credit. Always call ahead and check on their requirements.
You can find your state's best bookstores here.
Tips For selling used books

If you're looking for where to sell used books, and have found some places online or locally, remember these few tips. It will help you avoid any costs or complaints when you go to sell books.
Be honest about the condition of your books
Buyers won't be happy if you've misrepresented what state the book is in, and could report you to the website you sold through. If there is some shelf-wear on the book, say so.
Be careful when shipping
If you're going to do a lot of bookselling, you might want to invest in some shipping envelopes and other packing materials. Make sure you're using something that is water-resistant, and if it's a book that will show bumps and dings, like a nice hardcover, make sure you wrap it carefully.
Also, don't forget to make note of the tracking numbers. The bookselling site may send you a shipping label, but you'll still be responsible to make sure the book arrives at its destination, and you'll need the tracking number to communicate with the post office or shipping company.
You can always donate!
If you find that the task of selling off your books is too much work, if you don't think you're getting enough money back to justify the time, or if you have a book that just won't sell, remember you can always donate your books!
There are many organizations that are always looking for books, or you can drop off a book in a local Little Free Library. Or, donate your books to prisons. If none of these is an option, we have a few ideas for how to repurpose your used books.
Have a goal
It's extremely tempting to go right out and buy more books with your book money, but try to hold off! I find it helpful to have a plan for how to spend my book money.
As I said earlier, I've used my book-selling money on magazine boxes for my comics, and other organizational tools for my shelves. You might want to put the money toward a special edition of your favorites, or maybe something you've been eyeing from Book Fetish.
---
Read Next: Why You Should Buy Used Books
---
Go forth and clear out your bookshelves! Try not to refill them too quickly! And, hit the comments for your tips on where to sell used books.