This content contains affiliate links. When you buy through these links, we may earn an affiliate commission.
May is National Masturbation Month. Started by Good Vibrations in 1995 as a response to the firing of Surgeon General Dr. Joycelyn Elders, who had the audacity to suggest that masturbation be covered in sex-ed programs as a safe alternative to partnered sex. The audacity! (If you can't detect my sarcasm, this is me pointing it out.) I'm sure several of you are feeling a bit uncomfortable now. "This is a book site!" you're exclaiming, "Why are they talking about touching yourself?" Everybody take a very deep breath and remove the vestiges of that puritanical filter from your mind while I explain why I'm talking about the most literal kind of self help. Besides for the fact that I think we should all be a lot more comfortable talking about it, there are books to help you learn more about masturbation. Yes, books talk about sex! About what you like, what works for you, what will enhance your experience with your partner (if that's your jam). Whether you're new to solo sexual experiences or simply on the lookout for ways to up your game, here are a selection of bookish resources to help you help yourself.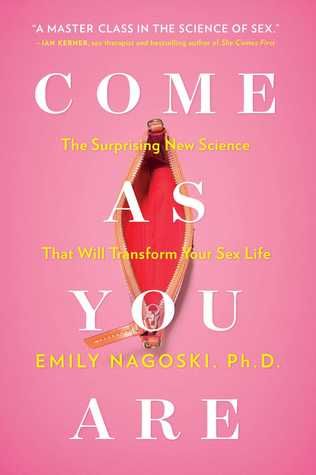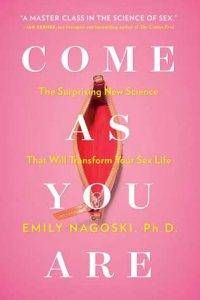 Come as You Are: The Surprising New Science that Will Transform Your Sex Life by Emily Nagoski, PhD
This one covers more than just your solo sex time. Come As You Are is designed to help you connect with all aspects of your physical and emotional sexuality. While ultimately this one will help you connect deeper with sexual partners, it starts with knowing, accepting, and loving yourself. We all remember that scene from Sex and the City where Charlotte sees her vagina for the first time, right? Well that's where ya gotta start. Sex, solo or otherwise, depends on you owning and knowing what works for your own genitalia.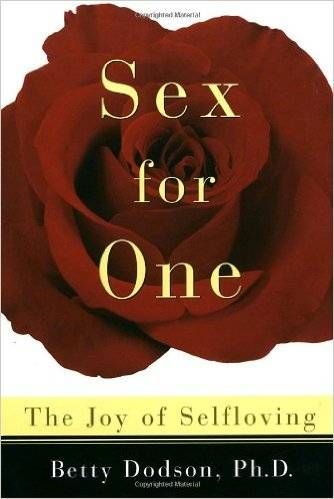 Sex for One: The Joy of Selfloving by Betty Dodson, PhD
This is the classic. Betty Dodson has been an informative and judgment-free advocate for masturbation for several decades now and originally published Sex for One twenty(!!) years ago. Reading Dodson is an experience filled with humor, which I always appreciate when discussing sex. I also appreciate that, while her career has focused more on women, this book is applicable regardless of whether your sport a dick or a vag. There are simple illustrations to help your understanding, too.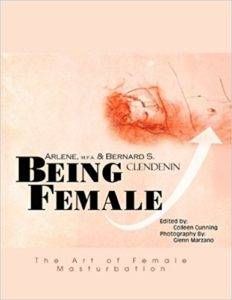 Being Female: The Art of Female Masturbation by Arlene and Bernard Clendenin
Arlene's knowledge and Bernard's dreamy, sensual illustrations make this book worth having as part of your permanent collection. There is a softness to this book; drawings and prose. I felt like I was being guided by the ultimate earth mother into really accepting who I am and what I need. If you are struggling because you think masturbation is 'dirty' or 'wrong', the Clendenin's are a great way to break out of that thought trap.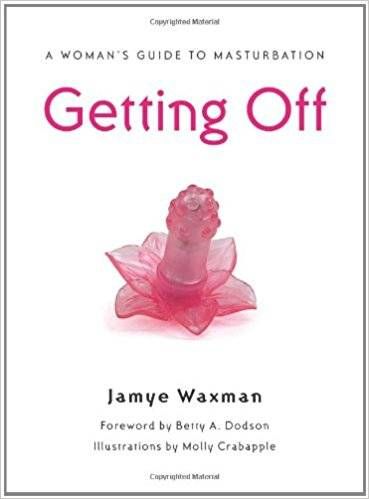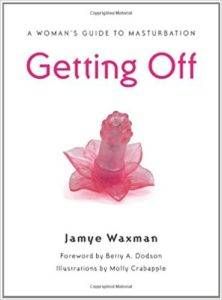 Getting Off: A Woman's Guide to Masturbation by Jamye Waxman
I mean, I will buy literally anything Molly Crabapple illustrates, but her illustrations only serve as the icing on an already fantastic book, in this case. Waxman's book might be a bit much if you're brand-new to solo sex, but is perfect for women who are eager to up their repertoire. There is a lot of helpful information about bringing toys into the mix.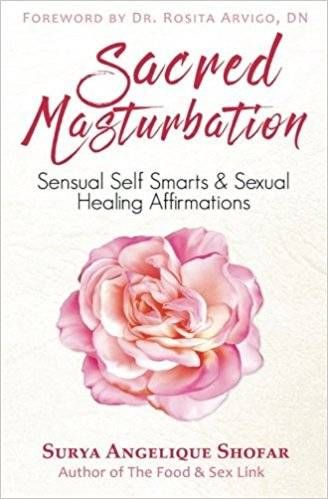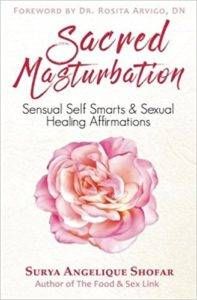 Sacred Masturbation: Sensual Self Smarts & Sexual Healing Affirmations by Surya Angelique Shofar
Craving a more holistic and total-self approach?Sacred Masturbation is the book for you. Shofar ties self-love (the physical) into, a concept I swear by, self love (the loving who you are). Connecting our sacred energies with our sexual selves is ancient wisdom and something that the witches and priestesses of old knew well. If you're into being your own goddess, I would start here.
Oh, were these all for vagina-having humans? Not entirely, but the truth is if you're born with female genitals you're actively taught to ignore and suppress your sexuality, so we need a bit more help than our penis-having counterparts. Not that there aren't any guides available to help you step up your personal game. Check out In Your Hands: The Everyman's Guide to Masturbation by Mark Emme if you're craving something specific to penises.
Oh Joy Sex Toy! by Erika Moen and Matt Nolan is another excellent resource and a charming webcomic. They are currently Kickstarting the fourth volume of their standalone printed edition.
Know of any masturbation guides that would benefit trans or non-binary individuals specifically? Drop them in the comments, please. I would love to build a bigger list!
Also In This Story Stream