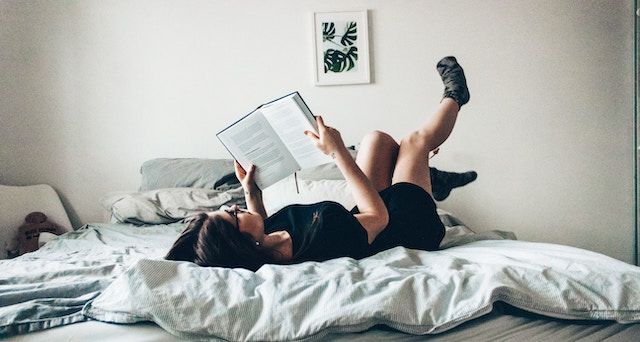 This content contains affiliate links. When you buy through these links, we may earn an affiliate commission.
Stephen Colbert's penchant for speaking truth (or at least telling jokes) to power usually has him in my good books, but his interview this spring with former gubernatorial candidate and rising political star Stacey Abrams gave me a bad taste in my mouth. Prior to entering politics, Abrams wrote several romance novels under the nom-de-plume Selena Montgomery. During the interview, Colbert selected a particularly juicy passage from one of her novels and read it out loud while she sat by in evident discomfort.
While there's nothing inherently wrong with bringing up Abrams's moonlighting past, Colbert didn't discuss her unique life path, or the new perspectives she's bringing to Washington, or her literary contributions in light of the well-documented dearth of romance novels about women of color. Rather, he framed the segment as a moment of exposure and embarrassment, suggesting an underlying belief that it's fundamentally absurd for a woman to be both a serious politician and a romance writer, or even a writer of fiction geared towards women—it's hard to imagine someone wringing the same humor from, for example, a male politician who also wrote detective novels. The episode inspired me to peruse Montgomery's work, and here's the result: a reading list for all of us who think a woman who writes romance novels and runs for office is a path-breaker and not a punch line.
Montgomery's Reckless follows an arc well-known in romance: a successful woman forced to confront her roots. Kell Jameson, a high-powered Atlanta lawyer, reluctantly returns home when someone from her past is unjustly accused of murder. Her quest to save a friend from jail is complicated by her growing respect for and attraction to the local Sheriff Luke Calder, who's gathering evidence against her client. Are these two working together or sabotaging each other? Will there be violations of attorney-client privilege? You'll have to find out.
Like Kell, Mara Reed of Hidden Sins begins her novel by returning to her Texas hometown, but she does so under different circumstances—as a scam artist on the run from dissatisfied clients. In her moment of crisis, she's rescued by former flame and forensic anthropologist (I am loving all these scientists) Ethan Stuart. But this turns out to be a mixed blessing when Ethan reveals he's investigating a gruesome crime that occurred under Mara's father's leadership of the local church. Readers get to turn pages wondering if Ethan will help Mara confront her past, or simply expose it.
In a departure from her small-town centered novels, Montgomery begins her thriller Secrets and Lies in an unnamed South American country, where thief Sebastian Caine breaks into a mansion only to find its owner dead and become the reluctant protector of his niece, a sexy ethnobotanist (incidentally, two words I never imagined I'd write next to each other). Amorous and action-packed, this is romance for the restless.
It might be cheating to include Lead from the Outside on this list, because Abrams authored this memoir under her own name to describe her experience in politics. But including it here underlines my point that there's no reason all these books shouldn't stand side by side. Abrams shows how people operating outside traditional power structures—in politics, in the workplace, or at home—can effect meaningful change and realize their aspirations. New York called it "Like Lean In for people who didn't start with any power." Although Abrams lost her gubernatorial race, she was chosen to give the response to Trump's most recent State of the Union address, and is often discussed as a vice presidential candidate for the future Democratic nominee. In other words, we're going to see a lot more of her—and while we wait, we can read her memoir.