This content contains affiliate links. When you buy through these links, we may earn an affiliate commission.
This is a guest post from Cheyenne Comer. An academic armchair detective, Cheyenne is a PhD candidate at the University of Louisiana at Lafayette. When she's not deciphering Cold War spy novels, she Instagrams photos of books and tea, reviews all things crime fiction at Sleuths & Spies, and dreams of one day being a Bond girl. Follow her on Twitter @sleuthsandspies.
---
History, much like algebra and the periodic table of elements, is something I learned with the frantic cramming of necessity, memorized the night before a test, and forgotten as quickly as each question was answered. Sure, I retained the basics – the Pilgrims, the Constitution, and an endless string of wars – but I couldn't connect these things to our current moment in history, and I found myself extremely ill-prepared to contribute to any discussion about politics or world affairs. That is, until I started reading spy novels. By grounding their fictions in real historical events, these books provided access to and an understanding of global politics that I never would have appreciated from a dry academic lecture or a rote textbook account.
Believing I was escaping into a shadow world of undercover agents and double crosses, I consumed these novels voraciously, not realizing that like many of the characters I encountered I, too, was being manipulated. In my case, I was duped into becoming a willing student of the history of the Cold War, during which the spy novel became ubiquitous, with writers such as John le Carré and Tom Clancy documenting life during the conflict and after détente, respectively. While these big guns of spy fiction began my education, more recent post-Cold War novels, however, illustrate how the world has changed, but in many ways stayed the same, since the thaw.
Perhaps the most comprehensive political primer in spy fiction, Robert Littell's The Company: A Novel of the CIA (2002) spans forty-five years of CIA history, beginning at Berlin Base in the 1950s during the height of the Cold War, then detailing the Hungarian Revolution of 1956, the 1961 Bay of Pigs invasion, and Afghanistan in the 1980s before culminating with the 1991 coup against Soviet president Mikhail Gorbachev. The novel chronicles the lives of three fictional agents, from their recruitment at Yale to their training and advancement and their assignments during each historical event, yet it also introduces the reader to numerous historical personages, such as Allen Dulles, the first civilian and longest-serving Director of Intelligence for the CIA, and Kim Philby, the British intelligence officer who notoriously operated as a double agent for Russia and defected to Moscow after he was tried, but exonerated, for treason against Britain. As Littell's characters hunt for a mole within the agency, he imbues his annal with suspense, but he also adds a bit of humor by referencing some of the more ridiculous schemes actually pitched by the CIA, like air-dropping oversize condoms mislabeled as "Medium" onto Russian soldiers in order to lower their morale or using fireworks to stage a Second Coming in Cuba so that Cuban Catholics would identify Fidel Castro as the Antichrist and depose him. With such sweeping scope, The Company is a modern-day espionage epic that teaches through thrills, tension, and treachery.
Following the dissolution of the Soviet Union that occurs after Gorbachev's putsch featured in The Company, Littell's Legends: A Novel of Dissimulation (2005), recounts how gangsters came to power to Russia in the 1990s. Instead of featuring several different protagonists as in The Company, this novel portrays the multiple viewpoints formed from retired CIA agent Martin Odum's different cover stories. As Odum tries to piece together his past in order to determine which cover story is his true identity, the reader learns about the rise of current Islamist terrorism when, as Dante Pippen, Odum trains Hezbollah militants in Beirut and, as Lincoln Dittmann, he makes an arms deal with Osama bin Laden in South America and hears the rumblings of Al Qaeda's formation. Odum's mental explorations physically bring him to Moscow, where he finally remembers his part, on behalf of the American government, in helping the oligarchs achieve supremacy, and as Martin finds himself in a desperate standoff against both KGB and CIA, the reader locates America's precarious political relationship with Russia.
Even more significant in the '90s was the Persian Gulf War, which Frederick Forsyth describes in The Fist of God (1994). The novel begins with the real-life assassination of Dr. Gerald Bull, an American engineer who designed a long-range "supergun" for the Iraqi government, which in Forsyth's version of events, he believes will be used to launch satellites into space. After he discovers his Project Babylon program is actually intended to deploy a nuclear missile, Bull is murdered by Israeli agents in Brussels. Shortly afterwards, Iraq invades Kuwait, and Forsyth takes the reader into the ground phase of Operation Desert Storm, during which American and British intelligence learn of the supergun's existence and attempt to thwart its detonation. In his imagined scenario of nuclear armament, Forsyth highlights the very real anxieties about weapons of mass destruction that led to the 2003 American invasion of Iraq and the contentious destabilization of the Middle East.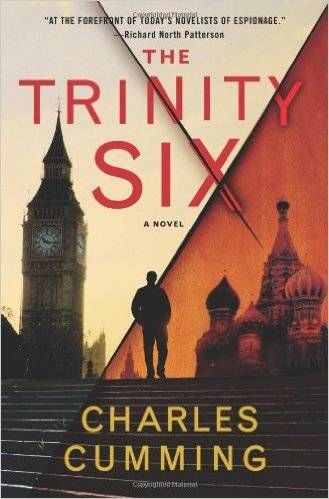 Another "what if" novel, Charles Cumming's The Trinity Six (2011) broaches the possibility of a sixth member of the Cambridge Five, a spy ring comprised of Kim Philby and four others who used their positions in various branches of British military intelligence to pass privileged information to the Russian government during and after World War II. As Sam Gaddis, a professor of Russian history, investigates the manuscript of a journalist murdered while investigating the spy's identity, Cumming seamlessly blends past and present politics. Simultaneously recapping the 1950s scandal that shook British national security to its core and criticizing Russia's current regime through his portrayal of Sergei Platov, the fictional counterpart of Vladimir Putin, as a brutal, sociopathic dictator, The Trinity Six, like Legends, explores the residual East-West antagonism carried over from the Cold War.
Far removed from Russia geographically but quite close politically, present-day China is the backdrop for Adam Brookes's Night Heron (2014), which begins with Prisoner 5995, aka Peanut, fleeing from a labor reform camp. As Peanut's escape coincides with a growing insurgency, Brookes maps a Chinese history of rebellion and reform onto Peanut's personal past. While Peanut gradually recalls his tradecraft to evade detection in Beijing, the reader learns not only that he was a ballistics expert recruited by the British to infiltrate and expose the Chinese missile program but also that his motivations stemmed from atrocities committed under the Mao regime in the 1966 Cultural Revolution. Covering revolts in the 1960s, 1980s, and 2000s, Night Heron introduces to spy fiction a new political locale by depicting turbulent times in Communist China.
While these novels are only a sampling, all spy novels, in a sense, are historical novels, as the genre is replete with reconstructions, recollections, and revisions to political events. Thus, they implicitly impart philosopher George Santayana's dictum, "Those who cannot remember the past are condemned to repeat it." Therefore, the reader must operate as do the spies between these pages, accessing a fuller knowledge of history rather than learning it on a "need to know" basis.