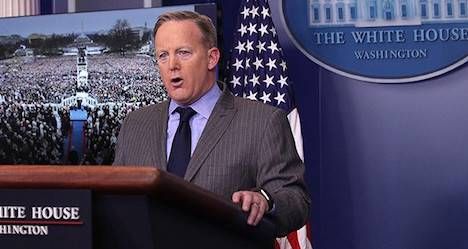 Sean Spicer Releasing Book About Time in Trump White House: Critical Linking, February 1
Sponsored by The Hazel Wood by Melissa Albert

---
Former White House press secretary Sean Spicer is releasing a book in the summer about what his publisher described as his "turbulent tenure" with the Trump administration.
The book, titled "The Briefing," will be released on July 23, 2018, through Regnery Publishing, which bills itself as "the country's leading publisher of conservative books."
---
Thomas, a student in Belhaven University's creative writing program at the time she came up with the idea for The Hate U Give in 2011, originally wrote it as a short story for her senior-year project, but it quickly expanded into a novel-length work. The title comes from a tattoo worn by Tupac Shakur (the acronym T.H.U.G.).
Tillman is directing a script written by Tina Mabry and Aubrey Wells.
Principal photography recently wrapped in Atlanta.
First look at scenes from The Hate U Give!
---
The first batch of books from Versify reflects Mr. Alexander's eclectic taste and broad ambitions. The inaugural spring 2019 list includes Kip Wilson's "White Rose," a young adult Holocaust novel written in verse, which tells the true story of the Nazi resistance leader Sophie Scholl; "Vamos!/Let's Go!" the first in a new bilingual picture book series by the illustrator Raul Gonzalez, who publishes as Raul the Third; "This Is For Us," a picture book featuring a poem by Mr. Alexander that looks at African-American history through the lens of sports and culture, with illustrations by Kadir Nelson, and Lamar Giles' "The Last Last-Day-of-Summer," a middle grade fantasy novel about two cousins in Virginia who accidentally freeze time, inspired partly by Norton Juster's "The Phantom Tollbooth."