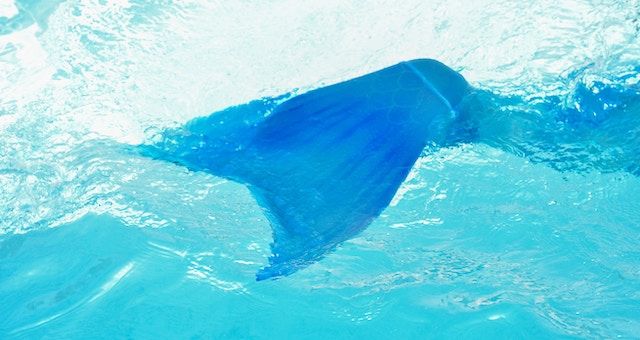 This content contains affiliate links. When you buy through these links, we may earn an affiliate commission.
Do you ever wish you could just sprout gills and descend back to the bottom of the ocean? It has been an annoyingly hot summer here in Maine, where we are unaccustomed to ordinary hot summers, let alone climate change–induced super-heated ones. Usually summer here, so the joke goes, is one sunny 70° day in August. Sadly, until science finds a way for us to go back to living in the big blue, all I can do is dream. That, and read a stack of sea creature romance novels about supernatural beings rising from the waves to promise me a better life beneath the sea.
For the purpose of this post, any mermaid/merman/selkie/sea god that rises from the deep shall be considered a "sea creature," regardless of however many human "parts" they may possess.
Soul Song by Marjorie M. Liu
Apologies to the chronological readers out there; Soul Song is technically sixth in Liu's Dirk & Steele series. But, like most romances in a series, it can be read on its own. So for those of you who don't care as much about reading a series in order (I'm notorious for starting in the middle of things), it will definitely be worth your time. An enigmatic "prince of the sea" with a magic voice being held captive by a sea witch? When it comes to sea creature romance novels, the merman is king, and I am always down for a flipped-script Little Mermaid. Bonus: the heroine is a prophetic violin virtuoso, so between her strings and the hero's magic voice this is definitely a book for music fans.
You scream, I scream, we all scream for seal-men who come out of the sea looking for brides. …I think I did that wrong. Though selkies do play a close second to mermen in the arena of sea creature romance novels. Anyway, this one is for all of you who grew up watching The Secret of Roan Inish and wondering where the heck your black-eyed boyfriends were. I love this book. I've read it at least three times and it just never gets old. Widowed Megan Culbin just inherited a little cottage in a half-empty town on the Scottish coast that is slowly being swallowed by sand dunes. It's an eerie place, even without the creeping sands, and it doesn't take Megan long to find out why. Or to find out that she inherited a lot more than she bargained for, including the attention of one very peculiar dark-haired man who shows up on her doorstep in the middle of a violent storm.
If you look at the Goodreads page for Deeper Than the Ocean, you'll notice there's a little, well, not really a content warning so much as a head's up for "mixed species coitus." Now, I haven't read Carney's book yet, but if I had to guess I would say: don't expect this merman to magically sprout legs when it's time for some hanky-panky. I know my monster lovers out there are like "A fish tail, really? You think that's going to scare me off?" but for the rest of you, just keep it in mind. I'm pretty sure heroine Di isn't going to care that mer-prince Danyl has fins and scales. When you discover an ancient coin that is supposed to pay your way for the rest of your life, and instead find yourself in hot water (ba-dum-tish) and in the middle of an underwater turf war? Who cares about about a few anatomical variations.
More Scotland? More selkies? Yes please. Maggie is having a very rough year. So when her grandmother dies she takes off for Orkney, Scotland, to escape her life and sort out her grandmother's things. Things like a manky old seal pelt, apparently (gross, Grandma), which is supposed to be her inheritance. Add to that a bunch of people inexplicably determined to get their hands on said old skin, including that obnoxious Calan Kirk, and some really provocative dreams about a man rising out of the waves (sign me up), and it's so long to Maggie's so-called Scottish escape.
Ah. Showalter. Purveyor of handsy water nymph warriors and their destined mates. A caveat: I like Showalter's work. Her books are good old bananas, over-the-top fun times. But as with novels of a similar style (Kresley Cole's Immortals After Dark series comes immediately to mind, with its alpha heroes and zany plots), your mileage may vary. If you think I'm being overly cautious, take a look at the Goodreads reviews. They're mostly positive, but the negative ones are really negative. Also the hero straight up abducts the heroine off a beach and holds her captive at the bottom of the ocean. And I cut my eyeteeth on abduction romances, so that's the catnip of all sea creature romance novels for me. But for other people, Shaye falling in love with Valerian looks like happily Stockholm Syndrome ever after.
---
Obviously there are many, many more muscly mermen and sexy selkies out there (not to mention a plethora of sea gods, etc.) waiting for their mortal loves. And that's just in romance! Mermaids, in particular, are everywhere in fiction. I didn't even get started on the wealth of fantastic mermaid books for kids, middle grade readers, and YA fans; or the variety of mermaid books for adults that exist out there.
So go forth and read! Summer is nearly gone, but there's no rule that while we're cooling our heels this winter (literally) we can't still be reading sea creature romance novels and dreaming of warmer blue waters. And if you don't see your favorite deep sea lovers here, tweet me! I'm always looking for book recommendations.