Lists
We All Scream: The Best Ice Cream Cookbooks
This content contains affiliate links. When you buy through these links, we may earn an affiliate commission.
A few things I love: mint chocolate chip ice cream, salted caramel gelato, and mango fruit pops. And now that the weather is cooperating and heating up, it's time to drag out the old Kitchen Aid ice cream maker (which sits in the freezer year round, just watching and waiting) and make some cool icy treats!
I'm not the cook in my family, but I'm an expert on suggestions, and I excel at tastings. Good summer reading includes ice cream cookbooks (coolbooks?), and the following are some of my favorites, for any occasion, taste, and experience level. All natural ingredients, fun flavors and loads of helpful details=something for everyone.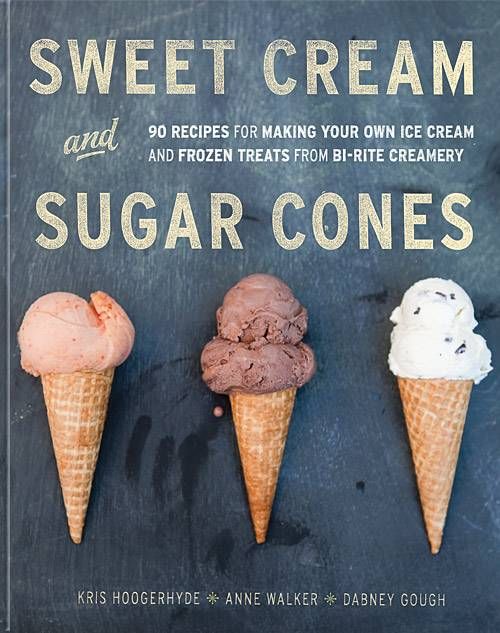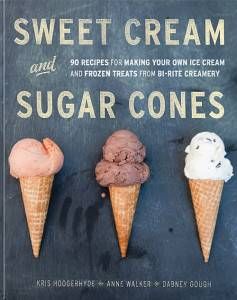 Sweet Cream and Sugar Cones: 90 Recipes for Making Your Own Ice Cream and Frozen Treats from Bi-Rite Creamery
By Kris Hoogerhyge and Anne Walker, the women behind San Francisco's Bi-Rite Creamery, a shop where you'll always find a line of eager ice cream lovers and a at least one "omg that sounds so weird–I'm going to try it!" flavor.
Why you should buy it: It's just a beautiful book with delectable pictures, perfect to sit on your coffee table or kitchen shelf for people to admire and drool over. But also, the recipes are Bi-Rite's most popular, taste-tested by the finicky foodies of San Francisco. And there are also recipes for cakes, cookies and frostings, more than enough to keep you busy all summer. The authors explain tools, tips and techniques you'll use, and even gives you a whole page devoted to assembling the perfect ice cream sandwich. No, it's not just 'smash some ice cream between cookies'—there are molds involved!
Recipes: Run the gamut from vanilla to coffee, nut-inspired to tropical fruit. Something for everyone.
Flavor of the Month: Balsamic Strawberry Ice Cream. The authors note that this combo, in Italy, is like the American version of peanut butter and jelly: everyone's eating it. I'm not quite sold, but it's on my TBT (to be tasted) list.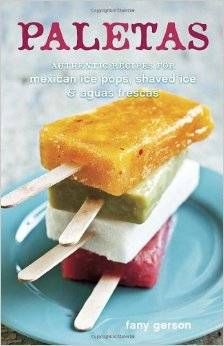 Paletas: Authentic Recipes for Mexican Ice Pops, Shaved Ice & Aguas Frescas
Chef Fany Gerson traveled to her native Mexico for flavor inspirations, and came back with the ones included in Paletas, which are sold out of My Big Gay Ice Cream (see their book, below), and from her website, La Newyorkina. Gerson notes that paletas, Mexican ice pops, are the Mexican treat. "Every little town has at least one paletería (paleta shops) and to Mexicans, paletas are like gelatos to Italians, a delicious and integral part of the culture."
Why you should buy it: Even if you can't get your hands on fresh Mexican vanilla bean, Oaxacan chocolate or tamarind, you should be able to find most of the fruits and spices, and give these ice pops, aguas frescas and shaved ices a try.
Recipes: This book had me at Mexican Chocolate Ice Pops. There's also an assortment of fruity ices, from Blackberry, Cantaloupe and Avocado; to Coconut, Rice Pudding and Sour Cream; Cherry and and Tequila. Shaved ice's include Strawberry-Horchata, Spicy Mango and Beer with Chile Granita; and Tamarind, Cucumber-Lime and Guava aguas frescas let you get your cool drink on.
Flavor of the Month: Spicy Tomato-Tequila Ice Pops. The frozen answer to the Bloody Mary.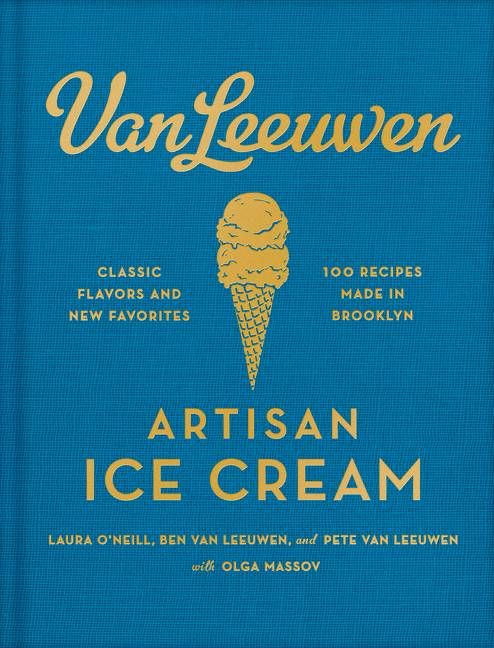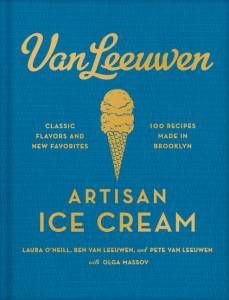 Artisan Ice Cream: Classic Flavors and New Favorites, 100 Recipes Made in Brooklyn
Just released this spring from Laura O'Neill, Benjamin and Peter Van Leeuwen, the "mad geniuses" of ice cream recipe tasting and recipe development—Van Leeuwen went from a couple of buttery yellow food trucks in Brooklyn to world renowned artisan ice cream makers.
Why you should buy it: I love the down-to-earthiness of this book, with 'ingredient spotlights' on special stuff like tea (for ice cream flavors like Early Grey and Masala Chai), and gianduja, a hazelnut/chocolate confection from Italy. My home chef also notes that the authors provide really helpful information on basic ice cream ingredients (like vanilla beans) and how to use them properly.
Recipes: All of the classics, including Rocky Road and Chocolate Chip Cookie Dough; fruity ices like Rhubarb and Apple Crumble, and Passion Fruit Sorbet. With a nod to the changing American food sensibility and palate, the Van Leeuwen's even introduced seven vegan ice cream flavors, including Dark Chocolate, Banana Nut and Sicilian Pistachio. There's even stout beer flavor.
At the end, you'll also find recipes for all things egg-white, as the authors note that after making all their ice cream recipes you'll be left with an abundance of whites. Souffles, waffles, omelets: just make sure to save room for dessert.
Flavor of the Month: Goat Cheese with Blackberry-Red Currant Compote Ice Cream. Note: use only fresh, moist goat cheese! If done correctly, this should taste like a delicious cream cheese ice cream with a tart fruit topping.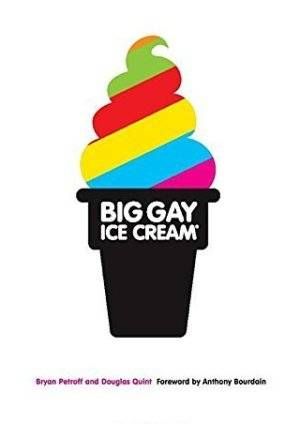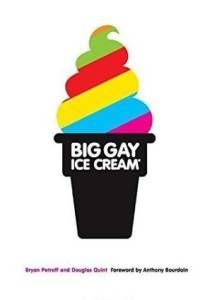 Big Gay Ice Cream: Saucy Stories & Frozen Treats: Going All the Way with Ice Cream
It's the ice cream recipe book that takes you to school! Authors Bryan Petroff and Douglas Quint of New York's Big Gay Ice Cream, another food-truck-turned-multi-state-shop, are cheeky as hell and intersperse recipes with stories and pictures (featuring lots of rainbows and unicorns), and frequently add alcohol to both. From easy peasy to master chef, freshman year ice cream 101 familiarizes you with store-bought toppings like peanut brittle and gets you set up with ingredients; sophomore year adds homemade sauces and toppings; junior year tests your learning with shakes, floats, and sundaes; and when you graduate, senior year gets into sorbets and the ice cream recipes.
The yearbook-inspired layout also features stories from the class favorites, like Class Slut and Hall Monitor; and the boys tell their own startup-to-success story along the way.
Why you should buy it: Anthony Bordain does the forward! As Headmaster. So you know it's good, and probably features a story about dead bug ice cream.
And the book ends with—a graphic novel. About ice cream.
Recipes: The best part about these basic ice creams & toppings are their names: Salty Pimp, Thin Mint, Date Shake, Nuclear Winter Ice Cream and Frankensauce. But I really want to try the Tangerine-Mezcal, which sounds perfect for a hot Friday night happy hour.
Flavor of the Month: Bea Arthur Ice Cream. Chunky-style. Ok, it's really just vanilla soft serve with dulce de leche, rounded out with a coating of crushed 'nilla wafers. But what a great name!
Asian Ice Cream for You and Your Kids
My nephew loooves green tea ice cream, and I picked up this book to introduce him to other Asian inspired flavors from countries like China, Japan, Thailand, Malaysia and Hong Kong. Founder of ice cream and dessert school U Can Cake Ice Cream Gallery in Hong Kong, Arron Liu is a master at concocting delicious ice creams from unusual ingredients and flavor combinations.
Why you should buy it: For the intro story about the author and his quest to make the perfect ice cream—to win the heart of his one true love. Liu has made over 700 ice cream flavors, some his own and some by cutomer request. And for the pictures: over 350 to make sure your version of the ice cream looks as inelegant as possible.
Recipes: The flavors! Black sesame, red bean, rice, soy bean, sake and ginkgo.
Flavor of the Month: Japanese Curry Ice Cream. But Liu's shop has got the book beat, serving Lobser, Foi Gras, Escargot and Bacon and Egg ice creams.
Final note: even if you don't try your hand at making the ice creams, these books are all good, memoir-of-ice-cream-maker type reads. If you have a favorite ice cream book (or recipe) to share, please do!