This content contains affiliate links. When you buy through these links, we may earn an affiliate commission.
Doctor Who is not on TV right now and my life already feels like it's missing something. Last month, the Twelfth Doctor had a beautiful farewell episode that I cried through and had to watch again, and again, and again. Thirteen came onto the scene with a brilliant smile and a cliffhanger. So, if you miss that quirky Time Lord as much as I do and you need a timey-wimey fix, here are some new and recent sci-fi books to get you through the hiatus.
Short reads
A cranky robot with a heart (er, OS?) of gold. There's a distant planet, a group of scientists, and a slightly anti-social droid that hacks itself to go against its more sinister programming. The best thing about my new best friend Murderbot? There are two more books in the works due out this year. Sci-fi sigh.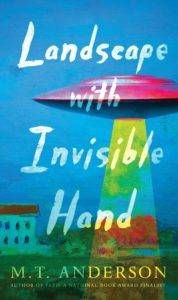 The main character, Adam, is a young artist dealing with relationships, advanced technology, and poverty. It all starts to go wrong when aliens obsessed with the 1950s invade Earth. Are you thinking of Rose Tyler in a pink poodle dress yet? Also, I want to wallpaper my apartment with the cover art.
The Where the Hell is Tesla series features time travel, alternate universes, and a furry immortal alien capable of regeneration. Basically, all you need to know is that these books are short, fun, and fuzzy. The author reads the audio versions and they are like a live-tweet of the main character Chip's adventures in the never-ending hallway of universes. Also, guest appearances by Nikola Tesla and Albert Einstein. A/C Rating: David Bowie walking through electricity levels of Tesla.
The third book in the Binti trilogy, The Night Masquerade comes out this month and finds Binti back on her home planet in the middle of a conflict she must try to prevent. If you haven't gotten started on this series yet, you can catch up pretty quickly, as the stories are less than 200 pages each. And OMG these covers are gorgeous.
Novel Length
Noumenon by Marina J. Lostetter
Was last season's two-part finale your cup of tea and jelly babies? Well get this: Noumenon is a ship where generations of clones live and work towards their decades-long goal of researching an anomaly in outer space. As months pass on the ship, years pass on Earth. Who rating: wibbly-wobbly.
This one is on my TBR pile, but the tags I keep seeing for it all go something like this: lesbian space pirates hijack a ship. So, I'm here for this one and can't wait to fill my Who-less time with these out-of-work space engineers who go up against an AI. I miss Bill Potts already.
This book just landed on my TBR pile and I can't believe I'm just learning about its existence. It's about a spaceship traveling for generations to the "Promised Land" from a ruined Earth. The ship's colony is organized like the antebellum South and the main character, Aster, sounds complicated and amazing. I'm hoping for season finale levels of epic here.
BACK LIST
A time machine repair man, with his sort-of dog, receives a book from his future self and travels through time hoping he'll find his missing father. There's some really beautiful descriptions of time travel worthy of a Murray Gold–scored Doctor speech.
Lagoon by Nnedi Okorafor
Shape shifting, water-loving aliens make first contact in Lagos, Nigeria. A cast of locals get involved in the aftermath to save the world, including a marine biologist and a famous rapper. Sci-fi fact: One of the narrators of the audiobook is Adjoa Andoh, the actor that plays the one and only Martha Jones's mom on Doctor Who.
What are your favorite sci-fi books to help you through Doctor Who withdrawals? Want even more sci-fi reads? We got you.