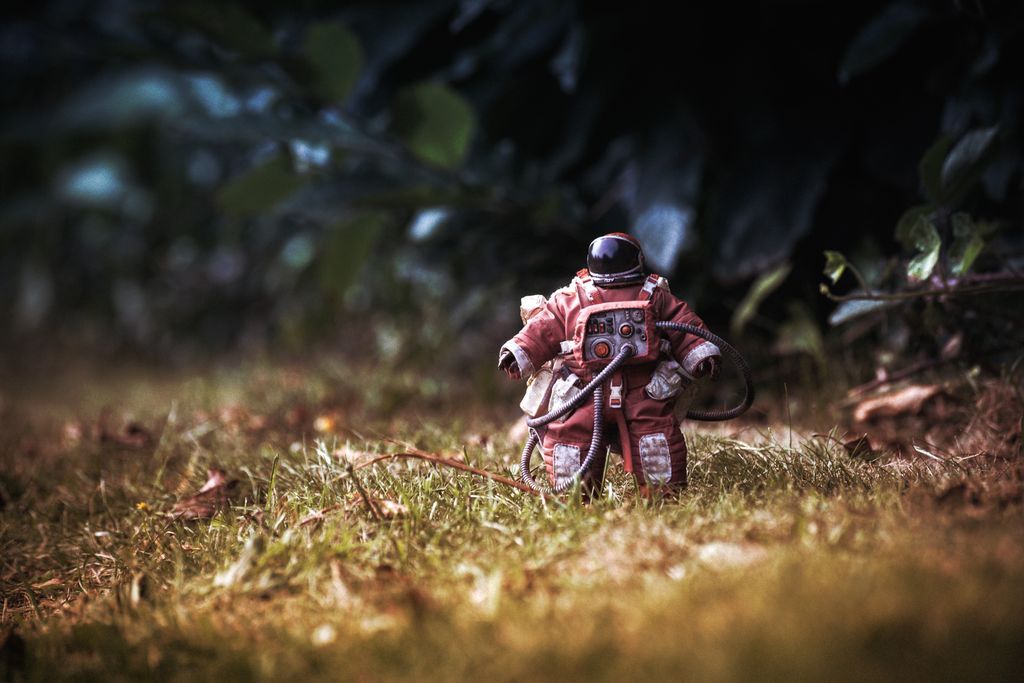 Audiobooks
Audiobooks in Space! 8 Sci-Fi Titles for Voyagers
This content contains affiliate links. When you buy through these links, we may earn an affiliate commission.
I am a total sucker for science fiction set in space: Ragtag space crews, wildly different alien species, ships that defy our puny understanding of science and technology, and the interesting characters that adventure through it. I'm here for all of it. Here are some of the best (and my favorite) audiobooks in space.
"Living in space was anything but quiet. An absence of sound meant that air was no longer flowing, engines no longer running, antigrav nets no longer holding your feet to the floor; silence belonged to the vacuum outside. Silence was death."
Let's start with Becky Chambers' Wayfarer Series. These books are some of my absolute, all-time favorites and I first visited them via audio. The Long Way to a Small Angry Planet is the story of a ragtag crew of spacers working and living together on a ship that tunnels wormholes for space travel. There are so many vibrant and unique characters and Rachel Dulude's vocal choices for each are amazing. Dr. Chef's origin story in particular was emotional, reverently told, and definitely the point where I realized I was listening to something really special. I think about this world all the time (that's normal right?).
The second book in the series, A Closed and Common Orbit, which can be read as a standalone, is equally gorgeous and moving. The third audiobook, Record of a Spaceborn Few, releases in September and I need one of those movie montages where the calendar pages flip really fast so I can be listening to it right now.
"This close to the end of the day, she lost her ability to modulate her naturally abrupt manner for the comfort of others."
An Unkindness of Ghosts is the story of a generation ship, set-up like the antebellum South, traveling to what everyone has been told is "The Promised Land." I started this one in paperback, but quickly switched to audio after a few descriptions of Aster, the odd, awkward, and brilliant main character. I wanted to hear her voice and my tiny brain voice just wasn't cutting it. Narrator Cherise Boothe is an absolute treasure. Not only did she bring the complicated and conflicted Aster to life, but she created a vivid characterization of Solomon's story.
Ninefox Gambit by Yoon Ha Lee, narrated by Emily Woo Zeller
"The silence could have swallowed a star."
Captain Kel Cheris is tasked with retaking a star fortress. In order to do so, she has to share a consciousness with an undead war strategist, Shuos Jedao. Jedao's a complicated figure: he's never lost a fight, but he also massacred two armies in his last battle. This one really worked on audio for me and I can't imagine my reading brain would have figured it all out without Emily Woo Zeller as my guide. The different voices she used for Cheris and Jedao during their many interactions helped me better understand all the action-packed scenes. Oh yeah and one more thing, this book is bananas!
Dawn by Octavia Butler, narrated by Aldrich Barrett
"Your people contain incredible potential, but they die without using much of it."
For much of the beginning of Dawn, Lilith Iyapo is locked in a featureless room where she continues to awaken from the induced sleep of her alien captors. The solitude and fear of the unknown in Aldrich Barrett's narration of Octavia Butler's stark and unfamiliar world is palpable. I felt anxious and uncomfortable the whole time Lilith was confined and alone. When the aliens, the Oankali, finally show themselves, it just adds another layer of strangeness to the whole experience. This book was unnerving in a quiet, calculating way, but I was glad to have Barrett's voice to navigate this science fiction classic.
Space Opera by Catherynne M. Valente, narrated by Heath Miller
"Everything in the universe has rhythm. Everything pulses to a beat laid down by the Big Bang. Everything feels the drumline of creation from star to sex to song."
Space Opera is a glam, musical, sweary version of The Hitchhiker's Guide to the Galaxy and I mean that in the best possible way. As I've said before, Heath Miller's narration has that "John-Oliver-on-a-rant vibe," which is perfect for this book and also me, because I love John Oliver on a rant. Anyway, the future existence of the planet Earth rests on the shoulders of a one-hit wonder band called Decibel Jones and the Absolute Zeroes. What more do you need to know? Get listening!
Rogue Protocol by Martha Wells, narrated by Kevin R. Free
"They were all annoying and deeply inadequate humans, but I didn't want to kill them. Okay, maybe a little."
Rogue Protocol might just be my favorite of the series so far. Murderbot is still dodging the authorities and hitching rides across space. In this adventure, it comes across a crew in trouble. Against all its better judgment, Murderbot decides to help them and their genial bot, Miki. Audio is a great way to consume Murderbot and all of its sarcasm. Kevin Free's narration is straightforward with just the right amount of impatience as Murderbot reluctantly saves the day on its way to binging more episodes of Sanctuary Moon.
"True it is, that these are not the droids for which thou searchest."
I seriously laughed through this whole audiobook experience. Come for the official sound effects, stay for the hilarious characterizations. Han Solo voiced by Marc Thompson sounding hilariously like Family Guy's Patrick Warburton is one of my particular faves. If you're a Star Wars super fan and you know the whole movie by heart AND you're a big fan of the Bard, this audiobook is a sweet treat. There's also a great running bit with R2D2, where his beep boops turn into villainous Iago-esque asides.
Binti by Nnedi Okorafor, narrated by Robin Miles
"We prefer to explore the universe by traveling inward, as opposed to outward."
Binti leaves her village, leaves her home planet to go to Oomza University to get the education she's always dreamed of. Tragedy strikes on the ship and she must use all she's learned from her family, her culture, and all the mathematics in her father's harmonizer shop to survive the rest of the journey. This audiobook is short at just 2 1/2 hours, but that only makes it more urgent and poignant. Robin Miles is QUEEN and I found myself keeping perfectly still in some moments so I wouldn't miss a single breath of her narration.
So audiobooks in space are the best! amiright!? Did I miss your favorite? Drop it in the comments and let's chat!