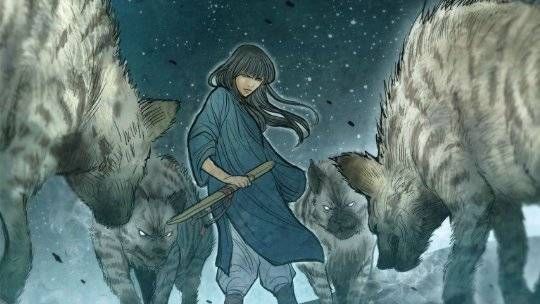 This content contains affiliate links. When you buy through these links, we may earn an affiliate commission.
Superheroes are everywhere these days. You can barely walk down the street or turn on the TV without seeing one. Don't get me wrong, I love a good superhero as much as the next girl (see: badass ladies in comics), but sometimes you just want to read a comic book or graphic novel where the main character doesn't wear a cape or have a questionable night job as a vigilante. Here are 18 sci-fi and fantasy comics and graphic novels that should satisfy that craving!
Saga by Brian K. Vaughan and Fiona Staples
It's the sci-fi/fantasy mash-up comic. Honestly. If you're not already reading it you should be.
Follow Alanna, Marko, their daughter, and the rest of their friends and family as they try to escape the unending war between their two worlds and the many people and bounty hunters who view their daughter as an abomination who must be dealt with.
The Woods by James Tynion Iv and Michael Dialynas
What happens when a high school is mysteriously transported to an alien planet with its five hundred students and faculty in tow? Nothing good, according to The Woods. A mysterious arrow pointing toward the woods, an expedition to follow it, a Lord of the Flies–esque coach, and a determined student body president. You'll find that and a whole lot of adventure and mystery in the pages of this comic.
Monstress by Marjorie Liu, Sana Takeda, and Rus Wooton
Maika Halfwolf is an Arcanic, a half-breed descended from both humans and the Ancients, on a quest to find answers about her late mother and the mysterious masks she coveted. But Maika is imbued with strange and terrible powers, and when she discovers one of the mask fragments in the clasp of her captors, she becomes a target wanted by everyone, from the human order of nun-witches to the very gods themselves.
The mythology and world-building of Monstress is incredible. Trust me, this is going to be your next favorite comic!
The Few By Sean Lewis and Hayden Sherman
A complicated post-apocalyptic landscape where violence reigns and outsiders are viewed as weak. Edan Hale, on the run with a rescued baby, struggles to come to terms with the realities of life outside the protected Palace and her own role in perpetuating violence against the outsiders, the few.
It's dark and gritty and you can definitely draw some lines of inspiration from our current political and cultural landscape.
Descender by Jeff Lemire, Dustin Nguyen, and Steve Wands
Tim-21 is a humanoid android in a world that has outlawed all robots. Even worse? He may hold the key to the destruction of the Harvesters, the planet-sized robots who wreaked havoc across the galaxy ten years ago, and he's probably the most-wanted robot in the whole galaxy.
The Wicked + The Divine by Kieron Gillen, Jamie McKelvie, Matt Wilson, and Clayton Cowles
The gods are back and they're here to wreak havoc on the lives of the mortal world. Need I say more?
Lumberjanes by Noelle Stevenson, Grace Ellis, Faith Hicks, Brooke A. Allen, Shannon Watters, Kat Leyh, Carolyn Nowak, and Carey Pietsch
It's summer camp, but nothing like you remember. Unless your summer camp had a mystical camp director, zombified boy scouts, and magical bears. And that's just the beginning! It'll take a lot of ingenuity and "friendship to the max!" to survive the summer.
Kid-friendly and crazy fun—I can't recommend this comic enough!
source: .page45.com
The Sandman by Neil Gaiman, Sam Kieth, and Mike Dringenberg
The New York Times Bestselling comic from the mind of Neil Gaiman (author of Neverwhere and American Gods) is about Dream, a personification of dreams, who is captured and must reclaim his kingdom after his escape.
Motor Crush by Brenden Fletcher, Cameron Stewart, Aditya Bidikar, and Babs Tarr
Nova Honda is the home of the World Grand Prix and racing capital of the world. Domino Swift is a prodigy, the daughter of racing legend Sullivan Swift. By day, Domino trains and and competes in the WGP, but by night she goes head to head with the worst gangs in Nova Honda in the Cannonball, an illegal street race with a prize worth risking your life and reputation for: crush. Crush is an illegal engine-boosting machine stimulant, but for Domino it's much more than that…it's the only thing keeping her alive.
We3 by Grant Morrison and Frank Quitely
Three innocent house pets are turned into genetically-altered killing machines. It's about as dark as it sounds.
Rat Queens by Kurtis J. Wiebe, Roc Upchurch, Tess Fowler, and Stjepan Šejić
This rowdy, foul-mouthed gang of adventurers never has a boring moment between fighting off assassins, seeking out adventure, and generally just trying to survive and thrive in their medieval fantasy world.
Paper Girls by Brian K. Vaughan, Cliff Chiang, and Matthew Wilson
The paper girls just want to survive their route on All Saint's Night, but mysterious alien figures, a strange ship, and deadly assassins are about to make their rival paper boys seems like child's play.
Bitch Planet by Kelly Sue deconnick, Valentine De Landro, and Robert Wilson IV
In a future that's taken a few too many wrong turns, women who step out of line and disobey their patriarchal overlords are sent to a terrifying penal planet. And the newest crop of inmates will have to deal with more than just hidden agendas and crooked guards, because the most dangerous game in the galaxy is coming to Bitch Planet…and it isn't going to leave them unchanged.
Nimona by Noelle Stevenson
Who makes the best henchwoman to the most wanted mad scientist in the kingdom? A shapeshifter, of course! Together these two troublemakers will take on the worst of the worst: The Institute of Law Enforcement and Heroics and its golden hero, Ambrosius Goldenloin. This webcomic-turned–graphic novel is just pure fun!
The Spire by Simon Spurrier and Jeff Stokely
The spire is a mountain of metal and stone rising out of the desert, but it's also home to more than a million humans and non-humans alike. Sha watches over them as Commander of the City Watch. But as the last of the Medusi—and a non-human—she's shown very little respect. A string of grisly murders put her on the hunt for a serial killer just as the new Baroness of the Spire is about to be sworn in. Sha is determined to catch the killer, but the new Baroness hates anyone who isn't human, and Sha will have more enemies than friends as she struggles to keep the Spire safe for all its residents.
CLEAN ROOM BY Gail Simone, Jon Davis-Hunt, Quinton Winter, Todd Klein, and Jenny Frison
Who is Astrid Mueller and what exactly is the Clean Room? Journalist Chloe Pierce is pretty sure it's all one big cult. And since her fiancé died by suicide shortly after picking up Mueller's self-help book, she's determined to get to the bottom of this strange—and possibly very dangerous—mystery. But there's far more to Astrid and the Clean Room than Chloe can possibly imagine.
A young valkyrie makes a special trip down south to guide Rory to Valhalla, because whether he likes it or not, Rory's going to die today. And whether he believes it or not, Odin has deemed him worthy. It may take some convincing for Rory to believe it, though.
Pretty Deadly by Kelly sue Deconnick and Emma Ríos
A beautiful, strange, (sometimes bewildering) comic about Death (and also death) told through the lens of a western horror.
And if those weren't enough sci-fi and fantasy comics for you, check out these 5 fantasy comics recommended based off your favorite fantasy book and these 25 Science Fiction comics that are favorites of Riot readers.