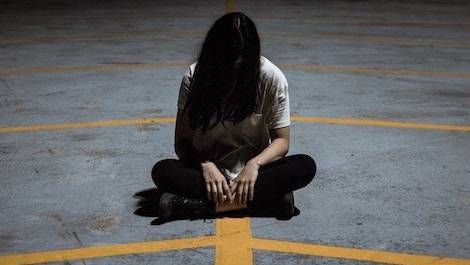 Horror
14 of the Scariest YA Books for Horror Fans
This content contains affiliate links. When you buy through these links, we may earn an affiliate commission.
If you grew up terrified by classic YA thrillers by authors like Lois Duncan and Christopher Pike, you may not be prepared for the intense horror of the new generation of scary YA books. Don't be surprised if the Purge, It Comes At Night, and Annabelle-loving teens in your life devour these recent YA horror titles. Read these…if you dare.
Amity by Micol Ostow
When Connor's family moves to Amity, his nights are plagued with gore-filled dreams of demons, destruction, and revenge. Ten years later, Gwen's family moves to Amity for a fresh start. She also becomes haunted by lurid visions, disturbing voices, and questions about her own sanity. Because Amity isn't just a house. She is a living force, bent on manipulating her inhabitants to her twisted will. She will use Connor and Gwen to bring about a violent end as she's done before.
Maria and Lily are their school's ultimate power couple—even if no one knows it but them. And the only person standing between them and their perfect future is campus superstar Delilah. But what Delilah doesn't know is that Lily and Maria will stop at nothing to ensure their victory—including harnessing the dark power long rumored to be present on the former plantation that houses their school.
With a head plagued by hallucinations, a medicine cabinet full of pills, and a closet stuffed with frilly, violet dresses, Hanna's tired of being the outcast, the weird girl, the freak. So she runs away in search of a new home. As she tries to make a place for herself, she discovers dark secrets that would terrify any normal soul. Good thing for Hanna, she's far from normal. As this crazy girl meets an even crazier town, only two things are certain: Anything can happen and no one is safe.
The old mansion Paige and her family move into is infested with flies, spiders, and other pests she doesn't want to think about. But soon spooky things start happening: unreadable words appearing in the walls, her little brother roaming the house at all hours of the night. Things only get creepier when she learns about the sinister cult that conducted experimental rituals in the house almost a hundred years earlier.
Cata suffers from such debilitating insomnia that she agrees to take part in an experimental new procedure. Soon after the experiment begins, there's a malfunction with the lab equipment, and Cata and six other teen patients are plunged into a shared dreamworld with no memory of how they got there. Even worse, they are being hunted by creatures from their darkest imaginations and tormented by secrets they'd rather keep buried.
Fiendish by Brenna Yovanoff
When Clementine was a child, dangerous and inexplicable things started happening in New South Bend. The townsfolk blamed the fiendish people out in the Willows and burned their homes to the ground. But magic kept Clementine alive, walled up in the cellar for ten years, until a boy sets her free. Back in the world, Clementine sets out to discover what happened all those years ago. But the truth gets muddled the Hollow, a fickle and terrifying place that seems increasingly temperamental ever since she reemerged.
A dead girl walks the streets. She hunts murderers. Child killers, much like the man who threw her body down a well three hundred years ago. And when a strange boy bearing stranger tattoos moves into the neighborhood so, she discovers, does something else. And soon both will be drawn into the world of eerie doll rituals and dark Shinto exorcisms that will take them from American suburbia to the remote valleys and shrines of Aomori, Japan. Because the boy has a terrifying secret—one that would just kill to get out.
Katie has lived her whole life on an Amish farm, but the outside world comes to her in this dystopian tale. Rumors of massive unrest on the "Outside" abound. Something murderous is out there. Amish elders make a rule: No one goes outside, and no outsiders come in. But when Katie finds a gravely injured young man, she can't leave him to die. She smuggles him into her family's barn—at what cost to her community?
Louisa is thrilled to find employment as a maid at a boarding house. But soon after her arrival at Coldthistle House, she begins to realize that the house's mysterious owner is providing much more than lodging for his guests. Far from a place of rest, the house is a place of judgment, and Mr. Morningside and his unusual staff are meant to execute their own justice on those who are past being saved.
Jess and her three friends think they know what they're doing when they summon Bloody Mary Worth. But when their summoning circle is broken, Bloody Mary slips through the glass with a taste for revenge on her lips. As the girls struggle to escape Mary's wrath, loyalties are questioned, friendships are torn apart, and lives are forever altered.
Ivy's family has lived in Rowan's Glen, a remote farming community in the Missouri Ozarks, for centuries. The other kids at school may think the Glen kids are weird, but Ivy doesn't care—she has her cousin Heather as her best friend. The two girls share everything with each other—or so Ivy thinks. When Heather goes missing after a May Day celebration, Ivy discovers that both her best friend and her beloved hometown are as full of secrets as the woods that surround them.
Shutter by Courtney Alameda
As one of the last descendants of the Van Helsing lineage, Micheline has trained since childhood to destroy monsters both corporeal and spiritual. When a routine ghost hunt goes awry, she and her friends are infected with a curse known as a soulchain. She has only seven days to exorcise the chains or they will all die. Now pursued as a renegade agent by her monster-hunting father, Micheline must track and destroy an entity more powerful than anything she's faced before…or die trying.
One-by-one, the students of Osborne High are dying in a series of gruesome murders, each with increasing and grotesque flair. As the terror grows closer and the hunt intensifies for the killer, the dark secrets among them must finally be confronted. This is a fresh take on the classic teen slasher story that's fun, quick-witted, and completely impossible to put down.
Growing up in a Victorian mansion in the middle of the woods with her cold, distant father, cousins Lucy and Margaret found solace in each other. But then Aunt Penelope dies, and Margaret claims she can hear her dead mother's voice whispering from the walls. Lucy can only watch helplessly as her cousin's sanity slowly unravels…until she starts hearing voices herself. She must confront an ancient and deadly legacy that has marked the women in their family for generations.
What are your favorite scary YA books? (Want even more horror?)