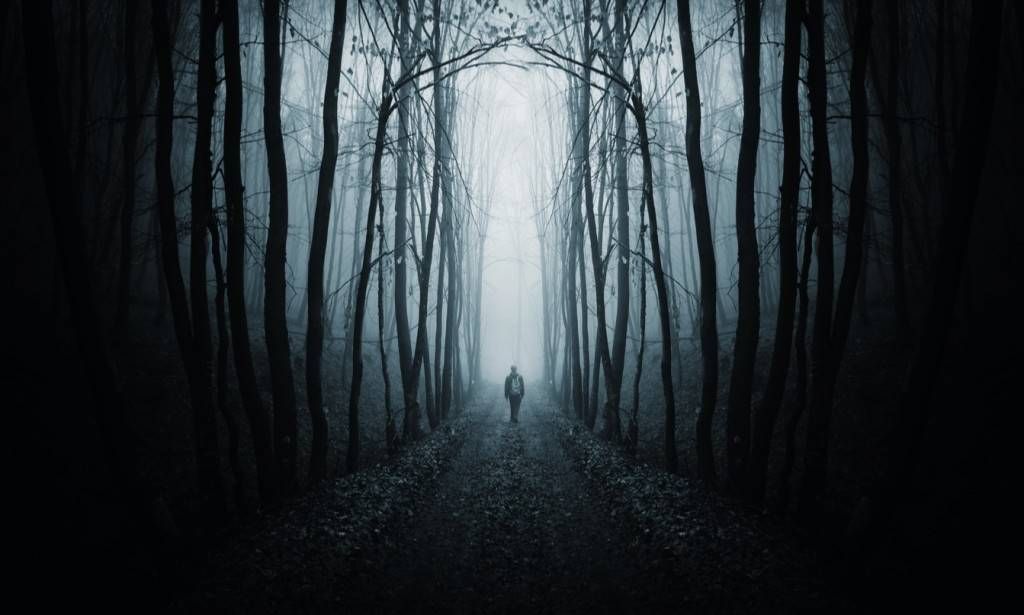 Children's
Scary, Scarier, Scariest: 13 Terrifying Tales for Middle Grade Readers
This content contains affiliate links. When you buy through these links, we may earn an affiliate commission.
When it comes to determining what makes a book scary, there are almost too many factors to consider. What gives us the chills, what speeds up our heart rate, and what simply provides a pleasant thrill depends entirely on who we are and what we have experienced. For instance, I love a good ghost story. As long as there is no blood, I am all in if there are ghosts involved. When it comes to zombies, however, or serial killers, I'm out. I can't even look in the direction of a story that involves blood and brains. Because of this particular proclivity of mine, I have always been drawn to spooky middle grade stories. Since the intended audience is under 18, you can generally count on a good thrill without out too much violence or trauma. However, don't be fooled into thinking that the scares offered in the thirteen terrifying tales I've chosen below are somehow less than, because they come in middle grade books. Find a cozy, well lighted place and make sure you are not alone before diving into one of these supremely spooky stories.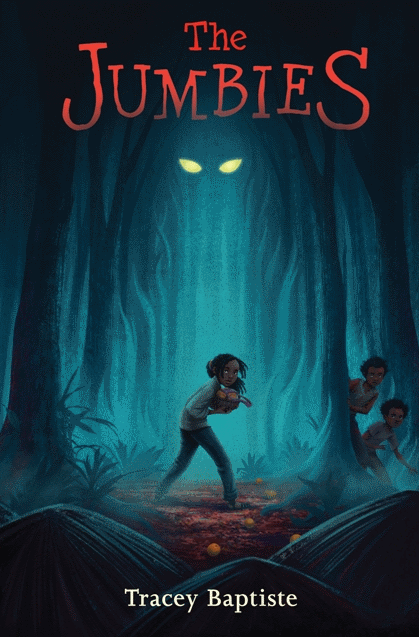 The Jumbies by Tracey Baptiste
Corrine La Mer doesn't believe the stories about the jumbies who supposedly live in the forests of her tropical island home. Malevolent and mischievous creatures who come in many shapes and sizes, jumbies are said to come out after dark in search of people to terrorize. One All Hallow's Eve, Corrine unexpectedly finds herself in the woods, where she spies a pair of large yellow eyes who follow her to the treeline. When strange things begin to happen from that day on, Corrine must come face to face with the truth about the jumbies and her own family's magical beginnings. Cleverly based on a Haitian folktale, Baptiste's evocative story features real thrills that will satisfy the elementary school set. Recommended for ages 8 and up. SCARY.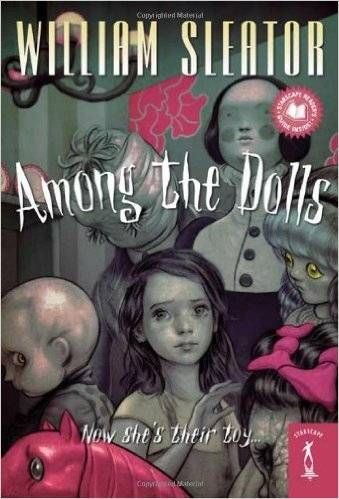 Among the Dolls by William Sleator
All Vicky wants for her birthday is a brand new bike. But her antique-loving parents have a different idea. They present Vicky with an old fashioned doll house on her birthday, complete with four creepy, mismatched dolls. Disappointed, Vicky resentfully puts the dollhouse in a dark corner her room, determined to ignore it. And then her parents start changing. Her mother er anger and pain out on Vicky's father and Vicky. Suddenly, the dollhouse becomes an attractive way for Vicky to act out the troubling scenes at home. Hours pass as Vicky manipulates the dolls into treating each other badly. One day she wakes to find herself inside the dollhouse, where the dolls, angry about the way she has treated them, are only too happy to return the favor, so to speak. A very short, elegant and yes, supremely creepy story perfect for the newly confident chapter book reader. Recommended for ages 8 and up. SCARY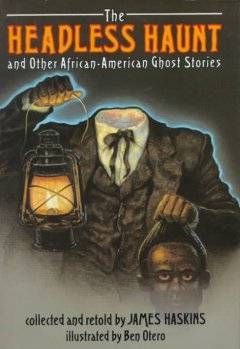 The Headless Haunt and other African American Ghost Stories collected and retold by James Haskins. Illustrated by Ben Otero.
According to author James Haskins, African American beliefs about ghosts and spirits are culled from a combination of African and European folklore. First hand accounts of one on one encounters with ghosts mingle with classic ghost stories in this fun, spooky read. My favorite part of this book, however, are the "tips for how to acquire the ability to see ghosts," (punch a hole in your earlobe and create a "ghost hole;" look into the mirror with another person) and what precautions to take when someone dies (cover all the mirrors in the house, or you might see their spirit). Recommended for ages 8 and up. SCARY.
The Stonekeeper (Amulet, Book 1) by Kazu Kibuishi
Still mourning the tragic death of their father, siblings Emily and Navin move with their mother to a house that once belonged to their great grandfather. Not long after their arrival, a terrifying creature lures their mother through a door in the basement, where she disappears. Determined to save her, the kids follow and discover a world full of demons and scary monsters. Kibuishi's gorgeous graphic novel was particularly disturbing and scary to read from my parental perspective because of the young characters' palpable danger and vulnerability throughout the story. This is the first book in a very popular series of seven (and counting). Recommended for ages 9 and up. SCARIER
HooDoo by Ronald L. Smith
12-year old Hoodoo comes from a long line of conjurers–men and women who practice hoodoo, or folk magic. As Smith describes it in his deliciously dark book, "They used foot powder that could go up through your foot and make you sick, a black hen's egg for getting rid of evil spirits, nutmeg seeds for good luck at gambling, and all kinds of other things." When a dangerous stranger shows up and starts asking about a young man named Hoodoo, Hoodoo must think fast and learn to conjure so he can defeat the stranger and run him out of town. This highly original story will spook both adults and children. Though Hoodoo is just a child, the darkness he faces is intensely scary and makes for a memorably atmospheric read. Recommended for ages 10 and up. SCARIER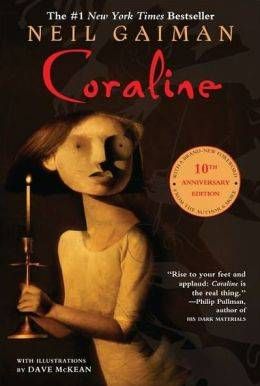 Coraline by Neil Gaiman
Coraline lives with her busy, distracted parents in a big house with many doors, including one that leads to nowhere. Coraline's mother has already unlocked it to show her that there are only bricks behind it. But one long, rainy, boredom-filled day, Coraline opens the door again to find it leads down a mysterious passage and into a house that is just like her own with a few eerie differences: her "other" mother and father are very attentive but have big black buttons for eyes. When Coraline makes it back to her own side of the house, she finds her parents are missing, trapped in the other world and it is up to her to save them. Creepy as all get out, Gaiman's tone is pitch perfect, straddling the fine line between darkly humorous and totally terrifying. Dave McKean's illustrations increase the fear. Recommended for 10 and up. SCARIER
Wait Till Helen Comes by Mary Downing Hahn
Molly and her younger brother Michael can't seem to get along with their stepsister Heather. Since their parents got married, Heather seems to do all she can to break up any moments of happiness the new family try to have together. In search of a new beginning, the family moves out to the country to live in a former church turned house. Right next door to the church is a cemetery that Molly feels uneasy about from the very beginning. When Heather starts having conversations with a ghost named Helen, things take a turn for the worse. A classic, thrilling ghost story complete with a deeply troubled and traumatized child (Heather), this book is responsible for many a childhood nightmare. Recommended for ages 9 and up. SCARIER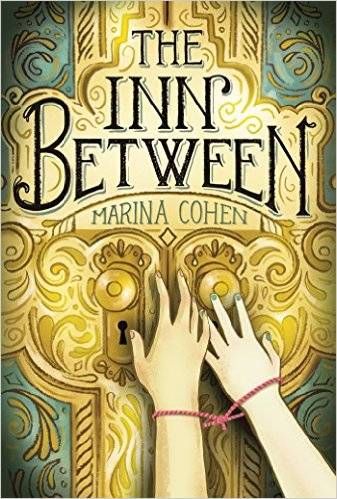 The Inn Between by Marina Cohen
Quinn is driving across the country with her best friend Kara and Kara's family, when they decide to stop at a most unusual Victorian mansion/inn for the night. Exhausted from driving, the family is dazzled by the beauty of the hotel and it's old fashioned decor. The lack of outside telephone lines and the perpetually smiling but odd employees add a level of creepiness that Quinn just can't shake. When Kara's parents and brother suddenly disappear without a trace, Kara and Quinn are left on their own in the increasingly strange hotel that they can't seem to leave. Grown up readers will figure out what is going on almost right away in this well-paced story, while younger readers will have the pleasure of experiencing a popular horror movie trope. Still, the eeriness coupled with heavy subject matter (child abduction, death) give the story some depth and a scariness that will linger long after the last page. Recommended for ages 10 and up. SCARIER.
The Night Gardener
by Jonathan Auxier
Teenager Molly and her younger brother Kip have fallen on hard times after they are forced to leave the family farm in Ireland due to famine. Separated from their parents and in search of work, they take the first job they can, which happens to be located on a remote estate, in the middle of a spooky forest. A classic Victorian ghost story with a crumbling mansion, an enchanted tree and a frightening spectre that comes out at night, this is a deeply satisfying, intensely frightening, well written tale that kids and their grown ups will enjoy. Recommended for ages 10 and up. SCARIEST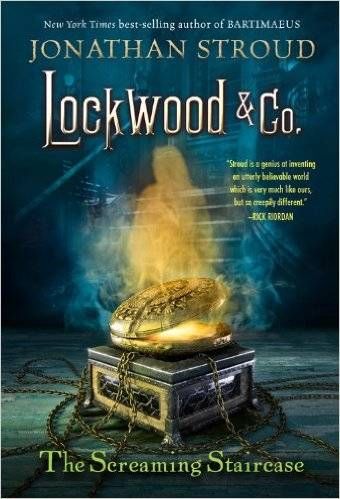 The Streaming Staircase (Lockwood and Co. series) by Jonathan Stroud
In this fictional version of London, the city is still reeling from the "Problem," a sinister situation in which all manner of ghosts, many of them unfriendly, are appearing throughout the city. Only young people with certain psychic abilities can see the ghosts. Anthony Lockwood and his two associates Lucy and George Cubbins work as a team to defeat deadly, hostile ghosts and keep their business afloat. Lots of fun and full of truly spine tingling moments, all of the books in this series are a chilling pleasure to read. Recommended for ages 12 and up. SCARIEST
Scary Stories Treasury by Alvin Schwartz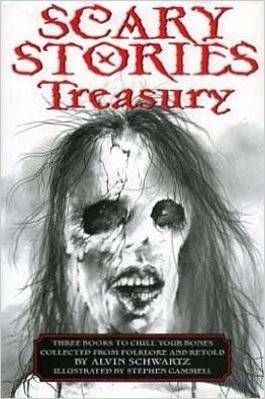 No list of terrifying books for children would be complete without Scary Stories to Tell in the Dark. Stephen Gammell's illustrations alone are enough to give me nightmares. Told in brief, one to four page vignettes, the stories in this collection (and the many sequels) are "collected from folklore" and range from tales of hauntings and ghosts to wild beasts and demons. There is a new edition available featuring different artwork, but I strongly encourage you to seek out the original editions with Gammell's black and white drawings. They really elevate this collection to the next level of scary. Recommended for Ages 10 and up. SCARIEST (Because of the illustrations!)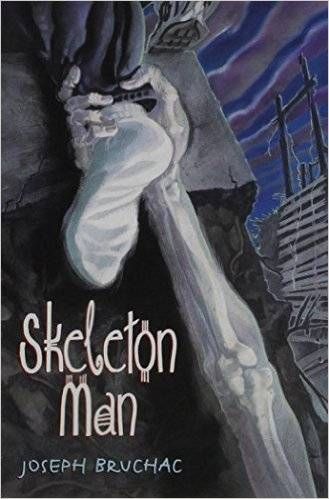 Skeleton Man by Joseph Bruchac
Drawing from her family's Mohawk heritage, sixth grader Molly relates one of her father's favorite stories about a man who gets so hungry one evening that he eats himself and then every member of his family except one smart young girl. Soon after relating his truly horrifying story, Molly tells us that her own parents have gone missing and we learn about a strange, skeleton-like man who has suddenly shown up claiming to be her only remaining family. GULP. This tale was almost too creepy for me, a grown ass woman! Recommended for ages 12 and up. SCARIEST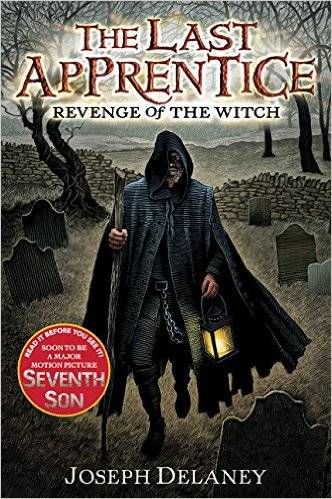 The Last Apprentice: Revenge of the Witch by Joseph Delaney
12-year old Thomas Ward is the seventh son of a seventh son and, with no inheritance of his own, leaves home to become the apprentice of the town spook, a tall, hooded, mysterious man whose job is to chase evil spirits, ghosts and witches out of local farms and villages. Already in tune with those beyond the grave (he can hear the ghosts of hanged men on a hill in his town), Thomas's adventures are genuinely terrifying, and author Delaney pulls no punches in his descriptions of the monstrous creatures Thomas encounters, particularly the slimy, cannibalistic witch he must face in this first book in a series of 13. Recommended for ages 10 and up. SCARIEST
What are your favorite middle grade spooky stories?