Fiction
Scary Monsters (and Super Creeps): A Reading List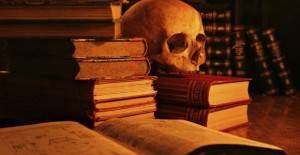 I heart scary books. This one time, I was home alone, reading From a Buick 8 by Stephen King. (If you haven't read it, here's a quick synopsis: A mysterious car turns up one day, sans owner, and is brought into a garage, where strange things begin to happen.) So I'm sitting on my bed, and I've just gotten to the part in the book where a small creature-thing has come out of the car and is lying crumpled in the corner of the garage bay, and one of the characters decides to poke it with a broom – like you do – to see if it's still alive. So the guy is slowly, slowly, approaching it and it isn't moving and he's slowly, slowly, leaning down with the broom handle and he's almost about to touch it and MY CAT JUMPS UP ON THE BED and oh my god I scream my head off and then I laugh because that was awesome.
Reading is the best.
And seeing how it's Halloween, I thought I'd do a round-up of some of my favorite spooky books. I think scary books are great reading year-round, but if you're looking to get in the holiday spirit, these should definitely do the trick: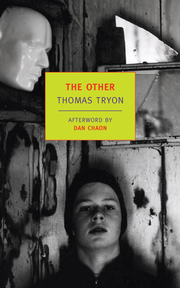 The Other by Thomas Tryon
The tale of Niles and Holland Perry, thirteen-year-old twins who look identical, but do not act the same: Niles is the good twin, Holland is the bad one. (There's always a bad one.) The Perry family has gathered together for the summer after a horrific accident has claimed the life of the boys' father. As the days go by, it becomes apparent to Niles that he isn't going to be able to keep Holland from having his special fun. And Holland's idea of fun is seriously messed up. NYBR Classics just released a new edition of The Other, and this one is EXTRA-BETTER, because it has an afterword by Dan Chaon. (If you haven't read Chaon, you should read it everything he has written. Right now.) And if you dig books about effed-up little kids, you should also check out The Wasp Factory by Iain Banks.
Come Closer by Sara Gran
Possession, all I really wanted: Amanda is living a grand life as a successful architect in a happy marriage when she notices subtle changes in her personality. She starts smoking again and begins stealing things. She hears a voice in her head. Her abnormal behaviors quickly escalate into more self-destructive behaviors like sex with strangers. But being bad feels pretty good. How far will it go and can she make it stop? Better yet – does she want it to stop? Gran does a fantastic job turning up the creep and bringing the book to an explosive conclusion.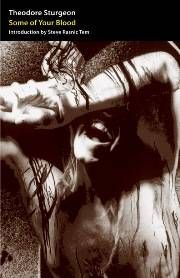 Some of Your Blood by Theodore Sturgeon
Sometimes, it's what you don't say that makes a story all the more terrifying, and Some of Your Blood is an excellent example. Told in epistolary form, the book is the case file of Dr. Philip Outerbridge, who documents the life of George Smith, a soldier under his care at a military psychiatric clinic. As Smith recounts his poor upbringing at the hands of the town drunk, and his current altercations with a colonel, Outerbridge begins to believe that Smith is a dangerous man. Look up 'unsettling' in the dictionary, and you'll find a picture of this book. Alas, it is currently out of print – thank goodness for libraries.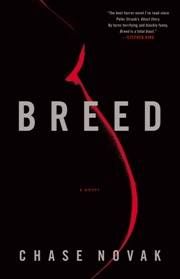 Breed by Chase Novak
Leslie and Alex Twisden have everything they want – money, fabulous jobs, an enormous house – except a baby. After trying every known treatment to try and conceive a child, they fly to Slovenia to try for an unconventional procedure. What happens to them in the doctor's office there will send their lives spiraling on a terrifying trajectory and have the Twisdens shedding on the furniture. Fast-forward ten years: The Twisdens have lovely twins, Adam and Alice. But the twins are becoming more and more aware that life at home isn't all that normal, and decide it's time to escape their toothy parents. This book is rocking good fun!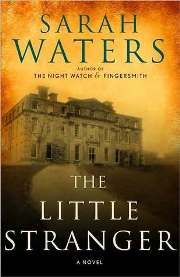 The Little Stranger by Sarah Waters
1940s gothic FTW! When Dr. Faraday pays a house call to Hundreds Hall, he finds the once-regal estate, where his mother was a maid, now in a state of disrepair, and the Ayres family not much better off. Daughter Caroline must care for her elderly mother, and her brother, who was crippled in the war. As Faraday becomes more involved with the family, he finds that spooky things have been going on around the house. Is it the ghost of the dead Ayres sibling? Is it just the normal noises of an old house? Whatever it is, it's FREAKING SCARY. And this has one of those endings that will have you second-guessing what you believed was going on. How sure am I that this book is awesome? So sure that I got a quote from it tattooed on my forearm.
And here's some insider's advice: Check out Revenge by Yoko Ogawa when it comes out in January 2013. It's eleven hella-good, super-unnerving interconnected stories.